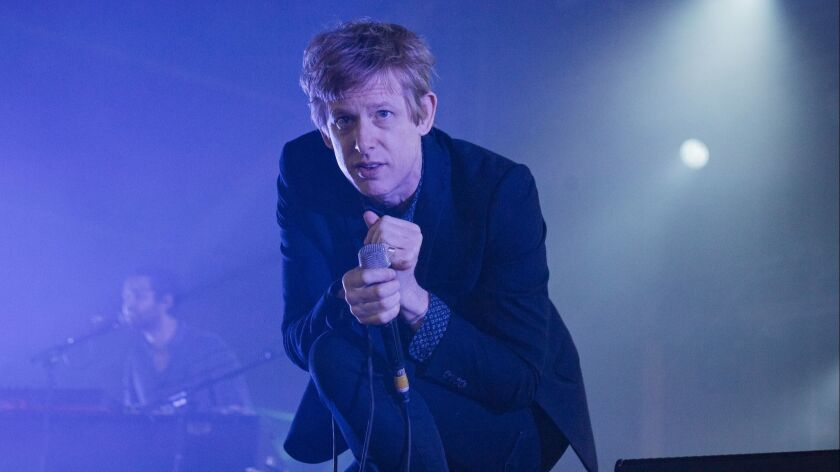 In the decade or so that Spoon singer-guitarist Britt Daniel has been splitting his time between Austin and L.A., he's become something of a regular at Hollywood's storied 101 Coffee Shop. Like the 101, Daniel and his indie-rock band have stubbornly persisted while everything around them has been in a state of flux.
"I think that we've shown that we have, what do they call it? Gumption," Daniel says, reflecting on Spoon's 25-year antihero career as the diner's manager brings him his usual iced tea. "We stuck around even when it made more sense not to."
That steadfastness has become something of Spoon's hallmark. In the increasingly erratic pop music industry, the Austin-born rock outfit — whose members include drummer Jim Eno, guitarist Gerardo Larios, keyboardist Alex Fischel and new touring bassist Ben Trokan — has not only managed to endure, but also amass a bulletproof 10-LP catalog that's as creatively dynamic as it is consistently excellent.
"We don't settle when it comes to the way we make records," Daniel, 48, says. Spoon, whose sound seamlessly combines indie rock grit, melodic savvy and psychedelic experimentation, may not be a household name, but chances are you've heard them even if you've never heard of them. While maintaining underdog cachet as darlings of college radio and the music blogosphere, the band has slipped into the collective consciousness via placement on at least 15 hit TV shows, alongside car and beverage commercials, video games, sporting events and more.
Last month, the band released "Everything Hits at Once: The Best of Spoon," the group's first retrospective compilation. Ahead of the band's July 17 show at Irvine's FivePoint Amphitheatre, we sat down with Daniel to talk 25 years of Spoon and what's in store for the future.
What was the mentality in approaching putting together a hits record, particularly in the age of streaming and playlists?
There are some similarities to a playlist, except this one's curated by us. It's a physical product, it's gonna be there forever. When I first started putting together the idea, I went and listened to every song we ever put out, and when I compiled my notes, I was like, "This is going to be a three-disc set." Then we realized we wanted something like the Cure's "Standing on a Beach," which is more of a little road map.
What surprised you most as you went back through all of that music?
I was surprised that I could relate to the guy that made the first album, "Telephono." I hadn't listened to it all the way through in a long time, but when I did, I remembered the spirit of what was going on in Austin right then, and what I was going for. Like, "Oh, that's right, that rhythm was from a PJ Harvey song."
What struck you when you took a step back and looked at the band's progression?
Just some drastic changes. I especially saw it between "A Series of Sneaks" and "Girls Can Tell." On the former, we were trying to be the ultimate post-punk band. There was nothing cooler than Wire and Gang of Four, and that was what I wanted to do. By the time we made the next record, it was really more about oldies radio, Motown, and suddenly we weren't afraid to use reverb. I love AC/DC, but you don't notice a lot of changes between records. When you listen to our catalog, each album has its own identity.
What are you exploring for the next record?
We keep saying we want to make a rock and roll record, which — they're all kind of rock records, right? Even the last one [2017's "Hot Thoughts"], it was pretty detail-oriented and synth heavy. So maybe we're reacting against those two records, but it's too early to tell. I do like that we're recording in Austin. It was time to make a record where we're at home.
Spoon with Beck, Cage the Elephant and Starcrawler. $30 and up. FivePoint Amphitheatre, 14800 Chinon, Irvine. 6 p.m. Wednesday.
---