Review: Sufjan Stevens delivers exquisite set at Dorothy Chandler Pavilion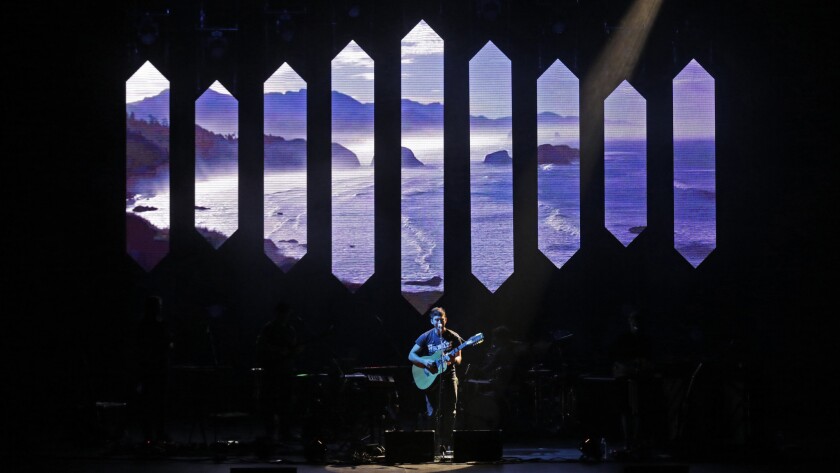 Throughout a musically dynamic, thematically devastating night of gentle rock and baroque pop, the singer, composer and multi-instrumentalist Sufjan Stevens filled the Dorothy Chandler Pavilion with songs about death and dying, nostalgia, long-gone homes and scattered family.
"What is that song you sing for the dead," he wondered to open in "Death with Dignity," about his late mother, whom he described as a "tired old mare with the wind in her hair." The funeral song Stevens was seeking could have been any from "Carrie & Lowell," his sublimely mournful new album, named for his mother and stepfather.
Over the first of a two-night run Wednesday, Stevens, 39, and his expert four-piece backing band (multi-instrumentalists Casey Foubert, Ben Lanz and Dawn Landes, and drummer James Mcalister) performed all 11 songs from the album, and dotted it with work from across his 15-year discography. That they did so in a venue often used for operatic drama not only added dramatic heft, but also infused the night with a worshipful kind of clarity. It was a sonically rich, immersive experience.
The artist has been playing these songs in roughly this order across the country since the beginning of April. He's kept the core of the set the same, delivering a thematically linked song-cycle of old and new work that moved not only as an overview but as a stand-alone piece. Nearing the end of the run, the bandmates now know every measure of these songs, and presented them with a deftness and purity borne of focused repetition.
A Sufjan-ian delicacy connected it all, one characterized by his whispery singing voice suggestive of Elliott Smith, a 1970s Paul Simon vibe, Stevens' twee falsetto and an instrumental spaciousness, all as intricately connected as a spider's web. As with a web in wait, lives will eventually be extinguished. If you're lucky, Stevens' band will perform the march when it does.
Above the musicians, home movies were projected onto nine thin, crystal-shaped screens. They documented the artist as a toddler playing and his young-and-in-love parents carousing amid Kodachrome tones.
That joy didn't last long. Throughout her life, Stevens' mother was debilitated with schizophrenia and alcoholism. She left her children and husband when her son was a 1-year-old. "Carrie & Lowell" reflects on her life, sad demise and its effect. "I should have wrote a letter, explaining what I feel -- that empty feeling," sang her son in "Should Have Known Better." He recalled moments as a boy, juxtaposing them with time spent at her deathbed.
At various points between songs he recalled encounters with The End, adding fatalistic levity to what on paper reads like a pretty grim night. He told of hitting an ice patch on a highway as a kid while riding in a car with a step-mother who believed in reincarnation and so blithely sipped a soda as they spun. He remembered his cancer-stricken albino rat, and the horrifying way his father taught the son to put it out of its misery. He told of losing a classmate to suicide.
Given the circumstances, it's a wonder Stevens made it onto the Pavilion stage at all, let alone ascended to such artistic heights. Throughout his impressive nine albums (including two Christmas albums), the artist, raised in Michigan, has built an unusual repertoire that spans orchestral indie rock and exuberant dance pop. His most enduring early works, "Illinois" and "Michigan," were part of a since-abandoned effort to honor each American state with its own concept album.
His encore included one of the most beguiling and curious works on "Illinois." Called "Concerning the UFO Sighting Near Highland, Illinois," Stevens embodied the real-life experience of a small town policeman encountering a mysterious flying object, and the officer's response. Sitting at his upright piano, the artist, a Christian unafraid to refer to the Bible to a mostly secular fan base, connected the sighting to a religious epiphany.
It was a rare moment of hope amid a performance that dwelled on the inevitable, on fate and on circumstance. "For my prayer has always been love," he sang during "Drawn to the Blood." "What have I done to deserve this?"
In "Eugene," he recalled summers in Oregon with his mother. "The best is behind me / Now I'm drunk and afraid / Wishing the world would go away."
A drag? Perhaps, but glorious doomsaying nonetheless.
Follow Randall Roberts on Twitter: @liledit
---
Inside the business of entertainment
The Wide Shot brings you news, analysis and insights on everything from streaming wars to production — and what it all means for the future.
You may occasionally receive promotional content from the Los Angeles Times.