Review: Taylor Swift at Staples Center: Where every fan is her best friend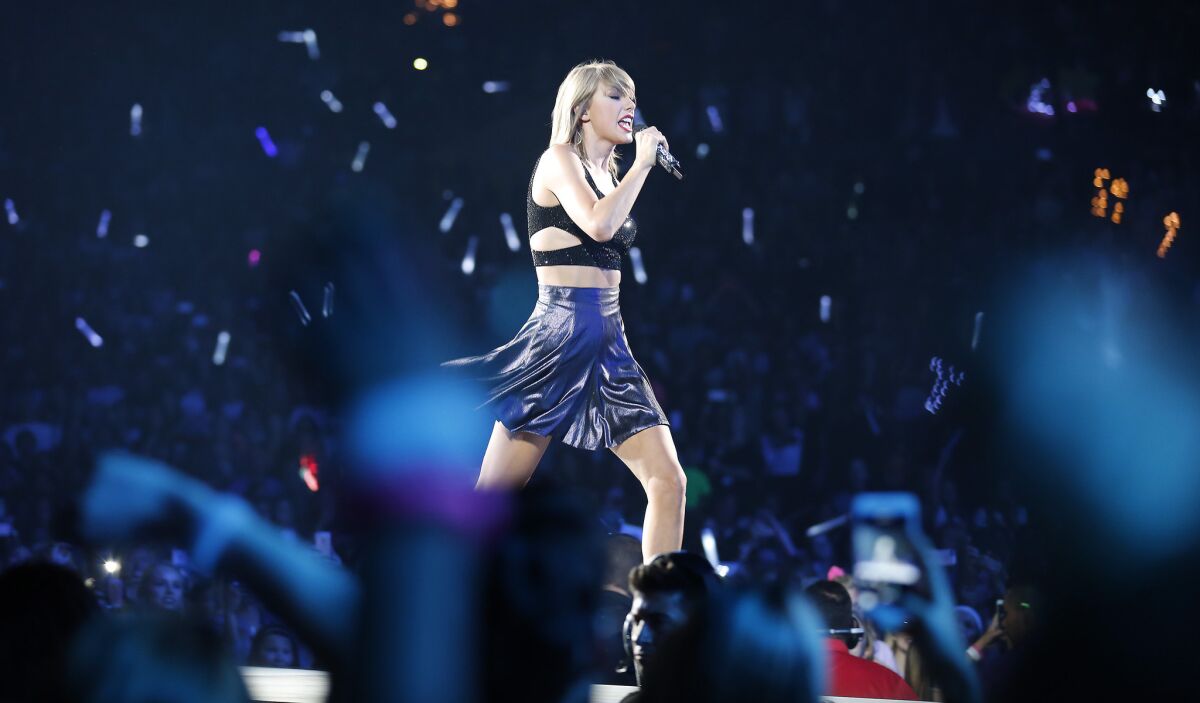 Memorable images flashed across the Staples Center stage when Taylor Swift played the first of five concerts at the downtown arena.
There was the golf club she swung over her shoulder in "Blank Space." There were her 12 male dancers in matching purple short suits. And there was Kobe Bryant of the Lakers pointing to a banner that recognized Swift for selling out more shows at Staples than any other performer: 16 by Bryant's count, including those that will keep the singer there through Wednesday.
Yet no visual said more about Swift -- or her place in the pop cosmos -- than the enormous eye that filled the video screen at the rear of the stage during "All You Had to Do Was Stay," a song from Swift's blockbuster album "1989." The eye evoked Big Brother, of course, an appropriate association for a 25-year-old megastar with enough power that Apple recently agreed to her demands for streaming music royalties.
SIGN UP for the free Essential Arts & Culture newsletter >>
But it also put across the notion that Swift is watching her audience nearly as closely as it's watching her, a clever disruption of the power dynamic that typically exists between leader and disciple.
Before "All You Had to Do Was Stay," the singer delivered a lengthy monologue -- a version of a stump speech she's been giving all summer on her "1989" world tour -- in which she hailed her fans for being so "candid" and "vulnerable" in their online communication with her. And later she mounted a moving platform that brought her (almost) within touching distance of the crowd, perfect for singing her song "All Too Well" as "a duet with you," she said.
Swift has worked hard to effect this kind of communion -- to provide a taste of what it's like inside her life -- since the beginning, back when she was a teenage country singer writing about feeling like an outsider in language that made her listeners feel like insiders.
And she still does: In spite of the glossy, synthed-up sound of "1989," which she famously described prior to its October release as her "first documented, official pop album," what distinguishes the record's strongest material is its attention to personal detail, as in "Out of the Woods," where she recalls a car accident involving an unnamed beau that required "20 stitches in a hospital room." At its best the music makes you think you understand Taylor Swift.
But in Friday's gig -- the kickoff to her "Los Angeles residency," as she put it -- Swift went further, spending a considerable amount of time telling her fans that she understands them. Nonsense? Perhaps. But she sells the idea, one made only more potent by the fact that this production isn't some hushed coffeehouse affair but a full-on pop spectacle. (In some cities, Swift is playing stadiums four times the size of Staples Center.)
Backed by a slick but muscular eight-piece band, Swift sang and danced her way through most of "1989" and reimagined a few older cuts in the new album's smart '80s-pop mode, including "Love Story" (here a moody electronic ballad) and "I Knew You Were Trouble" (which had a throbbing industrial-funk beat). Late in the concert, she strapped on an electric guitar and basically made a Joan Jett song out of "We Are Never Ever Getting Back Together," the 2012 hit that first hinted she'd soon leave country behind.
Swift has made a regular feature of the surprise guest on her stage, and Friday it was Ryan Tedder, the One Republic frontman who also worked on "1989" as a producer and songwriter. Compared with the splashier cameos she's arranged in other cities -- Sam Hunt, Lorde, Fetty Wap -- Tedder was something of a letdown, even if One Republic's song "Counting Stars" has never sounded as good as it did with Swift helping out on vocals. (On Saturday, the singer brought out Mary J. Blige to do the deathless "Family Affair," which feels like some kind of cruel joke on the first-night faithful.)
What was fascinating about the bit, though, was how much excitement Swift clearly took in revealing the surprise; the same went for her introduction of Bryant, whom she claimed hadn't told her about the banner beforehand.
At this point in her tour -- at this point in her career -- you'd expect a sense of noblesse oblige to have set in, particularly regarding this type of thing. But it hasn't.
She couldn't wait to see what we thought.
Twitter: @mikaelwood
MORE:
Taylor Swift gets crunk with Mary J. Blige and 'Crazy Eyes' at Staples
How five minutes with Taylor Swift turned a respected metro reporter into a Swiftie for life
FYF Fest: Kanye West thrills, but we've seen it plenty
Get our L.A. Goes Out newsletter, with the week's best events, to help you explore and experience our city.
You may occasionally receive promotional content from the Los Angeles Times.