U2 brings its knack for spectacle to Jimmy Fallon's 'Tonight' debut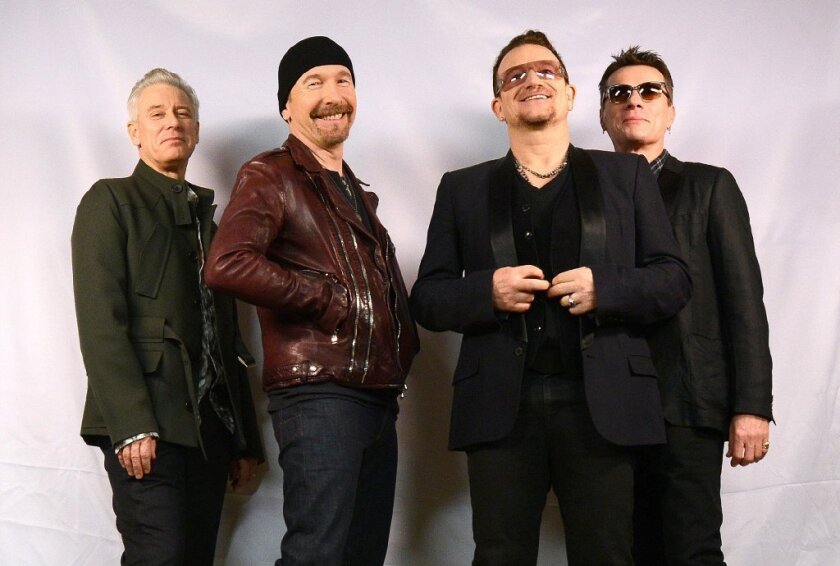 Say this about U2's performance of "Invisible" on the premiere of "The Tonight Show Starring Jimmy Fallon": The group certainly knows how to work an event.
Even more than U2's unveiling of "Invisible" during a Super Bowl advertisement, the Irish quartet's appearances on Monday's "Tonight Show" captured what the band in 2014 does best: spectacle.
Set up on the roof of the Rockefeller Center, U2 had a sunset-hour setting and dizzying -- distracting even -- heights as a backdrop. Perched 70 stories up, "The Tonight Show," perhaps indirectly, underscored that for U2 today it's the setting. the stage and the visuals that are paramount.
Give them thy stadiums, or elevate them into thy clouds.
Crammed onto the Top of the Rock with members of the Rutgers University Drumline, there didn't even appear to be space for LarryMullenJr. to fit a full drum set. Cameras swooped, the skyline twinkled and tightly packed fans bounced along. Forget the song, it was the novelty of the locale that captivated.
How close, one wondered, are the fans to the edge of the building? What if everyone doesn't exit in an orderly, single-file manner? In a rooftop this claustrophobic, why was U2 frontman Bono still given space to make a sprinting entrance from the nearly nonexistent off-stage space?
Few lead singers can sell a fist-pump and a "yeeeah!" with the all-together-now camaraderie of Bono, and "Invisible" is mildly appealing in the way most U2 singles these days are mildly appealing, that is that it's power and thrill is directly related to the size and stature of the setting. When a camera pans over Bono's shoulder and the Manhattan skyline is lit up behind him, the band's inspirational verses and Empire State-sized choruses feel at home.
PHOTOS: Iconic rock guitars and their owners
Indeed, as Bono pointed his gloved hand to the camera and shouted, with pitch-perfect consistency, that "I am not invisible," one could be forgiven for wanting to grab a bindle and sign up for a walk-on audition on Broadway. Or at the very least think, "Hmmm, maybe I should have taken that Top of the Rock tour last time I was in New York."
"Invisible" wasn't the only song U2 performed on "The Tonight Show." The band, after all, has an Oscar to campaign for, and Bono and Co. performed a mostly-acoustic rendition of "Ordinary Love" from "Mandela: Long Walk to Freedom" (the Roots joined in the song's final seconds). Oscar voting ends Feb. 25, and while the affable Fallon said he looks forward to U2 giving an Oscar acceptance speech, Bono here was more grounded.
"Can an animated character give a speech? It's probably more likely," Bono said, referring to the odds-on Oscar favorite "Let it Go" from Disney's "Frozen."
But even if U2 doesn't walk away with an Oscar, Fallon did get the sometimes too self-serious band to poke a little fun at itself when the host asked Bono to give a speech about a cup. Like three out of five U2 songs, the speech contained some platitudes about love.
INTERACTIVE: Discover songs of L.A.
"I can only give speeches about things I believe in, but I believe in this cup," Bono said. "It's not a cup really, it's a containier. It demands to be filled. It can be filled by love, or bad thoughts."
But Bono didn't stop there, adding the cup was held by Nelson Mandela, who in foreshadowing the 2014 Oscar race for original song declared Princess Elsa a "bad girl."
Cute, but that's Queen Elsa, Bono.
Watch "Invisible" on "The Tonight Show" below:
ALSO:
Live music as a theme of downtown L.A.'s revival
L.A.'s Warpaint branches out from the abstract with stepped-up spin
Video game designers go to next level with real-world problems, nuance
---
Your essential guide to the arts in L.A.
Get Carolina A. Miranda's weekly newsletter for what's happening, plus openings, critics' picks and more.
You may occasionally receive promotional content from the Los Angeles Times.