Universal's bid for EMI music division approved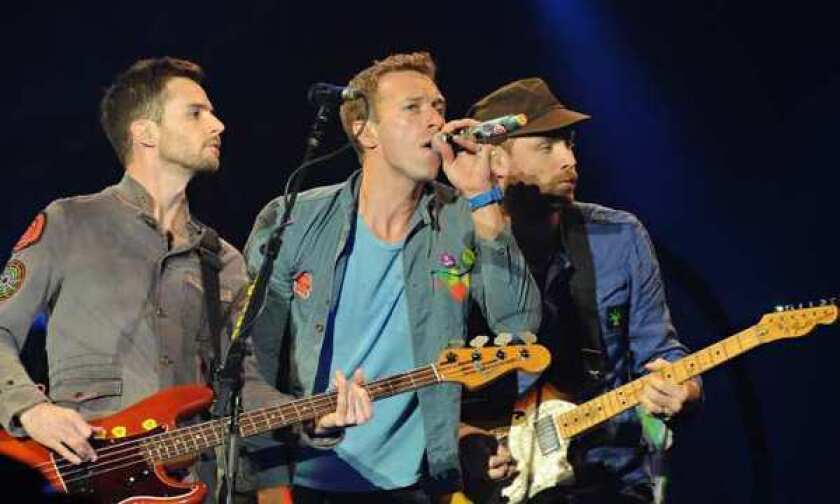 Regulators in the U.S. and Europe on Friday approved Universal Music Group's $1.9 billion acquisition of the music division of EMI Group Ltd., giving the Los Angeles-based music company control of the Beatles music catalogue and the iconic Abbey Road studios in London, but forcing it to divest interest in the music of Coldplay.
The merger will create an even larger global music conglomerate and put the vast majority of commercially released music into the hands of three international giants.
In the U.S., the Federal Trade Commission approved the deal without condition. But Universal is required by EU officials to sell off many EMI assets to help keep the new entity from obliterating smaller independent companies.
Nevertheless, UMG officials hailed their double victory, which "will allow us, I hope, to do our bit to return the industry to growth," Universal Music Group Chairman and CEO Lucian Grainge told The Times on Friday. "It will enable us to continue to invest in more music, to create investment opportunities for the entire Universal group, it will give us the opportunity to work with entrepreneurs in different genres and it will give us a cushion through this crucial crossover period as we hurtle toward a primarily digital business."
Executives from the Warner Music Group and Sony Music on Friday declined to comment on the decisions, which were praised in some quarters as good for consumers.
"Big isn't necessarily bad," said Berin Szoka, president of the TechFreedom nonprofit, nonpartisan technology policy think tank, in a statement. "Combinations like this one can benefit consumers, especially when the merging firms are struggling to reinvent themselves in the face of technological change. The FTC deserves credit for carefully analyzing this deal. Most importantly, the FTC recognized that the merged firm will no more be able to stifle competition from online streaming services than either firm could on their own."
Media analyst Laura Martin, managing director of Needham & Co., said, "This merger is great, because it will lower costs. Universal and EMI combined will be able to cut 20% to 30% from their overhead. That's healthy for the ecosystem of the business."
The EU insisted that Universal sell EMI's 50% share of the widely popular "NOW! That's What I Call Music" hits compilation series and divest itself of subsidiary labels such as Chrysalis, Virgin Classics, Ensign and Mute and EMI units in 10 European countries.
Universal is also required to part with recording artists currently on the Parlophone label such as Coldplay and the Gorillaz, but it was not required to part with the goldmine of Parlophone catalog recordings of the Beatles.
But even without many significant EMI assets, Grainge said, "We've been cleared to acquire two-thirds of EMI, and we now own iconic companies and brands such as Harvest, Capitol Records, Virgin Records, the EMI label, Abbey Road Studios ... the Beatles, Robbie Williams, Beastie Boys, Katy Perry, Lady Antebellum, 30 Seconds to Mars, Charles Aznavour, Deep Purple and Nat King Cole."
He said Universal would take ownership of the EMI properties "in approximately a week. Situations like this involve a whole series of integrations, but until we had approval it would have been impossible and irresponsible to talk about plans in terms of those integrations. Now that we're cleared, we can get on with the work and start executing our plans through our teams worldwide."
Joaquin Almunia, the EU's competition chief, who described the divestments as "very significant" said, "The total size of the divestment package represents a very large size of EMI's revenues in Europe, roughly speaking around two-thirds," adding that "all the remedies mean the new entity no longer poses a threat."
It also means Universal may have a harder time recouping its investment after spinning off numerous revenue generating assets.
Still, a trade group representing European indie record labels, IMPALA, said the required divestments did not go far enough. "The independents welcome the EC's conclusion that Universal's power is a problem across the whole market, both digital and physical, including access to media," according to an IMPALA statement. "The remedies package put in place, however, is not considered to be tough enough to curb Universal's improved market position."
Ted Cohen, managing partner of TAG Strategic, a digital media consulting firm, said Friday, "I, for one, am glad to see this merger successfully resolved. The EMI team has done some brilliant work in the face of drastic uncertainty. Now that the deal can move forward, artists can be more confident that they have reasonable security going forward. I only hope that UMG sees the value in EMI Music execs such as Mark Piibe, Pat Shah and Tricia Tranquillo, who have been moving things forward in the digital/mobile space, where our futures are going to be made."
A full report will appear in Saturday's Los Angeles Times.
ALSO:
Randy Newman is 'Dreaming' about the Obama-Romney race
Lynyrd Skynyrd denounces Confederate flag, angering some fans
Michael Jackson's 'Bad 25' box: Is it worth your time and money?
---
The complete guide to home viewing
Get Screen Gab for weekly recommendations, analysis, interviews and irreverent discussion of the TV and streaming movies everyone's talking about.
You may occasionally receive promotional content from the Los Angeles Times.