11 Images
Who's the next Miley Cyrus?
lat-miley3-k62whanc20080905113402
By Stephanie Lysaght and Denise Martin, Los Angeles Times staff writers
She can't rule the world forever, and "iCarly" star Miranda Cosgrove is already nipping at her heels. Sooner or later, tween queen Miley Cyrus will graduate to more adult fare. When she does, a new fresh-faced adolescent will inevitably take her place. But who will it be?
Demi Lovato?
If anybody is poised to inherit Ms. Cyrus' crown, it may well be Disney starlet Demi Lovato. Her album, "Don't Forget," entered the charts at No. 2 last year, and she was lucky enough to woo one of the
Jonas Brothers
in TV movie "Camp Rock." You can catch her playing sketch comedy star Sonny in the new Disney Channel series "Sonny With a Chance."
(Andrew H. Walker / Getty Images)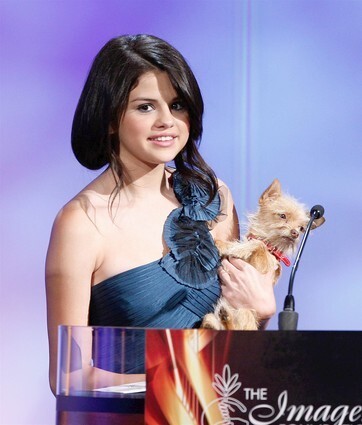 Selena Gomez?
Also hailing from the Disney camp is tween sensation Selena Gomez, who plays Alex Russo on Disney's "Wizards of Waverly Place" and costarred with Lovato in "Princess Protection Program."
But don't try to pit Gomez and Lovato against one another for the coveted crown. The two starlets are thick as thieves and have been posting
YouTube videos together
.
(Kevin Winter / Getty Images)
Miranda Cosgrove?
If Gomez and Lovato are the top candidates in the Disney camp, Miranda Cosgrove is their Nickelodeon equivalent. After getting her start in "School of Rock," Cosgrove solidified her tween fan base playing Megan Parker on Nickelodeon's "Drake & Josh."
Today, she is best known as Carly Shay on Nickelodeon's mega-hit series, "iCarly." And of course she has a music career in the works.
(Matt Sayles / Associated Press)
Victoria Justice?
Former "Zoey 101" costar Victoria Justice could be stepping into a series of her own. Her starring role in Nickelodeon's "Spectacular" TV movie in early 2009 was followed by a chance to play Carly's opponent in the "iCarly" movie event "iFight Shelby Marx."
Nickelodeon is developing a series set in a performing arts school as a starring vehicle for Justice.
(Chris Pizzello / Associated Press)
Emma Roberts?
Is a famous family enough to ensure success in Hollywood? If so,
Julia Roberts
' niece, Emma Roberts, may be the next big thing.
Emma Roberts began her career with adult projects, such as the 2001 drug film "Blow," but soon changed to more kid-friendly fare. Roberts has appeared on "Drake & Josh," carried "Unfabulous" and starred in "Nancy Drew" and "Hotel for Dogs." Her recent independent film, "Lymelife," moved her back into the adult space, featuring a first-ever love scene. Roberts' star continues to rise with upcoming projects like "Valentine's Day" and "Twelve."
(Richard Hartog / Los Angeles Times)
Alyson Stoner?
She just turned 16, but Alyson Stoner already has more than 20 IMDB credits to her name.
The kiddies know and love her from "Camp Rock," "The Suite Life of Zack and Cody" and pretty much every other adolescent hit series on TV between 2004 and 2008. Next up for the starlet is "Camp Rock 2: The Final Jam" slated for release in 2010.
(Alberto E. Rodriguez / Getty Images)
Jemma McKenzie-Brown?
You may not know about British-born Jemma McKenzie Brown, right, quite yet, but give her a year. The actress is in "High School Musical 3" and will be part of the new cast in "High School Musical 4."
(John Bramley / Disney Enterprises)
Keke Palmer
After garnering acclaim for playing Akeelah in "Akeelah and the Bee," Keke Palmer went Disney for 2007's "Jump In!"
She now stars in Nickelodeon's "True Jackson, VP," about a teen working in the high stakes world of fashion. Oh, and did we mention she released a CD too? And starred in a handful of
Tyler Perry
films? Keep an eye out for this one.
(Joe Corrigan / Getty Images)
Emily Osment?
Haley Joel Osment ("The Sixth Sense") isn't the only one in his family with acting chops. His little sis, Emily, left, is also a star in the making.
Emily Osment plays Lilly Truscott in the "Hannah Montana" TV show and film, and has appeared in the kid-friendly film "Spy Kids 2," among others.
(Byron Cohen / Disney Channel)
Aly and AJ?
Never heard of Aly and AJ? Well, then you are definitely over the age of 16. Sisters Alyson Renae "Aly" Michalka, left, and Amanda Joy "AJ" Michalka are a pop-music sensation, and now they're giving acting a whirl.
Look for Aly in this summer's "Bandslam," which also stars
Vanessa Hudgens
. Look for AJ in the upcoming film adaptation of "The Lovely Bones." Could one of these two be the next big thing?
(Lester Cohen / Wireimage)
Sara Paxton?
At 20, Sara Paxton may be too over the hill for Miley's crown, but that doesn't mean she's not in the running.
With a resume chock-full of tween hits and even a daytime Emmy nomination for her work on "Darcy's Wild Life," Paxton is definitely a tween favorite.
(Vince Valitutti / 20th Century Fox)