10 Images
Obama's campaign blitz or marketing blitz?
By Patrick Day, Los Angeles Times Staff Writer
Getting elected to the White House is a lot like opening a Hollywood blockbuster these days. And nowhere is that more in evidence than Barack Obama's campaign after his speech on race in America.
With the current election cycle consuming the thoughts and dreams of a great majority of Americans, commentators have begun bemoaning the inevitable blurring of the lines between politics and entertainment. Young people get their news from "The Daily Show," a comedy program, and politically minded voters are putting their energies into creating
Internet videos
that rely more on cheesecake than issues-oriented slogans.
Some pundits are calling Obama's race relations oration the most defining speech of his campaign. However, it's the Obama media blitz that has followed that is most reminiscent of Tom Cruise's or Denzel Washington's pre-movie release talk show rounds. Take a look at some of the parallels between presidential campaigning and movie marketing:
(Marc Hall / Getty Images)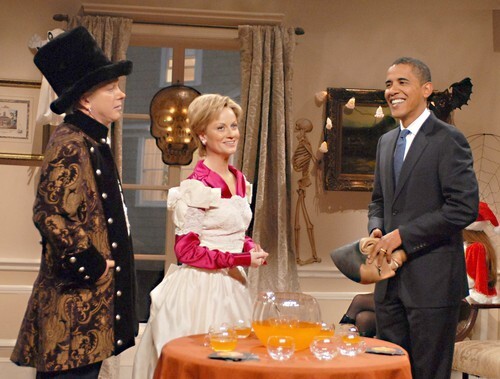 Make a surprise guest appearance on 'Saturday Night Live'
Stars often book hosting stints on "Saturday Night" before release of a big film. The bite-size comedy segments build hype and can help "humanize" serious drama stars. However, this season, the stars looking to "SNL" for compassionate clapter happen to be politicians. No surprise that the long-running NBC show has come under close scrutiny for comedy sketches that appear to favor one candidate over another, i.e., the Tina Fey-coined slogan for Hillary Clinton, "B*tch is the new black."
This season each Democratic candidate has appeared once. Expect many more. Unlike most summer films, the blockbuster known as the "Democratic National Convention" doesn't open until late August.
(Dana Edelson / NBC)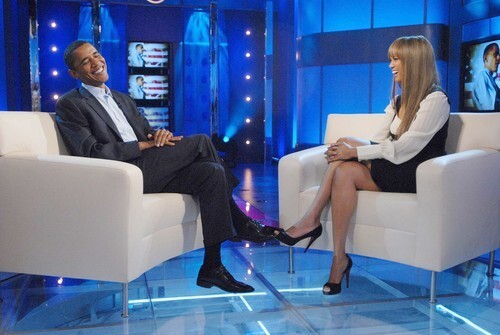 Make time for the daily TV talk show circuit
Assuming they haven't gotten caught with a hooker, tried to kill themselves or charged with drunk driving, movie stars are required to make time in their busy schedules for some couch time with Oprah, Ellen, Tyra, Dave, Jay, Conan, Jimmy, Larry, Regis, Barbara and Whoopi. Having the ability to deliver an amusing anecdote regarding a family pet or recent vacation trumps all other talents in the eyes of the common American. Fail on the talk show circuit and your movie is doomed. Be a personable guest and people will pay to see more of you. Whether it's people turning out at the polls or for opening weekend, it doesn't matter -- turnout is turnout.
(Jason Kempin / Warner Bros.)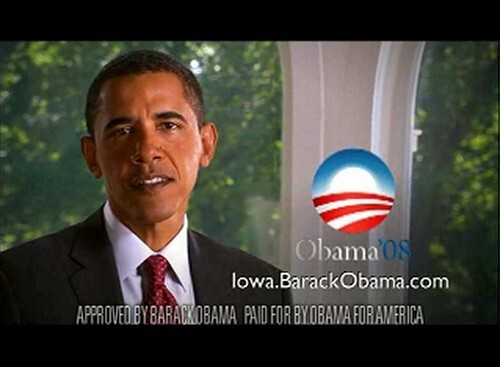 Cut a good trailer
Within one week of the online premiere of the trailer for "Indiana Jones and the Kingdom of the Crystal Skull," it had been viewed more than 200 million times. It had all the visual elements fans craved: battered fedora, bullwhip, bad guys and ancient booby traps. It even ended on a shot of the star alone, uttering a catchy phrase: "I thought you said you were a teacher," co-star Shia LaBeouf says. "Part time" is Indy's response. What an ending. Barack Obama's campaign trailers don't have the fast cutting of the Indy spot, but he gets the fundamentals right: He ends on a shot of himself uttering his undeniable catchphrase, "I'm Barack Obama and I approved this message."
(Associated Press)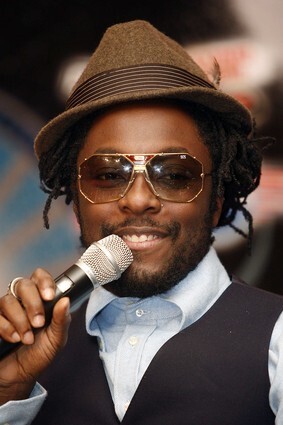 Be sure to release a hit song tied to the campaign
Celine Dion singing "My Heart Will Go On" is indelibly linked to "Titanic," and Whitney Houston belting out "I Will Always Love You" for "The Bodyguard" is a pop culture keystone. Never mind that every James Bond movie since "From Russia With Love" has had a different hit single.
The Obama campaign won over the Black Eyed Peas' will.i.am, who orchestrated the all-star song and video "Yes We Can," which has received about 16 million views since it debuted in early February. Although the song hasn't quite broken through on the Billboard charts, it does qualify as some kind of hit -- just don't expect to hear it next time you're standing in line at the bank.
The Clinton campaign left the theme song vote to
members of the public
, who came up with Dion's "You and I."
(Alexandre Meneghini / Associated Press)
Move the merch
Sadly, the days of Burger King collectible glasses are long gone, but that hasn't slowed the Hollywood tie-in juggernaut from filling warehouses with merchandise from every blockbuster the studios release, such as
"Hulk" smash hands
and "Transformers" action figures. The official merchandise of the Obama campaign may be a little lacking creatively,
but the specialty market
has rushed to fill the gap nicely.
And though it may not be Happy Meal-worthy, Hillary Clinton's
Kid Pack
is pretty cute for the little ones too.
(Jeff Chiu / Associated Press)
Whip up excitement on opening day
"Star Wars" fans camped out for days in advance of the premiere of each new prequel, and every blockbuster worth its salt gets a jump on its opening date with 12:01 a.m. screenings. When you've got a hot product, it's important to play up the fan turnout. After all, nothing builds anticipation like having rabid fans standing around to see a star with their own eyes. Although the Obama and Clinton campaigns haven't had any sold-out primary performances (that's called voter disenfranchisement), they both certainly know how to draw the fans.
(Eric Thayer / Getty Images)
Adapt a bestseller
Hollywood loves a built-in audience, as that makes the job of selling the movie version that much easier. And what better sort of built-in audience than one that comes from a beloved book? "The Da Vinci Code" was a no-brainer for film adaptation, as were "No Country for Old Men" and "Atonement." Obama has taken the bold move of trying to adapt his own 2006 bestseller "The Audacity of Hope" into a successful campaign, which can sometimes be a tricky endeavor. Although the title change to "Obama '08" may have confused some casual "Audacity" fans, it doesn't seem to have hurt his success so far.
(Jim Cole / Associated Press)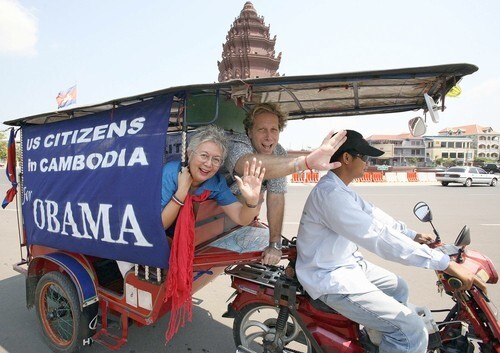 Market internationally
For years now, the big Hollywood studios have been turning to international markets to make their costly movies profitable. Disney's "Pirates of the Caribbean: At World's End" last year grossed $309 million in the U.S. and more than $650 million in the rest of the world. Big action and spectacle translate well in foreign-speaking cultures, though comedy is a little tougher. Citizens of foreign countries can't vote for U.S. presidents, but, like pirates, America is a global phenomenon. So it's a wise decision by all candidates to make sure everyone around the world has heard their messages. You never know where that winning vote will come from.
(Tang Chhin Sothy / AFP / Getty Images)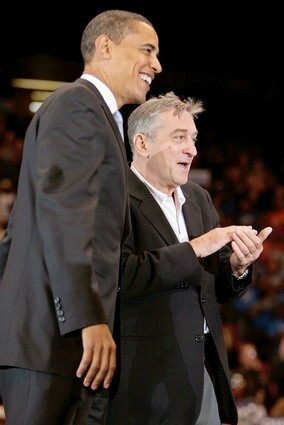 Cast good co-stars
There were De Niro fans and there were Pacino fans, but until "Heat," those two groups were never given incentive to go to the same theater together. Two stars are always more valuable than one, which is why Obama hasn't been shy in using big names like, well, Robert De Niro, Ben Affleck and Jennifer Garner, Scarlett Johansson and Samuel L. Jackson at his rallies. Clinton counts Barbra Streisand, Jack Nicholson and Steven Spielberg on her team.
RELATED:
(Chip Somodevilla / Getty Images)