17 Images
Red Carpet Rewind: Tanorexia
Jennifer Lopez, Christina Aguilera
Stars Who Tan Too Much
By Elizabeth Snead, Los Angeles Times Staff Writer
We've all seen the serious aftereffects of "tanorexia," the insidious addiction that's spreading all over
Hollywood
: carrot- colored hands and feet, a brown sludgy buildup on elbows and knees, and bright orange Oompa-Loompa faces.
All of that is the unfortunate result of too much time spent on a tanning bed or, more commonly, doing too many stand-up sessions in a spray tanning booth.
Some stars like
Cameron Diaz
and
Jennifer Aniston
know how to limit their tan to a natural sun-kissed glow. But other stars - and we think you know who you are - need to start saying "No!" to the faux glow.
(Jennifer Lopez and Christina Aguilera)
(WireImage.com)
Cameron Diaz
Life's a beach
Cameron Diaz always has that natural "California girl" glow about her. Sure, it may occasionally be enhanced by a quick Mystic spritz. But she'll always be a beach blonde to us.
(WireImage.com)
Christina Aguilera
Sun dancing
Even pregnancy didn't stop Christina Aguilera from ODing on bronzer. Even her platinum white hair is starting to absorb that orange color. No amount of bleach can remove that stain.
(WireImage.com)
George Hamilton
Sun seeker
Here's the Suntan King of Hollywood, George Hamilton, with his ivory-faced former wife Alanna Stewart. Hamilton, whose face now resembles a ripe tomato, started working on his tan in the '70s, back when you actually had to sit in the sun to get color. I know, can you believe people actually did that?
(WireImage.com)
Janice Dickinson
Sun burnout
Hollywood hanger-on Janice Dickinson's deep dark tan looks as phony as her Chiclet-white teeth, spiky false eyelashes and a few other things we won't mention. No surprise the former supermodel-turned-reality-TV-freak's book is called "Everything About Me Is Fake… and I'm Perfect." Which is both true and false.
(WireImage.com)
Pamela Anderson
Suing for sun damage
Beware, tanoholics. This is what happens when you tan too much.
Pamela Anderson's severely sun-damaged skin is becoming all too apparent. And what are those odd spots on her shoulder?
(WireImage.com)
Jenna Jameson
Tan lines
Jenna Jameson probably uses the same self-tanner Pamela Anderson uses. We hear Jenna's also recently downsized her bust to try to break out of the porn market. Better lighten up on the level 3 spray tans too. Nothing screams 'stripper' like having no visible tan lines.
(WireImage.com)
Jennifer Aniston
Orange alert
Jennifer Aniston lives in Malibu and we always see her photographed taking long walks on the beach with her dogs. So let's give her credit for tanning wisely. I bet she even uses a self -tanner with a loving touch of SPF.
(WireImage.com)
Keith Urban
Urban blight
It's bad enough that Keith Urban's hands, face and neck always look Oompa-Loompa orange. This photos proves that the rest of him is lizard-belly white. No wonder Nicole Kidman has a frozen frown.
(WireImage.com)
Kim Cattrall
Orange appeal
Kim Cattrall caught a lot of flack for matching her streaky skin to her bright orange dress at the Golden Globes in 2002. It's all about blending, gals.
(WireImage.com)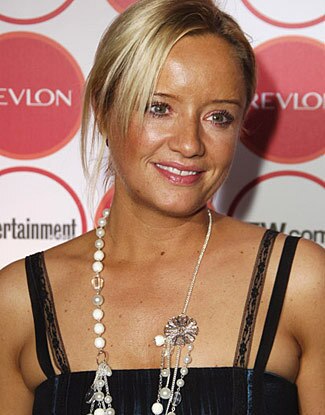 Lucy Davis
Brownout
"The Office" star Lucy Davis probably opted for a level 2 the day before the 2006 Emmy Awards. Bad idea. Always spray two days before and shower off the excess so your face doesn't look like a coal miner's, the way poor Lucy's does.
(WireImage.com)
Nancy O'Dell
Coffee break
Does Nancy O'Dell of "Access Hollywood" realize that her neck and chest are two shades darker than her face?
(WireImage.com)
Lindsay Lohan
Bronze medal winner
Lindsay Lohan, one of Hollywood's Children of the Night, likes to slather on the bronzer in a misguided attempt to look like a normal, healthy young woman. Instead, she just looks in need of a good luffa scrub.
(WireImage.com)
Dina Lohan
All in the family
Sometimes tanoholism can run in the family. Clearly, Lindsay Lohan picked up her bad over-tanning habits from her mom, Dina, or as we like to call her, the Orange Oprah.
(WireImage.com)
Paris Hilton
Tan your hide
Paris Hilton is an all-too-regular at Portofino Sun Spa in Beverly Hills. Her airbrush spray tanner even made a house call during the celebutante's brief home incarceration last year. We have to wonder if that didn't clash with the orange jumpsuit.
(WireImage.com)
Victoria Beckham
Burn, baby, burn
OK, no one can look as tan as Victoria Beckham does at Marc Jacobs' New York fashion show (in September.)
(WireImage.com)
Jennifer Lopez
Brown sugar
Jennifer Lopez
's face was so dark she looked positively toasted at the
Oscars
in 2006. Bet that brown stuff made a mess of the Four Seasons' white 100% Egyptian cotton sheets that night.
(WireImage.com)