11 Images
Frank Sinatra: Actor
Frank Sinatra
By Susan King, Los Angeles Times Staff Writer
No sooner had the series finale of NBC's "Seinfeld" ended at 11 p.m. Pacific time on May 14, 1998, than the news flashed across TV screens that
Frank Sinatra
-- the man with the golden voice, the Oscar-winning actor, the Chairman of the Board and the head of the Rat Pack -- had died at the age of 82.
Though he's been gone a decade, Ol' Blue Eyes certainly hasn't been forgotten. His recordings, movies and TV specials are still popular. In commemoration of the 10th anniversary of his death, Hoboken's favorite son is getting his own 42-cent stamp. Turner Classic Movies is devoting its Sunday and Wednesday prime-time programming to Sinatra throughout May. And on Tuesday, Warner Home Video is releasing four sets of Sinatra's films. Several, including "The Tender Trap," are making their DVD debuts.
Though Sinatra often coasted through his films -- especially in some of his 1960s fare -- when he was good, he was fantastic. Here's a look at several of Frankie's iconic performances.
(Bill Kostroun / AP)
Frank Sinatra, 'Anchor's Aweigh'
"Anchors Aweigh" (1945)
When Sinatra entered films in 1943 with the tepid RKO musical "Higher and Higher," he was far from his image of the cool, ring-a-ding-ding Chairman of the Board. The idol of bobby-soxers around the world, his film persona was that of a shy, skinny, naive young man, someone you'd want to take home to meet your mom.
And that wholesome image continued when he left RKO and moved to MGM in 1944. This sparkling musical comedy, which teamed him with
Gene Kelly
, was his first film at the new studio. The two play a pair of sailor buddies on leave in Los Angeles who try to help a movie extra (Kathryn Grayson) become a star. The movie, shot in Technicolor, was nominated for several
Oscars
, including best film, lead actor (for Kelly) and song for "I Fall in Love Too Easily," which was one of Sinatra's big hits.
(Unknown Photographer)
Frank Sinatra, 'On the Town'
"On the Town" (1949)
Sinatra's recording and film career starting to go into a lull in 1948. But then it saw an upturn when he teamed with his pal Kelly in two musicals in '49, the enjoyable "Take Me Out to the Ballgame" and this classic, which marked the directing debut of Kelly and
Stanley Donen
. Based on the seminal Broadway musical by
Leonard Bernstein
,
Betty Comden
and
Adolph Green
, "On the Town" revolves around three sailors (Sinatra, Kelly and Jules Munchin) who find love while on a 24-hour leave in
New York City
. Sinatra plays the earnest Chip, who becomes the objected of the dogged affection of a taxi driver named Brunhilde (Betty Garrett). The two have a great musical number together: "Come Up to My Place."
(Metro Goldwyn Mayer)
Frank Sinatra, 'From Here to Eternity'
"From Here to Eternity" (1953)
Sinatra's career was in the dumps when he was cast in
Fred Zinnemann
's landmark adaptation of
James Jones
' novel focusing on a group of soldiers stationed in
Hawaii
just before the bombing of Pearl Harbor. He had a hard time appealing to a new teen audience in the 1950s and had suffered vocal problems in concert. No longer at MGM, the quality of his movies, including "Double Dynamite," was poor. Columbia and MCA dropped him in 1952.
But he became a bona fide superstar -- both in films and on records -- with his supporting actor Oscar turn as Angelo Maggio, the skinny, free-and-easy soldier who is beaten to death by the sadistic Sgt. "Fatso" Judson (
Ernest Borgnine
). Eli Wallach was originally cast as Maggio, and over the years there has been much conjecture -- such as Mafia interference, Wallach demanding too much money and even a play conflict -- as to why Sinatra eventually got the role. Author Mario Puzo put a juicy fictional spin on the story in "The Godfather," when a high-powered studio executive (John Marley) gets an offer he can't refuse -- actually it's a horse's head in his bed -- and casts a failing singer (Al Martino) in his big war drama.
(Columbia Pictures Corp. / Handout)
Frank Sinatra, 'Suddenly'
"Suddenly" (1954)
Ol' Blue Eyes solidified himself as a powerful dramatic actor the following year in this gritty, low-budget thriller in which he plays the leader of a group of gunmen hired to assassinate the president while on a train stop at a small town called Suddenly. Though some of the subplot is hokey, Sinatra is electrifying. Newsweek described him as "one of the most repellent killers in American screen history." Supposedly, this was the film that Lee Harvey Oswald saw just a few days before he shot President Kennedy. When Sinatra, who was a close friend of JFK, learned this, he insisted the film be withdrawn from circulation.
(Unknown)
Frank Sinatra, 'The Man With the Golden Arm'
"The Man With the Golden Arm" (1955)
Though he failed to get an Oscar nomination for "Suddenly," Sinatra garnered his only lead actor nomination for his riveting, brave turn as Frankie Machine, a junkie trying to beat his addiction in Otto Preminger's no-holds-barred -- at least for the mid-'50s -- drama based on
Nelson Algren
's bestselling novel. The Hollywood Reporter likened the performance to a "masterpiece."
Elmer Bernstein
's Oscar-nominated jazz score just adds to the film's dramatic intensity.
(UCLA Film and Television Archive)
Frank Sinatra, 'The Joker Is Wild'
"The Joker Is Wild" (1957)
Sinatra introduced one of his chart-topping hits, the Oscar-winning "All the Way," in this satisfying biopic about the hard-drinking Joe E. Lewis, who was an emerging nightclub singer in Chicago until gangsters slashed his vocal cords. Sinatra gives another strong performance as Lewis, who in real life was one of Sinatra's buddies.
(Unknown)
Frank Sinatra, 'Some Came Running'
"Some Came Running" (1959)
"From Here to Eternity" isn't the only James Jones tale Sinatra appeared in. He also starred in Vincente Minnelli's well-acted melodrama. Though not on par with "Eternity," it's still a compelling drama, with Sinatra well-cast as David Hirsch, a World War II veteran and writer who returns in 1948 to his Indiana hometown, where he is torn between a lovely young teacher (Martha Hyer) and a sweet floozy named Ginny (Shirley MacLaine in her Oscar-nominated performance). Sinatra also teams up with Dean Martin for the first time on film. He plays a gambler with the outrageous name of Bama Dillert who becomes friends with Hirsch.
(Unknown)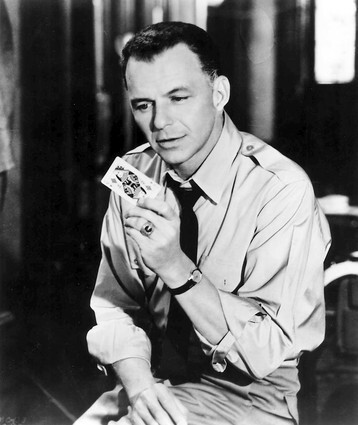 Frank Sinatra, The Manchurian Candidate
"The Manchurian Candidate" (1962)
John Frankenheimer
directed this revelatory, frightening political thriller that features Sinatra's most complex, subtle performance of the 1960s. Sinatra plays Bennett Marco, a Korean War vet who is having troubling nightmares about what happened to him in Korea when his unit was attacked. Unbeknown to the survivors of the unit, they had been taken by the Koreans and transported to China, where they were brainwashed. Marco begins an investigation into what really happened and must stop Raymond Shaw (Laurence Harvey) from committing murder on a grand stage.
(United Artists Corp. / Handout)
Frank Sinatra, 'Robin and the Seven Hoods'
"Robin and the Seven Hoods" (1964)
Sinatra and his Rat Pack cronies scored a bull's-eye with audiences with their 1960 caper flick "Ocean's Eleven." But their two subsequent vehicles, "Sergeants Three" and "Four for
Texas
," strained the patience of even the most die-hard Rat Pack fan. Sinatra and his cronies redeemed themselves with this colorful re-envisioning of the tale of
Robin Hood
, set in the gangster milieu of 1920s Chicago. Sinatra plays a gangster named Robbo;
Dean Martin
is his new sidekick, Little John;
Sammy Davis Jr.
plays Will;
Bing Crosby
is Allen A. Dale;
Peter Falk
is Guy Gisborne; and Barbara Rush is Robbo's main squeeze, Marian. The Jimmy Van Heusen/Sammy Cahn tunes are terrific, especially the Oscar-nominated "My Kind of Town," which Sinatra croons as he only can.
Though the film is carefree, there was a lot of behind-the-scenes sadness during the production. The same day a funeral scene was shot, the cast and crew learned of
President Kennedy
's assassination. And just a few weeks later, while they were preparing for a kidnapping sequence, Sinatra got news that his son had been kidnapped. Though Frank Jr. was returned unharmed, the kidnapping scene never made it into the final cut of the film.
(File Photo)
Frank Sinatra, 'Von Ryan's Express'
"Von Ryan's Express" (1965)
Though Sinatra never served in the Armed Forces during World War II or the Korean War, he certainly made a lot of films dealing with soldiers and wartime. And this entertaining, suspenseful World War II action-adventure is one of his best. He plays Col. Joseph L. Ryan, who is taken to an Italian POW camp after his plane is shot down. As the highest-ranking officer at the camp, he leads his fellow prisoners in a daring escape -- they overtake a freight train that is transporting them to Germany and commandeer it to Switzerland.
susan.king@latimes.com
(20th Century Fox Home Entertainment)