10 Images
A 'Twilight' primer
Twilight
On the first weekend of August,
eager fans of Stephenie Meyer's vampire love story "Twilight"
were be able to snap up "Breaking Dawn," the fourth and final installment of the massively popular book series. The madness will resume in December when the "Twilight" movie hits theaters. It's only August, but the
fan-demonium
was already in full effect at last month's Comic-Con.
Of course, not everyone is up on Bella, her vampire suitor and all this "Team Edward versus Team Jacob" business. We're here to educate you. (If you plan to read the books, please note that this is a
SPOILER-HEAVY
primer.)
()
Stephenie Meyer
"Twilight" was Stephenie Meyer's first novel. The mother of two from Phoenix wrote the book with an assist from a
women's writing group
. Since then her "Twilight" series has been published in 37 countries, she has become a multimillionaire and she is now often compared with J.K. Rowling.
(David Stone / Associated Press)
Bella and Edward
The simple teen romance centers on Bella, a naturally pretty but clumsy high school student, and Edward, her vampire boyfriend. That's right, vampire. As in technically dead. As in 17 going on 107 years old. But that's OK, though, because (a) he's supposed to be "beautiful" to a "dazzling" degree, (b) he's got his urges -- to bite her -- under control, and (c) he protects her from all those other bloodsuckers who think she smells tasty.
(David Strick)
Jackson Rathbone, Ashley Grenne and Robert Pattinson
Most vampire mythology is thrown out the window in "Twilight." Vampires live undetected among humans even while they're pale white, cold and hard as marble. They've got superhuman speed and strength. Their fangs come out only if they're upset. And they don't die from stakes through the heart or sunlight. Actually in the sun, they sparkle. Literally.
On the left: Edward and his "vegetarian" vampire siblings; they feed only on animals.
(Summit Entertainment)
Rosalie (Nikki Reed)
Edward's not the only pretty one. All vampires in this world get to be ethereally beautiful. The fairest of Edward's clan is big sis Rosalie, played by "
Thirteen
" writer-star Nikki Reed. Initially, she's not especially kind to Bella, who is a threat to her brother. (The guy doesn't know if he wants to smooch or suck her blood!) But she lightens up after Bella saves Edward's life in the second book, "New Moon."
(Summit Entertainment)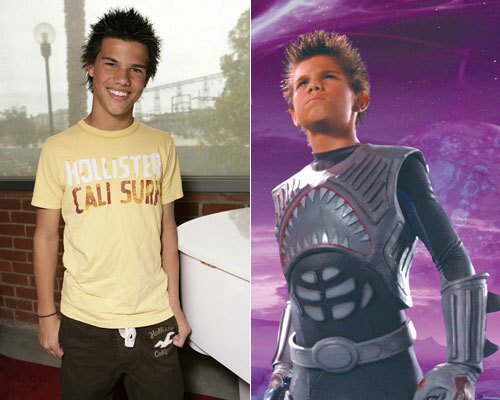 Taylor Lautner
Meet Taylor Lautner. (You may remember him from "The Adventures of Shark Boy and Lava Girl.") He plays Jacob, Bella's mischievous best friend, who tends to his wheelchair-bound dad, fixes up cars and tries unsuccessfully to suppress his love for her. He's later revealed to be a werewolf -- which has the bonus effect of making him taller and more muscular -- causing bigger problems for Bella's boyfriend because vampires and werewolves are mortal enemies.
Plus, Bella also kinda falls for Jacob and his warm fur. What's a girl to do?
(WireImage / Dimension Films)
Twilight Bad Vamps
Not all vampires are "vegetarians." These three get a whiff of Bella and decide they want a bite. One will be successful....
(Summit Entertainment)
James (Cam Gigandet)
Head bad vamp James wants Bella's blood more than the rest. And even though Edward's own family wouldn't necessarily mind a nibble either, they hatch a plan to save her.
(Summit Entertainment)
Catherine Hardwicke
It's unknown how much of the first three novels the
"Twilight" movie
will cover. We think a fitting cliffhanger would be to end things in the beginning of book two --
spoiler alert!
-- when Edward leaves Bella.
On the left: Director Catherine Hardwicke is best known as a youth-themed director, having helmed "Thirteen" and "Lords of Dogtown."
(Rick Bowmer / Associated Press)
Breaking Dawn
"Breaking Dawn," the fourth and final installment in the "Twilight" saga, is out tonight at midnight. When we last left off, Jacob's heart had been broken and Bella was more determined than ever to join Edward in immortality by becoming a vampire herself. The conclusion is hours away....
(Associated Press)