From the archives:: Mary Tyler Moore's taboo-breaking shows seen in new light
Beloved TV icon Mary Tyler Moore has died at 80. Here's a look at her career. (Jan. 25, 2017)
Actress Mary Tyler Moore died Jan. 25, 2017. She was 80. In 2012, the entertainment icon sat down with The Times' Mary McNamara to discuss the influence her roles on "The Dick Van Dyke Show" and "The Mary Tyler Moore Show" had on the future of TV.
In recent months the name Mary Tyler Moore has been bandied about with unexpected regularity bordering on reckless abandon. This is not just because she recently made her first TV appearance in many moons on pal Betty White's show "Hot in Cleveland" or because she proved at last month's televised fete for White's 90th birthday that she can still rock a white pantsuit or even because she is receiving this year's Screen Actors Guild Life Achievement Award on Sunday.
Instead, Moore's name keeps coming up because 42 years after she helped create the single-gal comedy genre, a slew of female-centric shows hit the networks, raising hopes that a new version of the classic and still-resonant "The Mary Tyler Moore Show" would emerge. (It hasn't.)
By midseason, critics were blatantly holding up the new to the old. "No Mary Richards" was how several chose to characterize the fictionalized version of comedian Chelsea Handler in her new show, "Are You There, Chelsea?" Well, no, obviously not, since Mary was a well-dressed, carefully coiffed professional woman trying to balance a career and a meaningful personal life and Chelsea's show is centered on a bartender/drunken skank.
PHOTOS: Mary Tyler Moore's career in pictures
If anyone involved hopes Moore herself is watching, I'm here to tell you that's she's not. "Oh, I don't watch any of them," she said recently from her office in New York. "Why would I? That story has been done, and I think we did it pretty well. I don't need to watch another version."
Perhaps to see the new gals break a few taboos?
"Taboos?" she asks with a laugh, "there aren't any taboos anymore."
It's difficult to argue with her when "2 Broke Girls'" Max (Kat Dennings), the character who may come closest to Mary Richards (she is hard-working, talented and yet insecure), insists on saying "vagina" so often one assumes there is a special bell that rings in the writers room every time she does. And who wants to argue with Mary Tyler Moore, who at 75 has broken more ground than Los Angeles developer Rick Caruso?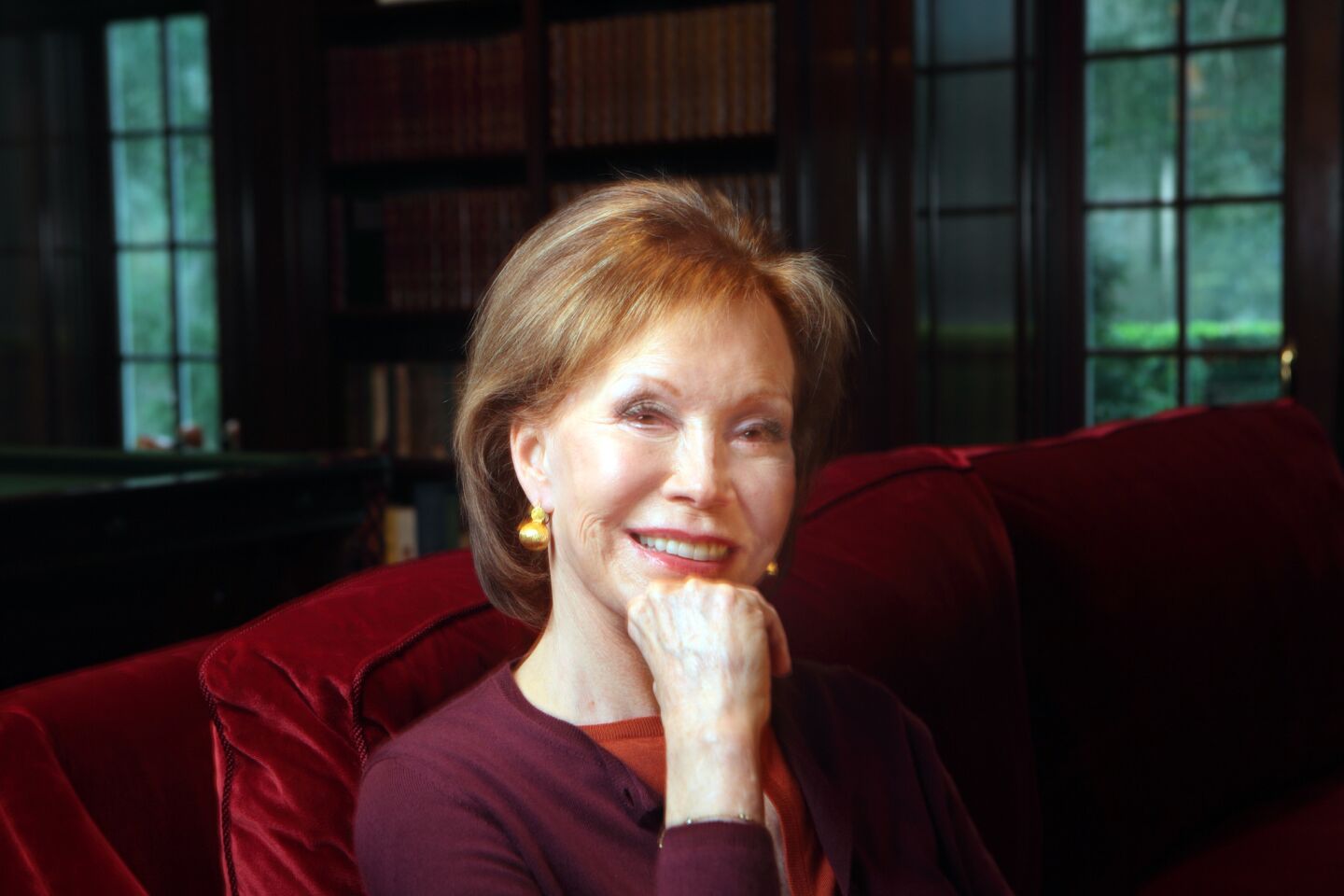 Mary Tyler Moore cemented her status as one of the great television actresses of all time with two timeless hits: "The Dick Van Dyke Show" and "The Mary Tyler Moore Show."

Moore was born in 1936 in Brooklyn Heights, but her family moved to Los Angeles when she was 8 years old. As a teenager, she aspired to be a dancer and appeared in several commercials at the beginning of her career.
(Carolyn Cole / Los Angeles Times)
Mary Tyler Moore arrives at the Emmy Awards in 2001.
(Lori Shepler / Los Angeles Times)
Mary Tyler Moore accepts her Screen Actors Guild Life Achievement Award during the 18th SAG Awards show at the Shrine Auditorium in Los Angeles in 2012.
(Robert Gauthier / Los Angeles Times)
Mary Tyler Moore attends the 60th Primetime Emmy Awards in Los Angeles in 2008.
(Chris Pizzello / Associated Press)
Academy Award-nominated film and Emmy Award-winning television actress Mary Tyler Moore poses during a 1979 photo portrait session in Los Angeles.
(George Rose / Getty Images)
Mary Tyler Moore appears with her then-husband, Grant Tinker, at the Emmy Awards in Los Angeles in 1966.
(David Smith / Associated Press)
Moore auditioned to play Danny Thomas' daughter on "The Danny Thomas Show" but didn't land the part. However, Thomas later remembered her and recommended her for a role on another sitcom he was producing, "The Dick Van Dyke Show," based on creator Carl Reiner's time as a comedy writer for "Your Show of Shows." When Moore joined the series, playing Laura Petrie, the wife of Dick Van Dyke's Rob Petrie, she was just 23 years old -- 11 years younger than Van Dyke. The role made Moore a star and earned her two Emmy Awards.
(CBS Photo Archive / Getty Images)
Mary Tyler Moore and then-husband Grant Tinker appear at a Hollywood event in 1966.
(Michael Ochs Archives / Getty Images)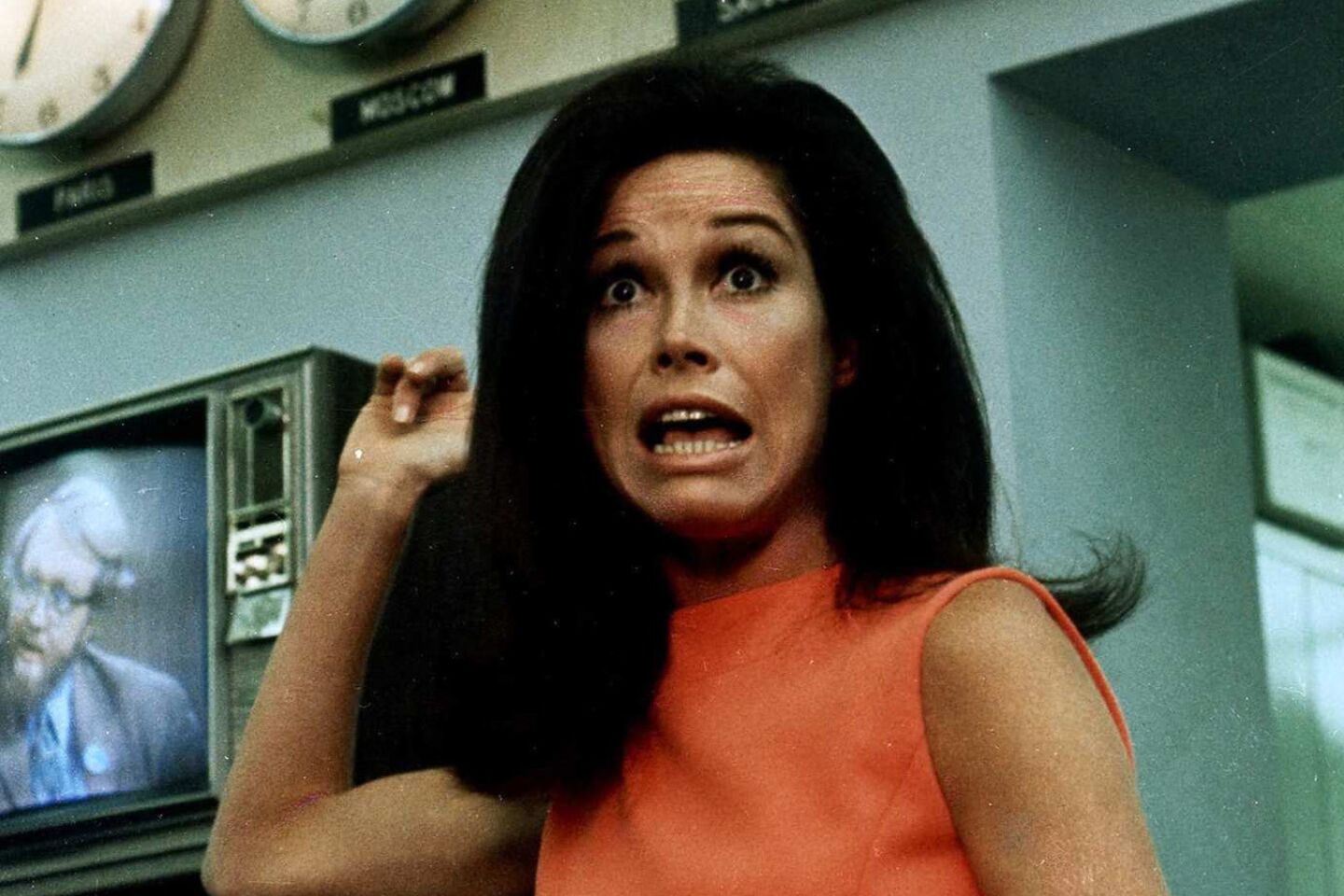 Moore got her second sitcom, "The Mary Tyler Moore Show," in 1970. Moore played Mary Richards, a single TV news producer in Minneapolis, in this popular and critically acclaimed sitcom that ran for seven seasons. The series made stars of many people in its supporting cast, including Betty White, Ed Asner, Valerie Harper and Cloris Leachman. The final episode, which aired in 1977, featured the entire cast gathering for a hug and then slowly shuffling off camera together, still in hug formation.
(CBS Photo Archive / Getty Images)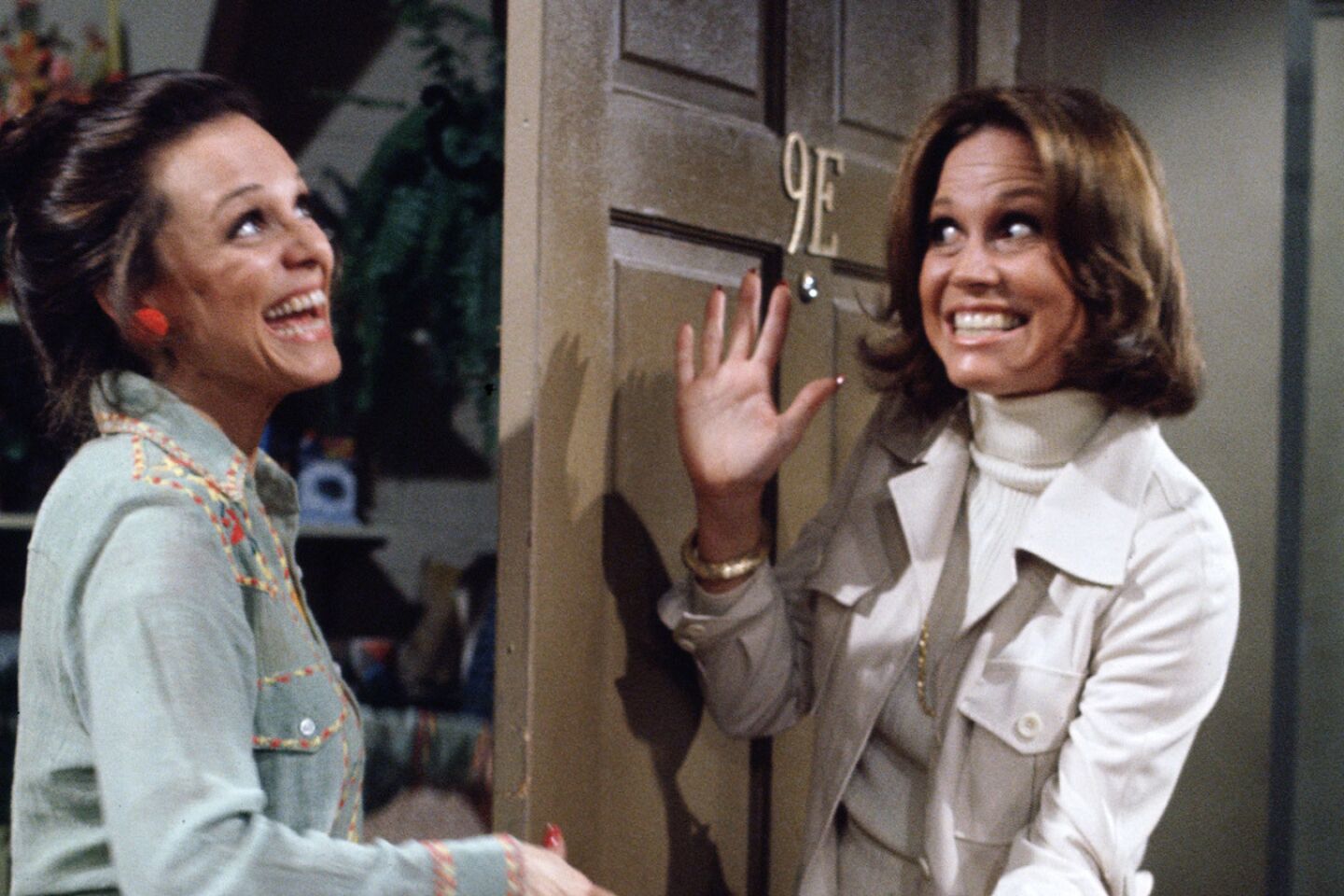 In 1969, Moore founded her own production company, which produced "The Mary Tyler Moore Show" and its spin-offs, "Rhoda," shown, and "Phyllis," as well as many other TV series in the 1970s and '80s, including "The Bob Newhart Show," "WKRP in Cincinnati" and "Hill Street Blues." She also owned a record label, MTM Records, which specialized in country music.
(CBS Photo Archive / Getty Images)
Former President Clinton leans in to chat with Mary Tyler Moore, the Rev. Billy Graham and Lauren Bacall at the 75th anniversary gala for Time magazine at New York's Radio City Music Hall on March 3, 1998.
(Sonia Moskowitz / Associated Press)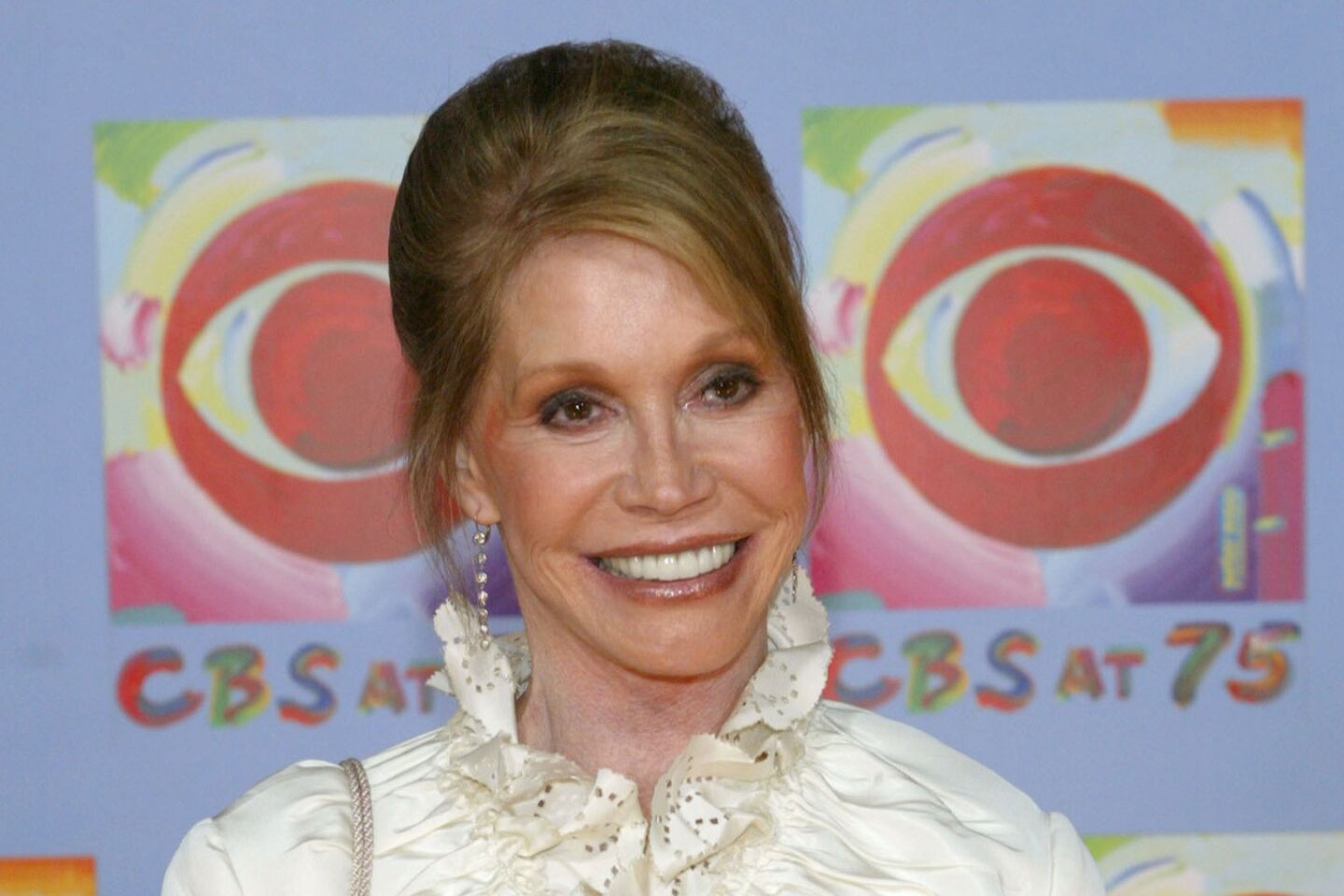 Moore has written two memoirs about her life. In the first, published in 1995, she revealed that she was a recovering alcoholic. In the second, published in 2009, she talked about living with Type 1 diabetes. She also served as the international chairman of the Juvenile Diabetes Research Foundation.
(Evan Agostini / Getty Images)
In 2000, Moore testified before Congress, along with actor
Michael J. Fox
, on behalf of stem cell research. In addition to her
diabetes
and stem cell work, she co-founded Broadway Barks, a New York City animal adoption event, and founded a center for Civil War studies in a house in West Virginia once owned by her great-grandfather and Maj. Gen. Thomas "Stonewall" Jackson.
(Kamenko Pajic / Associated Press)
Mary Tyler Moore accepts her Screen Actors Guild Life Achievement Award from Dick Van Dyke at the Shrine Auditorium in Los Angeles on Jan. 29, 2012.
(Robert Gauthier / Los Angeles Times)
She may have been surprised with the Life Achievement Award — when SAG President Ken Howard called, she says, "I thought he was going to ask if I would present something to someone" — but it's difficult to imagine anyone else was. Between "The Dick Van Dyke Show's" Laura Petrie and Mary Richards, Moore helped create two of televisions most influential and indelible roles — there's a statue depicting the famous Mary hat toss in downtown Minneapolis. How many other television characters have their own statue?
With her then-husband Grant Tinker, she formed MTM Enterprises, which produced equally influential and successful shows including "Rhoda," "The Bob Newhart Show" and "Hill Street Blues." Following a career path almost unheard of in the United States at the time, she went on to win accolades for her work in film (including an Oscar nomination for "Ordinary People") and stage (where she was the first female lead in "Whose Life Is It Anyway?")
She also managed to write two memoirs that raised the bar for celebrity frankness — in "After All," she detailed the struggles in her marriages, her battle with alcoholism and the tragic death of her son (he accidentally shot himself); in "Growing Up Again: Life, Loves, and Oh Yeah, Diabetes," she launched a public conversation about juvenile diabetes, a cause she has supported for most of her career.
"I hate the word 'memoir,'" she says of her books. "I just thought of it as the story of my life."
For the record, she also hates when people come up to her to ask how she's feeling, which she says they do with alarming frequency. Yes, she recently had surgery to remove a tumor from the lining of her brain before it became a problem, and yes, she adds, she did just break her arm after tripping over one of her four dogs. But she's feeling just fine, thanks.
In fact, she's feeling honored by all the attention and in particular the SAG award. "I am trying not to think of it," she says, "and if I do, I think of it as a reward for having done something good, which is more important than me or even the roles I had."
The "something good" refers mostly to the work she's performed for juvenile diabetes and animal rights, but she is proud of her television work because it changed the way people thought about not just television but about life. Which is why she laughs at the suggestion that anyone's breaking taboos today.
When she launched her career as everyone's favorite housewife on "The Dick Van Dyke Show," spouses in TV land still slept in separate beds. She remembers quite clearly the anxiety that arose as the actors played out an episode in which brand new parents Rob (Dick Van Dyke) and Laura discover that a couple with a similar name had a baby at the same hospital on the same day.
Convinced that they have the wrong baby, they ask to meet the other Petries, who turn out to be black. "When the time came for them to open the door," she says, "we honestly didn't know how the audience would react. And there was about four seconds of silence because they didn't know how to react."
"The Mary Tyler Moore Show," which debuted in 1970, both satirized and captured the era's widespread and seismic change. Mary Richards, having bravely broken up with the med student she supported for two years, is now trying to make it on her own, with the help of her newsroom buddies and best friends, the tough-talking Rhoda (Valerie Harper) and the dithering modern parent Phyllis (Cloris Leachman).
There had never been a character, or show, like it. On top of the shaky new independent women it portrayed, "The Mary Tyler Moore Show" joined groundbreaking shows like "All in the Family" in addressing timely and often serious topics in a comedic way — and by providing a template for what would eventually become modern TV's beloved dramedy.
"Comedy shows were getting more and more real," she says. "It was a funny show but not really a comedy like the old comedies." She credits the writers, including Jim Brooks and Allan Burns, with elevating the show to its iconic heights, something she doesn't think the networks are interested in doing these days.
"Carol Burnett and I were talking about how you couldn't do the shows we did because the union fees have skyrocketed and the writers and the cast make it so expensive," she says.
She and Burnett had reunited for the Betty White celebration where Moore also met up with her other "Mary Tyler Moore" co-stars, including Leachman, Harper, Ed Asner and Gavin MacLeod. They don't see one another often, she says, because "they're all Westies and I live in New York," but they remain like a family — she came out of retirement to guest star on White's "Hot in Cleveland," spoofing her Mary-good-girl-Richards persona and turning Asner's famous Lou Grant line — "You got spunk. I hate spunk" — on its head.
She enjoyed the experience and admires White and Leachman for staying in the game. "Betty always did have more energy than any of us," she says, "and Cloris, what's great about her is she always does a role that's completely different." But she's pretty content doing what she's doing. "I have a nice life, a good marriage [to Dr. Robert Levine] finally. I've got my dogs; if I can stop tripping over them, I'm very happy."
Which doesn't mean we should count her out. "If a really good part came along, a good script, I'd consider it," she says. She's a fan of "The Good Wife." What about playing Diane's (Christine Baranski) aunt or something? "She's great," Moore says of Baranski, adding with a very Mary Richards laugh, "yeah, yeah, I'll mention it to my agent."
Get our L.A. Goes Out newsletter, with the week's best events, to help you explore and experience our city.
You may occasionally receive promotional content from the Los Angeles Times.