Classic Hollywood: Shelley Berman broke the mold for comics, now he'll be remembered at the new National Comedy Center
After Shelley Berman died in 2017 at age 92, Sarah, his wife of 70 years, ventured into the room in their home where he wrote. There were file cabinets, she recalled, "tons of stuff" spanning his seven-decade career.
"What am I going to do with all this?" she pondered. "Do I pack it up and save it? Leave it to my family? They'll say, 'What are we going to do with all of this?' Do I give it to some museum that will store it in a basement and then 10 or 15 years from now, someone will go down there and ask, 'Shelley Berman — what did she do?'"
Enter the National Comedy Center, a fledgling institution scheduled to open August in Jamestown, N.Y., Lucille Ball's hometown. The Comedy Center recently received the archives as part of its mission to celebrate comedy "in all of its forms, educating and engaging visitors with the story of the art form and its artists," according to its website.
"We are not a comedy hall of fame," executive director Journey Gunderson noted in an interview. "This is less about inductions and more about valuing the varied contributions to the art form and the craft. Certainly, many hold Shelley Berman in high regard, but it does not take much time to pass for generations to forget really influential artists.
"The same way people go to art museums to learn about artists who were active centuries ago, we need a comedy center to be celebrating comedians from just one generation ago."
The comedy center's director of archives, Laura LaPlaca, said in a separate interview that "we don't include people just because they are well known. Jerry Seinfeld is an iconic figure in observational humor and he cites George Carlin as an influence. To learn that George Carlin cited Shelley Berman as an influence illustrates the importance of what we are trying to do."
Berman was present at the revolution when a generation of comedians dropped the Borscht Belt shtick and confronted the anxieties, neuroses and foibles of life in 1950s and '60s America. Old school comedians did jokes about airplane food. Berman crafted a routine about the indignities of plane travel, the threat of air disasters and being afraid to fly.
And where stand-up comedians stood up, Berman sat down, performing his character-driven routines on a custom-made stool.
Berman was an actor who found his comic voice and developed his sardonic worldview in the company of the Chicago-based improv-driven Compass Players, the forerunners to Second City. At Compass, Berman developed some of his classic solo pieces that would make him a star in nightclubs and on television. One, "The Morning After the Night Before," in which a hungover partygoer phones his host and learns about his outrageous drunken behavior, was originally intended as a two-hander with ensemble member Elaine May. She suggested he perform it as a one-sided telephone conversation.
Berman, like Mort Sahl, "had a different approach to being funny," he told the Chicago Tribune in 2003. "I knew I couldn't be a stand-up comedian because I didn't do mother-in-law jokes or toilet jokes, and that's what comedians at the time were doing," he said. "But I saw Mort Sahl kill them with topical commentary. He was very fast, very charming, and, God, I loved his wit. I said, `I don't work like he does, but…maybe I could do this in a nightclub.'"
To learn about Berman's transition from actor to comedian, you'd better call Sahl.
"He was a good egg," said the 90-year-old satirist, still at it, appearing in conversation Thursday nights at the Throckmorton Theatre in Mill Valley. "A good guy, a gifted guy. I met him (in Chicago) at Mr. Kelly's nightclub. He asked me, 'How do you break into this comedy thing?' and I said, "You go in, you get up, and you do it."
Berman parlayed his success in nightclubs and in Vegas into bestselling records. His first, the Grammy-winning "Inside Shelly Berman" was the first comedy record to go gold. He was the first comedian to perform at Carnegie Hall.
A perfectionist and passionate about his work, Berman had an edgy and prickly personality. A 1963 prime-time television documentary derailed for a time his career after he was captured on camera erupting when a ringing phone backstage interrupted his act. But he continued to act in films and on television, write books and teach, and perform.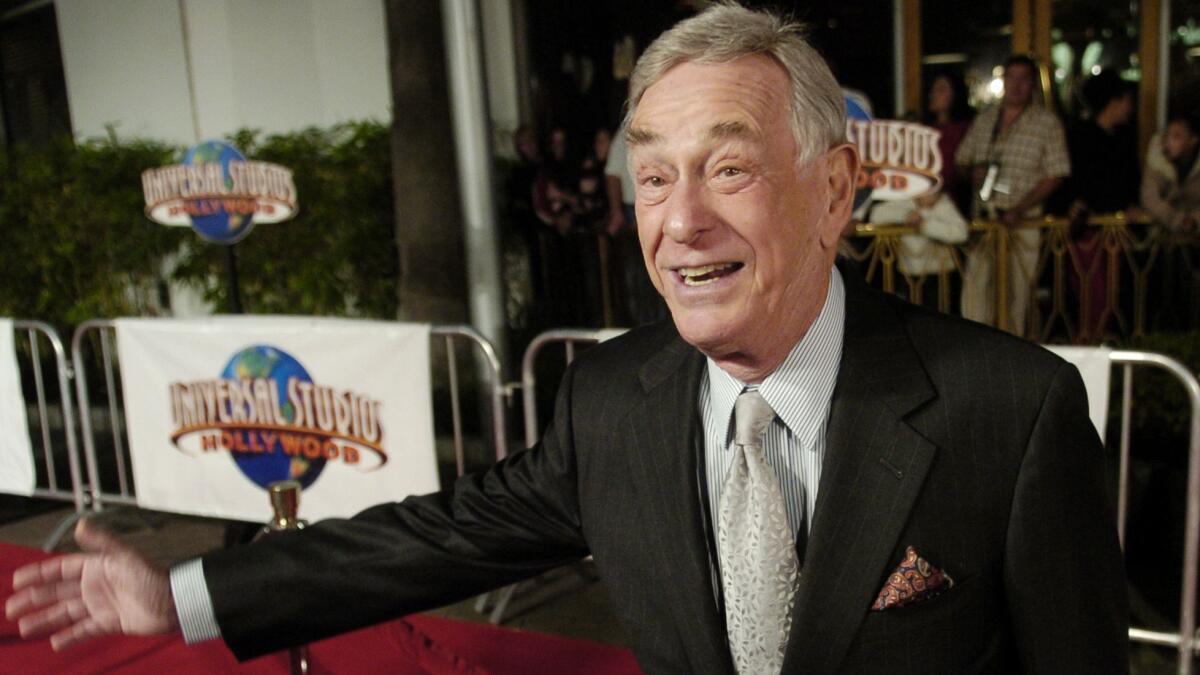 Just as "Seinfeld" revived the career of Jerry Stiller, so did "Curb Your Enthusiasm" reintroduce Berman to a new generation. In his Emmy-nominated role, he portrayed Nat, Larry David's father. He made his memorable debut in the 2002 episode, "The Special Section," in which David, home for a visit, is outraged to discover that his father did not tell him that his mother had died ("She didn't want me to bother you," Nat rationalizes).
Career reclamation was not on David's mind when he cast Berman. He was simply looking for the best actor.
"That's exactly right," David said in a phone interview. "I'm sure so many people who Shelley knew came in to read for the part; a lot of the Catskill comics; Shecky Greene, people of that ilk. They didn't really read (for the part) as much as improvise with me. I gave them the scene and they took it from there. Nobody really got it to my satisfaction.
"Shelley came in and he had his toupee on. We started doing the scene, and as I'm talking to him, I'm going, 'This guy is so great.' Sometimes you have something in mind and he not only hits what you had in mind, he surpasses it."
The only caveat David had when he offered Berman the role was that the toupee would have to go. "It wasn't an issue at all," he said with a laugh. "It wasn't the best toupee in the world. And it would have been impossible for me not to talk about it on the show."
Asked to reflect on Berman, David mentions poems Berman wrote and would on occasion share with the cast. What amazed him most, he said, was his facility with crossword puzzles: "He would rattle them off in 15 minutes, even the Friday and Saturday New York Times puzzles, which I don't even look at. He was a master; I was really envious."
Sarah is proud that her husband will be represented at the Comedy Center. He broke the joke mold, she said. "Shelley never told a joke in his act. But he had something you can't learn. At the Goodman Theater (where Berman and Sarah met as acting students), all the teachers told us, 'You'll learn a lot by watching him.'"
That people will be able to watch him at the Comedy Center in vintage archival footage is thanks in large part to Christopher Bay, Berman's official archivist and webmaster since 2006. He has collected about 150 rare clips, plus audio files, commercials and radio interviews.
"One of my more recent finds is a kinescope of Shelley and Sarah's appearance on 'Person to Person' from November 1960," he said in an email. "The interview was conducted by Charles Collingwood in the Berman's New York apartment."
In addition to Berman's gold records for "Inside Shelley Berman" and "Outside Shelley Berman," the Comedy Center will also have on display Berman's iconic stool, as well as the tool kit used to dismantle and reassemble it and the carrying case with which he transported it on airplanes from gig to gig.
Sarah is confident that she has found these and other treasures a good home. The National Comedy Center is an idea whose time is long overdue, she mused. "It's time people gave comedy the respect it deserves. This is a good place for Shelley's things."
Get our L.A. Goes Out newsletter, with the week's best events, to help you explore and experience our city.
You may occasionally receive promotional content from the Los Angeles Times.