'Damien's' Barbara Hershey has grown up in front of a camera
An actor has to be brave to play someone who mentors the anti-Christ. But then Barbara Hershey has never shied away from risk.
In the 1970s, she was the living embodiment of 1970s hippie chic, catching flak for temporarily changing her name to "Seagull" before going on to wide acclaim in movies by Martin Scorsese, Barry Levinson and Woody Allen. She caused a scandal, for heaven's sake, by breast-feeding her son Free on national TV.
"I did a lot of growing up being an actor, which means you grow up publicly," Hershey said. "I'm not embarrassed.... I have to laugh at it, because I did what a lot of young people were doing some version of, in that period. You learn from everything. It all adds up to your life."
The latest addition to her life is playing Ann Rutledge, a mysterious businesswoman and steward to the title character in "Damien," A&E's series sequel to "The Omen," the 1976 feature thriller about a small boy who's adopted by a prominent couple who are unaware he's the anti-Christ. The series finale airs Monday.
In this latest version, Damien, played by British actor Bradley James, has grown up to be a 30-year-old war photographer grappling with his true identity.
Hershey said the part came to her "just out of the blue." Glen Mazzara, a veteran TV writer known for his work on "The Shield" and "The Walking Dead," had been approached by Fox studio bosses to develop a series based on "The Omen." The idea was to use the earlier movie as a jumping-off point, much as A&E had done with "Bates Motel," a prequel of sorts to Alfred Hitchcock's "Psycho."
"I loved the very high-concept nature of it," said Elaine Frontain Bryant, A&E's programming chief. "We thought it could be a good companion for 'Bates Motel.'"
Mazzara wrote Hershey a letter explaining his ideas. "It sounded intriguing to me. I loved the question of, if you found out you were the anti-Christ, what would you do?," Hershey said at Shutters on the Beach Hotel in Santa Monica.
The 68-year-old Hershey showed up for the chat as trim as in her younger days, clad in a belted jacket and tapered slacks, her tumbling hair the same shade of brown as when she made teenage boys' hearts race in "Boxcar Bertha," the 1972 Scorsese movie that included notorious nude scenes that she reenacted in Playboy with then-boyfriend David Carradine.
Mazzara considers landing Hershey a major win for the show. "We started thinking who's an actress who can really bring this character to life and play in a lot of different elements?" he noted. Hershey, whose career includes much-discussed movies from the late 1960s all the way up to 2010's "Black Swan," as Natalie Portman's deranged mother, seemed a natural choice: "She's someone who takes risks, who's always captivating."
Born Barbara Herzstein — her father, Arnold Herzstein, was a journalist who covered horse racing — she attended Hollywood High, where her interest in performing grew. She landed roles in mid-'60s TV series such as "Gidget" before graduating to features. An early breakthrough came with "Last Summer," a 1969 coming-of-age movie that contained so much sex and nudity that it initially earned one of the first X ratings given by the Motion Picture Assn. of America (it was later edited down to an R).
Hershey temporarily adopted the professional surname "Seagull" in honor of a bird killed during filming at the beach. "I felt her spirit enter me," she later explained, a rationale that failed to insulate her from widespread ridicule.
Around the same time she started a long-term relationship with Carradine, whom she had met on a western called "Heaven With a Gun." Before long the relationship began to dominate her career. She appeared on Carradine's TV hit "Kung Fu" and in movies he made as a director. Off-screen the pair's antics alienated many viewers. During a joint appearance on Dick Cavett's talk show, producers quickly cut away when Hershey unexpectedly began nursing her son on-camera. (That son, whom the couple named Free, later went by the name Tom Carradine.)
David Carradine was unfazed. In an interview decades later with High Times magazine, he said, "At the time I thought it was proper — proper to fly in the face of convention. I mean, what could be more cool than a mother nursing her baby?" (Carradine died in 2009.) But it began to dawn on Hershey that the relationship with Carradine was damaging her career. By the mid-'70s the couple had separated, and she refocused on acting.
She landed a key role playing Chuck Yeager's wife in the astronaut epic "The Right Stuff" in 1983, then followed up with two movies for Levinson, "The Natural" and "Tin Men." Then came the role that cemented her newfound prestige: the role of Lee, the temptress in Woody Allen's "Hannah and Her Sisters," the 1986 comedy of manners about the complicated romantic lives of a well-heeled Manhattan family.
"I had just moved to New York with my son and I didn't know anybody," Hershey recalled of her first meeting with Allen. "I went on this interview and my agent said, 'Don't worry if you just see the top of [the director's] head, if his eyes don't meet yours. He's shy and don't be surprised.'"
Allen "was so sweet and at the end of the meeting he basically handed me the script and said, 'The role of Lee, if you want it.' … It was such a beautiful script. That was just a gift, my welcome mat to New York."
She joined Scorsese again for "The Last Temptation of Christ," playing Mary Magdalene. She was struck by Scorsese's style of working, which was a marked contrast with Allen's shy, minimalist approach. Scorsese "has a rapid-fire brain," she said. "He'll talk to you about character as much as you want." She received an Oscar nomination for 1996's "The Portrait of a Lady."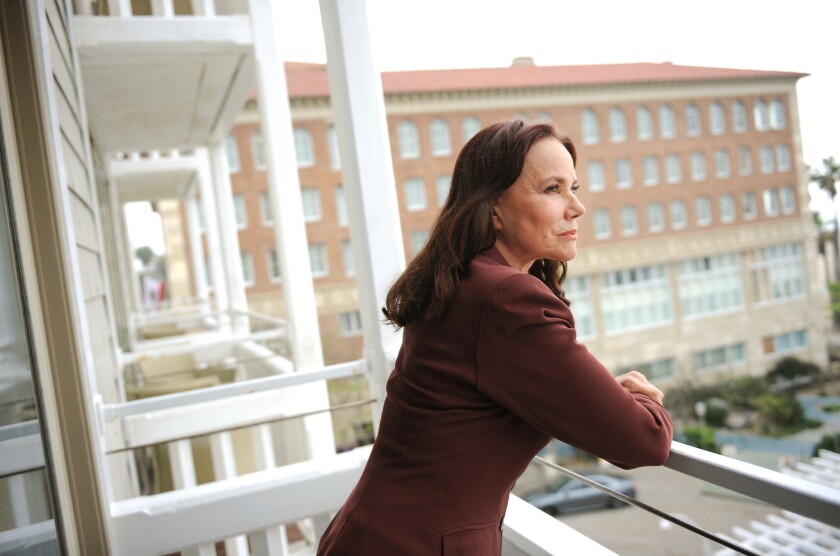 It's the death of anything happy inside you if you Google yourself, because people can be so cruel.
— Barbara Hershey
"The Black Swan" introduced her to a whole new generation of viewers. Her work as Portman's character's desperate, manipulative mother earned her some of her best notices in years.
"It was dealing with insanity and fantasy and visual things," Hershey said of director Darren Aronofsky's film. "Is this really happening or is this all in her brain? … It was really an amazing experience that way as an actor, because I was going in and out of a lot of different doors."
The 10-episode season of "Damien" may not end up making Hershey's highlight reel. Ratings for the premiere were lackluster, with 753,000 total viewers according to Nielsen, and the audience has dropped roughly by half since. Critics were unkind. "Drear and dreadful" was the judgment of The Times' reviewer Robert Lloyd.
But whatever the fate of this latest project, Hershey has long since divided her public persona from her private sense of self.
"It's the death of anything happy inside you if you Google yourself, because people can be so cruel," she said.
Nor does she take anything other than a philosophical view of job security.
"You don't have security as an actor when you do a series," she said. "You don't know what's coming. All you know is what they tell you and what you feel."
---
The complete guide to home viewing
Get Screen Gab for weekly recommendations, analysis, interviews and irreverent discussion of the TV and streaming movies everyone's talking about.
You may occasionally receive promotional content from the Los Angeles Times.