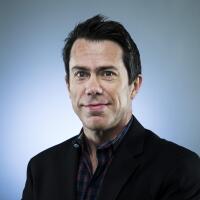 Scott Collins
Scott Collins is a former staff reporter for the Calendar section of the Los Angeles Times. He joined the staff in 2004 after previous stints at the Hollywood Reporter and Inside.com. Author of the book "Crazy Like a Fox: The Inside Story of How Fox News Beat CNN," he is a frequent pop-culture expert on national TV, radio shows and industry panels. He left The Times in 2016.
Between them, Nick Nolte and Sela Ward have nearly 150 movie and TV credits.

An actor has to be brave to play someone who mentors the anti-Christ.

In the summer of 2002, a new singing contest with a distinctly patriotic title premiered on Fox with little fanfare.

On Sunday, the new arch-villain on "The Walking Dead" started menacing people with his baseball bat and looked poised to bash someone's skull in.

Garry Shandling, the pioneering cable TV star and writer whose turn as a self-doubting talk-show host on HBO's "The Larry Sanders Show" during the 1990s helped redefine the television sitcom, has died.

The future might be tough, but "The Divergent Series: Allegiant" has learned that cartoons can be tougher.

On Sunday, Fox is praying for a Christian miracle: that masses of viewers will tune in for a live two-hour musical extravaganza about the last week of Jesus' life on Earth.

These "Kings" didn't live long.

Fox wants to prowl farther down the streets of "Gotham."

ABC's "The Bachelor" has always been full of surprises, from who will get the final rose to what romantic hopeful will bawl the loudest after being rejected.