Jane Pauley, so masterful at reinvention, reaches a new level with 'CBS Sunday Morning'
Reporting from New York —
Inside Jane Pauley's office at CBS Broadcast Center in Manhattan hangs a large group portrait by Annie Leibovitz that ran in Life magazine in 1982. The group includes Pauley and other trailblazing newswomen such as Diane Sawyer, Lynn Sherr and the late Jessica Savitch.
Despite their distinct physical differences, identifying the journalists as individuals isn't easy, given their nearly uniform Princess Diana helmet hair and ruffled blouses.
"Somebody — it might've been Diane Sawyer — called it 'Blondes in Broadcasting,'" Pauley said recently as she pointed to a younger version of herself, sitting cross-legged near the center of the picture, with a burgundy mule dangling slightly off her left foot.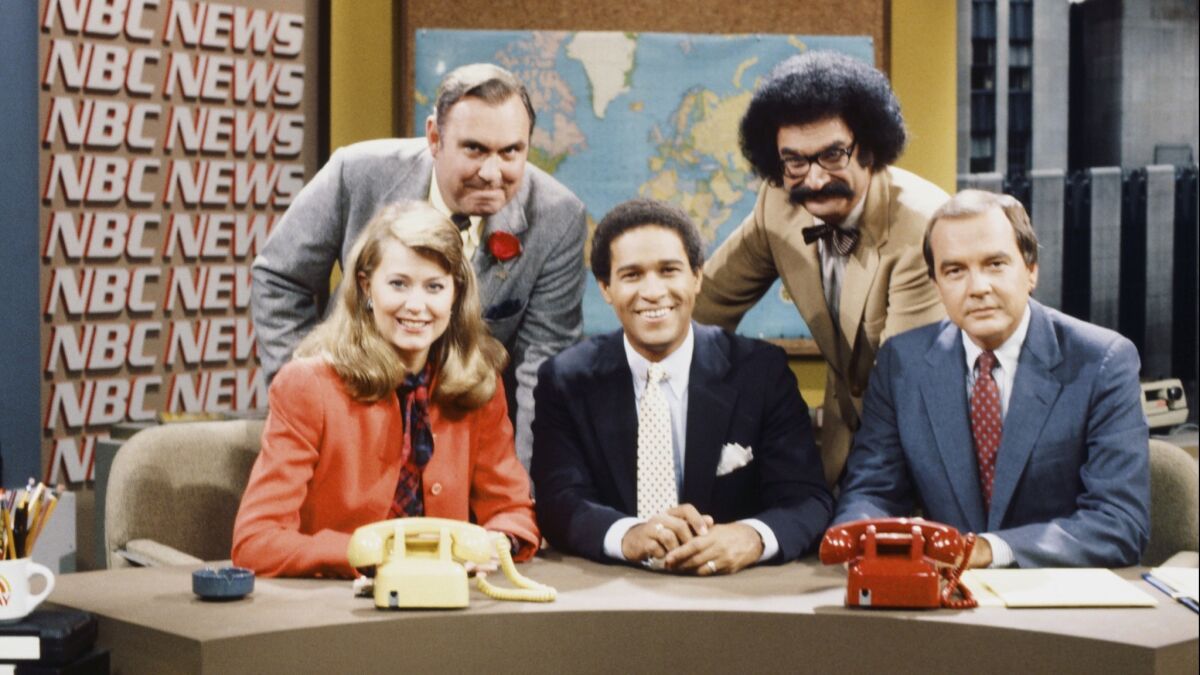 "The fact that I've got a shoe that's kind of — it looks insouciant, is that the word?" — she attempted the French pronunciation — "betrays the fact that I was, like, What am I doing here? I was the youngest of that group, and the least confident."
Pauley, host of "CBS Sunday Morning" since 2016, has a different name for her peer group: "The Class of '72," referring to federal legislation enacted that year that helped bring significant numbers of women into print and broadcast journalism.
Pauley was 25 in 1976 when she was was plucked from relative obscurity to replace Barbara Walters on "The Today Show" — winning the "female sweepstakes," as she referred to it at the time. She grew to become one of the most beloved figures in American broadcasting, someone who seemed to embody the hopes, dreams and "Can I really have it all?" anxieties of a generation of women in the wake of the feminist movement.
Since her much-publicized departure from "Today" in 1989, she's also demonstrated a knack for professional reinvention and resilience.
"The idea of transition has been thematic in my life," says Pauley, who, at 67, is thriving in her return to morning television. Since she took over for retiring host Charles Osgood, viewership for "CBS Sunday Morning" has grown to an average of roughly 6 million viewers a week. The enduringly popular newsmagazine ended 2017 with its largest audience in three decades.
Pauley's "Today" debut in the '70s — a meteoric rise from regional news to co-anchor of the country's oldest morning show — made her an object of press fascination. "A corn-fed Catherine Deneuve" and a "Breck Girl with brains" were a few of the terms used by media observers.
Even today, Pauley has a way of downplaying her accomplishments, and describes experiencing what we'd now call "Impostor Syndrome."
"Everything that happened seemed like a magic carpet to me. I didn't make it happen," she said in her office after a session editing a story on another trailblazing woman, Tina Fey, and her Tony Award-nominated "Mean Girls" musical. "How do you get from the weekend edition of the big news at Channel 8 in Indianapolis, to one year later, almost to the day, when I'm the co-host of 'The Today Show'? I knew that it hadn't been by hard work. I was not particularly ambitious. I couldn't explain it. Therefore, it had to have been an accident."
To prepare for Pauley's hosting debut at "CBS Sunday Morning," executive producer Rand Morrison reviewed clips from her early appearances on "Today" and was impressed by "her poise, her dignity, her ability to deal with almost any subject" despite being only a few years out of Indiana University.
"She'd been on local television barely any time," Morrison said. "Suddenly there she is on national television trying to hold her own with Tom Brokaw. Can you imagine that?"
What strikes Pauley now is how uncertain she was of her own voice — literally.
Sometimes I was so down-home I'd be from Oklahoma. Other times I would be doing sort of a Grace Kelly. And other times there was Barbara Walters.
— Jane Pauley
"Sometimes I was so down-home I'd be from Oklahoma," she said. "Other times I would be doing sort of a Grace Kelly. Very elegant. And other times there was Barbara Walters. My Barbara Walters was really, really good."
She recalled preparing for a remote segment in an Illinois barnyard early one morning. "The show hasn't started yet, I hear them running through the control room stuff. And I hear Barbara Walters, and I think, 'Oh, what's Barbara Walters doing on the show today?' And then I realize, 'That's you talking.'"
Like other young women in television, she took inspiration from Mary Tyler Moore — or rather, Moore's fictional alter ego, Mary Richards. "We were all kinda making it up," she said.
But if Mary Richards informed Pauley, Pauley in turn informed millions of women who saw themselves in her — particularly once she married "Doonesbury" cartoonist Garry Trudeau, started a family and cycled through a series of regrettable '80s hairdos. Her pregnancies in 1983 and 1986 helped boost "Today's" ratings and remove the prudish stigma around expectant mothers on television.
Pauley became an unwitting poster girl for "having it all" — the working mother with the lucrative career, handsome husband and healthy, happy children — an image of perfection she consciously pushed back against.
For a time, she kept a story on her refrigerator about a woman who said she coped with working motherhood by not reading articles about Jane Pauley. Today, Pauley is eager to claim the more humanizing aspects of her TV legacy, insisting, for instance, that she coined the term "bad-hair day." ("Prove me wrong," she said.)
Pauley is a talker with what she calls a "discursive" conversational style. Her tendency to meander is perhaps surprising for someone who spent years doing live TV, but it also yields entertaining anecdotes from her decades in the business, stories that often involve boldface names but are told in down-to-earth, self-deprecating ways.
A casual mention of a pending interview with Jimmy Carter — Pauley's first — leads to a story about how, shortly after she joined "Today" in 1976, she went down to Georgia to speak to then-President-elect Carter but contracted "a wicked case" of conjunctivitis at the cheap motel where she was staying. The kicker? "I couldn't even get the 'Today' show on the television. They only had 'Good Morning America.'"
Pauley's departure from "Today" in 1989, amid the perception that she was being ousted in favor of the younger Deborah Norville, ignited a fierce media frenzy. Millions of viewers saw it as a personal affront, and ratings plummeted. The controversy was "spooky," she said, but useful in that it finally disabused her of the notion that she was simply "Jane Pauley from Indianapolis, daughter of Dick and Mary, sister of Ann."
Even in today's more fractured media landscape, the intimacy of morning television makes it unusually prone to high drama. In the latest a.m. dust-up, hosts Matt Lauer and Charlie Rose were ousted last fall from their respective jobs at "Today" and "CBS This Morning" amid sexual misconduct allegations "Today" is now anchored by two women, Savannah Guthrie and Hoda Kotb, bringing an end to the conventional "TV marriage" that has been a hallmark of the format since before Pauley's time.
"The audience sometimes is ahead of things," said Pauley, who occasionally co-hosted "Today" with Savitch or Maria Shriver. "America doesn't need there to be a guy to be comfortable. As a matter of fact, particularly in the morning, women are comfortable with women. So it shouldn't come as a big shock."
After "Today," Pauley spent 11 years anchoring "Dateline," helping NBC finally launch a successful newsmagazine, then, in one of the few disappointments on her résumé, moved into daytime with "The Jane Pauley Show," which lasted a single season in 2004-05. Pauley was 54 when the show was canceled — "which in television is when you cease to exist as an entity," she noted.
She spent a few years "looking for reinvention." A recurring segment on "Today," sponsored by the AARP, spawned a 2014 book, "Your Life Calling: Reimagining the Rest of Your Life." But just as she was embarking on a book tour, Pauley learned the AARP didn't want to fund the segments anymore.
"The way it works for Jane Pauley, however, is apparently a little special, because it's at those moments in my life, in my career, when I think, 'Well, this is it. It is over,' the phone will ring."
It did: While promoting the book, Pauley had been profiled by "CBS Sunday Morning." Viewer response to the piece had been overwhelmingly positive, and CBS News President David Rhodes soon offered her a contributor gig. When longtime host Osgood stepped down in 2016, Pauley beat some "estimable opponents" vying to fill his shoes, said Morrison.
"She was already a familiar figure to America. She's someone who had done this before. For the audience, there's instant recognition and instant comfort, and a lot of 'Sunday Morning' is about comfort."
Pauley was 65 when she started the job — "Hello!? That's unprecedented," she noted with pride — and has now hosted for a year and a half. Citing the show's loyal audience and "unique voice," she said she's made few attempts to tamper with the "CBS Sunday Morning" formula.
But she has left her mark. In a major booking coup, Pauley scored Hillary Clinton's first post-election TV interview — a sit-down between two baby boomer women who've weathered decades in the public eye and endeared themselves (to some) through resilience. What Pauley said she brought to the conversation is a level of self-assurance she acquired only recently, after years of being "apologetic about everything."
For a long time, "I only talked about my 'job.' I didn't have a 'career,'" she said. "I aged into the confidence: You've had a career all along, you should respect it more. Maybe you didn't make it happen, but you made it last."
Follow me @MeredithBlake
---
Get our L.A. Goes Out newsletter, with the week's best events, to help you explore and experience our city.
You may occasionally receive promotional content from the Los Angeles Times.