'Baskets' star Louie Anderson says 'Hey Mom' a lot. Now go call yours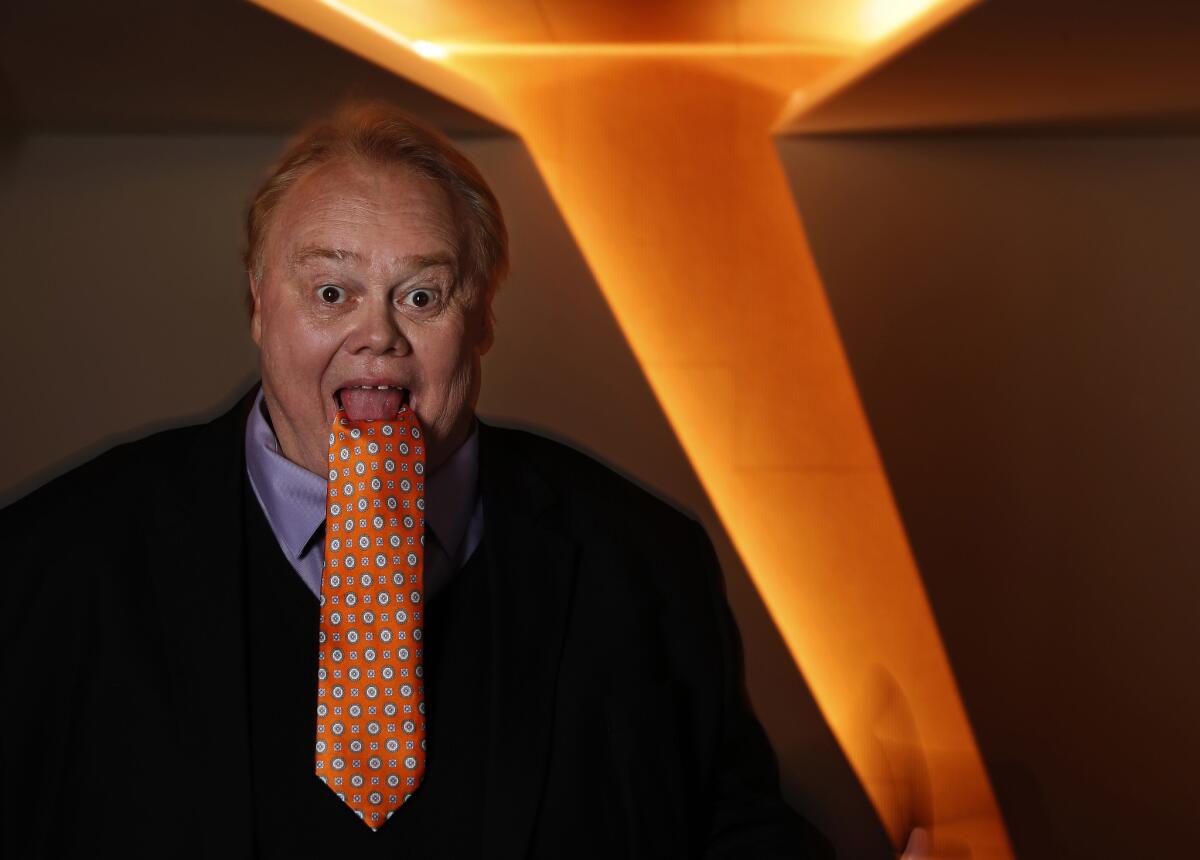 Television Critic
Louie Anderson took a major risk when he put on a dress and wig and transformed into the kind-hearted, Costco-loving, carb-addicted matriarch Christine Baskets in Zach Galifianakis' FX comedy "Baskets."
But it's a move that has made Anderson, who turns 65 on Saturday, the latest in a long line of beloved TV moms. In playing Christine, the mother of Chip Baskets, a would-be professional clown, and his twin brother Dale, (both portrayed by Galifianakis), Anderson has gained newfound acclaim and an Emmy for supporting actor.
His forthcoming book, "Hey Mom: Stories for My Mother, But You Can Read Them Too," honors the woman who inspired the comedian's "role of a lifetime" — Anderson's late mother, Ora Zella — and it arrives just in time for Mother's Day.
In a recent interview, Anderson discussed how "channeling" his mother helped him create the wonderfully nuanced Christine, deal with his own demons, and come to terms with the memory of his abusive, alcoholic father. He also riffed on his new special, "Big Underwear" (premiering on multiple platforms including Amazon April 3), his 40-year run as one of comedy's most successful stand-up performers, and trying to "squeeze as much as possible out of the tube of life."
---
You often joke about being the second youngest of 11 kids and have talked about your mom, and emulated her voice, in your routines for years. Did that lead to your role as the mom in "Baskets"?
I have always talked about my mom in my act. Zach said for the mom character, "It's a voice I hear already," and he made that sound [nasal-pitched voice], and then somebody said, "Well, you mean like Louie Anderson?" And they called me.
"Hey Mom" is preceded by a book about your late father, "Dear Dad: Letters From an Adult Child."
Maybe I shouldn't always want to do something personal. Wouldn't it be easier to do something else? Something more surface-skating? I shouldn't be allowed to ask myself so many questions. But after the "Dear Dad" experience, so many people seemed to get help from the book. Even Evel Knievel. He and his son weren't getting along, and he said to me "I reconnected with my son after I read your book." I was very overwhelmed by that.
Evel Knievel, really?
Yeah. But I just went on a tangent. What I was trying to say is when young comics ask me to critique their work or for advice, I go, "This material you're doing, does it mean anything to you? Because if it doesn't mean anything to you, why should it mean anything to me?"
What precipitated "Hey Mom"?
I started writing her these letters in my iPhone, in the notes section. I made the mistake of sending that to my manager and my producing partner, and they said it was fantastic and I should do a book. And then of course that's always the mistake. Because 65,000 words is so many words.
Has playing Christine made you think about your mom now, like who she was in your life?
It's funny because I talk to my mom all the time anyway. I don't know if other people do this, but I just go, "Hey mom, what do you think of this or that? Trump became president, can you believe it?" Or, "Hey mom, can you believe I'm playing you on TV?" That's really how this book started.
You've said you channeled her for the role.
I embrace every part of her: The good, the bad, the ugly. But mostly what I do is embrace my mom's humanity, which is quite substantial, and I think that's what's resonating with people. Because this is her standing in the hurricane that was my dad, protecting 11 little chicks from this gale-force wind and storm battering her. So if she could stand up to him and still shield us from the majority of that stuff, Jesus, that's some kind of magnificent being.
What an amazing role model.
It's her I think about, but sometimes Christine turned out to be a little bit more of my dad, or one of my five sisters, because here's what happens in life. When you're the 10th of 11, you're a carbon copy of who came before you. So thank God for those 10 people because they are what made up Louie Anderson. I'm just a cheap copy of all those people, but I own it like it's my own.
I didn't realize how big of an influence my mom was on me and how much I cared about her. As I was writing the book I realized that I should have appreciated my mom a hell of a lot more than I did. I'm a little ashamed of that, like, "Oh my God, what a selfish brat you were, Louie." Sometimes I was like "I can't talk to you now mom, you're driving me crazy, I have to go! I'm hanging up." I would get so mad at her about stuff that doesn't matter.
Dressing like a woman for the part in "Baskets," it all could have gone so wrong …
Oh, God! I can't even think about how wrong that could have went. It could have been so, so bad. But I just kept going back to "What would my mom do or say? How would my mom feel about this? What look would she use here?"
It's so rare to see a character like Christine on television: she's Middle America, even though they live in Bakersfield; well over 50; big; and buys Kirkland jeans as presents for her friends.
That's Zach and ["Basket's" co-creator] Jonathan Krisel. Jonathan said, here's a woman that you don't see on TV but looks like a lot of women who are out there. I'm so lucky to get to play a part of basically a lifetime without even knowing it was happening — it just happened. Jonathan was painting a canvas and I'm a color they didn't expect to get, and they're painting me in beautifully. My goal is that I never get my hands on those brushes.
So you tend to meddle?
Well, I love to complain. When I first got the job, I had a talk with myself as I often do. I go, "Louie, it could be a really good job, you're not going to complain and you're never going to say no to anything they ask you to do." And I've been really good about that even though I love to complain.
What was the hardest thing they asked you to do?
I waded out into the ocean at night.
Oh, that beautiful scene when Christine was contemplating the mistakes she'd made as a parent?
Yes, I was scared though because it was dark, it was in Long Beach and it was an inlet but still, I've seen movies. A shark could get in there. It was very difficult to do. And I was like, "Oh, God, can I have some kind of shoes to wear out there?" Jonathan said, "Well, we're going to see your feet." Then I just gave in and I embraced the suit and I embraced the idea and I went out and I did what I was asked and I'm so thankful that I did.
You have a new stand-up special coming out across like a billion platforms, including Amazon and most cable on-demand services. It's "Big Underpants," right?
Sorry.
Oh, that's OK. I was folding my underwear, which I do when I'm on the road because I wash my own clothes because I have sensitive skin so I can't just use any detergent, thank you mom. So I was folding them and I go, Jesus, are these my underwear? They're gigantic! You don't realize how big your underwear are until you hold them up. 'Cause when I put them on, I just put them on. It's rote. Then I do a whole bit about being an underwear hoarder because I grew up very poor and so I had only so many pair of underwear.
You're referred to a lot more as an "actor" since you won the Emmy in 2016.
You know, stand-up is my first thing. It's nice if somebody puts "actor" in front of my name, but stand-up comedian is what I do. I've done at least 100 shows a year for like 40 years, something like that.
What do you watch on TV?
I'm saving "Lost" for the old folks home … and "The Walking Dead." Bryan Cranston played my brother in one of my first sitcoms, and I love "Breaking Bad." And of course Jonathan's other show, "Portlandia."
What's next?
I hope I get a chance to continue with "Baskets." They haven't picked up Season 4 yet, but I think they will. And I want to write ... and inspire people to call their mother and tell her how much they love her.
Get our L.A. Goes Out newsletter, with the week's best events, to help you explore and experience our city.
You may occasionally receive promotional content from the Los Angeles Times.