Creators of 'The Looming Tower' on Hulu trace the path to tragedy
Reporting from New York —
In the days after the 9/11 attacks, journalist Lawrence Wright was stranded in Austin, Texas, unable to fly but desperate to find a way into the story. Monitoring obituaries online, he found the notice for John P. O'Neill.
A veteran FBI agent and counter-terrorism expert, O'Neill was a brash, polarizing figure who had issued prescient warnings about the potential for terrorist attacks on American soil for years. Weeks before the attacks, he had retired from his post as head of the counter-terrorism division in New York to become the chief of security at the World Trade Center.
He died in the collapse of the north tower.
"He was the guy charged with getting Bin Laden, but Bin Laden got him," Wright, a staff writer at the New Yorker, recalls recently. "It was Greek in terms of tragedy."
O'Neill and his young Lebanese American protégé Ali Soufan became central figures in Wright's 2006 Pulitzer Prize-winning nonfiction book, "The Looming Tower: Al-Qaeda and the Road to 9/11," in which Wright argued that turf wars between the CIA and FBI contributed to what was a preventable tragedy.
The acclaimed exposé has now been adapted into a 10-episode event series. "The Looming Tower" premieres Feb. 28 on Hulu, the latest ambitious, politically relevant adaptation from the streaming network that is also home to the Emmy-winning drama series "The Handmaid's Tale."
More than 16 years after 9/11, it arrives at a grim moment for its message. The terrorist threat against the U.S. has metastasized, the country is more politically dividedthan it has been in decades, and the integrity of the intelligence community, particularly the FBI, is under relentless fire.
All of which makes the lessons of the attacks as urgent as ever, says Wright.
"A new generation of people has grown up without really any knowledge or native experience of what 9/11 was or what America was before 9/11 and why it's become the country we're living in today."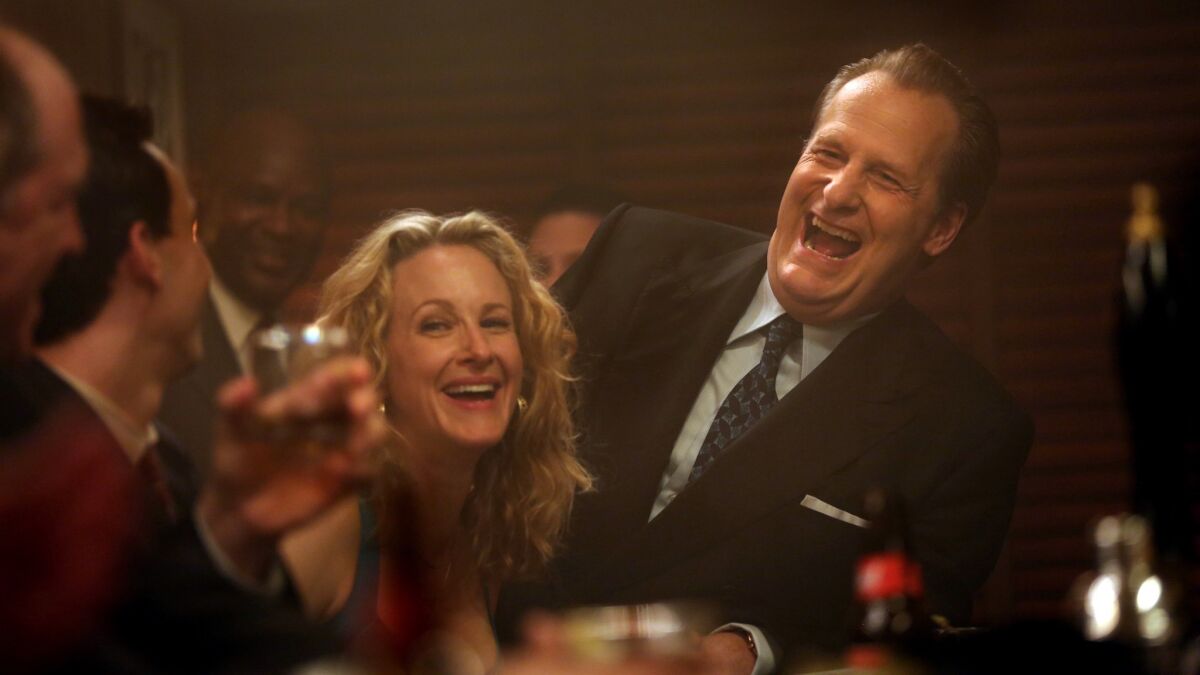 On a clammy morning last August, Jeff Daniels, in slicked-back hair and a crisp suit, stands at the end of the smoky, sweltering bar at Minetta Tavern. The downtown bistro, jam-packed with extras in late-'90s business attire, was standing in for circa-2000 era Elaine's, the legendary Upper East Side celebrity haunt and one of O'Neill's favorite watering holes.
Daniels, in character as O'Neill, alternates between taking swigs of beer and planting sloppy kisses on Sheri (Katie Finneran), one of his numerous love interests, who is woozily gulping a fruity pink cocktail.
Across the room, Ali Soufan, played by French Algerian actor Tahar Rahim, and his girlfriend, Heather (Ella Rae Peck) eye the debauched scene warily.
"I thought you said his girlfriend's name was Liz," says Heather. "The one I met was named Liz," Soufan replies with a shrug. "I work with the guy. I don't question his personal life."
Hunched over a laptop on a nearby banquette, showrunner Dan Futterman ("Capote," "Foxcatcher") explains the importance of the rowdy bar scene to a story about global conflict: "While history is great, it's about human beings."
Futterman has taken Wright's sprawling narrative history, culled from more than 600 interviews and tracing the origins of Islamic militancy for decades, and focused on the critical three-year span between the bombings of the American embassies in Kenya and Tanzania in 1998 and the attacks of Sept. 11, 2001. O'Neill and Soufan serve as his odd-couple protagonists, clashing with their combative CIA counterpart, Martin Schmidt (Peter Sarsgaard, playing one of the show's few composite characters) in their efforts to thwart Bin Laden.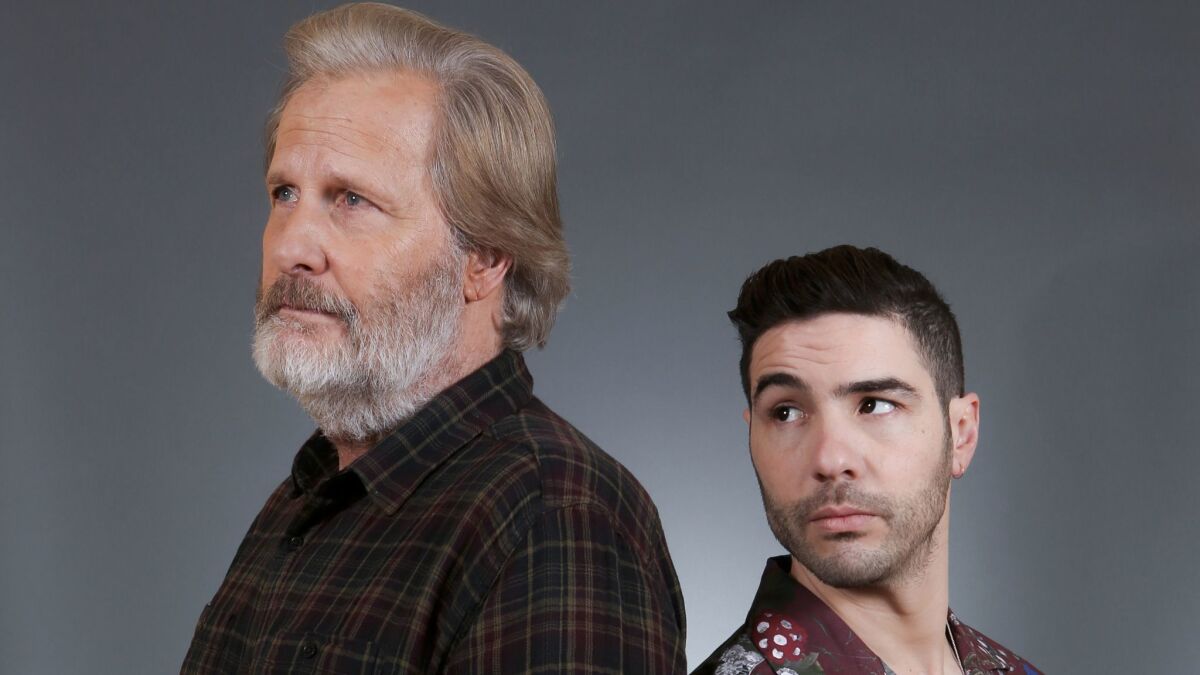 "There are two kinds of stories," says Wright, an executive producer on the project. "In one, everything is unfolding as a surprise. The other is like drifting down the Niagara River. The viewer knows what's coming, but the characters don't, and it fills the viewer with a certain kind of anxiety that's impossible to put in the other kind of story."
"The Looming Tower" is obviously the latter. Early episodes of the series avoid overt foreshadowing — there are no flash-forwards to footage of 9/11, for instance — but those who lived through that terrible day will watch with a queasy sense of dread, particularly given the relatively frivolous concerns that captivated the American public in the years before the tragedy (e.g., the Monica Lewinsky scandal).
O'Neill -- a hard-drinking lapsed Catholic with a wife and several women on the side -- is the sort of character who, if fictional, would inevitably be criticized as over-the-top. In the course of writing his book, Wright interviewed three women who believed they were engaged to the FBI agent, but Futterman winnowed down the number of girlfriends in order to make O'Neill seem more believable.
"People tell very different stories about him," says Futterman. "People say oh, he was always yelling, he was a bully. And some people say no, his power came from the fact that he never yelled at anybody. At a certain point you just have to say, OK, we're going to create a character that makes sense to us."
For Daniels, a performer of dizzying range — he was last seen as a one-armed psychopath in the Netflix Western "Godless" — playing someone as full of contradiction as O'Neill represented a welcome challenge. "I didn't know how to do it. I'd never done anything like it before — that bull in a china shop," says the actor, who eventually found "the simple way through."
"His home, his true love, was the FBI, over his family and all the girlfriends … he would go to war for that."
Equally compelling is Soufan, who moved to the U.S. from Lebanon as a teenager and joined the FBI's New York office in 1997. At a time when a Cold War mentality still prevailed, he was one of only eight Arabic-speaking agents in the entire FBI — and the only one in the city. As dramatized in "The Looming Tower," his language skills and nuanced understanding of Islam were essential to understanding the growing threat posed by Al Qaeda in the late '90s. He and O'Neill, nearly two decades his senior, formed an unlikely but potent alliance.
As portrayed by Rahim, Soufan is a patriotic and not particularly devout Muslim "trying to grab his religion back from people who are hijacking it for terrible purposes," Futterman says, and it is his character that instantly distinguishes "The Looming Tower" from other shows and films dealing with terrorism, which still lean heavily on stereotypical depictions of sinister extremists.
Years before "The Looming Tower" went into production, the writer had been impressed by Rahim's performance as a petty criminal turned brutal gangster in Jacques Audiard's film "A Prophet." "I was just blown away by him, and I said, 'Who the … is that guy? And do you think he speaks English? Do you think we'll ever get to work with him?'" Futterman recalls, likening the experience to what people must have felt watching Robert De Niro in "Mean Streets."
The real Soufan, who is a producer on the series, helped convince Rahim to take the part by telling the actor that he could no longer complain about being offered so many terrorist roles if he didn't agree to play a good guy in "The Looming Tower." The logic was persuasive.
"The fact that someone from the minority is being represented as an American hero fighting against evil, against this horror, it's brand new to me," says Rahim, who prepared for "The Looming Tower," only his second English-language role, by practicing the language four hours a day. "It's important to tell people that this type of guy exists. They're here."
For Soufan, who left the FBI in 2005 and has been an outspoken critic of enhanced interrogation, flawed depictions of counter-terrorism — what he calls "the '24' mentality" — have had a dangerous influence on American politics. He hopes "The Looming Tower" will be "the first step towards creating a better knowledge and a better understanding," he says, "because it's more relevant today than ever."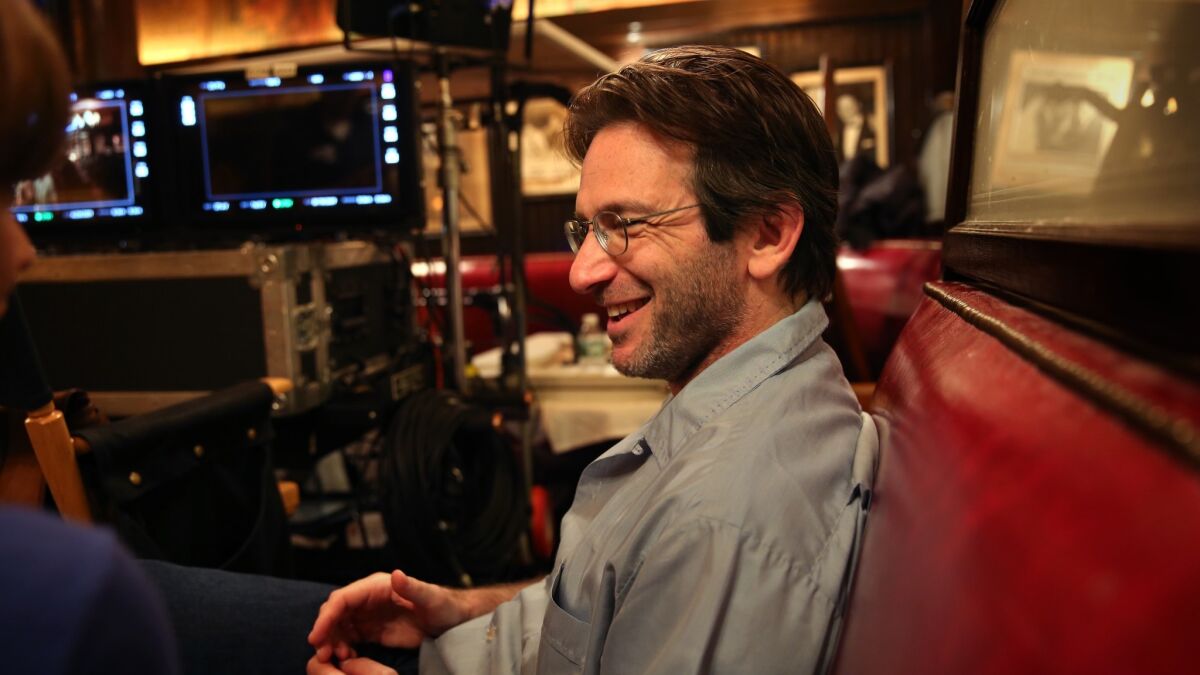 If recent history is any indication, "The Looming Tower" seems likely to spark conversation — and even some pushback. "The Path to 9/11," a now mostly forgotten miniseries broadcast on ABC in 2006 and based partially on the 9/11 Commission Report, starred Harvey Keitel as O'Neill and was criticized by some prominent members of the intelligence community for its alleged inaccuracies.
Despite interest from Hollywood over the years, Wright had been wary of entrusting anyone to adapt "The Looming Tower." He eventually called his friend and frequent collaborator, filmmaker Alex Gibney, with whom he'd partnered on the HBO documentary "Going Clear: Scientology and the Prison of Belief," based on his bestselling nonfiction book.
"I needed a partner who would have the courage to fight against the blowback that comes along with writing about our intelligence agencies," he says.
Futterman was the first and only writer they met with. Once the Oscar-nominated screenwriter was attached, they began to shop the project around town, ultimately getting a straight-to-series order at Hulu. While the streaming network was still a relative newbie when it came to original content, Wright and Gibney felt it was the right place. Making the legally sensitive (and multiple Emmy-winning) "Going Clear" had been a "trial by fire," says Gibney, who directed the pilot episode of "The Looming Tower" and serves as an executive producer. "We had to have a network that was going to support us and be fearless in terms of the truth."
Great care was taken to ensure the project's accuracy, from the broad strokes to minor details. Wright conducted additional interviews with intelligence experts who'd been wary of speaking to him for the original book. Producers and writers traveled to Washington to meet with the FBI and former counter-terrorism czar, Richard Clarke. The CIA declined to participate — "you'll have to come to your own conclusions," says Wright of the agency's non-participation — but former members of both the FBI and CIA were hired as advisors.
While "The Looming Tower" has been billed as an event series, the creative team is excited about the possibility of future seasons that could depict the fight against terror after 9/11 — a story that's still being written.
Follow me @MeredithBlake
---
Get our L.A. Goes Out newsletter, with the week's best events, to help you explore and experience our city.
You may occasionally receive promotional content from the Los Angeles Times.