The stars of NBC's rebooted 'Will & Grace' discover you can go home again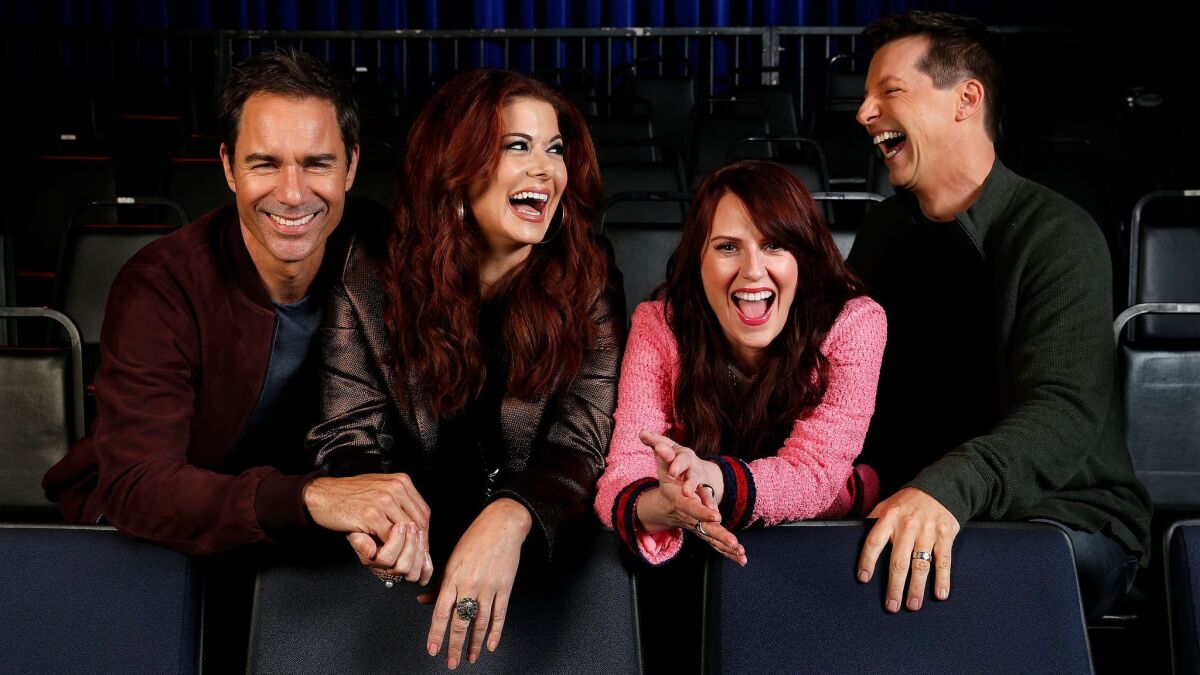 When "Will & Grace" premiered in 1998, the biggest comedies of the year were "Seinfeld," "Veronica's Closet" and "Friends." It was the year President Clinton denied having "sexual relations" with former White House intern Monica Lewinsky. The year that gave us Google. A time when the notion that young adults were spending less time with the television set was beginning to percolate.
And there were two thirtysomething writers, Max Mutchnick and David Kohan, on the verge of helping to pave the way for LGBTQ characters on TV with their prime-time sitcom that featured two openly gay characters.
For the record:
4:35 p.m. Oct. 7, 2022An earlier version of this post said "Will & Grace" would return Sept. 26. It returns Sept. 28.
"Will & Grace" followed the close friendship between gay lawyer Will Truman (Eric McCormack) and straight interior designer Grace Adler (Debra Messing), along with their kooky co-horts Jack McFarland (Sean Hayes) and Karen Walker (Megan Mullally).
The comedy, which packaged its then-boundary-pushing portrayal of gay men in a simple premise about friendship, ran for eight seasons, racked up 16 Emmy Awards and was one of the last ratings stalwarts of NBC's venerated "Must See TV" era.
"When the show wrapped, I moved to New York City and went to a therapist," Mutchnick, now 51, recalls. "The first thing I said to her was, 'I've just finished a run of a popular television show called 'Will & Grace,' and I'd like to figure out a way to not talk about it ever again.'"
So much for that.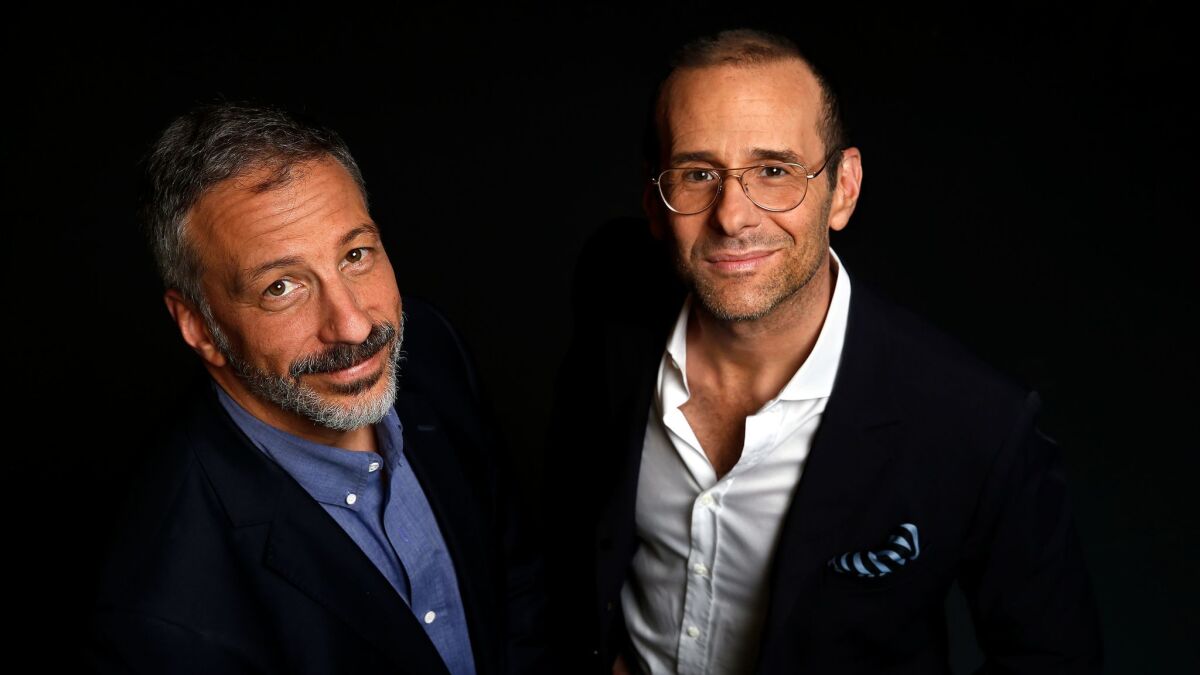 These days, the show is all Mutchnick and Kohan find themselves talking about as the comedy gears up for its splashy return to NBC on Sept. 28 — 11 years after the series went off the air. The sitcom's second coming — featuring its original cast — is one of the network's top assets this season, and its return underscores the value networks see in bringing familiar faces back into living rooms in an age when keeping up with television's roster of shows requires a spreadsheet.
The duo are gathered in the greenroom of the show's new home base on the NBCUniversal back lot — here, the walls are adorned floor-to-ceiling with brightly colored collages of "Will & Grace" images. (The comedy taped in front of a studio audience on the CBS Radford lot in Studio City during its original run.) They admit being a bit preoccupied; there's some story problems they're trying to work out on the episode that tapes the following week and they're anxious to get it resolved.
"We're not complacent," Kohan says. "It's the same anxiety. It's abated somewhat by experience and age and all that sort of stuff, but still … there's a compulsion to get it right."
"Oh, yeah," Mutchnick adds. "I'm sick to my stomach. I'm still operating from a place of fear, except I eat my breakfast at a much nicer table."
The 2.0 version of "Will & Grace" joins the small, but hard to overlook, list of flat-lined shows that have been resuscitated. Others include "Arrested Development," "Gilmore Girls" and the upcoming "Roseanne" revival on ABC. But only "Will & Grace" has a comeback story with roots in the Donald Trump versus Hillary Clinton election.
I'm still operating from a place of fear, except I eat my breakfast at a much nicer table.
— Max Mutchnick, the co-creator of "Will & Grace"
A few months before last year's presidential election, Mutchnick rallied the troops — intent on keeping Trump out of the White House. His idea: have the core cast reprise their characters for a video urging people to vote. The 10-minute bit, known as #VoteHoney, featured a pro-Trump Karen making cringe-worthy jokes and a pro-Clinton Grace trying to persuade Jack, still undecided, to vote for Clinton.
"I remember reading the script to the election video and I emailed Max and said, 'Why can't we just do the show again?'" Mullally recalls. "He emailed right back: 'We can.' Of course, neither of us knew what we were talking about. It was just wishful thinking, because when you end a show, you know that it's forever and you'll never come back to do it again."
But the response was quick and overwhelming, with the YouTube video notching millions of views. NBC came calling.
"The minute I saw [the video], I thought, 'It's the show.' It felt like the show had come back together," Robert Greenblatt, chairman of NBC Entertainment, says by phone. "The four of them were incredible. It just seemed like a no-brainer to me...[And] it seemed like the right moment to bring back a show that comments very cleverly on pop culture and politics and the world in general."
What started as a one-off 10-episode revival season quickly evolved to a 16-episode revival season with a renewal already locked in.
It's a turn of events all the more unexpected considering that Mutchnick and Kohan sued NBC Studios in 2003. They alleged that the studio, which produced the show, sold the rights below fair value to its sister division, the NBC network, and cheated them out of at least $65 million in profits. The suit was ultimately settled in 2007.
"Jeff Zucker's NBC is very different from Robert Greenblatt's NBC," Mutchnick says, referring to the former head of the network. "The energy in the building and in every aspect of the network, it feels very different, and it made it easy to return."
The cast, who have ventured on to various projects to varying degrees of success since the show ended, uniformly say there was no hesitation about reviving their career-defining roles for a longer term.
"Part of the reason I wanted to come back was because I felt like I needed to laugh," says Messing, who stumped for Clinton. "The last year has been hard on everyone in this country, and I just felt like, 'I need to laugh.' And I want to be able to make other people laugh.'
"You're always told: You can't go home again," says McCormack, who juggled his return to the comedy with the Netflix Canadian time-travel drama, "Travelers." "But we got to go home again. And the reason they say that is because it's not going to be the same. But it was. I mean, it really was."
Not simply in spirit, either. The revived "Will & Grace" has been one big family reunion of sorts. In addition to Mutchnick and Kohan, three other writers from the original series (Tracy Poust, Jon Kinnally and Alex Herschlag) have returned to fill out the 10-person writing staff. Midas touch director James Burrows, who helmed every episode of the comedy during its original run, has resumed his duties. There's also a number of returning crew members — even the original audience warm-up comedian, Roger Lundblade, is back.
You're always told: You can't go home again. But we got to go home again.
— Eric McCormack, "Will & Grace"
But change has come in other ways.
The original series arrived a year and a half after the "coming out" episode of Ellen DeGeneres' ABC sitcom, "Ellen" — a landmark moment when few celebrities were out of the closet and there were no gay lead characters on television. Not everyone was receptive, resulting in a swift backlash that included advertiser boycotts and an abundance of hate mail.
But "Will & Grace" continued the push and helped bring queer culture into the mainstream. It broke ground with its portrayal of gay men — of course, it helped that they were white gay men. In fact, former Vice President Joe Biden credited "Will & Grace" for the nation's shift on gay rights while discussing his endorsement of same-sex marriage on "Meet the Press" in 2012.
"I think 'Will & Grace' probably did more to educate the American public than almost anything anybody's ever done so far," Biden said at the time.
The revived "Will & Grace" returns to a markedly different television landscape and zeitgeist. In the time since it went off the air, gay marriage has been legalized. And though Hollywood could still make improvements to its representation of the LGBTQ community, television has certainly made strides in its portrayals. Many of the most popular TV shows — such as "Orange Is the New Black," "The Handmaid's Tale" and "Empire" — feature LGBTQ characters and stories.
Which prompts the question: Can a show that broke ground with its portrait of the gay community stand the test of time?
Sarah Kate Ellis, president of the LGBTQ advocacy group GLAAD, says the show can't be everything — and that's OK.
"When we're seeing acceptance for LGBTQ persons flip backwards, to have a positive show around the LGBTQ community — one that has been so impactful in shaping culture and changing hearts and minds — I think can only be good," Ellis says by phone. "It's not up to 'Will & Grace' to carry the full LGBTQ torch."
Mutchnick puts it this way: "If the show initially was something novel, now I think people will tune in because it's familiar and it's comfortable and it's something that people associate with a happier time, maybe. I actually think the fact that it's such an atomized landscape and different than it was before, there's something comforting in coming back."
So, no, there won't be a drastic new approach to this incarnation.
The radical departure, instead, comes in how the revival picks up. When we left off, Will and Grace had both gotten married and had kids — giving things a real sense of closure. Mutchnick and Kohan say figuring out how the show would start up again was something they grappled with for weeks, ultimately deciding to hit the backspace on that ending. And, yes, there will be a nod to the revision.
'I think you have to acknowledge the people who have been fans of the show, and at the very least, wink at them and say, 'We know, we know, but ...'" Kohan says.
In the 2017 version, Will and Grace are single and living together in the same apartment. Jack is still Jack and across the hall, in all his no-knocking glory — though, he has created his own method of acting, naturally trademarked as "Jackting" — since we last saw him. And Karen, the high-pitch of her voice intact, is as inappropriate as ever.
"I always say, we never mature past high school," Hayes says. "We all may look a little older, but at the core, the characters are the same, and they're going to react the same to certain situations."
That might be a good thing. While the show has lived on in syndication since it went off the air in 2006 (reruns currently air on WE tv and Logo), up until this week it didn't have a streaming home. (It was announced earlier this week that all 194 episodes of the show are now available on-demand and to stream via the NBC app and Hulu.) Fans who don't have time to binge-watch will have to rely on their memories.
We all may look a little older, but at the core, the characters are the same...
— Sean Hayes, "Will & Grace"
It hasn't proved a problem, so far. That tried-and-true formula has the 300-plus audience members rapturous during a recent taping in mid-September.
To be sure, the show has its reminders that time hasn't stopped in the "Will & Grace" universe. During the taping for Episode 5, "Keeping Up With the Kardashians," "Orange Is the New Black" and "This Is Us" all are mentioned. One joke was tweaked to make reference to Jared Kushner and Ivanka Trump, another got revised to poke fun at Eric Trump. Which version of the jokes make it onto air is still to be determined.
But while the revival was born out of a political idea, Mutchnick and Kohan maintain audiences won't be hit over the head with politics.
"The show is as political as these characters are," Kohan says. "It wasn't about talking about the current administration. There are plenty of shows that do that and do that really well."
The focus, instead, is on producing a show that will satisfy fan expectations. So don't ask if the creators see a life for the show beyond these two seasons.
"It all depends on how it goes," Kohan says. "I think as long as it feels good, why stop?"
"Right now, it only feels good, and I think we should do everything we can to just try to stay in the moment of it feeling good," Mutchnick adds. "If we started to think about a third season, it would be the fastest way to shut us down, because you would panic about 'How am I going to think of things to say in Year 3 when I just want to say the right things in Year 1?'"
Maybe with some will and grace?
The most-read Entertainment stories this hour »
Twitter: @villarrealy
---
The complete guide to home viewing
Get Screen Gab for everything about the TV shows and streaming movies everyone's talking about.
You may occasionally receive promotional content from the Los Angeles Times.