How Lena Waithe's coming-out story inspired the 'Master of None' Thanksgiving episode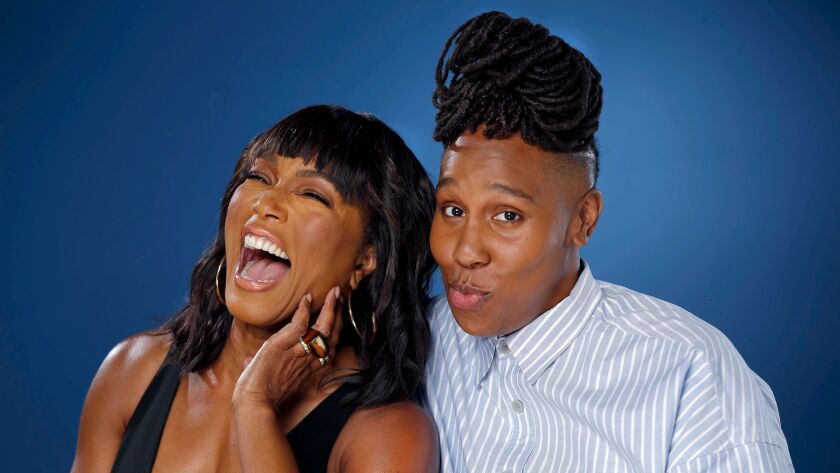 It was a moment Lena Waithe had little interest in sharing. Sure, as a writer, Waithe wanted to tell queer narratives. But a "coming out" story? Well, she wasn't eager to revisit that chapter of her life. And she also felt like it had become a trope for every LGBTQ character.
But then she had a meeting with "Master of None" co-creators Aziz Ansari and Alan Yang as they were beginning to think about Season 2 of the Netflix comedy, in which she plays Denise, a friend of Ansari's character, Dev. A discussion about her current relationship led to questions about how Waithe had come out to her family.
"It became clear we had a lot of material for an episode," Ansari recalls in an email. "It was all interesting, hilarious and not quite like anything I'd seen on TV/film before."
The result is the Emmy-nominated "Thanksgiving" episode, which tells the story of Denise discovering her sexuality and revealing it to her friends and family over the course of five Thanksgivings spread over 22 years. Veteran actress Angela Bassett guest starred as Denise's conservative single mother.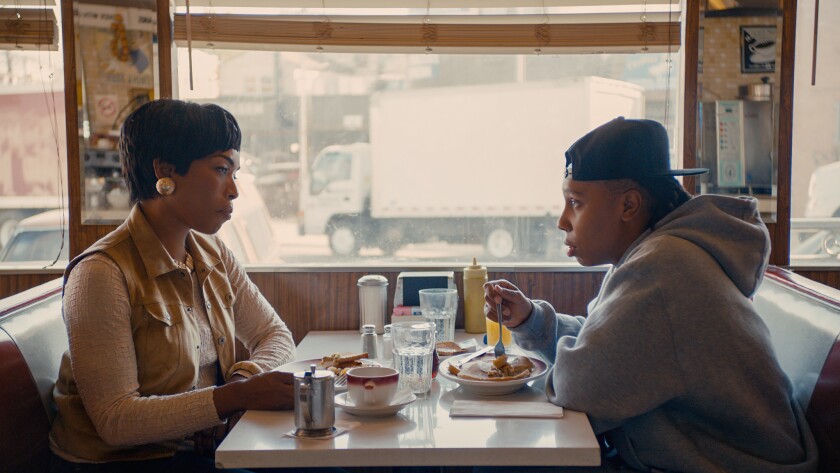 During a recent weekday, Waithe sits next to Bassett — their affection for each other on display — to discuss the episode that was a standout among critics and viewers, who praised its nuanced narrative told from the perspective of a black lesbian — a needle in the TV haystack, to say the least. Waithe and Ansari, who co-wrote the episode, share the writing-for-a-comedy-series nomination.
A poetic turn of events when you consider she needed coaxing to even tackle it. Ansari and Yang insisted it was a story best told by Waithe herself. But she was reluctant — already at capacity with other projects.
"Aziz was just like, 'What you can do with this story... I can't duplicate that,' " Waithe recalls. So in a hotel room in London, over three days, she and Ansari wrote the episode. For the more personal moments, like the coming-out scene, Ansari would leave the room so Waithe could write alone.
Waithe says she approached the episode from a hero's perspective and also came to better understand her mother's point of view.
"I had survived that thing that I was so afraid of," she says of the coming-out experience.
Bassett, a fan of the show's first season, was lured by the episode's potential to generate conversation and understanding.
"It was poignant, it was moving and it was funny," says the actress, who was also nominated — in the guest actress category. "I think sometimes we can be judgmental, and then we lose out on time with people we love, and eventually we come back around and say, 'Was it really worth it?' "
Waithe wanted to highlight cultural expectations within the black community. Last year, the film "Moonlight" subverted ideas of black masculinity in its story of a young, gay black boy growing up in Florida. Waithe was offering a female perspective on what it means to be black and gay. In the episode, a young Denise opts to wear baggy jeans and a baseball cap instead of a dress.
"Girls get away with it for a while, actually," Waithe says. "Because it is less taboo for a girl to be a tomboy than it is for a young man to be effeminate. "But that's why I thought it was so important to show that," she says, "but also show how a mom, a black mom especially of that generation was like, 'No. Wear the dress. We'll make it fit.' There's that desire for appearances, but there's not that much worry." But when it confronts her, whether it's me coming out or me bringing another girl home, she doesn't like it too much."
Waithe credits director Melina Matsoukas and Ansari for their attention to detail in making the story resonate — from those dinner table conversations about O.J. Simpson and Sandra Bland to that photo of Jennifer Aniston taped to the ceiling of Denise's bedroom.
Though, for the record, the Aniston poster was on Waithe's bedroom wall, not the ceiling.
The most-read Entertainment stories this hour »
Twitter: @villarrealy
---
Inside the business of entertainment
The Wide Shot brings you news, analysis and insights on everything from streaming wars to production — and what it all means for the future.
You may occasionally receive promotional content from the Los Angeles Times.