10 Images
America Ferrera: Life in pictures
BB: Before "Betty"
Sure, we know her as an Emmy Award-winning actress, but before "Ugly Betty," America Ferrera was just a regular high school student, acting in school plays and community theater.
(Matt Sayles / AP)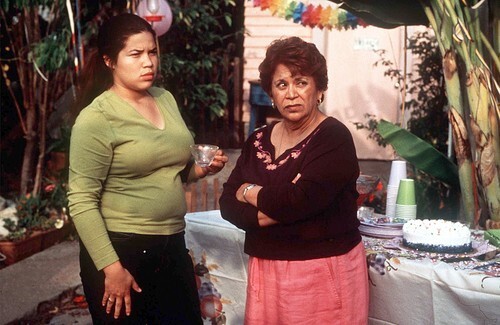 Hollywood takes note
In 2002, "Real Women Have Curves" was Ferrera's film debut (pictured, left, with Lupe Ontiveros). Critics across the board applauded her, and the Boston Globe observed that Ferrera had "the charisma of a young woman who knows how to hold the screen."
Ferrera followed her big-screen debut with "The Sisterhood of the Traveling Pants" and "Lords of Dogtown" in 2005.
(Nicola Goode / HBO)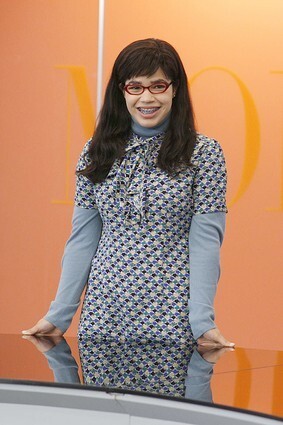 Betty Suarez is born
It was Ferrera's turn as Betty Suarez on "Ugly Betty" in 2006 that catapulted her from "one to watch" to "America's sweetheart." On the show, Ferrera plays a fish-out-of-water assistant at a hopelessly hip fashion magazine.
(ABC)
"Bettification"
In order to embody Betty, Ferrera dons faux braces, a frumpy wig, bushy brows and thick glasses.
In 2007, Ferrera told Kuwait Times that getting into costume helps her get into character. "I leave a lot of myself behind and it's a lot of fun as an actor to become someone else and lose who I am," Ferrera said..
(John Clifford / ABC)
America's awkward moment
Viewers fell in love with the bushy-browed assistant, and Ferrera was showered with awards: a Screen Actors Guild Award, an Emmy and a Golden Globe.
After Ferrera won her Golden Globe in 2007, reporter Maria Menounos approached her and asked, "What do you say to all those people out there who did not want you to play Ugly Betty?" A visibly flustered Ferrera answered, "Um … I don't know. I don't know who they are." Awkward!
(Lawrence K. Ho / Los Angeles Times)
Low-pro romance
Even though her character on "Ugly Betty" struggles with men, Ferrera is doing just fine in the romance department. She is still dating longtime beau, Ryan Piers Williams, who she met at USC. The pair keeps a pretty low-profile, but that hasn't stopped engagement rumors from swirling.
(Matt Sayles / AP)
Ferrera's BFF
You probably knew that Salma Hayek did a fabulous guest spot on "Ugly Betty," but did you know that she was also an executive producer on the series?
In fact, it was Hayek who approached Ferrera about doing "Ugly Betty" in the first place. "Salma has a very high opinion of me, which is lovely and I feel so lucky to have her friendship," Ferrera told Kuwait Times.
(ABC)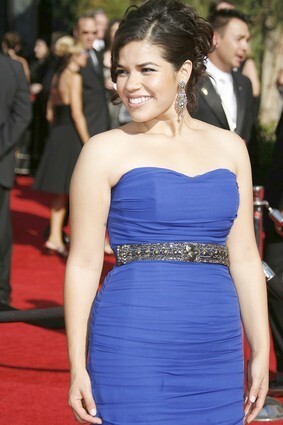 Less than perfect
Like her character on "Ugly Betty," Ferrera has dealt with the discomfort of being a voluptuous woman in a room full of twigs. "I was having a wardrobe fitting and I can never find things to wear and the person who selects the clothes picked out size 0 and 2s," Ferrera told Kuwait Times in 2007. "There I was, mortified, as nothing would fit, and I had to go to the bathroom to cry."
Ferrera's openness about such experiences makes her relatable, despite her celebrity.
(Myung J. Chun / Los Angeles Times)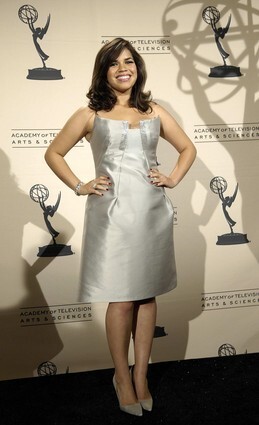 Ferrera's surprise role model
Plenty of girls see Ferrera as a role model, but Ferrera has her own role model: her character on "Ugly Betty"!
"I think girls, as well as myself, have a lot to learn from her," Ferrera told Cosmo Girl in 2007. "How can you not look up to a character who challenges herself to do the right thing?"
(Chris Pizzello / AP)
Spoken like a true Betty
So, has Ferrera's fame lured her into a life of club-hopping and debauchery? Nope, sorry. "You'll never see me at the launch of the new PlayStation or some club," Ferrera told Cosmo Girl in 2007. "For me the fun stuff is being able to get my mom tickets to 'Dancing With the Stars' -- she loves Mario Lopez." Spoken like a true Betty.
(Mark Boster / Los Angeles Times)