Review: The idiosyncratic synergy of Thomas Adès and Beethoven at the Hollywood Bowl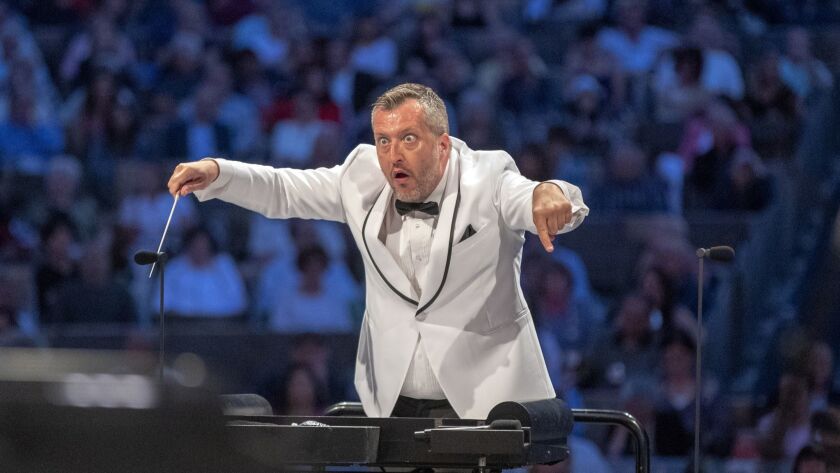 Having maintained a residence in the Hollywood Hills as a part-time refuge from London, the British composer Thomas Adès can usually be counted on to make at least one annual appearance with the Los Angeles Philharmonic as composer, conductor or pianist, and ideally all three.
But not last season. Instead, he has been busy conducting his exceptional latest opera, "The Exterminating Angel," in New York and elsewhere. In London, he has been cheekily pairing Beethoven's nine symphonies with works by the screwball Irish composer Gerald Barry. And now the Boston Symphony has poached him, naming Adès as artistic partner. That includes this summer leading the Tanglewood contemporary music festival, which starts next week at the Boston Symphony's summer home in the Berkshires.
Happily, though, Adès briefly returned to his sometimes home in Southern California on Tuesday night to make his belated Hollywood Bowl debut conducting an intriguing program of his own music and Beethoven. What he has in common with Beethoven is an exuberance that can approach ecstasy, an attraction to surreal mystical otherworldliness and conjuring, through music, the essence of community.
The Beethoven works were the composer's youthful Piano Concerto No. 2 and his mantra to the god of rhythm, the Seventh Symphony. What was fascinating, though, was to hear this through an Adès sensibility. His "Tevot," which opened the program, set the tone.
Actually, Adès set the tone by first conducting Stravinsky's angular arrangement of the national anthem, which threw off an unsuspecting audience trying to sing along and which had once almost gotten Stravinsky arrested for tampering with national property.
Community, nevertheless, was the theme. When he gave the West Coast premiere of "Tevot" a decade ago with the L.A. Phil in Walt Disney Concert Hall, Adès described it as a symphonic journey to safety. The title is the Hebrew word for ark, and specifically Noah's. For him, Adès told the audience, that was a symbol of finding order out of chaos.
World chaos, as we learn daily, is on the exponential rise, and Adès' remarks preceding the performance this time had a different perspective. This being no time for symbolism, he spelled out the 25-minute score as the dropping of rain that leads to a titanic orchestral storm, followed by ethereal calm and the exit of pairs of creatures that gradually build into an immense population.
"Tevot" might seem a stretch for the Bowl. The complex score has intricacies in every bar (tevot also means bar or measure in Hebrew) with groups of winds, strings, brass and percussion going their slightly unsynchronized ways. The dynamic range is huge, from the quietest of pianissimos to blowing you out of your seat.
The emotions are big, too. The faint opening is scintillatingly soft; the eruptions that follow are frightful; the dreamy middle section is all orchestral cream; the ending is rapture writ large. At the Bowl, all of it was necessarily writ large, the loudspeakers creating an expansive sound field. Some nuance may have been lost, but maintaining audience attention was gained. Despite having to master this with far less rehearsal time than the last go around, the L.A. Phil was impressive.
As soloist in Beethoven's Second Concerto, young Icelandic pianist Víkingur Ólafsson came off as a master of the cool. He has a sparklingly chilly touch for Philip Glass, which made his debut solo Deutsche Grammophon recording a bestseller, and well suits his native music. His L.A. Phil debut was two seasons ago as soloist in the premiere of Haukur Tómasson's Piano Concerto No. 2.
For Beethoven, however, the fridge felt like it was turned up too high. Ólafsson was careful, precise and methodical. The slow movement was exquisite. But there was little indication of a young Beethoven breaking the Classical-era bounds.
Adès made up for that in an irrepressible Beethoven's Seventh. Rather shy in conversation and an unshowy virtuoso pianist, Adès seems to lose all restraint when he stands in front of an orchestra. His gestures are wildly expressive and even wacky. But thanks to his world-class sense of rhythm, he never leaves the orchestra in doubt. In the Seventh, Beethoven's rhythmic pulse and impulse simply ran the symphonic show.
It wasn't a tidy performance — there was not time for producing one and no need for one. By the Finale, all heaven and all hell broke loose, the Adès of ecstatic raves and Beethoven one glorious whole.
And not to worry about Adès' commitment to the L.A. Phil. He will have a big presence in the orchestra's upcoming centennial season.
Twitter: @markswed
---
The complete guide to home viewing
Get Screen Gab for weekly recommendations, analysis, interviews and irreverent discussion of the TV and streaming movies everyone's talking about.
You may occasionally receive promotional content from the Los Angeles Times.