'Jesse Stone: Thin Ice' Sunday on CBS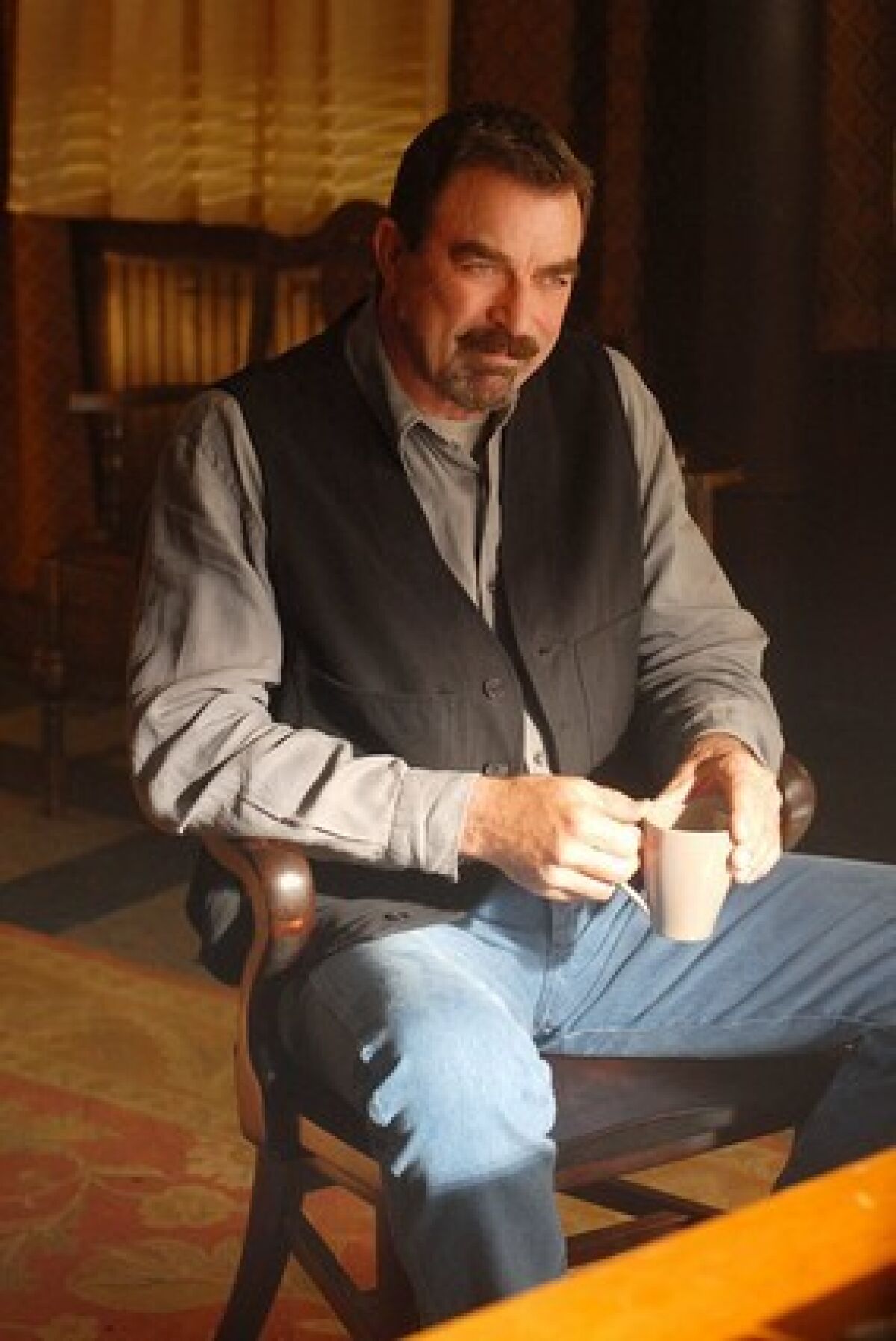 Television Critic
While most crime series today rely on some sort of technical or psychological twist -- the wonders of forensics, the special knowledge of a reformed fake psychic or a good-guy serial killer, "Jesse Stone: Thin Ice," which debuts on Sunday, sticks with the fundamentals.
Based on the works of one genre icon — Robert B. Parker -- and starring another -- Tom Selleck in the title role -- the Jesse Stone series (this is the fifth TV movie) offers a refreshing return to a television era when small towns were brimming with intricate crimes, filmmakers were not afraid to keep their actors in closed-space dialogue for minutes and the biggest psychological twist a cop faced came in a bottle, usually with a red or black label.
Stone is a former LAPD detective who got kicked off the force for drinking and became the chief of police in the small Massachusetts town of Paradise. He has an ex-wife he still loves and a shrink who smokes so much that it is at times difficult to see that yes, that is William Devane, still hale and hearty, eyes twinkling away under all those silver whiskers.
Stone also has two eager if less experienced police officers, played by Kohl Sudduth and the always wonderful Kathy Baker.
Even so, he is not a happy camper. Unlike Selleck's most famous role, Stone is neither happy nor enthusiastic; he is, at times, a bit like Thomas Magnum on Xanax. Not a lot of Xanax -- Stone still has a sense of humor and the occasional gleam in his eye -- just enough to take that carefree edge off.
Still, he is very likable and not just because Selleck, at 64, remains as handsome and decent-guy-solid as ever. Stone is a good cop and, for all his cynicism, one who still cares.
"Thin Ice," which is the first of the films not based directly on a Parker novel, makes this clear from the get-go. While hanging with a buddy on a stakeout, Stone gets caught in the crossfire. A state homicide commander gets shot; Stone takes one too but manages to prevent the shooter from finishing the job.
This puts him square in the middle of a Boston Police Department Internal Affairs investigation, which as luck would have it, is conducted by the comely Sidney Greenstreet (Leslie Hope, who bears no resemblance to Sydney Greenstreet). The Paradise Town Council is also more than a bit irked by the fact that its police chief was on a stakeout in Boston instead of at home handing out lucrative speeding tickets.
So when the distraught mother (Camryn Manheim) of a baby kidnapped seven years earlier arrives, convinced that her child is now living in Paradise, it is not surprising that Stone's first reaction is "nothing-we-can-do-ma'am." But of course he can, and does, while sorting out the shooting of his buddy and attempting to make some sort of emotional progress beyond a two-drink maximum.
With a cast that has won its weight in Emmys and Golden Globes, it's not surprising that "Thin Ice" is filled with great performances; what is surprising is that so many of them are so marvelously small and subtle.
This is a slow-moving film, especially in comparison with the often hyperkinetic pacing of today's television, but that's one of its greatest strengths.
Like good police work, good storytelling requires time and a eye for detail; "Jesse Stone: Thin Ice" has both.
Get our L.A. Goes Out newsletter, with the week's best events, to help you explore and experience our city.
You may occasionally receive promotional content from the Los Angeles Times.