After her turbulent days on 'The View,' Raven-Symone has come 'Home' to Disney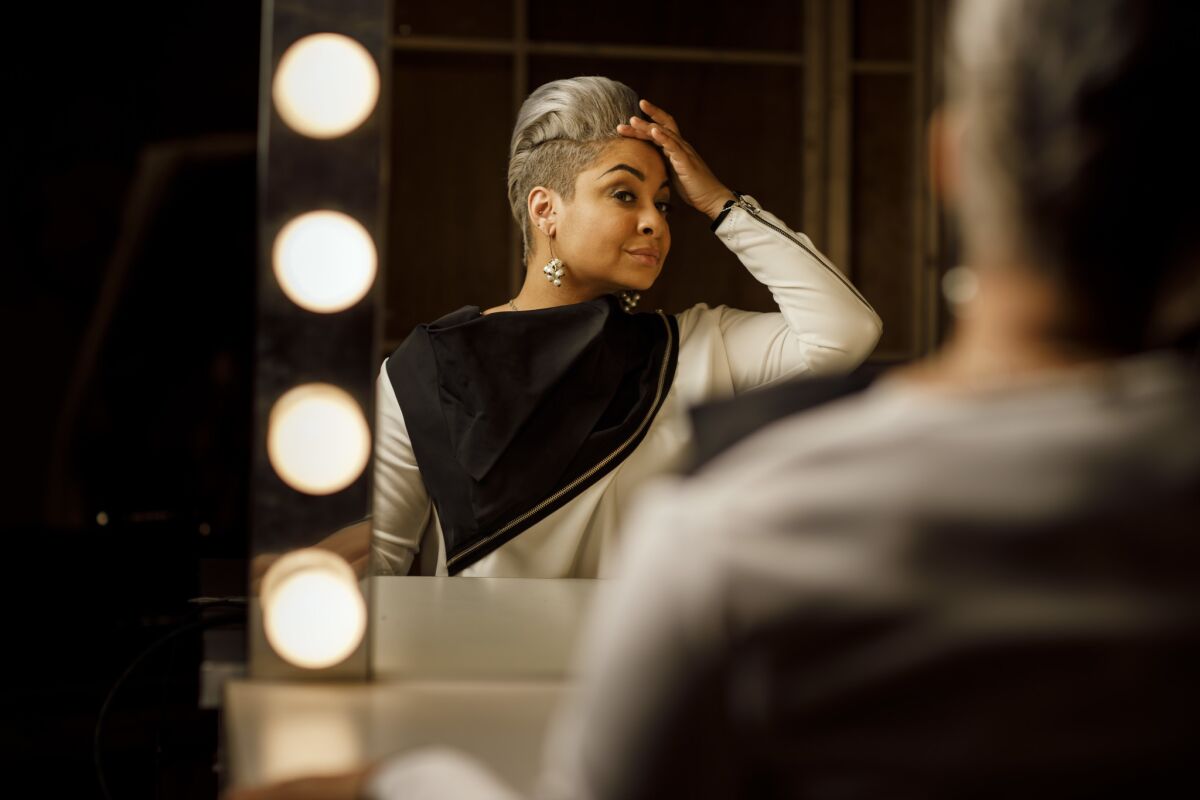 Raven-Symoné is focused, unsmiling as she stands behind the door of a high school gymnasium.
She breaks her gaze only to mouth lines of dialogue or burst into song, rehearsing snippets from the musical episode she's filming as the crew chatters on the other side of the door.
Symoné, a TV veteran at just age 32, hardly needs the practice, but she's game — bringing the same energy take after take, each time injecting her familiar vivacious attitude into her movements. This is the set of "Raven's Home," now in its second season as a spinoff of "That's So Raven," the landmark Disney Channel series that skyrocketed her to fame in 2003.
She is still playing Raven Baxter, but the psychic teen in "That's So Raven," whose misleading visions caused hilarious trouble, is now a divorced mother of twins, one of whom has inherited her psychic abilities. The twins may be the lead characters — played by Navia Ziraili Robinson and Issac Ryan Brown — but the spinoff still relies on Symoné's physical comedy and dramatic exclamations, including her signature "Oh, snap!"
Symoné clumsily stumbles, trips and dances with exaggerated movements, punctuated with sudden outbursts. It's this expressive — and physical — brand of comedy that helped "That's So Raven" become an international hit. Even without translation, TV viewers around the world enjoy her performances, says Adam Bonnett, Disney's executive vice president of original programming.
"That's So Raven," Disney Channel's first original multi-cam sitcom, ran for 100 episodes and became one of the network's highest-rated shows at the time.
"People always talk about 'Lizzie McGuire' (2001), 'Even Stevens' (2000) — and those were great shows that got us a lot of attention," Bonnett says, "but it wasn't until 'That's So Raven' came on that we really exploded."
Symoné grew up on the 1990s sitcoms "The Cosby Show" and "Hangin' With Mr. Cooper," but her career has been sandwiched by Disney, the network that allowed her to make history as the first African-American woman with her own name in the title of a TV comedy series (1939's "The Ethel Waters Show" was a one-night special).
Symoné's post-"That's So Raven" resume is impressive — she starred in ABC Family's short-lived "The State of Georgia" and showcased her powerful voice on Broadway in 2012's "Sister Act" before becoming a controversial co-host of ABC's daytime talk show "The View." Now, she's returned to her comfort zone, a kids show on the Disney Channel.
"There is a place in your life where you can be uncomfortably comfortable," she says in a conference room of the "Raven's Home" set in Hollywood.
Comfortable, perhaps because she is playing the same character in a familiar high school setting, reunited with some of the network executives and staff that have watched her grow since she was 15. Uncomfortable, because this time, the actress has an active behind-the-scenes role as an executive producer of the series.
I'm continuously having to make choices that I didn't have to make before, in a place where I know that if I fall, there's someone to catch me.
— Raven-Symoné
"When you learn to get on a tight rope, you're not just going to jump up on the tallest building," Symoné says. "You're going to start a little bit low to the ground so you have a net to catch you. I'm continuously having to make choices [as executive producer] that I didn't have to make before, in a place where I know that if I fall, there's someone to catch me."
Even though she's never had a completely fallow period, there was a time when Symoné considered herself retired. It was after her time on Broadway, starring in "Sister Act," the musical adaption of the hit film that starred Whoopi Goldberg, and before she joined Goldberg, who produced the stage production, as a co-host on "The View." She had no interest in returning to showbiz.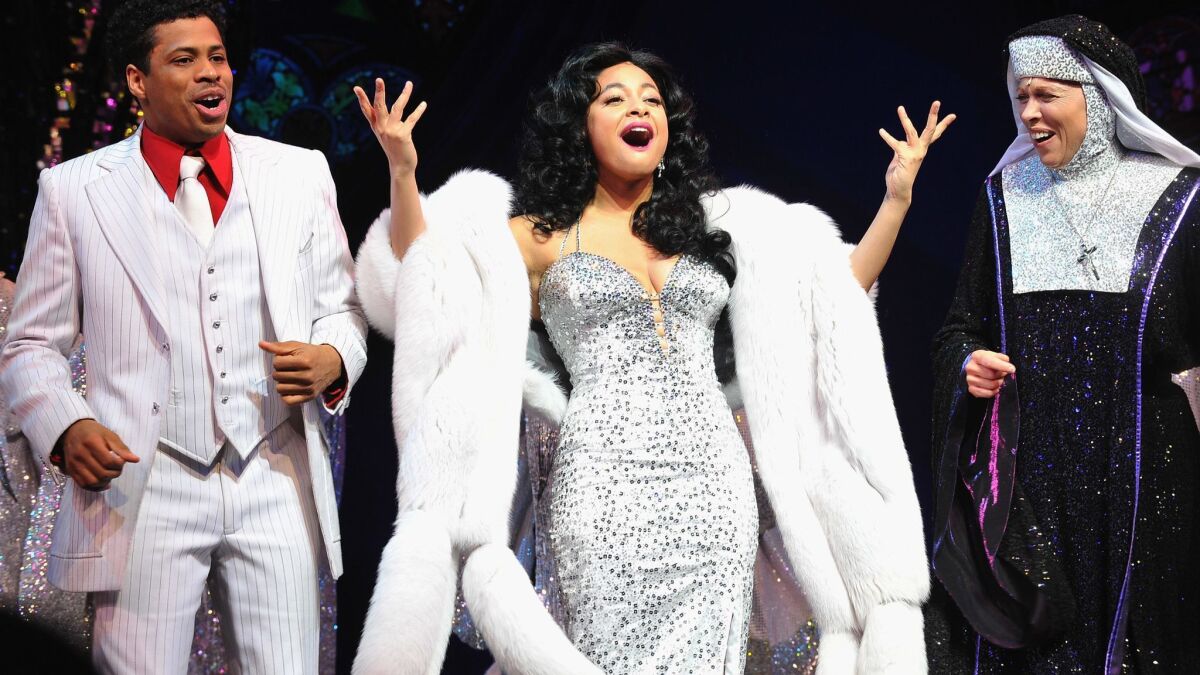 "I actually didn't want to do anything, because the entertainment industry will drain you and then spit you out if you're not what they want and then leave you for dead," Symoné says, before abruptly letting out a laugh.
Yet, here she is. There was no big "Raven's Home" hoopla, no big comeback story with the first season. After a conversation with Disney executives, Symoné simply resigned from "The View," packed her bags in New York and came home. Her team even referred to the new show as "Raven's Home" before they had an official title for it.
At Disney, Symoné is judged by her performance, her professionalism and her work ethic, not by the controversy in her past.
For most of her career, Symoné was extremely private about her personal life but faced backlash after a 2014 interview with Oprah Winfrey in which she confirmed that she was in a happy relationship with a woman but didn't want to be labeled "gay" and also didn't want to be labeled African American. More controversial statements followed on "The View," particularly about race.
She made headlines in 2015 for placing some blame on a young student who was slammed to the ground from her desk by a police officer and again with her comments in a segment about black names on "The View," for which she later apologized.
In a 2016 episode of "It Got Better," she talked more openly about her sexuality, but found that some people in the industry didn't want to deal with her. It led to "conversations that I don't feel should have went the way they went, just because I think people had a preconceived notion of what I was," Symoné says.
She's been emboldened, however, by the Disney Channel welcoming her with open arms despite all the furor.
"Disney understood me," Symoné says. "They knew it's not about my sexual orientation. It's about having fun, it's about family, it's about comedy, it's about good content...I love them forever for embracing me."
And in her role as executive producer, she's pushed for the show to focus on social issues, such as divorce, gender roles and financial instability.
The first episode of "Raven's Home's" second season deals with Nia and Booker attempting to get a slice of Raven's extra income after selling a jacket she designed, while she seeks to invest it in something that will give her children a better future.
"All I know is this money is going to give me a second chance to do something with my life," she tells her best friend Chelsea. "I could do anything; I could start a fashion line, just something to help my kids."
Raven shares her tight apartment with her children and Chelsea (Anneliese van der Pol) and her son, Levi (Jason Maybaum). Tess (Sky Katz), who lives across the hall, is always in their home, her parents never seen or heard.
On the set, Symoné takes her role as a mentor to her young costars seriously, raising them with the same strict work ethic that was instilled in her as a child star.
No cell phones are allowed, and she asks the tweens, "Who do you study?"
"You should know 'Seinfeld' from top to bottom," she tells them. "I need you to go on Amazon and download these old shows, so when I'm on a scene with you, you understand why I'm acting the way I'm acting."
Symoné also teaches the young stars to be humble, to learn the names of everyone on set and to enjoy their life as kids outside of the set, said Brown, the 12-year-old who plays Raven's son, Booker.
When Brown auditioned for the part, he had heard Symoné's name uttered in his household and was aware of "That's So Raven," but he didn't understand the magnitude of her celebrity. He says things probably would have gone differently in his audition if he did.
Brown and his costars had a "That's So Raven" marathon after getting past the first audition phase, and he became awed by her physical expressiveness and comedic timing. He was intimidated, he says, to face the pressure of being as good as Symoné was when she was 14.
"I don't think there's anyone else I'd rather study under," he says. "She's the perfect example because she was a kid star. She really understands us."
For Bonnett, it has been remarkable to watch Symoné grow from a teen star to executive producer. The door has been wide open for her to return to Disney the moment she left the network, he says.
"I think there's a part of Raven that likes to give back," Bonnett says. "It's a little bit of a full circle thing — her growing up as a kid actor and having the opportunity to come back and mentor kids who are starting off in the business. And she's a kid at heart."
A kid at heart — that's what Disney allows her to be, Symoné says.
When she's not working in front of or behind the cameras, Symoné effectively shuts the industry away, shying away from the tabloid shenanigans that have shadowed many of her peers. Fame is a byproduct of her job, she says.
Instead, she gets a jolt of excitement from discussing her new academic endeavors. She earned her associate degree in fine arts in 2016 and is working toward a bachelor's in fine arts online with the Academy of Arts University.
She recently took a history of animation course focusing on Walt Disney that gave her a sudden understanding of the significance of growing up on Disney Channel.
"Do you know who we work for?" she exclaimed to crew members after class. "They showed a picture in my book and I'm like, 'I record there. I recorded there yesterday!'"
Having completed her actor's bucket list at 18, Symoné is looking forward to a simple life — to starting a family and painting in her free time. She hopes to continue working behind the scenes on family TV shows that unite homes and shape children's experiences in critical moments of their lives and to take only acting roles that genuinely excite her.
"I'm 32, and I've been in the industry for 30 years," she says. "I'm happy. And if it ended today, I wouldn't regret anything. If you're mad at me, go ahead, bye!"
ALSO
That's so not Raven: Raven-Symoné on her ABC Family series 'State of Georgia'
Staying on message is so Raven-Symoné as she talks 'Cheetah Girls 2'
Raven-Symone on fake story about her and Cosby: 'Keep me out of this'
alejandra.reyesvelarde@latimes.com
Twitter: @r_valejandra
Get our L.A. Goes Out newsletter, with the week's best events, to help you explore and experience our city.
You may occasionally receive promotional content from the Los Angeles Times.