'True Blood' star Rutina Wesley embraces blood, sweat and tears of her new show, 'Queen Sugar'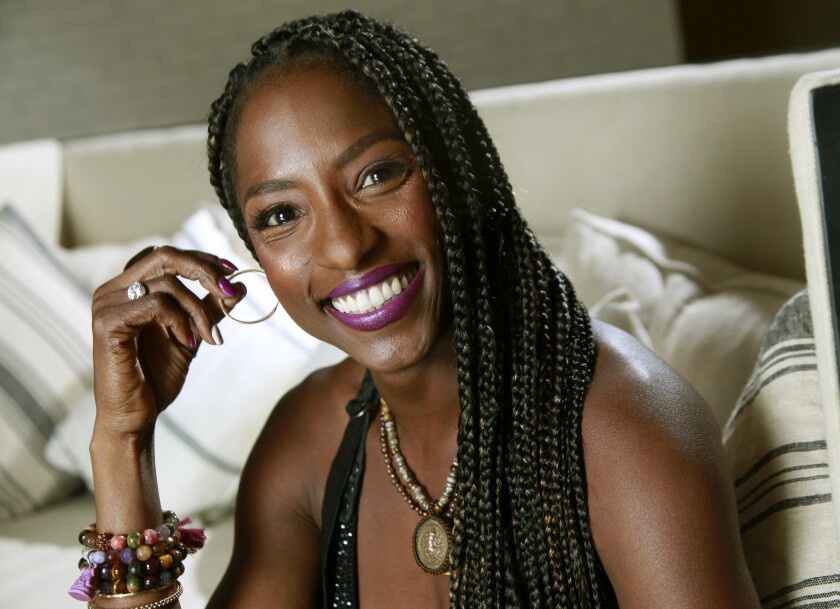 It's been more than two years since HBO's sexy vampire drama "True Blood" went off the air. But some of the series' devotees still approach Rutina Wesley, one of its featured stars, with some bizarre requests.
"They want to look into my eyes to see if they're all black, and sometimes they want me to bite them," said Wesley, who played the sharp-tongued waitress-turned-vampire Tara Thornton. "They still call me Tara."
The 37-year-old actress doesn't mind. The series— which premiered in 2007 and lasted seven seasons — launched her career and established her as an actress adept at expressing both toughness and vulnerability. Her performance as Tara was praised by critics and fans alike.
But these days Wesley is focused on a new role that has a whole different kind of bite. She stars in "Queen Sugar," the drama launching Sept. 6 on Oprah Winfrey's OWN network about an African American family struggling against a multitude of obstacles in the Deep South.
Wesley plays Nova Bordelon, a journalist and activist armed with an agenda and harboring a taste for mysticism. Nova's life is turned upside down when she is forced to reconcile with her estranged siblings in order to save their dying father's ailing sugar cane farm.
While "True Blood" took place in the world of the supernatural, Wesley said "Queen Sugar" is grounded in a often painful reality "dealing with black families and families in general." The classically trained actress, who studied at Juilliard, raved about her new character: "Nova's a beautiful mess, and I love juggling all her complexities."
Based on the novel of the same name by Natalie Baszile and set in the fictional Louisiana town of Saint Josephine, the series, created by acclaimed "Selma" filmmaker Ava DuVernay, represents Wesley's first major leading role. Winfrey is an executive producer on the series, which also stars Dawn-Lyen Gardner and Kofi Siriboe.
Seated in a spacious lounge at OWN's Hollywood studio, Wesley detailed her new role and her emotions about working with Winfrey, the challenge of working outside of her comfort zone, and life post-"True Blood."
You seem to be over the moon about this role and the show.
It's just so interesting for me to be here now, with this show, especially being on OWN with Oprah. My very first job was with "The Color Purple" in a Broadway workshop (Note: Winfrey was a producer of the Broadway production). I was very green — I hadn't even graduated yet. I wasn't ready for her then but I'm ready for her now. To be here playing an amazing role on her network is surreal.
What intrigued you most about this project?
The best thing is that this character, Nova, is not in the book. Ava gave me an outline of where she got the character from, and where she came from in her mind. I felt I could really get to the essence of the role she created and chose me to play. It's my most challenging role to date. I have been stretched, pulled, poked, prodded in all the best ways as an actor. I've used my instrument completely and fully, in many complex ways.
Nova is quite different from Tara.
I'm really interested to see how people are going to react to her. There's a sense of chaos. I'm a woman but a black woman. She's an avid journalist with her fist in the air, but her lover is white. She's a beautiful mess. She is just so many things from the jump. For me, the most challenging thing was getting comfortable being uncomfortable. I can see people really trying to figure her out. But everyone can relate to a beautiful mess. Everybody has a bit of chaos in their life.
What is your definition of "a beautiful mess"?
She just has so many things going on that I love juggling. Her incredible tenacity, her grace, her love for her community, her strength, her wit, her grace.
How does working on "Queen Sugar" differ from "True Blood"?
With "True Blood," I would go home after shooting all night in Calabasas and it was like "OK, we just spent 12 hours in an orgy, and everybody was outside." That was not reality. That's never going to happen. People aren't running around with black eyes. It was fantastical.
Here, it's different. I'm asked just to be in the normal. All of our characters are based in such a sweet, natural way of being human. We touch on a lot of things, the beautiful city of New Orleans and that life. When I stepped onto the sugar cane field for the first time, there was this sense of weight and energy that I felt immediately. I felt the history of New Orleans, the mystique of what it was and what it is, my ancestors, and the people who worked there.
How did you and your costars develop the kind of chemistry that makes you convincing as siblings?
Dawn-Lyen and I have a sisterly connection. We went to Juilliard together, so we can really go there. We can get raw. With this family on this show, there are times when we really have to hug it out. But I hope that people are moved and inspired by the connections we have, because it's real. We love each other like family.
The first scene of the pilot is a bedroom scene, showing you in shadow as you get dressed with your love. It's pretty sensual.
And wonderfully confusing. I've never felt so beautiful on TV. I don't want to get emotional, but when I saw it, I thought, 'Wow, I look really pretty.' And I don't say that a lot. So it was just lovely to be captured in a real and truthful way. Nova has taught me to be a little bit more comfortable in my own skin.
Twitter:@GeBraxton
ALSO
Beyond the buzz, a world of good TV is out there for the watching
---
The complete guide to home viewing
Get Screen Gab for everything about the TV shows and streaming movies everyone's talking about.
You may occasionally receive promotional content from the Los Angeles Times.