Monday's TV Highlights: 'Full Frontal With Samantha Bee' on TBS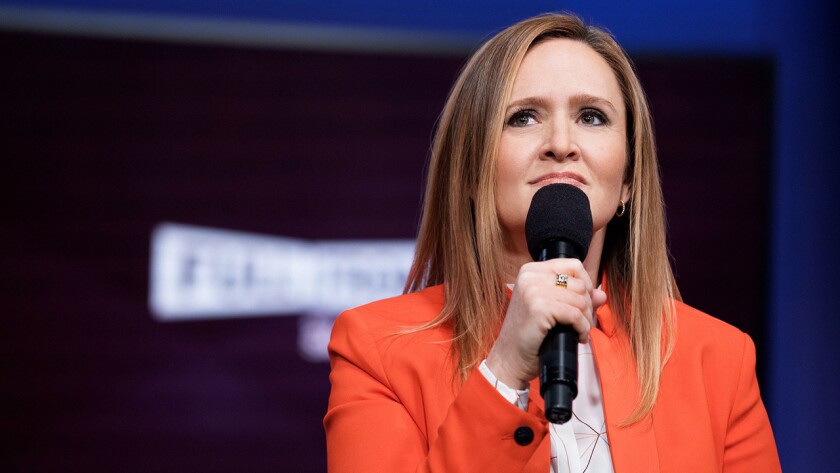 SERIES
Kevin Can Wait Kevin and Donna's (Kevin James, Erinn Hayes) pretend they aren't in on Halloween, to avoid trick-or-treaters. Kevin James' daughters Sienna and Shea guest star as costumed candy-seekers. 8 p.m. CBS
Supergirl Kara and Alex (Melissa Benoist, Chyler Leigh) discover an alien fight club while probing a murder. 8 p.m. KTLA
Dancing With the Stars The remaining couples perform Halloween-themed routines. 8 p.m. ABC
Gotham Mad Hatter uses a chemical to send Gordon (Ben McKenzie) on an "It's a Wonderful Life"-like hallucination with deeply unsettling results. Robin Lord Taylor and Cory Michael Smith also star, and Jamie Chung continues her guest role. 8 p.m. Fox
Man With a Plan Adam (Matt LeBlanc) has an extra ticket to a Steelers game and has to decide between with wife and brother (Liza Snyder, Kevin Nealon) in this new episode. 8:30 p.m. CBS
2 Broke Girls On a visit to her college to deliver a speech, Caroline (Beth Behrs) bring Max (Kat Dennings) along and introduces her to the college party scene. 9 p.m. CBS
Jane the Virgin Jane (Gina Rodriguez) wants to add Alba's (Ivonne Coll) estranged sister (Jaime Camil) to the narrative of her thesis. Gloria and Emilio Estefan guest star in this new episode. 9 p.m. KTLA
The Real Housewives of Orange County The women gather at Shannon's new house for a carb-loaded affair to celebrate Tamra's victory at the fitness competition in the season finale. 9 p.m. Bravo
Lucifer Lucifer and Chloe (Tom Ellis, Lauren German) clash over a case resulting in Chloe taking Dan (Kevin Alejandro) as a new partner. 9 p.m. Fox
Halloween Baking Championship The three final bakers must fill a haunted tree with cookies decorated with a Halloween theme, then they have six hours to construct a spooky gingerbread house. Duff Goldman visits in the season finale. 9 p.m. Food
People of Earth Conan O'Brien and Greg Daniels are on the creative team behind this new sitcom that casts Wyatt Cenac as a big-city reporter sent to interview members of a support group for alien abductees in a small upstate New York town. Ana Gasteyer, Brian Huskey and Nancy Lenehan also star, 9 p.m. TBS. A second new episode follows at 9:30.
The Odd Couple Oscar (Matthew Perry) tries to prove himself to Charlotte (Teri Hatcher) by taking her son (Caleb Brown) trick-or-treating, while Felix (Thomas Lennon) celebrates his first Halloween by giving a haunted history tour of the apartment building. 9:30 p.m. CBS
Scorpion A new Halloween takes the team into an extensive series of caves to battle some of their most unusual enemies yet: bats, literally. Elyes Gabel and Katharine McPhee star. 10 p.m. CBS
POV The education of girls in an Afghan village is documented in the season finale episode "What Tomorrow Brings." 10 p.m. KOCE and 11 p.m. KPBS
Full Frontal With Samantha Bee Samantha has a conversation with President Obama in this new episode. 10:30 p.m. TBS
SPECIALS
All Access Nashville: Celebrating the CMA Awards With Robin Roberts Robin Roberts visits the country-music capital to host a pre-CMA Awards special. 10 p.m. ABC
TALK SHOWS
CBS This Morning (N) 7 a.m. KCBS
Today (N) 10 a.m. 7 a.m. KNBC
KTLA Morning News (N) 7 a.m. KTLA
Good Morning America (N) 7 a.m. KABC
Good Day L.A. Harry Connick, Jr.; Justin Tremblay ("Shut In"); Rams talk: Jackie Slater; Dr. Mehmet Oz. (N) 7 a.m. KTTV
Live with Kelly Kevin James; Jerry O'Connell. (N) 9 a.m. KABC
Rachael Ray Bob Harper. (N) 10 a.m. KCAL
The Doctors (N) 11 a.m. KCAL
The Wendy Williams Show (N) 11 a.m. KTTV
The Talk LL Cool J. (N) 1 p.m. KCBS
The Dr. Oz Show Greek yogurt; Alzheimer's. (N) 1 p.m. KTTV
Kenya Moore. 1 p.m. KCOP
Steve Harvey Shari Headley and Vanessa Bell Calloway; Ta'Rhonda Jones; Mat Franco. (N) 2 p.m. KNBC
The Real Ray Parker Jr.; Chip Coffey. (N) 2 p.m. KTTV
Dr. Phil A woman says her husband abandoned her and their two sons, causing one of them to commit suicide. (N) 3 p.m. KCBS
The Ellen DeGeneres Show Heidi Klum ("Project Runway"); Beth Behrs ("2 Broke Girls"); Ariana Grande; Zay performs. (N) 3 p.m. KNBC
Harry Boris Kodjoe ("Code Black"). (N) 4 p.m. KTTV; 9 p.m. KCOP
Tavis Smiley (N) 11 p.m. KOCE
Charlie Rose (N) 11 p.m. KVCR; 11:30 p.m. KOCE; 1 a.m. KLCS
The Daily Show With Trevor Noah (N) 11 p.m. Comedy Central
Conan (Season premiere) The Sugar Hill Gang performs; from the Apollo. (N) 11 p.m. TBS
The Tonight Show Starring Jimmy Fallon Jay Leno; Gabrielle Union; Big Sean performs. (N) 11:34 p.m. KNBC
The Late Show With Stephen Colbert Ruth Wilson; J.B. Smoove; Dalen Spratt, Juwan Mass and Marcus Harvey. (N) 11:35 p.m. KCBS
Jimmy Kimmel Live (N) 11:35 p.m. KABC
The Late Late Show With James Corden Harry Connick Jr.; Alice Eve; Lior Suchard. (N) 12:37 a.m. KCBS
Late Night With Seth Meyers Nathan Lane; Genevieve Angelson; Matt Seitz; Alan Sepinwall; Hannah Walton performs. (N) 12:37 a.m. KNBC
Nightline (N) 12:37 a.m. KABC
---
Customized TV Listings are available here: www.latimes.com/tvtimes
Click here to download
TV listings for the week of Oct. 30 - Nov. 5, 2016 in PDF format
---
Inside the business of entertainment
The Wide Shot brings you news, analysis and insights on everything from streaming wars to production — and what it all means for the future.
You may occasionally receive promotional content from the Los Angeles Times.