It's all phone calls and emergencies as Connie Britton reteams with Ryan Murphy for Fox's '9-1-1'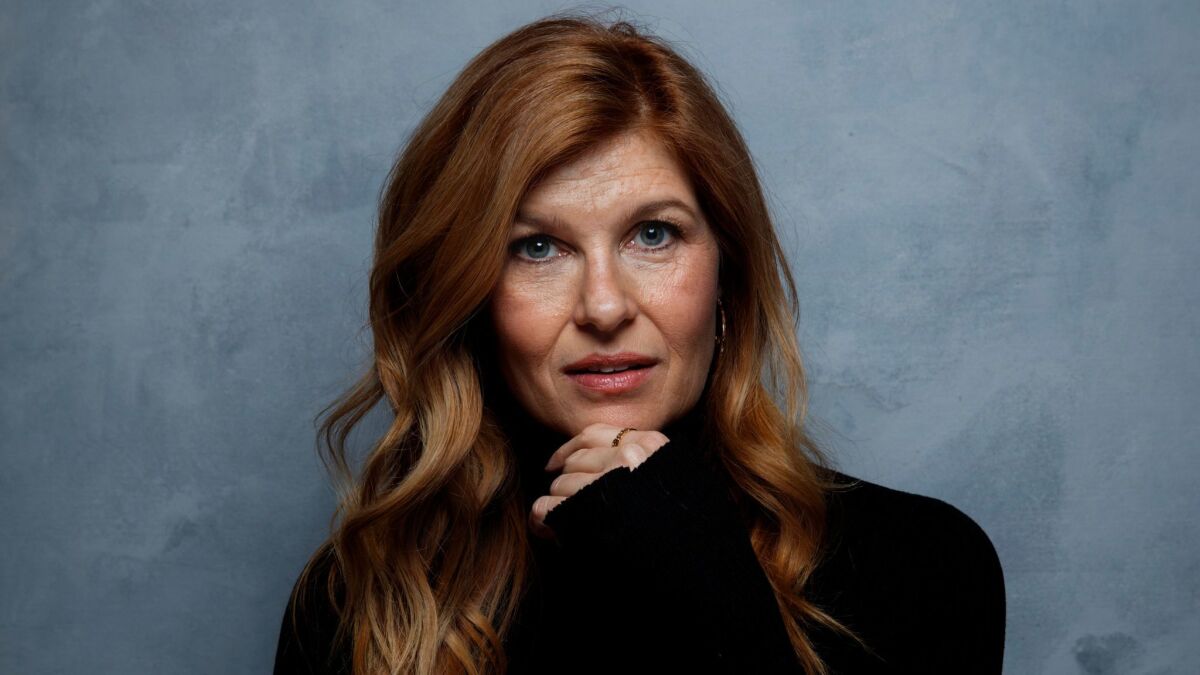 Not all superheros wear capes. Some sport telephone headsets — as Connie Britton can attest.
The actress, who warmed hearts as "y'all"-prone Tami Taylor on "Friday Night Lights" and made folks croon as country music icon Rayna Jaymes on "Nashville," is adding some dimension to a life-saving job that often gets overlooked: the 9-1-1 dispatcher.
In the new Fox procedural, "9-1-1," which zigs and zags across the high-intensity world of first responders while also giving attention to the personal drama that awaits them at home, Britton plays 9-1-1 operator Abby Clark. When she's not fielding critical calls — along with the occasional trivial ones — on the job, she's tending to her ailing mother. Britton stars alongside Angela Bassett and Peter Krause, who play a police officer and firefighter, respectively.
The role brings Britton back under the Ryan Murphy-Brad Falchuk umbrella. She was part of the inaugural cast of the producing duo's "American Horror Story" anthology franchise and appeared as Faye Resnick in "The People v. OJ Simpson: American Crime Story."
The Times recently spoke to Britton about the new drama, which premieres Jan. 3.
Ryan Murphy and a network procedural, at first glance, seem like an oil-and-water combination — it's not what he's known for. Do you remember how he pitched this to you?
Yeah, he called me and was just like, "Hey, look ... I'm doing this thing and honestly I think it'd be a really cool character for you to play." And then he hit me with the important stuff: "It shoots in L.A. … you probably wouldn't have to work more than 2 or 3 days a week" — because I have my kid and I've been working crazy hours for a lot of years. I still love working, but he knows where my priorities are. And then, I mean, my first thought was: Angela Bassett. And then, Peter Krause, who I've known for years. I just thought it sounded like a blast.
But then he told me, "Yeah it's sort of a procedural but, like, not." And I'm thinking to myself what I've said my whole life, which is, the one thing I could never do is a procedural.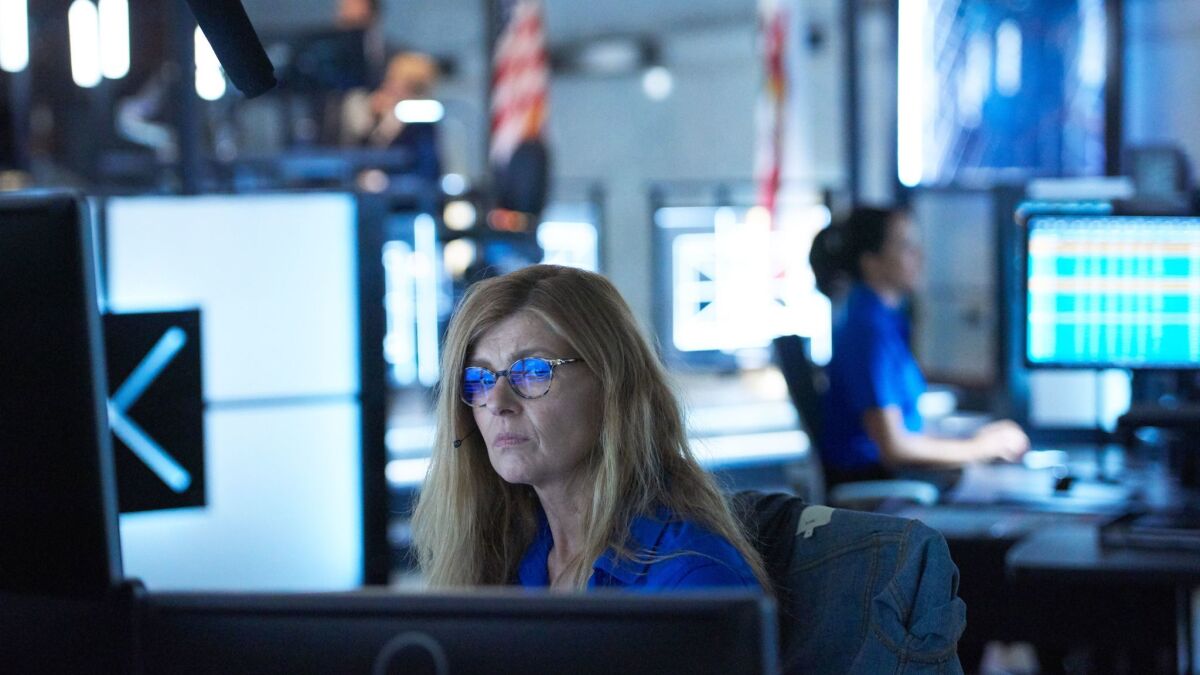 Why is that?
What I love, and what I feel is my strong suit, is character and detail in character and a lot of times in a procedural, that can be lost in a scene. Not always — and of course there've been really amazing, wonderful versions of that. But even as I [was] talking to Ryan—and really, I'll do anything with Ryan because I just love working with him. I believe in his vision for things. But I felt like, "OK, how are you going to make this something we've never seen before? 'Cause that's what you do. How are you going to do it this time? 'Cause we've seen it."
So far it's just been a really interesting experience and challenging. As an actor, that's always a really important element to any decision I make. Am I going to feel like I'm outside my comfort zone? Is it going to feel like a risk?
What went into preparing for this role?
I spent a lot of time visiting the control centers in L.A., which was fascinating because I realize we have so little information about that world. I was really lucky because the first day I went, the chief brought me into the break room where there was a whole bunch of [dispatchers] starting their shift. So I got to speak to a group of them all together.
One of them said to me, "When you call 911, do you think we know where you are?" And I said, "Yeah." And they're like, "We don't." And I was like, "Well you need to do a public service announcement about that." I had no idea. All of the dispatchers I spoke to basically asked of me: "Will you please show us in a real light and not overdramatize what this job is like? " I feel such complete commitment to do that.
Then I spent a couple days sitting with 9-1-1 operators on the floor. First of all, I can't believe how high-tech it is. Everyone has a different thing going on and they're constantly fielding phone calls from people and emergencies, and then the fire department, and then the police department. It's all happening at breakneck pace. It's such an incredible talent and skill. I was so blown away. The first day when I was shooting my 9-1-1 stuff, it was a 15-hour day. It was just me in front of these monitors and it was so challenging because I feel this commitment to these people that I really want to represent them in a way that feels authentic. Yet, at the same time, I don't know how any of these computer screens work. At one point, I said, "I am not the right actress for this job!'
All the dispatchers I spoke to basically asked of me: 'Will you please show us in a real light and not overdramatize what this job is like?'

— Connie Britton, who stars in "9-1-1"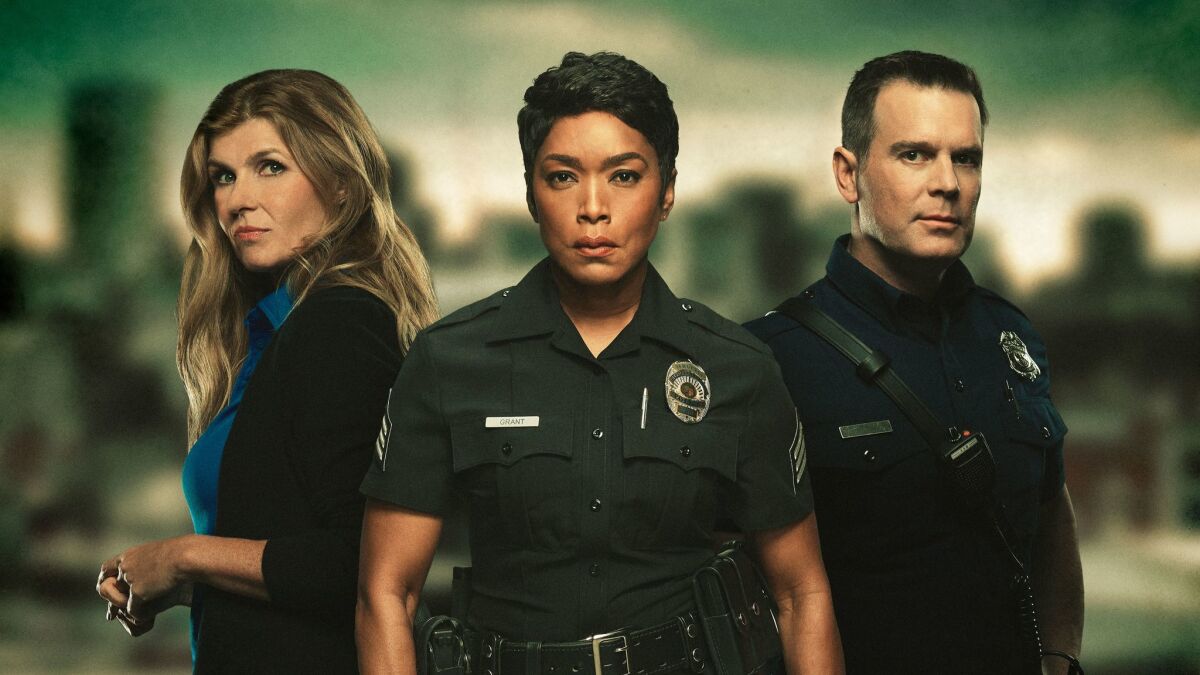 In that time you were talking to these dispatchers, did you get a sense of what led them to this line of work? And what it takes to do this kind of job?
A lot of them talked about how they wanted to do something to help people. A lot of them found out about this particular job in circuitous ways. But when they heard about it they thought, "Oh that actually might suit me better than becoming a police officer." Or some of the other things that they'd been considering.
I talked to a lot of them too about how you deal with the toll it takes on your psyche and they all really said that they have to compartmentalize and they have to leave at the end of the day and go home and do something else. They said, "Don't try to make it seem like every sad thing that happens, you're going to be upset by it, because we [aren't]. We have to move on."
They don't develop this sense of attachment and we talk about that a lot on the show. But it's definitely a temptation when some heartbreaking thing happens that you want to fall apart because that's what you and I would do. But these people have trained themselves. It's part of their job. I remember while shooting, I had to say, "9-1-1, what's your emergency?" and the director said to me: "OK, but maybe with a little more urgency." And I was like, "Nope." And that's the challenge of it all — you want to over dramatize it. But these dispatchers are laser-focused and there's no drama in it.
The most-read Entertainment stories this hour »
Have you ever had to call 9-1-1?
What's funny is I've never called 9-1-1 and then, just recently, after I started doing this, I was driving my son home from school — before these fires were raging recently out here — there was a big fire that started on the side of the freeway. I was like, "Oh my gosh." So I called 9-1-1- and I couldn't believe I was calling. And the guy goes, "9-1-1, are you calling about the fire?" Which, hello, first of all, they are so on it. I said, "Yes I am." And also I was thinking to myself, "Oh so he does know where I am?" And I said, "Yes I'm calling about the fire." And he said, "Did you see how it started?" And I said, "No." And he goes, "OK thanks. Goodbye." He did not want to talk to me. If I can't get him new information, bye. It's such a skill.
Do you think it's a job you could do in real life?
No — are you kidding? I'm just very grateful to the people who do. They are so dedicated.
That's why it's really an honor to be able to depict them and to try to do it in a real way and I'm appreciative to Ryan that he's included this character because one of the people that I met with at the call center said, "We are the real first responders… It's only through us that you will find your way to safety."
And it's true. Whenever we think of first responders we think of the fire department and police department and of course the work that they do is essential. But [the dispatchers] are the people who are actually the conduit to that. They deal with the people in the most extreme sense of urgency and emergency and manage that and then try to coordinate the help that they're going to get.
Much has been said about the opportunities Ryan has provided women. But you're also part of the Showtime series "SMILF," which was created by, written by, and stars Frankie Shaw. How did that affect you, being part a project really helmed by a woman through and through?
I just love Frankie. I'm so proud of her. I'm so inspired by her. David Nevins at Showtime brought this to me. I started to learn about this young woman who had made this short film and now was creating this whole thing and also starring in it and also writing everything and directing and editing. As a woman, to be able to jump on board with that, it was just a joy. I reveled in her greatness.
Twitter: @villarrealy
---
Get our L.A. Goes Out newsletter, with the week's best events, to help you explore and experience our city.
You may occasionally receive promotional content from the Los Angeles Times.