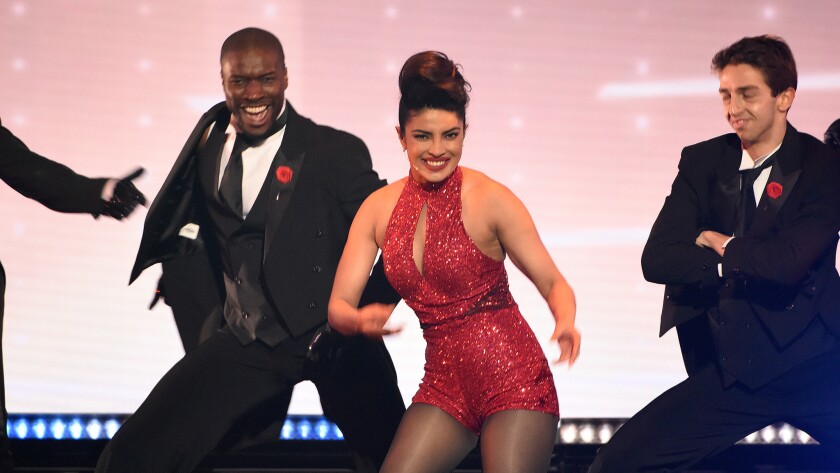 New York —
ABC is doubling down on the funny.
At a time when its broadcast rivals are struggling to develop new comedies, the network is adding two new family sitcoms to its lineup this fall and expanding comedy programming on Tuesday nights.
"The main thing was looking at what we do well, which is our signature brand of family comedies," newly appointed ABC Entertainment President Channing Dungey said in a call with reporters Tuesday morning ahead of the network's upfront presentation at David Geffen Hall.
FULL COVERAGE: TV Upfronts: Cancellations, renewals and new series orders
Slated for Tuesdays at 8:30 is "American Housewife," which stars Katy Mixon as a less than perfect mother in the wealthy, conformist enclave of Westport, Conn. Dungey praised the show as "fresh and funny" and lauded its writer, Sarah Dunn, for her "fantastic voice."
In "Speechless," which will air Wednesdays at 8:30 after "The Goldbergs," Minnie Driver plays a mother who aggressively advocates for her special-needs son. "It is smart, funny, incisive and incredibly emotional," Dungey told reporters.
The addition of these shows, plus a move to Tuesdays at 8 for the long-running sitcom "The Middle," will give ABC two consecutive nights featuring two-hour family comedy blocks. Factoring in Friday night sitcoms "Dr. Ken" and "Last Man Standing," this puts ABC well ahead of its broadcast competitors in sheer volume of comedy on the airwaves.
In recent seasons, the network had focused on more inclusive programming, but at the end of a TV year in which it's poised to finish in fourth place in the 18-to-49 demographic, ABC appears to be tweaking its strategy.
Tuesday's upfront, which opened with a performance by "Quantico" star Priyanka Chopra, was loosely organized around the theme of "family."
The network also has two slightly more eccentric comedies on the bench for midseason: "Downward Dog," about a single woman and her talking dog, and "Imaginary Mary," about a single woman and her imaginary childhood friend.
But ABC has hardly given up on drama, either. As Dungey explained to the media buyers and journalists in attendance at Tuesday afternoon's showcase, a top priority for the fall is strengthening the network's performance at 10 p.m., where it has faltered badly with recent misfires like "Of Kings and Prophets."
ABC is swinging big with "Designated Survivor," a thriller starring Kiefer Sutherland as a low-ranking cabinet member who unexpectedly becomes president after a large-scale attack during the State of the Union address.
Though the series is somewhat off-brand for ABC, which tends to favor soapier, female-centric dramas, a lengthy preview clip riveted the crowd at Geffen Hall. It is scheduled for Wednesdays at 10.
"Conviction" has been given the post-"Dancing With the Stars" slot on Monday at 10 recently vacated by "Castle." The legal drama stars Hayley Atwell, of the just-canceled "Agent Carter," as a rebellious former first daughter forced into a job overturning wrongful convictions.
A third new drama, "Notorious," starring Piper Perabo and Daniel Sunjata, looks at the relationship between the news media and the criminal justice system. It will air Thursdays at 9, taking the place of "Scandal," which has been pushed to midseason.
The change means Shonda Rhimes will temporarily relinquish some control over ABC's Thursday night lineup, dubbed "TGIT," that for the past two seasons has exclusively featured shows from her Shondaland production company.
But the change should hardly be viewed as a sign of the network's flagging confidence in the prolific producer — quite the opposite. ABC has five shows from Rhimes on tap for the 2016-17 season, including the new drama "Still Star-Crossed," which follows the continuing feud between the Montagues and Capulets after the end of "Romeo and Juliet." It's scheduled for midseason, as is the recently renewed Shondaland series "The Catch."
Also in the pipeline for midseason is Kevin Williamson's "Time After Time," one of several time-travel shows the networks have planned this season; the gay rights miniseries "When We Rise"; and the third season of acclaimed anthology series "American Crime."
---