ABC's 'black-ish' reacts to Trump election with barbs, anger and a plea for understanding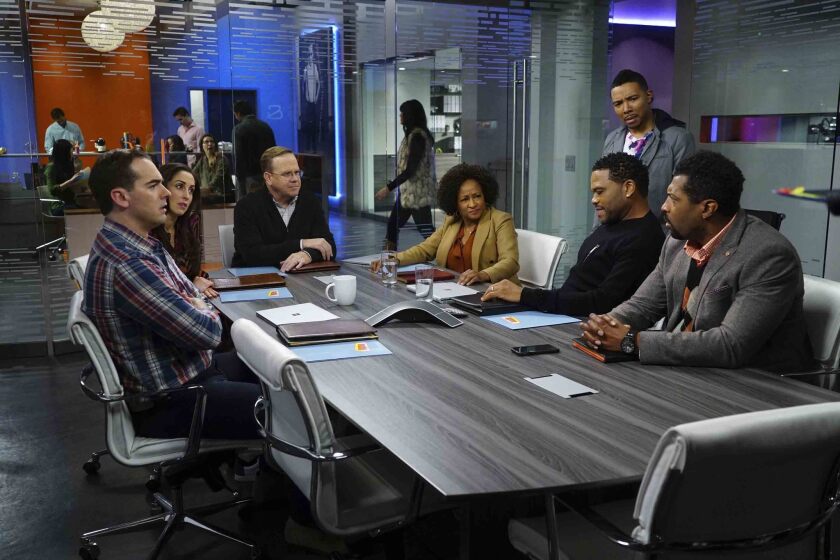 If President-elect Donald Trump's Twitter fingers got activated by Meryl Streep, they might need splints following Wednesday's episode of "black-ish."
The upper-middle-class African American family at the center of ABC's highly acclaimed comedy reacts to Trump's election in the newest installment, and it was clear by the shocked, saddened faces in the opening moments that there is little joy in the Johnson household.
Those sentiments reflect the feelings of "black-ish" creator Kenya Barris, a supporter of Democratic presidential candidate Hillary Clinton and President Obama. The episode, titled "Lemons," follows in the series' tradition of tackling hot-button topics, such as police brutality and the N-word, with a comic bite.
"America has a love affair with upsets," Dre Johnson (Anthony Anderson) says in the opening voice-over. "But what happens when the losers and winners are supposed to be on the same side? We seem to be more openly divided than we've been in a long time."
Most of the installment takes place eight weeks after the election, where the continuing debate over Trump's election is so contentious at the racially diverse advertising agency where Dre works that deadline projects are being neglected: "The idea of business as usual has become anything but usual," Dre laments.
Acid-tipped barbs are aimed in all directions. One white female staffer blurts out an explanation for why she voted for Trump instead of supporting a candidate that would have been the country's first female president: She felt Clinton was "the Ben Carson of white women."
When a white Trump supporter voices his opinion that Trump will run the country like his businesses, Daphne Lido (Wanda Sykes), who plays Dre's boss, counters, "He goes bankrupt like Khloe Kardashian changes black dudes."
The furor continues until Dre makes an impassioned speech about his love for this country despite its ongoing racism, and how offended he is that the outrage over the issues of race that flavored much of the presidential campaign were not as loudly voiced in previous decades.
The installment concludes with a plea for understanding, hope and more open communication between the bitterly divided sides. Barris told The Times that he hopes the episode sparks a conversation.
"We have to find a way to reach out to each other and find common ground," he said. "Or else we're literally never going to make it and this country is going to get worse."
Twitter:@GeBraxton
ALSO
Watch (and read) all of Meryl Streep's provocative Golden Globes acceptance speech
'Scandal' cast and producers talk real world politics: 'We are not in reaction to that'
Common and the National to play inauguration-week benefit for Planned Parenthood
Musicians rally to defend the Affordable Care Act
---
Inside the business of entertainment
The Wide Shot brings you news, analysis and insights on everything from streaming wars to production — and what it all means for the future.
You may occasionally receive promotional content from the Los Angeles Times.