Bobcat Goldthwait stays true to his roots with TruTV's new anthology series 'Misfits & Monsters'
Bobcat Goldthwait was gamely posing for a photograph for a national newspaper inside a Hollywood hallway on a recent morning when he remembered the last time the paper tried to snap a portrait of him, many years ago.
He was posing on the street when a homeless woman walked by, dropped her pants and mooned him and the photographer. The comedian exploded in laughter, and the photographer got the shot. "That was like the only time someone got that big a smile from me," he says, grinning at the memory as the shoot continued.
If there's a tidier scene to capture the mix of the outrageous, absurd and unsettling that has marked Goldthwait's comic wheelhouse since his career began, it would be hard to imagine one.
With multiple projects in the works, including finishing "Misfits & Monsters," a truTV anthology series that premieres July 11, directing a new stand-up special for comedian Ron Funches, and co-writing a feature adaptation of his recent documentary "Call Me Lucky," Goldthwait has plenty to keep him busy. And yet, on a sunny deck outside his office before a flight to New York, he was fresh from revisiting the platform that launched his career: the comedy club stage. .
"I did a set last night," he says, grinning a bit sheepishly under a white cowboy hat. "Like an idiot. I just started to go back up because I'm going to have talk shows and things so … you know, it's just like any other muscle."
Though maybe best known among a certain demographic for his unhinged, high-pitched delivery that some would say rivaled nails on a chalkboard for his role in the "Police Academy" movies of the '80s, Goldthwait has spent most of his time shifting behind the camera and bulking up as a writer and a director.
Since his surrealistically bleak debut feature "Shakes the Clown" in 1991, Goldthwait has been a moving target, directing episodes of IFC's "Maron" and "Jimmy Kimmel Live!" to go along with a variety of stand-up specials and his own eclectic films.
"Sleeping Dogs Lie" (2006) and "World's Greatest Dad" (2009), starring the late Robin Williams, were humanely twisted stories drawn from sexual taboos. The violent "God Bless America" (2011) was a bleak, satirical portrait of a celebrity-obsessed nation. And then there was the found-footage horror of a couple's search for the mythical Bigfoot in "Willow Creek" (2013) followed by the 2015 documentary "Call Me Lucky," an affecting tribute to his friend and mentor Barry Crimmins, whose influence among peers as a political comic was matched by his activism against sexual abuse and injustice until his death early this year.
"I've probably done myself a disservice as a brand because the movies I've made," he cracks, cradling a cup of black coffee between his hands. "They've all been completely different."
But it's that restlessness that makes an anthology series like "Misfits & Monsters" a natural fit. Goldthwait said he had begun thinking about a "Twilight Zone"-styled series several years ago, but in his view it wasn't until the TV landscape shifted that the idea finally caught on at TruTV, which has become a hub for oddball comedy with shows led by Amy Sedaris, Andrea Savage and Billy Eichner.
"Two things happened," Goldthwait explains. "You used to try and make a television show that got as much of the pie [of viewers] as possible. Now, you can make a TV show that's, just give [the network] some of the pie. That helped.
"And certainly shows like 'Black Mirror' helped me," he continued, referring to the British science-fiction anthology series. "I should send them a fruit basket," he adds with a smile.
"From the moment Bobcat pitched this series, we were immediately drawn to his distinctly original vision for the show," TruTV's head of programming Marissa Ronca said when the series was announced in 2016. "There's nothing like it on TV, and I think audiences will feel the same way."
"[Bobcat's] dark and wicked touch balanced with a heart the size of a giant is what makes his world such a pleasure to be a part of," said comic and New York cabaret cult figure Bridget Everett, who also worked with Goldthwait last year on her Amazon pilot "Love You More." "He's never afraid to take a big swing."
But where "Black Mirror" looks at a dystopian future, "Misfits & Monsters" is partly grounded by touchstones from the past. Goldthwait describes the partially animated opening episode about a tormented voice actor (Seth Green) as a combination of the sinister Max Cady character from "Cape Fear" and the whimsical Roger Rabbit. Later episodes carry a tinge of "Twilight Zone"-like social commentary.
In an installment that draws inspiration from MGM musicals, a man has his "woke" status tested when he falls for a mermaid (Everett), and in another, the most overt nod to the current political scene, David Koechner portrays a populist presidential candidate in the '70s whose campaign is tested amid allegations that he is a werewolf.
"I've been making fun of administrations since I was a teenager onstage. Every administration," Goldthwait says. "But this is the first administration that I've ever had death threats.
"People go, 'Oh, Trump must be good for comedy,' and I go, 'Ehhh,'" he adds with a cackle, describing the vitriol he received for posting an Instagram photo of an anti-Trump protest he was attending. "I thought to myself, wow, Trump supporters really love 'Police Academy,'" he says. "I don't understand how you could be following me and not understand how I see the world."
Long before becoming a filmmaker and showrunner, Goldthwait came up as a stand-up in Boston in the '80s. Working alongside comics like Crimmins, Lenny Clarke and Steven Wright at an adventurous Chinese restaurant/comedy venue called the Ding Ho, Goldthwait's material was informed by the experimental ventures of Andy Kaufman and the "stand-up tragedy" monologues of Brother Theodore.
One of Goldthwait's bits included reading a "Dear John" letter and delivering the rest of his material through tears, while another found him cleaning a fish onstage. When someone in the crowd got sick, he held the mike toward her to make sure everyone heard it.
But then came 1985's "Police Academy 2," which took him to the heights of fame with a shrieking persona that threatened to consume his career. Echoes of that experience can be heard in that first episode of "Misfits & Monsters."
"My daughter pointed it out to me — she does the costumes on the show — she pointed out that it's about a guy who can't outlive this character and it's trying to kill him," says Goldthwait. "She was like, 'Really, dummy?' I really didn't get it."
But that fame is part of what drove him behind the camera. "[Friend and fellow comic] Tom Kenny said that once people knew who I was, I couldn't make them feel uncomfortable anymore when they came out to see me," Goldthwait says. "That's why I love telling stories, it's a fresh slate. There's no anticipation, so I get to make people squirm."
But those muscles are apparently still in place. After his recent stand-up performance at the Satellite in Silver Lake, he described being pulled toward the uncomfortable subject of the 2014 suicide of Williams, which was spurred by other comics on the bill talking about the death of Anthony Bourdain.
"I realize right now I just have a lot of frustration with him because I don't want to talk about him," he says with a rueful laugh about his close friend. "And then I went onstage and started talking about him.
"I've declined most interviews in regards to him, and there's books and documentaries and all this stuff," he adds softly. "I just choose to remember him how I want to remember him. … But then I went up there and I started talking about it and you could feel the room going 'Where is this going to go?' But then to be able to, at the end, get to some comedy.
"That's always been my interest is starting from a place where, how can I get out of this hole, and will you still empathize with me?" he says. "Or will you still empathize with these characters by the end?"
For all his upcoming projects, one of which includes teaming with Judd Apatow to adapt "Call Me Lucky" into a future narrative film, Goldthwait remains committed to keeping his audience off balance. Though it may not make him a household name, he's found contentment while staying true to what drew him to comedy.
"Robin and I were once at dinner and he was making the staff laugh, and I was just like, 'Hey man, just calm down. Let's just hang out,'" he says with a smile. "And I said to him, 'You want the entire world to love you and I'm more interested in people going, 'Did you hear what that guy said?'
"Your form of neurosis is way more lucrative than mine," Goldthwait remembers telling him. "And it's true."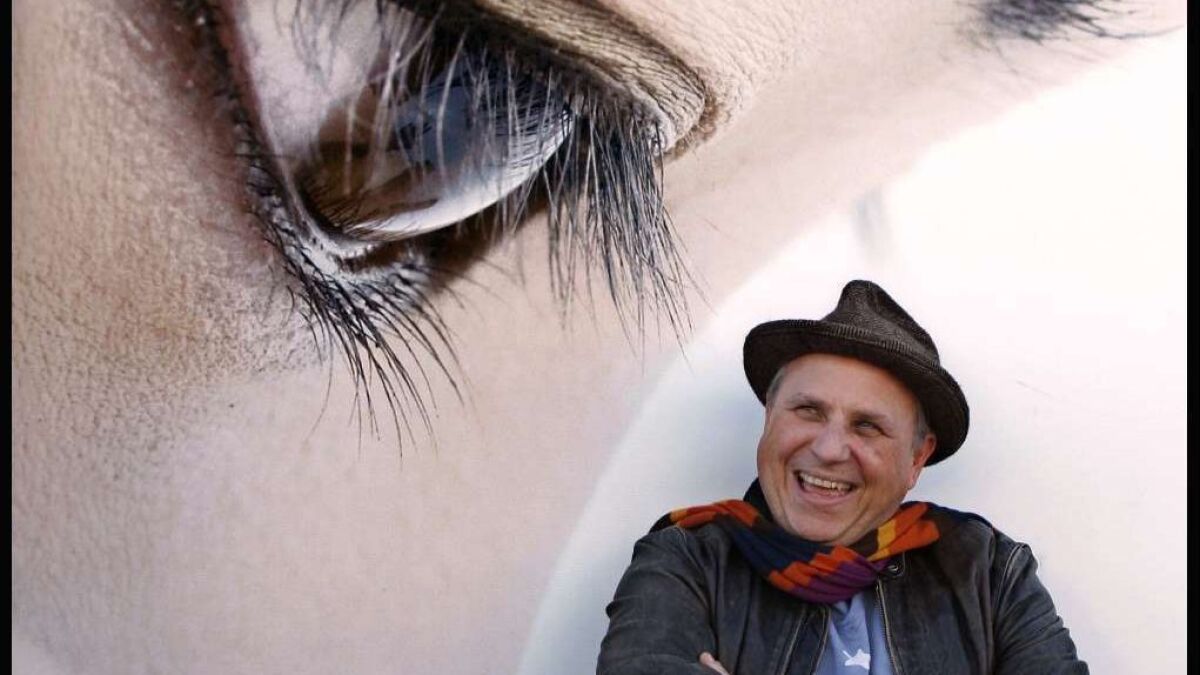 See the most-read stories in Entertainment this hour »
'Bobcat Goldthwait's Misfits & Monsters'
Where: TruTV
When: 10 p.m. Wednesday
Rating: TV-14 (may be unsuitable for children under the age of 14)
Follow me over here @chrisbarton.
Get our L.A. Goes Out newsletter, with the week's best events, to help you explore and experience our city.
You may occasionally receive promotional content from the Los Angeles Times.