Chris Hardwick, the controversial nerd caught up in a firestorm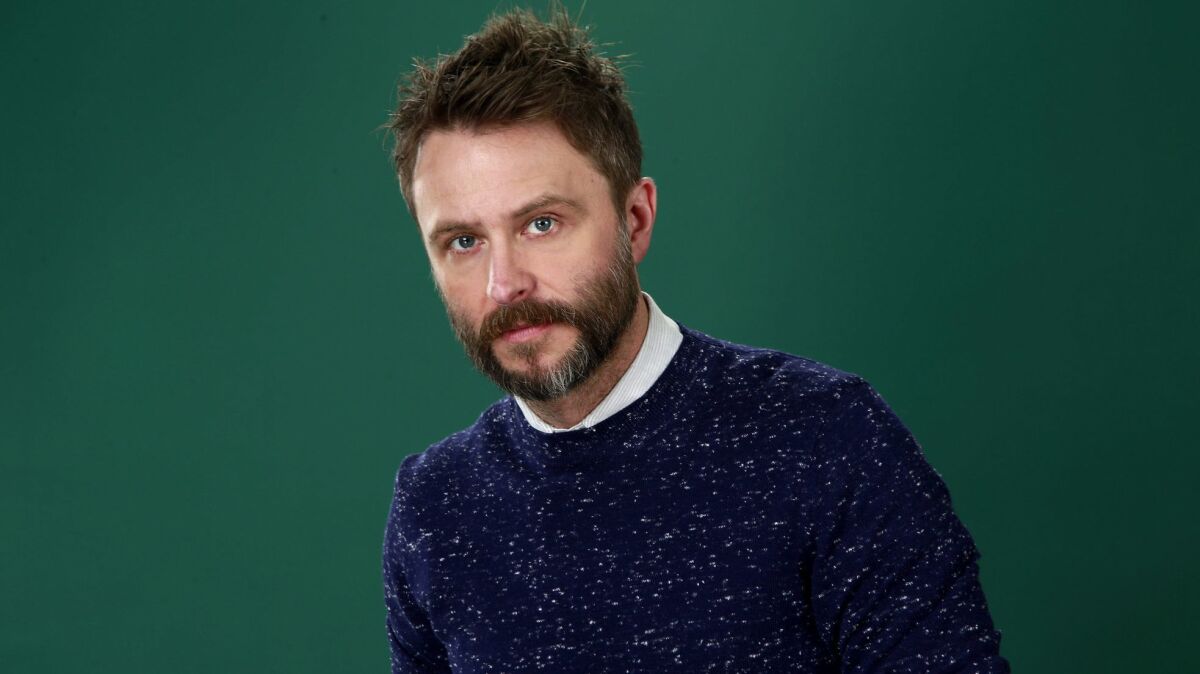 Standing onstage in a packed convention hall, Chris Hardwick introduces the cast and crew of "The Walking Dead" to raucous applause. The comedian and TV host is in his element — his post behind the podium akin to a throne for this King of the Nerds — as he peppers the cast with questions while also sharing personal anecdotes.
It's a scene that has become familiar in recent years at San Diego Comic-Con. But fans attending this year's iteration of the pop culture extravaganza will not see Hardwick, as his vast nerd empire and his future involvement on convention panels and TV remain threatened by recent allegations of abuse.
Hardwick, who hosts series including "Talking Dead," the talk show that follows episodes of "The Walking Dead", has been in a firestorm since being implicated in misconduct allegations by an ex-girlfriend. The ongoing drama has played out on tabloid websites all week as Hardwick and his wife battle the charges and investigations into the allegations continue.
Last week, actress and TV personality Chloe Dykstra accused an ex-boyfriend of various forms of mental and sexual abuse in an essay titled "Rose-Colored Glasses: A Confession" published on Medium. Her claims include how this ex-partner established rules prohibiting her from things such as having close male friends, speaking in public and going out at night and that she was always "expected to be ready for him [sexually] when he came home from work."
Although Dykstra never addressed Hardwick by name, the details she did include about the allegedly abusive former relationship, such as accusations that her ex got her "blacklisted" from the industry following their break-up, were enough for many to connect the allegations to Hardwick.
Hardwick said in a statement that he was "heartbroken" by Dykstra's claims.
"l was blindsided by her post and always wanted the best for her," the statement read. "As a husband, a son and future father, I do not condone any kind of mistreatment of women."
Hardwick claims the couple's relationship was imperfect and included arguments, adding that the three-year relationship ended because he discovered Dykstra's infidelity.
After Hardwick released his statement, text messages reportedly from Dykstra asking Hardwick "to talk" following their break-up in a supposed attempt to reconcile have also surfaced.
The situation has continued to unfold with different parties jumping in to side with Dykstra or Hardwick. Most recently, Hardwick's wife, Lydia Hearst, and mother-in-law, Patty Hearst, have publicly declared their support of the 46 year-old nerd media mogul.
But the fallout has been swift. Even before Hardwick's response, Legendary Entertainment had all mentions of the Nerdist Industries co-founder and former chief executive wiped from its website and released a statement clarifying that "Hardwick [has] had no operational involvement with Nerdist for the two years preceding the expiration of his contract in December 2017."
Then came AMC's announcement that Hardwick had "decided to step aside from moderating planned AMC and BBC America panels at Comic-Con International in San Diego next month." The network also stated that it would hold off on airing the second season of "Talking with Chris Hardwick," which was scheduled to premiere last Sunday, while AMC "assess[es] the situation."
NBC, home of the Hardwick-hosted game show "The Wall," also released a statement that the network is "continuing to assess the situation and will take appropriate action based on the outcome."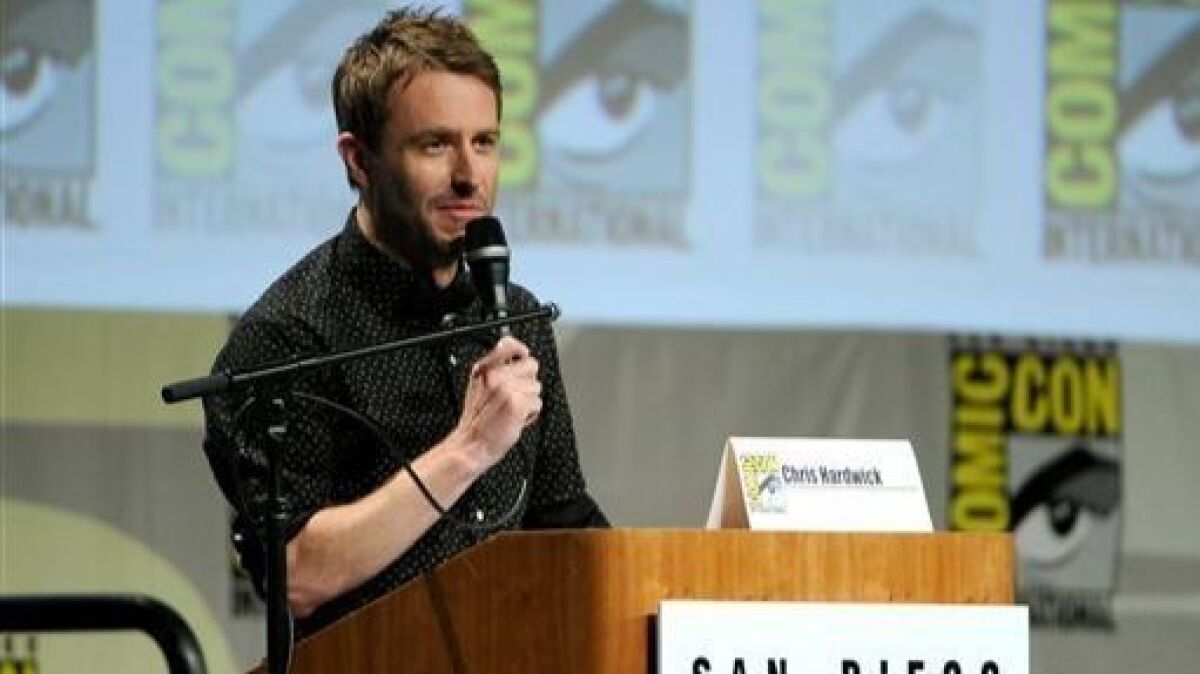 Now known for his enthusiasm for all things nerd, Hardwick first hit the scene in the 1990s as host of MTV's dating gameshow "Singled Out." But he struggled to capitalize on that first brush with fame.
"It took me falling on my face a bunch after MTV and living in a beer bottle for several years to wake up and go, 'Oh, you actually have to create the life you want. Nobody just gives it to you,'" Hardwick told The Times in 2015. "That was my ultimate goal: to create the life that I've wanted. And in the last couple of years, it's really started to work out."
After "chasing jobs to survive, auditioning for jobs, trying to get jobs that [he] didn't really care about [and] feeling bad about not getting them anyway," he decided to just focus on things he loves, Hardwick said in 2016.
This meant drawing upon interests such as Dungeon & Dragons, comic books, computers and video games — things that he has said made him a target of ridicule in his youth.
This led to stints on programs such as "Wired Science" (2007) and "Attack of the Show" (2008-2013), where Hardwick's comfort with the Internet and technology served him well. He eventually landed as the host of "Web Soup," G4's show focused on riffing off of the latest viral videos that aired from 2009-2011.
Hardwick's brand of nerd, as he details in his 2011 book, "The Nerdist Way: How to Reach the Next Level (In Real Life)," is one that channels obsession into creative endeavors — a "nerdist" is "a creative nerd." His footprint in pop culture continued to expand as the entertainment industry increasingly looked towards comic books and video games for inspiration, bringing nerd culture to the mainstream.
In 2010, Hardwick launched his Nerdist podcast, an audio show where he and his friends converse with other comedians and entertainers about a variety of geek themes. He soon expanded the Nerdist brand to include a network of podcasts and YouTube shows before partnering with Peter Levin to form Nerdist Industries in 2012.
In addition to his Internet endeavors, Hardwick started hosting AMC's "Talking Dead" in 2011. The live "Walking Dead" aftershow features Hardwick and guests such as other celebrity fans and the cast and crew members of the zombie-drama, relying on fans' desires to discuss events of the just-aired episode.
The popularity of the show has led AMC to launch multiple similar programs including "Talking Bad," "Talking Saul" and "Talking Preacher" — all hosted by Hardwick — as the network increases its number of unscripted shows to pad their slate of original programming.
Hardwick quickly became the face of nerd culture, at least in mainstream media, through these AMC talk shows and hosting other game shows such as "@midnight," which ran on Comedy Central from 2013-2017.
"Sometimes people say, 'How many jobs do you need to take?'" Hardwick told The Times in 2013. "But I just take the jobs I want to take. I'm lucky enough to have gotten to this point where I don't have to take anything I don't want to take. That's a really fun place to be."
Although he is credited with helping to bring nerd culture to the mainstream, Hardwick doesn't necessarily resonate with everyone within the nerd community. To those more familiar with the intricacies of that landscape, Hardwick only represents a portion of the larger nerd world.
"I understand his appeal to a certain sect of people, but as a black woman, that wasn't necessarily something I needed to look up to," said Kendra James, editor at shondaland.com.
For James, the fact that he got his start at MTV, "which was the height of what being cool was in the '90s," separated Hardwick from the rest of the pack.
"If anyone was going to be like 'comic books are cool now and you should all follow me' [and make it work], it was going to be the conventionally good-looking white man," said James.
"It feels like it doesn't get much easier than that to building your own niche world."
---
Get our L.A. Goes Out newsletter, with the week's best events, to help you explore and experience our city.
You may occasionally receive promotional content from the Los Angeles Times.