For Claire Foy, playing Queen Elizabeth II in 'The Crown' was about more than just the finery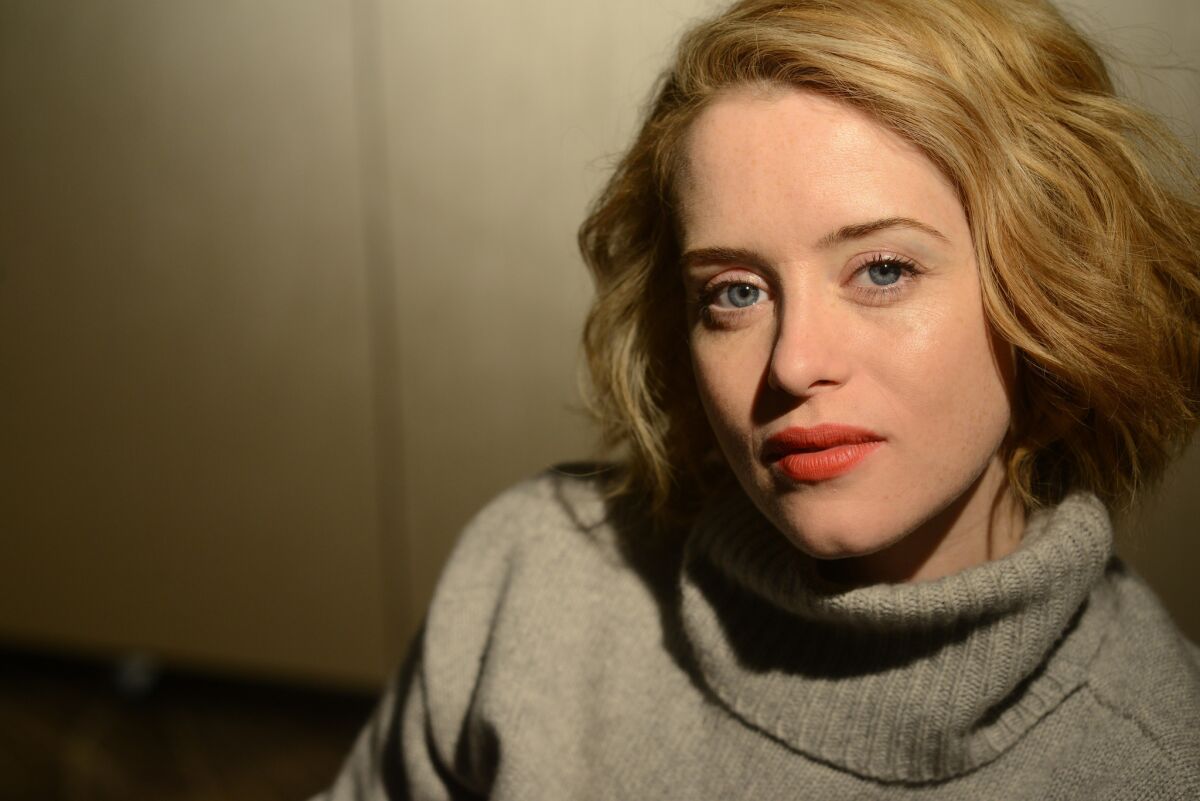 Reporting from New York —
Claire Foy was six months pregnant when she donned a wig and crown to audition for a role as the young Queen Elizabeth II in the Netflix series "The Crown."
"I was just massive and my face had started to do that thing where all my features were stretching," recalls the actress, tugging at her nose and cheeks to demonstrate. "I looked absolutely ridiculous."
With a shaggy bob recently dyed blond, the 32-year-old comes across as the antithesis of stiff-upper-lip British aristocracy, peppering her speech liberally with the word "bloody" amid occasional exuberant gestures and a tendency to slide into cartoonish voices.
Writer Peter Morgan remembers her audition for "The Crown" somewhat differently: "Her talent was undeniable and unmistakable, and my conviction that we had found our queen was immediate. She was electric, even in composure and silence."
Like seemingly all British actors, Foy is well-versed in tasteful period drama, having starred in a BBC adaptation of Charles Dickens' "Little Dorrit" and in the recent revival of "Upstairs Downstairs." She even played a very different sort of queen, Anne Boleyn (the doomed second wife of King Henry VIII and mother of the first Queen Elizabeth), in last year's miniseries "Wolf Hall."
The 10-episode first season of "The Crown" follows the early years of Elizabeth's long reign, opening on the eve of her marriage to Prince Philip (Matt Smith from "Doctor Who") in 1947, then jumping ahead to 1952, when at the age of 25, she unexpectedly ascends to the throne after the death of her father, King George VI (Jared Harris).
Though much has been made of the series' sumptuous production value and reported $100-million budget, "The Crown" is a psychologically astute portrait of the tension between the public sovereign and the private person. As figurehead, Elizabeth has great symbolic power but little autonomy; she is unable to choose her last name or even the home where her family, which then included two small children, will reside.
"It's not all twinkle, twinkle, twinkle and look at all the finery," Foy says. "It's what's going on between people."
The drama explores Elizabeth's fraught relationships with aging prime minister Winston Churchill (John Lithgow); her uncle, the Duke of Windsor, who famously abdicated the throne (Alex Jennings); and her only sister, Princess Margaret (Vanessa Kirby), whose romance with the divorced Peter Townsend (Ben Miles) led to scandal.
Elizabeth's new responsibilities also put enormous strain on her marriage to Philip. Often caricatured as a politically incorrect toff, the Duke of Edinburgh is portrayed with surprising sympathy by Smith as a dashing young naval officer emasculated by his role as consort to the queen.
"Literally, people would look past him at his wife. Yeah, it's the 1950s, blah-blah, but even now people would struggle with that," Foy says.
For an actress like Foy, whose job is to emote, playing a character like Elizabeth, whose job is to be inscrutable, represents a paradox. Foy did extensive research, reading various biographies of the queen and poring over old home movies, but with Elizabeth, there are only so many revealing details to be gleaned.
"All the people who are closest to her would never speak to anyone. You're sort of doomed in that there is no way in," she says. "So you just have to do the thing where you go OK, I'm a girl of a certain age, of a certain background, these are my interests, this is the person I want to marry and then just flesh it out."
A Mancunian by birth whose voice bears traces of a northern accent, Foy also worked with dialect coach William Conacher to perfect the (literal) queen's English, which "never doesn't feel weird," she says. "You just have to go there and not have any shame about it."
Foy also relied on insight from Stephen Daldry, who directed several episodes, and Morgan, who has spent much of the last decade dramatically exploring the reign of Queen Elizabeth. Morgan also wrote the 2006 film "The Queen," for which Helen Mirren won an Oscar, and the play "The Audience," which netted the actress a Tony last year. (Each season of the planned series will cover roughly a decade of British history.)
Despite all the accolades, Foy wasn't daunted by Mirren's celebrated portrayals simply because she sees her version of the queen as a very different character. "You aren't the same person at 25 that you are at 75," says the actress, wearing a cozy oatmeal sweater and denim miniskirt. "Life doesn't work like that."
The monarch at the center of "The Crown" is a relatively sheltered young woman "coming to terms with her duty, with what her job is, and how to bloody do it" while also grieving her beloved father.
The role forced Foy to consider Elizabeth anew. "I'd never really registered the fact that in order for her to become queen, her dad had to die," she says. "The one person who could tell you how to do the job is dead, and everyone is looking to you to know what to do, and you're terrified. But she just keeps calm and carries on, and that's it, really. That's the story of her life."
In a similar way, going into production on "The Crown" just a few months after giving birth last year meant that Foy "didn't have time to freak out" about portraying one of the world's most famous women.
That's not to say she wasn't anxious about juggling parenthood with the biggest role of her career. "You never know what state you're going to be in after giving birth. It's such a sort of" — she pauses for a second, moving her hands in a downward motion between her legs to pantomime childbirth — "event."
During the eight-month production, Foy did "mad things," like "going to work all day for like 17 hours, coming home and pumping breast milk 'til midnight."
But evidently it paid off. Foy has already begun filming Season 2 of "The Crown" and, despite the thespian in her who longs to chew up the scenery, has come to admire the queen's stoicism.
"Bloody hell, she's reigned longer than any other monarch in the history of the country," she says. "It's always the shy ones."
See the most-read stories in Entertainment this hour »
Follow me @MeredithBlake
ALSO
He said, she said, he interrupted. How this election has illuminated decades of workplace sexism
Amazon's 'Good Girls Revolt' intelligently tracks the rise of women in the newsroom
In 'Catastrophe' and now 'Divorce,' Sharon Horgan finds humor in the 'horrific awfulness'
Get our L.A. Goes Out newsletter, with the week's best events, to help you explore and experience our city.
You may occasionally receive promotional content from the Los Angeles Times.