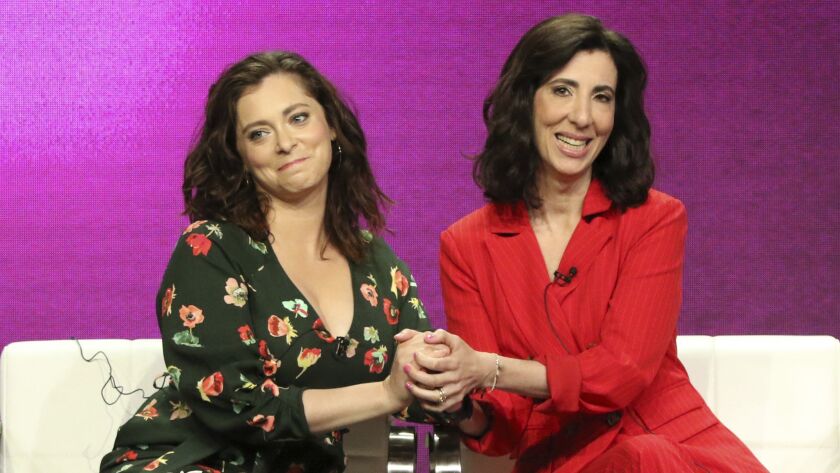 Things will look and feel different in more ways than one when "Crazy Ex-Girlfriend" returns for its final season.
Co-creators Rachel Bloom and Aline Brosh McKenna and some cast members of the CW's cult favorite musical dramedy gathered Monday at the Television Critics Assn. press tour in Beverly Hills to talk up the show's upcoming fourth and final season.
After a dark turn in its third season, which explored the mental health of the show's titular heroine, Rebecca Bunch (played by Bloom), and culminated with her pleading guilty to attempted murder (uh, watch if you haven't), the new season promises to have some lightness to it. And it will see the return of an original character … with a new look.
Here's more on what to expect when the show returns for its swan song season on Oct. 12:
--It's mostly done: Bloom and McKenna have mapped out the whole 18-episode season. As for actual scripts that have been written, they're hovering around No. 5.
--Greg will be coming back, but he'll look different: An original character of the series, Greg (first portrayed by Santino Fontana) was Josh's best friend who eventually became one of Rebecca's love interests before making his exit in the second season. In the final season, the character will be making a return. Except he'll be played by Skylar Astin ("Pitch Perfect"). But this is less of a re-casting, and more of a reimagining, according to Bloom and Brosh McKenna.
"We don't want to say too much more about it," Brosh McKenna said, noting that the face swap would be acknowledged in the series.
Added Bloom: "It feels experimental and playful, like our show. As you see, it will be a great statement of how our perception of people changes."
--There will be more ensemble musical numbers: There are a few production numbers with almost every member of the cast in them, according to Brosh McKenna.
"It feels like a culmination of all four years," Bloom said.
--Bloom and Brosh McKenna don't have senioritis: Bloom wrote the first episode of the final season. She'll also direct the penultimate episode, while Brosh McKenna will direct the final installment.
--There's some lightness in this season: After taking a dark turn in its third season in its exploration of Rebecca's mental health, the show's last hurrah is said to feel a bit lighter.
"Every season was always a different lens of what it meant to be a 'crazy ex' from the inside out," Bloom said. "This season was what we pitched [from the start] … which is the fourth phase — which is recovery and starting from scratch."
Brosh McKenna adds: "The back half of this season deals a lot with [Rebecca's] romantic life, once we've landed and settled more of the issues in her emotional life," Bloom said.
Twitter: @villarrealy
---