A stunned Rami Malek, a teary Julia Louis-Dreyfus and other memorable Emmys moments
There were some inevitabilities going in to the 68th Primetime Emmy Awards on Sunday night: "The People v. O.J. Simpson" would win big, Maggie Smith wouldn't show up even if she won, and we'd hear lots of Donald Trump jokes.
But the telecast, hosted for the second time by Jimmy Kimmel, proved to be a night marked by unexpected wins and funny, heartfelt speeches. Here's a look at some of the evening's most memorable moments.
Another low-speed car chase
Two of this year's most-discussed series focused on the two-decade-old O.J. Simpson trial, so it was hardly surprising that the Emmys telecast kicked off with a montage inspired by Simpson's infamous low-speed car chase.
Kimmel's attempt to reach the Microsoft Theater in downtown L.A. began in a white Bronco driven by Malcolm-Jamal Warner and continued in vehicles with the "Modern Family" Dunphy family, "Late Late Show" host James Corden, "Veep" President Selina Meyer (who made a fantastically off-color joke about LBJ, Lyndon Baines Johnson) and presidential candidate-turned-Uber driver Jeb Bush. ("If you run a positive campaign, the voters will ultimately make the right choice," he told Emmy nominee Kimmel.) The host's arduous commute culminated in a ride on the back of one of Daenerys Targaryen's "Game of Thrones" dragons — which set Ryan Seacrest ablaze.
FULL COVERAGE: Memorable moments | Red carpet arrivals |Candid photos from the red carpet | Show highlights | Fashion | HBO after-party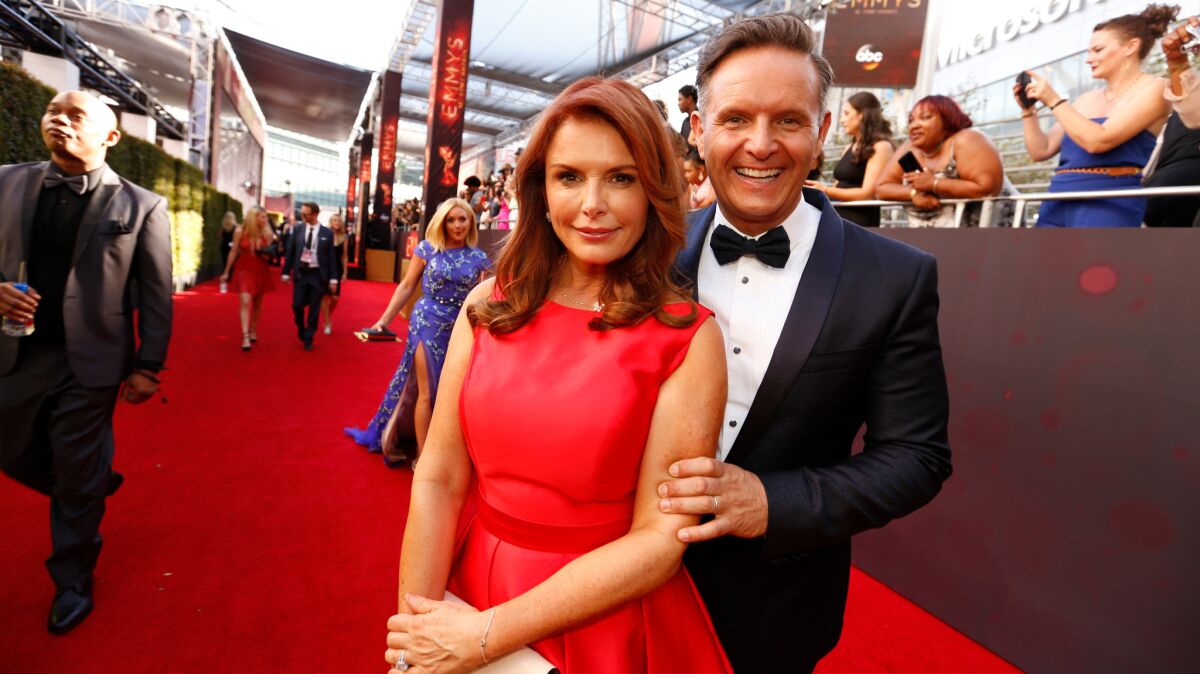 Mr. Reality
Once Kimmel started his monologue, it didn't take long for the subject to turn to this year's presidential election. "If it wasn't for television, would Donald Trump be running for president?" he asked, to which the audience replied with an enthusiastic "No!"
Kimmel turned his attention to the man he said was to blame for "the Donald Trump phenomenon": Mark Burnett, the British producer who created "The Apprentice" and made "You're fired!" a beloved catchphrase. As the camera lingered on Burnett's face as he cringed guiltily, Kimmel quipped, "Thanks for coming from England to tear us all apart."
Marcia Clark finally wins
She may have lost the biggest case of her career, but Marcia Clark was vindicated Sunday night. As expected, Sarah Paulson won for outstanding actress in a limited series for her sympathetic portrayal of Clark in the FX miniseries "The People v. O.J. Simpson: American Crime Story."
In her acceptance speech, Paulson paid tribute to Clark, who attended the Emmys as the actress' plus one. Paulson called her a "complicated, whip-smart, giant-hearted mother of two who woke up every day, put both feet on the floor and dedicated herself to righting an unconscionable wrong, the loss of two innocents — Ron Goldman and Nicole Brown."
Paulson then apologized to Clark for being "superficial and careless" in her judgment of Clark, who was vilified in the media during the notorious murder trial. "I'm glad to be able to stand here today in front of everyone and tell you I'm sorry."
Moving beyond Long Duk Dong
In a big night for diversity at the Emmys, "Master of None" writer and co-creator Alan Yang made a funny, impassioned plea for better representation of Asian Americans in pop culture.
Accepting the comedy writing award for "Parents," an episode that humorously portrayed the immigrant experience, Yang said there are 17 million Asian Americans in this country and 17 million Italian Americans. "They have 'The Godfather,' 'Goodfellas,' 'Rocky,' 'The Sopranos.' We got Long Duk Dong, so we've got a long way to go," he said, referring to the caricature of an exchange student played by Gedde Watanabe in the 1984 film "Sixteen Candles."
Yang said it would "take a lot of hard work" to reach the goal, urging Asian parents to join in the fight. "Just a couple of you get your kids cameras instead of violins," he said, "we'll be all good."
Julia Louis-Dreyfus wins for comedy — and makes us cry
As expected, Julia Louis-Dreyfus won for the sixth time for lead actress in a comedy series (five of them for "Veep"), breaking the record she had shared with Candice Bergen and Mary Tyler Moore for most wins in that category.
By now, viewers are used to watching Louis-Dreyfus gracefully pretend to be surprised when her name is called. Not this year. After a funny riff about the current political climate ("Our show started as a political satire, but it now feels like a sobering documentary"), Louis-Dreyfus grew emotional speaking about her father, William Louis-Dreyfus, who died on Friday.
"I'm so glad he liked 'Veep' because his opinion was the one that really mattered," she said, her hands trembling. It was a moment of unexpected — and unexpectedly moving — vulnerability.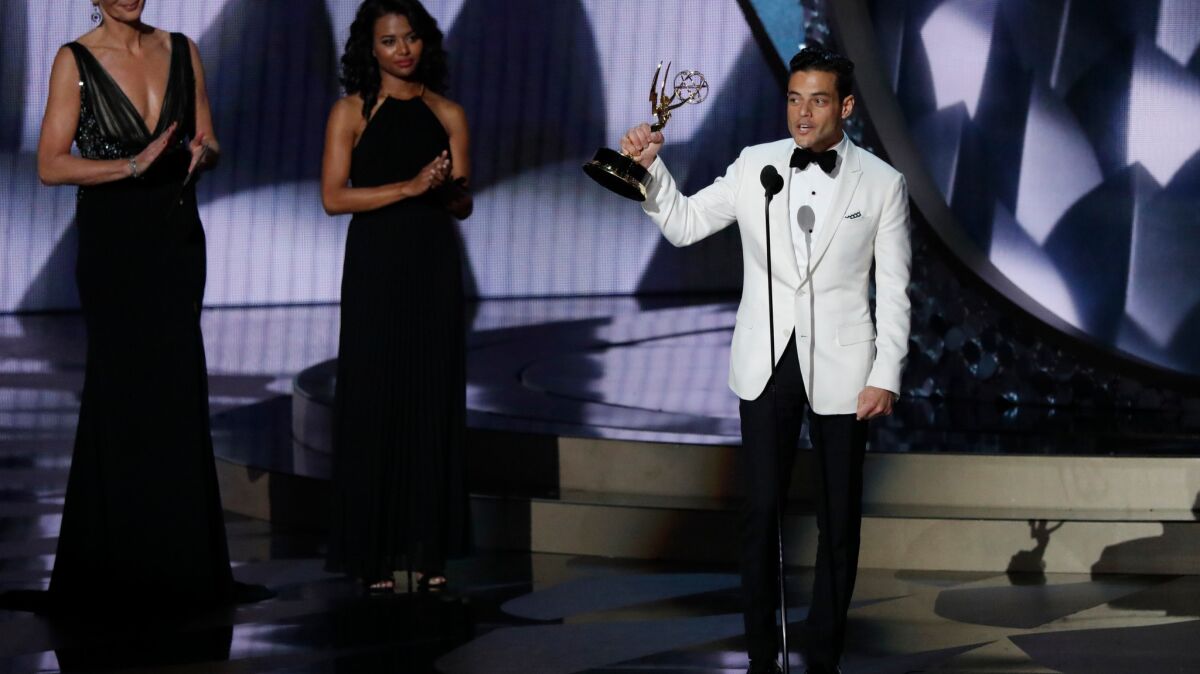 Honoring the Elliots
Rami Malek seemed shocked when he won lead actor in a drama series for his portrayal of mentally unstable hacker Elliot Alderson in USA's acclaimed "Mr. Robot."
The actor, 35, beat out heavyweights including Kevin Spacey and Kyle Chandler in the category but was composed enough to open his acceptance speech with a line that referenced both his character's delusions and his own disbelief: "Please tell me you're seeing this too," he said, to knowing laughter from the audience.
After thanking series creator Sam Esmail, Malek eloquently spoke about Elliot, "a young man who I think, like so many of us, is profoundly alienated," he said. "Unfortunately, I'm not so sure how many of us would want to hang out with a guy like Elliot, but I want to honor all the Elliots, because there's a little bit of Elliot in all of us."
Tatiana Maslany, no longer snubbed
One of the biggest upsets of the night belonged to Tatiana Maslany, winner for lead actress in a drama series. The Canadian star, who plays about a dozen characters on the BBC America cloning drama "Orphan Black," beat out nominees including Robin Wright, Keri Russell and last year's winner, Viola Davis.
The fact that Maslany was reliably snubbed by the Television Academy until last year, when she received her first nomination, made the victory that much sweeter.
Like fellow drama winner Malek, Maslany was adorably shocked to win. "I should have written this down," she said, scrolling through notes she'd apparently taken on her phone. She sighed nervously before pulling it together and expressing her gratitude for being "on a show that puts women at the center."
(Also surprised by Maslany's win? Presenter Kiefer Sutherland, who pronounced her name as "Tietany Moslin.")
Follow me @MeredithBlake
ALSO
'People v. O.J. Simpson' at Emmy awards: A new verdict on the case
HBO and FX reign over the Emmys with 'Game of Thrones' and 'The People v. O.J. Simpson'
Tatiana Maslany finally wins an Emmy, Clone Club celebrates
The Emmys red carpet was a jewel box of color and sparkle — with a slice of lemon yellow
Get our L.A. Goes Out newsletter, with the week's best events, to help you explore and experience our city.
You may occasionally receive promotional content from the Los Angeles Times.