Q&A: How Netflix's wrestling comedy 'GLOW' helped Alison Brie and Betty Gilpin push against type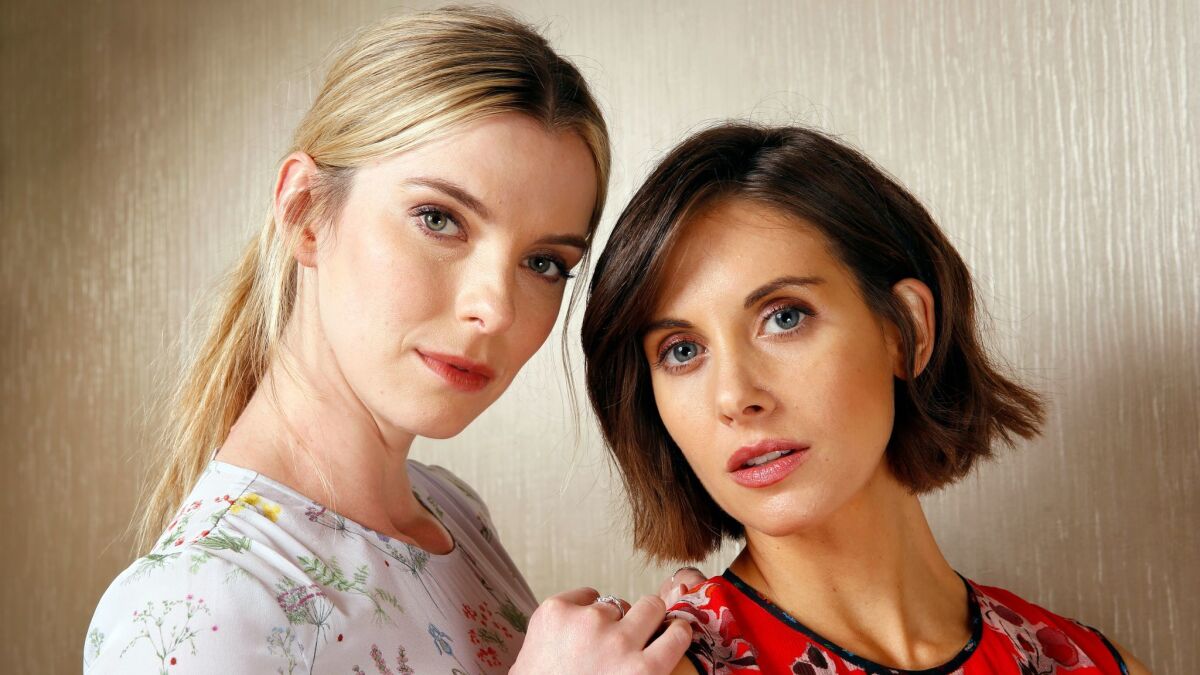 Alison Brie and Betty Gilpin, the stars of Netflix's wrestling comedy "GLOW," are enjoying a badass afterglow.
It's mid-December and the duo, wearing metallic leotards and balancing some heavily teased hair atop their heads, are taking a breather from shooting an episode of the series at the Hollywood Palladium. There's been shoulder straddling, body slamming and elbows to the face.
"I don't think we even could have totally imagined the stuff we would be doing," Gilpin says. "I don't think we were ever daunted, mostly excited."
Brie chimes in: "We have such a respect for wrestling now; I will defend it to the death. I was watching some WWE Raw last night just to get pumped for filming today."
In "GLOW," which premieres Friday, the duo star as two jobless actresses, Ruth Wilder (Brie) and Debbie Eagen (Gilpin), who find their next gig with the Gorgeous Ladies of Wrestling (GLOW). The series is created by Liz Flahive ("Homeland") and Carly Mensch ("Orange Is the New Black"), and counts Jenji Kohan ("Orange Is the New Black") among its executive producers.
The Times caught up with the pair a few months after production wrapped to reflect on their journey to becoming stars of the ring.
---
So, your agents say, 'There's this show … about female wrestlers...' What's your immediate reaction?
Brie: When my agents first called me about it, it was the most vague thing. They said, "Jenji Kohan's doing a new show, it's about women's wrestling. It's about this real show." And immediately, I pulled some stuff online and watched some stuff about GLOW. I knew nothing about it, and prior to the show knew nothing about the world of wrestling. It had never been a major interest of mine, but for some reason it sounded immediately like the most exciting thing I've ever heard. I just thought, "Why hasn't someone done a show about this before?" And yet, because it's so tricky, if not done the right way, you can see it going really badly.
Gilpin: Yeah, I know Liz Flahive and Carly Mensch from New York and "Nurse Jackie," we worked together on that. Seeing their name in the headline and them announcing they were doing this show, put me at ease and made me really excited. Because there is like a Fox pilot version of "GLOW" that would be like a lot of sucking it in, arching your back and like the mud wrestling version of that. I knew it was in the right hands and it would be a narrative-driven thing and not about, you know, butts.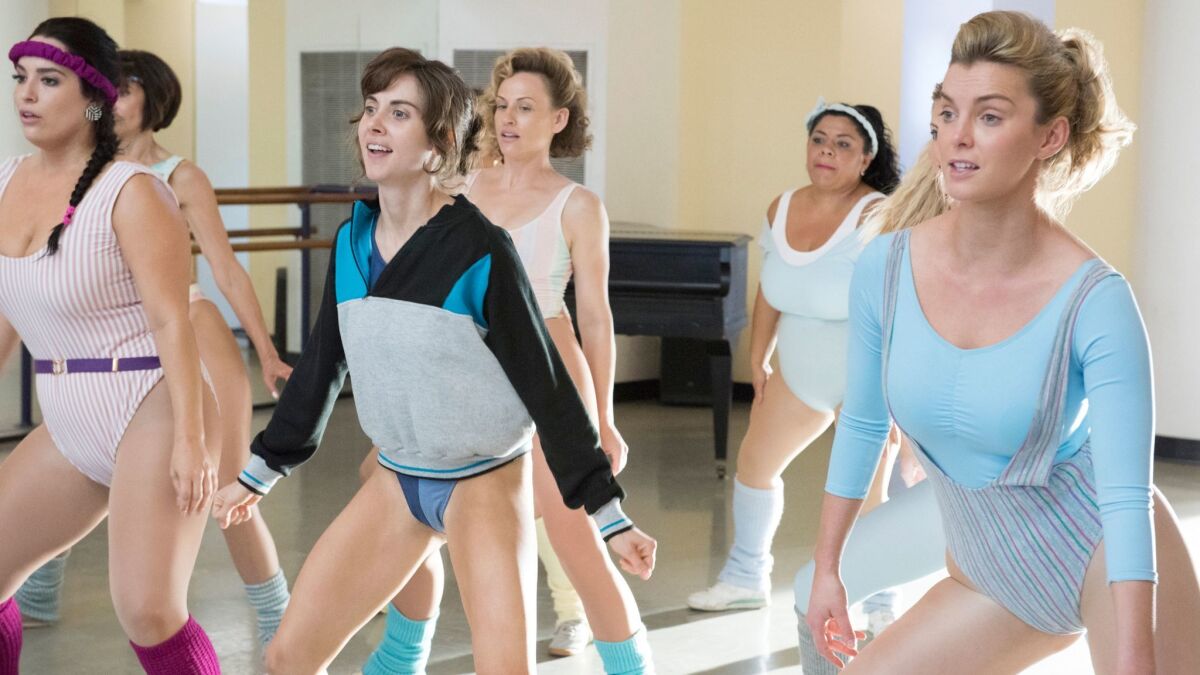 The opening scene to the series is an audition scene with Ruth, where she boldly and confidently reads the male part because it's far more interesting than the receptionist part. Have you been there? Could you relate to that fight for a part?
Brie: Oh, 100%. I've never felt more like Ruth than I did auditioning for this show. It really made me fight for this role. I felt so confident and had my thing thought out and as soon as I got in the car afterwards, I would sob and be like, "I don't know, I feel so insecure in the room, it was so cold."
Gilpin: Which is so meta. A show that's a commentary on how ridiculous that process is —
Brie: And then we're going through it. And Liz and Carly have even said in the process of us going through that, it's like we became more like the character. They watched me transform into her as they watched me fight for the role the way she's fighting for the role. Because they did not see me as this character, and I think their thing was, could I see myself as the character?
They sort of had a misconception about who I was because I played such goody-two-shoes characters that are so well put together. And to go into these auditions, wearing no makeup... I kept wearing less and less. To really be stripped down was such a big part of how you see a lot of these women on the show.
Gilpin: A lot of the stuff I talked about to Liz and Carly before "GLOW" existed — about how I felt being an actor and problems I was running into — ended up in the show. About feeling like you're not really allowed to play a character actress if you look like a woman at the beginning. You're supposed to be this one type of person.
I remember talking to them and saying before we shot the pilot and sort of nervously said, "I know you guys know me, but I just want to remind you, I like to play characters that have crazy beans inside of them too. And not just the person that's got it all together." And they were like, "We know you've got crazy beans."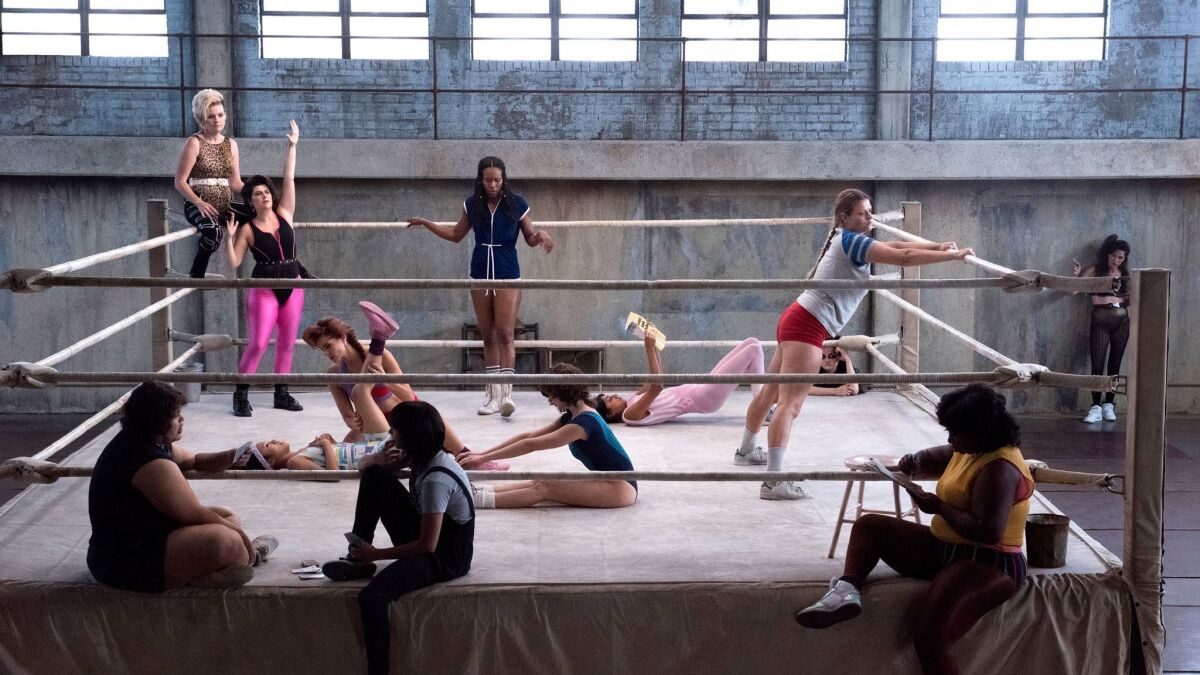 How would you describe the training process?
Brie: We did our wrestling training with Chavo Guerrero Jr., who's incredible, and also Shauna Doggins, our stunt coordinator and Helen Everett, our stunt woman, who doubles as me on the show. Most of that training started out focusing on safety. It was a lot like, "You are not pro-wrestlers, let's figure out the safest way to do this."
And to get to do it with all the women on the show, I think that really bonded us in a really cool way. I watched a lot of videos, but I ended up mostly watching old episodes of GLOW. Because the type of wrestling that was done on the original GLOW is very different from the type of wrestling, women's wrestling that is being done now.They're so acrobatic now.
Meet the women that bring Netflix's wrestling comedy, 'GLOW,' to life »
Gilpin: I was watching that show today, "Total Divas." The stuff they do is insane. We can't do that.
Brie: Similarly to how our show was made, the women that were cast on "GLOW" were out -of-work models and women trained to be wrestlers. I wanted to get into that mind-set of the kind of rawness and the inexperience that was there versus the super polished pro-wrestling that's being done today.
Gilpin: The last sport I played was little league. So there were so many firsts for me that so many people have in high school — the feeling of failing at something in front of a bunch of people or succeeding in front of a bunch of people and the rush your entire body gets. And also the feeling of having crowds cheer and boo —
Brie: Yes, where we shot the fantasy sequence in the first episode — that was our first experience of shooting with a crowd, doing any kind of wrestling. And it was the most invigorating thing I've ever done in my life.
Gilpin: But then the 3 a.m. walk to the bathroom, after all that, is not so fun.
Brie: There is nothing fake about what people are doing when they're wrestling. You learn to do things in a safe way so you don't break your neck. But you're still hitting the mat. I will say that after our training, it was exciting to watch contemporary wrestling matches and see all the unspoken communication. To know how people are working together.
How did the wrestling inform your acting?
Gilpin: To me, wrestling is such a crazy physical metaphor for what it means to be Betty, for what it means to be a woman. Using your power to take care of someone, in the most powerful possible way. You feel like your body is swimming. Sometimes you're in charge, sometimes the other person is in charge. It's the most beautiful feminist dance that you can do. And then you're flying through the air and landing on your back.
It's also nice to not feel like "the girl." Because usually there's a bunch of guys and a girl. And to not only have a bunch of women in the show, but to be physically close, together in a primal way and for it to be so non-sexualized is just so great.
Brie: Yeah, there are some romantic story lines on the show, but that's not the featured thing. And for actresses, so often you're only the love interest. So even if you're the lead of something, your whole story line is about getting the guy, or keeping the guy. It was so fun to do a show, where in the first season, the major "will they, won't they" is between Ruth and Debbie.
It's the most beautiful feminist dance that you can do. And then you're flying through the air and landing on your back.

— Betty Gilpin
Gilpin: I think it's taken so long for people to catch up to the fact that when women zone out when they're washing dishes, they're not thinking about brunch. They're thinking about a million different levels of craziness — like that female friendships are so deep and complicated and almost more complicated because they are non-sexual.
I also feel like there's this thing that exists where women on shows or on TV, they have to be front footed. It's all like, "I'm trying to get this thing, but my emotions are out here, and my hair is perfect and I'm reaching out to you." It's all on the surface, and the men are the ones that get to be back footed. Like, what's going on in there, he's such a mystery! Liz and Carly have written a show where the women get to have the inner swirling going on. You catch these characters between where they would want the spotlight to be in their lives. You're sort of getting them at these moments of inner turmoil and transition that maybe isn't as pretty or packaged as it would be in other "GLOW" pilots on different networks.
Did you watch the documentary "GLOW: The Story of the Gorgeous Ladies of Wrestling" and what did you pull from that, in terms of what drove these women?
Brie: It was so fun to watch, just to see the ins and outs of how wild it was that when they got cast, because you know, a lot of our show is fictionalized, but the root of, like these women being cast on a show and literally having no wrestling experience, is wild. Some of those women really were super into wrestling, some continued wrestling after GLOW. And others were like, "I don't know. It seemed like a fun idea, I wasn't doing anything else at the time."
Gilpin: And apparently there is an inner like, cross-eyed crazy Amazon in all of us. That is, no woman in GLOW was like, "And I just got embarrassed." It was almost like, "Well, then I just came up with the character and started doing moves in the ring and started screaming." It had me thinking about the Women's March. Like, we were called upon and everyone and their aunt came out. It is there within all of us, and isn't it about time we started telling stories about that? It's so much more interesting than a man squinting and peeling an orange. We're all done with that.
'GLOW'
Where: Netflix
When: Anytime starting Friday
Rating: TV-MA (may be unsuitable for children under the age of 17)
ALSO
Netflix's wrestling comedy, 'GLOW,' enters the TV ring armed with hammerlocks and female empowerment
Netflix's female wrestling series 'GLOW' is a vibrant body-slam of a comedy
'Hare Krishna! The Mantra, the Movement and the Swami Who Started It All' reveals an inner glow
Get our L.A. Goes Out newsletter, with the week's best events, to help you explore and experience our city.
You may occasionally receive promotional content from the Los Angeles Times.