Netflix's wrestling comedy, 'GLOW,' enters the TV ring armed with hammerlocks and female empowerment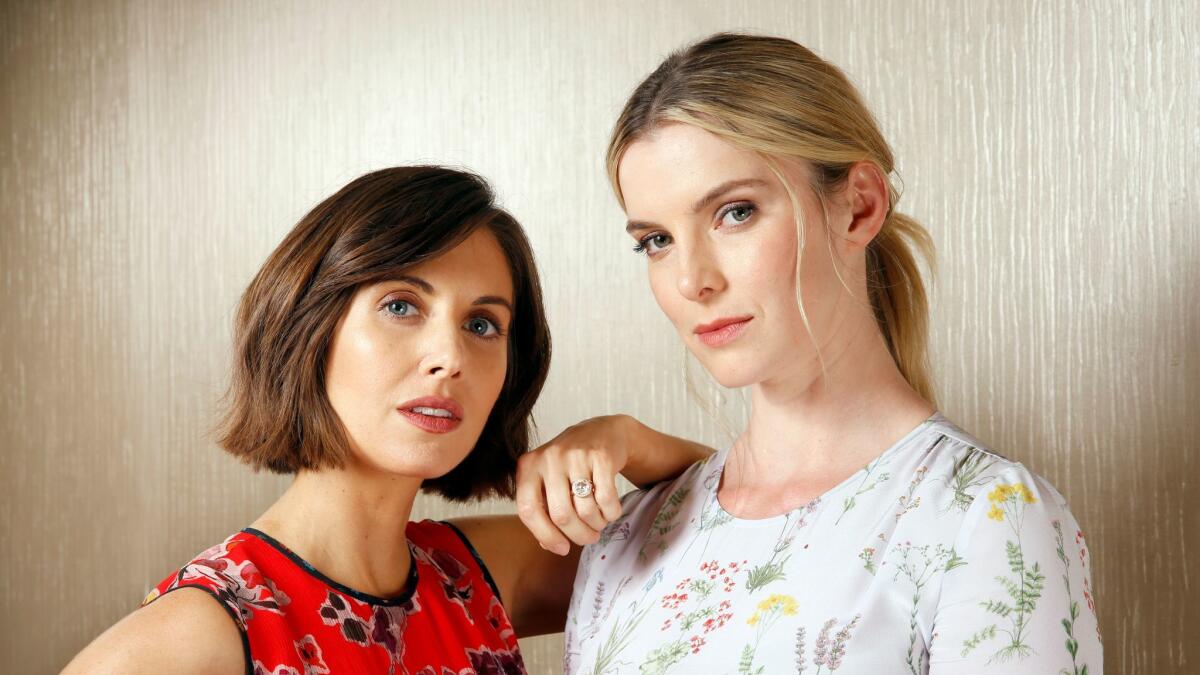 Inside Netflix's deluxe new office space on Sunset Boulevard, Alison Brie and Betty Gilpin, the stars of the streaming service's upcoming female wrestling comedy "GLOW" are deep in conversation about the power of women demanding to be heard. With good reason.
It's a Wednesday — April 19 actually — and conservative cable news host Bill O'Reilly has just been forced out of Fox News following a series of sexual harassment allegations. As the blitz of tweets and breaking news alert pings proliferate outside, the greater context of the development has the actresses rapt.
"It's a real feminist moment, again, in this country," says Brie, best known for her roles on "Community" and "Mad Men."
The turn of events brings an added layer of poignancy to the actual purpose of this conference room gathering: to discuss their females-shouldn't-be-underestimated comedy.
The series, which premieres June 23, is inspired by the real Gorgeous Ladies of Wrestling (GLOW), which produced a syndicated professional women's wrestling TV program that ran from 1986 to 1990. Brie plays Ruth Wilder, a struggling actress in L.A. at the end of her rope who finds her way to an audition for what eventually becomes a female wrestling show. Gilpin plays her friend, ex-soap star Debbie Eagan, who begrudgingly joins the misfit posse of body-slamming women.
REVIEW: Review Netflix's 'GLOW' is a vibrant body-slam of a comedy »
The show embraces the inherent camp value of its subject and era with frosted lipstick, hammerlocks and even glimpses of a Thomas Guide. But adding some weight to it, too, is social commentary on the battles, pressures and inequity women faced then (and now).
The girl power theme of the series not only comes on the heels of the record-breaking box office success of "Wonder Woman," which has brought in more than $444 million worldwide, but it also arrives at a time when female narratives — and the political and social undertones invariably linked to them — have come into sharp focus in Trump's America.
"I feel our show is feminist junk food," says Gilpin, whose other credits include "American Gods" and "Nurse Jackie." "With all the stuff that's going on in the world — after I watch the news, read the news, and listen to my podcasts, at the end of the day, am I really going to watch an episode of murder and time travel? With this, you sit down and you watch women find empowerment."
Created by longtime friends Liz Flahive ("Homeland") and Carly Mensch ("Orange Is the New Black"), who worked together on "Nurse Jackie," the idea to explore the lives of women inside and outside a wrestling ring took shape after they watched "GLOW: The Story of the Gorgeous Ladies of Wrestling," a documentary that chronicled the kitschy phenomenon.
"I watch tons of strange documentaries," Mensch says during a break from production on the Season 1 finale. "It's like a nightly activity for me."
"And I had just had my daughter," Flahive adds. "And we just watched it one night… We both had complicated reactions, which is always a good sign for a story that pulls you in and you're like — "
"Attracted and repelled," Mensch finishes. "It was a family of women in all different shapes and sizes and colors, bonding together in this team. But it also felt kind of exploitative in how porn-adjacent it was."
That night, they emailed Jenji Kohan, whom Mensch had worked with on "Weeds" and "Orange Is the New Black" and who is no stranger to inclusive, complicated portrayals of women.
"They emailed with great enthusiasm and I immediately watched [the documentary] and felt it was a great character piece," Kohan says in a separate phone interview. "I love that it really walked the razor's edge of exploitation and empowerment."
It would be a year until they actually gave her a script. But when they did, Kohan quickly signed on as an executive producer. The real hurdle would come in securing the rights from Ursula Hayden, a former GLOW wrestler ("Babe, the Farmer's Daughter") who has operated the company since 2001.
"There was a bit of uneasiness because I wasn't sure where this was going to go," recalls Hayden, on the phone from Kernville, Calif. "I wanted to make sure it would be done GLOW-style. They assured me that it would be."
Hayden ultimately served as a consultant on the series and has been promoting the show's premiere on her social channels, and on www.gorgeousladiesofwrestling.com
Recalling subsequent pitch meetings with executives, Flahive and Mensch say they described it as "A League of Their Own" meets "All That Jazz."
"I think we boomeranged between sounding like esoteric grad students who talked about exploitation and empowerment and the image of women putting on shoulder pads and equating that with women going into battle," Mensch says. "And then just geeking out over like, all these women living together as a family, learning skills."
They also framed it from a lens of being on the cusp of having the first female president.
"It's taken on this kind of shadow now," says Mensch. "It was about, 'Now the time is perfect for women' to 'Now we need shows about women.' You'll be watching it in a different context, which may change how you see it. I don't think it changed how we built the stories, though. It may change what stories come in the future, if there's a future."
I love that it really walked the razor's edge of exploitation and empowerment.
— Jenji Kohan
Crafting the world of "GLOW" required copious research. The pair, who wanted to create entirely new characters rather than base them on the original GLOW performers, read biographies of women wrestlers from the '40s and '50s, such as "The Queen of the Ring: Sex, Muscles, Diamonds, and the Making of an American Legend" about pioneering female wrestler Mildred Burke.
They came up with 14 female characters. Comedian Marc Maron is the lone male — he stars as Sam Sylvia, the cantankerous director charged with turning them into wrestling stars.
The show's wrestling trainer, Chavo Guerrero Jr., whose uncle trained the original GLOW wrestlers, also became a valuable sounding board. The writers sat with him for hours, inundating him with questions and using him — in addition to stunt coordinator Shauna Duggins — as a guide when writing the scenes where the wrestling would serve as a storytelling mechanism.
"We'd say, 'We want her to look like she was really nervous about doing this move that maybe involves leaving the ground and then, in two hours, she figures it out,'" Mensch says. "That's as much as we say and then they would walk us through some options."
The show's inherent physicality could have easily led to a land of stunt doubles. But the pair were intent on casting actresses who were willing and able to hit the mat. They started scouting gymnasts and former athletes — including Kia Stevens, a pro wrestler ("Awesome Kong") — but didn't limit themselves to that pool.
They admit, though, being skeptical of Brie's abilities.
"Full disclosure, and she knows this, we were like, 'She's too pretty, there's no way she's going to be right for this,'" says Mensch. "We were totally snobby," agrees Flahive.
And totally wrong.
Under bright lights, Brie is gussied up in a metallic one-shoulder leotard, her hair twirled and teased into a fauxhawk. She's at the center of a pink-roped ring, set up inside the Hollywood Palladium on Sunset Boulevard, where filming of the Season 1 finale is underway on a winter day. She bounces off the ropes, straddles her opponent's neck, and rolls around the mat.
"It's an incredible feeling when you're in the ring," Brie says during a break from shooting. "And it bleeds out into every aspect of life. I've never walked taller. It's like I am walking around with this really cool secret, which is, 'You have no idea what I'm capable of.' I had never experienced that before. It's the most invigorating thing I've ever done in my life."
Gilpin echoes the euphoria: "I felt like I could lift a car."
The cast trained at a makeshift gym at Riverfront Stages in Atwater Village about a month before production began — and continued throughout the filming of the first season.
"Wrestling was the first time I thought, 'My leg is the thing that functions in this way to do this move, to get from A to B,'" says Gilpin. "Instead of, like, 'My body's purpose is to suck it in so the male showrunner thinks it's attractive.'"
Even the wedgies — and there were many — became symbols of fortitude.
"The costume folks would say, 'Do you want us to tape your leotard to your butt?' and I'd be like, 'I want the wedgie!'" Brie recalls with pride. "'I want the wedgie to show! Show it!' I never felt prouder of my body or cared less about people seeing my body."
Times staff writer Meredith Blake contributed to this report.
The most-read Entertainment stories this hour »
Twitter: @villarrealy
Get our L.A. Goes Out newsletter, with the week's best events, to help you explore and experience our city.
You may occasionally receive promotional content from the Los Angeles Times.