Christina Hendricks, Retta and Mae Whitman on what it means to play 'Good Girls'
In the thick of the increasingly frenetic haze of the 2016 presidential campaign, writer-producer Jenna Bans landed on an idea for a TV series. She had been absorbed by every development in the news cycle, and she says one thing stood out to her: the treatment of women.
"Maybe this is naive, but I remember calling my mom, who is a lawyer in Minnesota, and having this conversation where I was like, 'I just can't believe all of this sexism I'm seeing is so overt,'" Bans recalls. She was referencing the now-infamous "Access Hollywood" tape from 2005, in which Donald Trump was heard making lewd comments about women, and the "Lock her up!" chants led by Trump and others against Democratic nominee Hillary Clinton.
"There was a long pause," Bans says, "and [my mom] was like, 'where have you been?'"
It got Bans, whose credits include "Scandal" and "Grey's Anatomy," thinking — about women, about how women are still perceived (or not perceived), and this idea of the so-called "good girls."
"The rule followers," Bans says, "the women who don't rock the boat and do what they're told... and suddenly realize they are in a totally unsustainable situation … that's where I started from."
That internal thought process became "Good Girls." Premiering Monday on NBC, the series is set in the suburbs of Detroit and follows three lifelong friends — played by Retta ("Parks and Recreation"), Christina Hendricks ("Mad Men") and Mae Whitman ("Parenthood") — who, each fueled by her dedication to her family, rob a local grocery store to help solve their money troubles. Some have described it as "Breaking Bad" meets "Thelma & Louise"; ask Bans and she adds "Weeds," "Big Little Lies," and a dash of "Parenthood" to the mix.
The series joins a thriving club of TV and film projects that put the female experience in the spotlight. And it arrives at a watershed cultural and political moment for women at least in part fueled by Trump's victory.
"Good Girls'" theme of female empowerment that's tangled up in the moral ambiguity of the characters' actions has Retta, Hendricks and Whitman curious about how the show will be received. After all, it's one thing for a fictional dad to become a notorious meth dealer to ensure his family's financial security, but moms robbing a grocery store with a toy gun (and the questionable choices that ensue) — pfft!
For some context: Retta plays Ruby, who is married and financially helpless as her daughter suffers from kidney failure; Hendricks plays Ruby's childhood friend, Beth, a mother of four whose philandering husband has bankrupted the family; and Whitman plays Beth's younger sister, Annie, a single mom who works at a grocery store (yes, that one) and is financially strapped in her fight for custody of her daughter.
"It's tricky because we're not advocating, 'Take your power back by committing a crime,'" Whitman says. "It's more metaphorical."
Hendricks, whose role as Joan Holloway on "Mad Men" became something of a feminist hero, nods and adds: "It's a heightened sense of all that. It's almost like a lucid dream."
Beyond the felonies and the lengths to which one will go for their family, "Good Girls" is a testament to the strength of female friendship.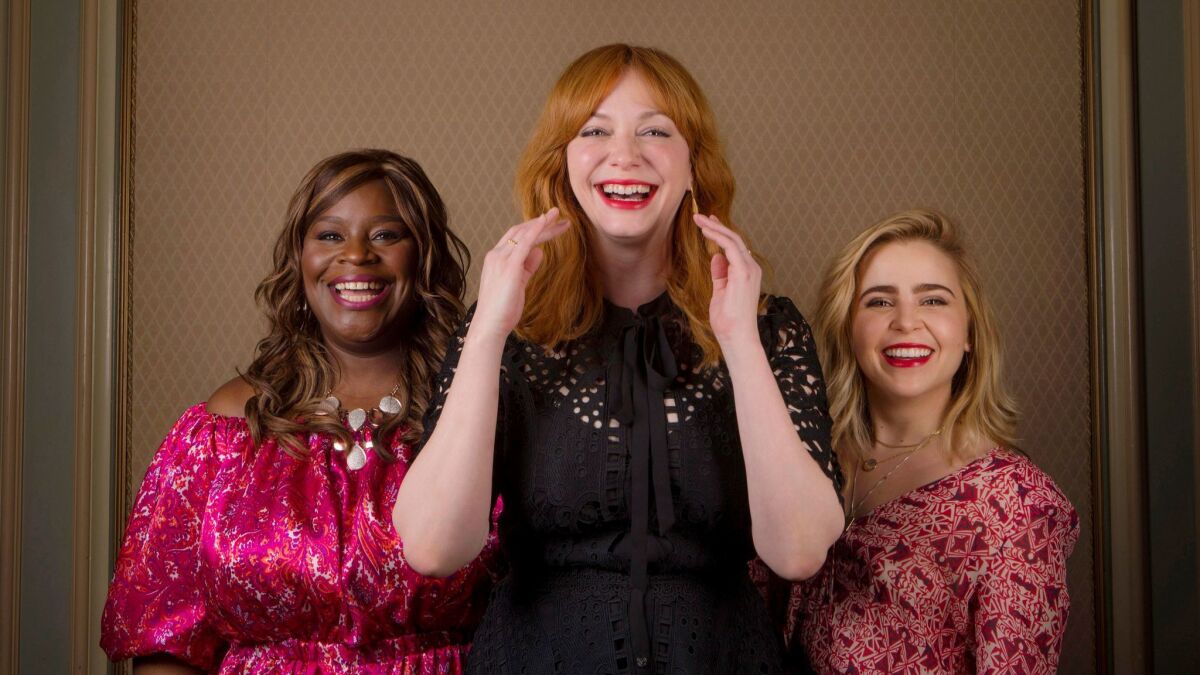 "One of my favorite things to see on screen is two women friends, fighting and calling each other out, and then they come back," Retta says. "They know you [screwed] up and you can still come back and still be in the same love spot that you were in before the fight."
Much like the real-life friendship that the actresses developed while making the show. Before production on the season began, the trio gathered for drinks with Bans and executive producer Dean Parisot in Silver Lake, and, let's just say, the night ended with the three actresses venturing back to Hendricks' abode and Whitman losing her pants.
Flash-forward to this day in early January, with the three actresses seated inside the restaurant of a Pasadena hotel. The scene that's playing out could easily be mistaken for one of those brunch-and-chat sessions out of "Sex and the City" — a favorite program of Retta's that Whitman has only recently begun watching — complete with inside jokes and bursts of laughter.
It's the day after the Golden Globes, and the actresses are still feeling the glow of the night — not just because of the crazy after-party stories but because of the political overtones the awards show took on as Hollywood stars wore black in solidarity with those who have spoken out about sexual harassment in the industry.
The trio was shooting "Good Girls" in Atlanta and getting acquainted with their bold, take-charge characters as the Harvey Weinstein scandal, and those that followed, began unfolding — often discussing the latest development while seated in the hair and makeup trailer.
"As women, we're so conditioned to think that stuff is normal," Hendricks says.
"Yeah," Retta adds, "that your job is to dodge the crazy the best you can."
"The thing about [the Golden Globes fashion blackout] — it wasn't about wearing black and trying to hide in the shadows," Hendricks says. "It was saying, 'We all see you. We see you, we hear you, we've got your back. We all have a story. And [to the men], if you look at us and you think you're going to get away with something, just remember the sea of black. ... You can't do it anymore. You just can't.'"
(Hendricks' former boss and friend Matt Weiner, the creator of "Mad Men," was caught up in the firestorm after a writer on the show, Kater Gordon, alleged that Weiner told her she owed it to him to see her naked. Weiner has denied the allegations, and Hendricks stands by him: "Matt said he didn't say it, and I trust him, and I respect him.")
While news reports and social media posts in recent months have shed light on tales of struggles and abuse in the corridors of power, "Good Girls" offers a glimpse at the hardships of everyday women. "I felt like I knew all these women right away, I understood them right away" Whitman says.
"They're not stereotypes of 'oh, three Midwestern mom-wives,'" Hendricks adds. "They're not these sheltered, small-minded women." The show, she adds, highlights the legerdemain displayed by the characters juggling formidable stressors before things got crazy. "The complexities of that stuff that nobody really appreciated," says Hendricks, illuminates the women's, "everyday strength ... I just think women are going to relate.'"
Twitter: @villarrealy
---
Get our L.A. Goes Out newsletter, with the week's best events, to help you explore and experience our city.
You may occasionally receive promotional content from the Los Angeles Times.