Why 'The Killing's' Mireille Enos and Joel Kinnaman want to kill each other in 'Hanna'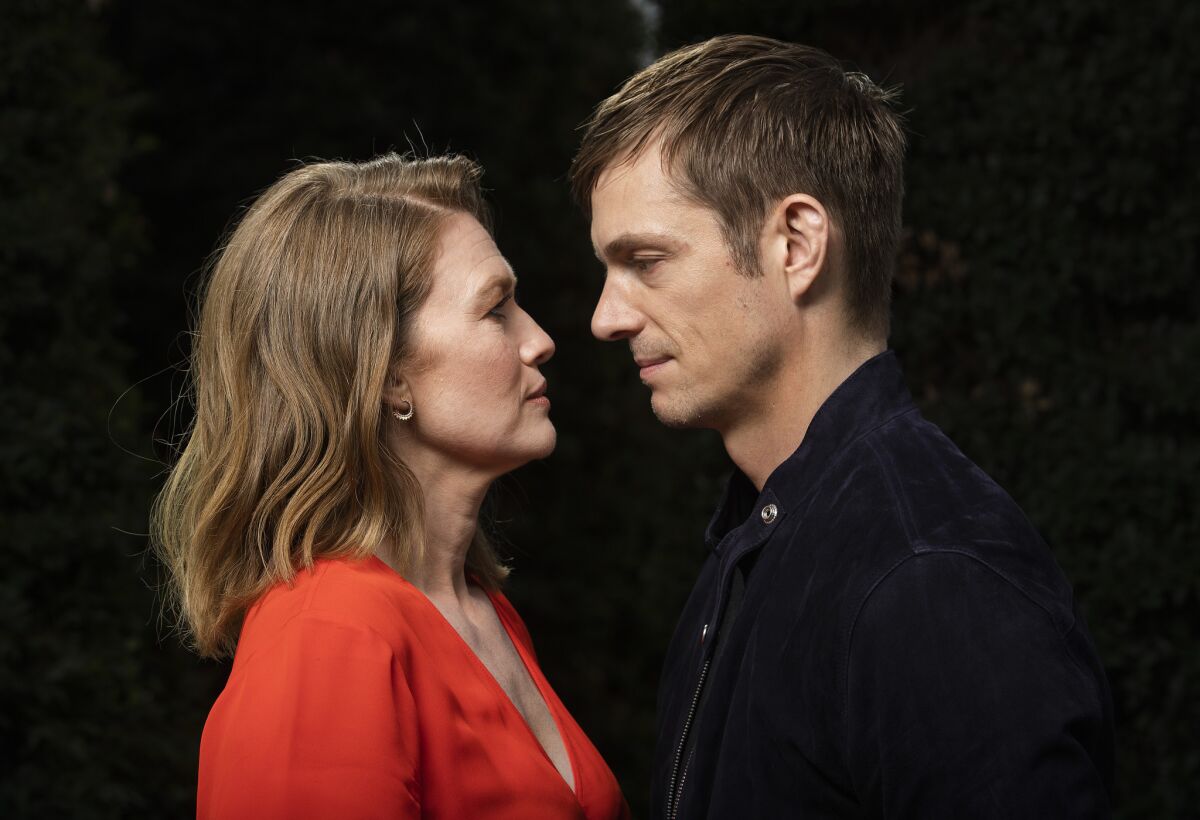 Sherlock Holmes never wanted to kill Watson.
Starsky never set out to wipe out Hutch.
Cagney never went to war against Lacey.
But fans of "The Killing" might do a double take if they tune in to Amazon's "Hanna" and spot Mireille Enos and Joel Kinnaman — who played the mismatched detective duo Sarah Linden and Stephen Holder in that atmospheric drama — locked in a dangerous game of search and destroy.
Instead of working together to find a killer, they are bent on "killing" each other.
Enos and Kinnaman, who won widespread acclaim for their portrayals in the popular — and controversial — "The Killing," which premiered in 2011 and ran three rocky seasons on AMC before jumping to Netflix for its fourth and final season, reunite in "Hanna," a new version of the 2011 film that starred Saoirse Ronan as a teenage lethal weapon raised and trained by her fugitive father in the remote Finnish wilderness. The pair are hunted by a ruthless agent.
That agent in the eight-episode first season of the new series is Enos as CIA operative Marissa Wiegler. Kinnaman takes on the role of Erik Heller, Hanna's father and a former soldier whose mercenary skills are paired with his dedication to protect his daughter from Wiegler. British newcomer Esme Creed-Miles plays Hanna in the series, which debuts March 29.
"It's super wonderful to be back working with each other," Enos says at Amazon's Culver City headquarters, where she and Kinnaman have come together to discuss the series. Kinnaman smiles and nods in agreement.
Playing adversaries instead of partners marks a dramatic shift for the two actors — one they have excitedly embraced.
"It was a little trippy the first day we had shooting because the dynamic could not be more different," Kinnaman says. "But after a couple of takes, it just flowed. We really work well together, and we pick up on little things each other does. I go this way a little bit, and she goes right there. It's a little dance. It makes it so easy and fun."
Their off-screen chemistry and affection for each other is evident as they talk in a large conference room. During a photo shoot, they chat and playfully tease each other. The tall, lanky Kinnaman spreads his legs wide, trying to position himself to be face-to-face with the petite actress, who wears a vibrant orange dress.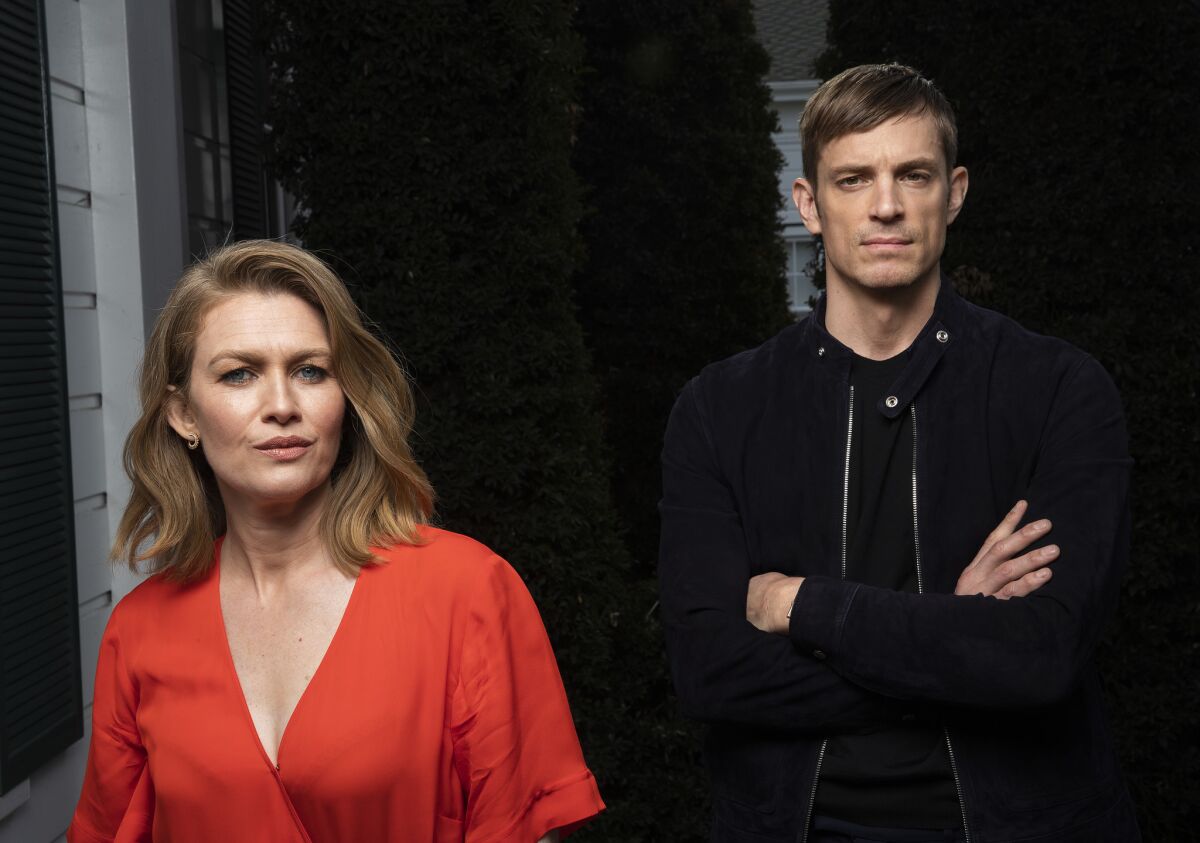 "Everything is an option," Enos says. "There's this scene we were getting ready to do where we weren't sure what the dynamic was. But we talked it out. It was super dangerous — he had his hands on my throat — but it was so safe and comfortable."
They have both worked steadily on individual projects since "The Killing" finale. Kinnaman is one of the stars of Netflix's sci-fi drama "Altered Carbon" and played a feature role as presidential candidate Will Conway in Netflix's "House of Cards." Enos most notably starred in ABC's Shonda Rhimes drama "The Catch," which lasted two seasons.
The pair have kept in touch since the conclusion of "The Killing." "We were neighbors for a while," Kinnaman says. "We're really close friends."
Their off-kilter relationship for Linden and Holder in "The Killing" was at the drama's center, frequently overshadowing the mystery at the center of the show's first two seasons, which revolved around the murder of a teenage girl. Bundled up with baggy sweaters, Enos' Linden was an intense, troubled investigator with a low-key vibe, while Kinnaman's Holder moved more impulsively with street-wise bravado. Though they often clashed, they were an effective team.
They both welcome the change in dynamics for "Hanna."
"If we were playing two pals," Enos says, "I don't know if we could have done it."
"I liked that it was so polar opposite," Kinnaman adds. "Because we had such a good and long relationship on 'The Killing,' it was very important to both of us. 'The Killing' is one of those things that kinda stuck with people. There's a danger of going back to the well."
David Farr, the creator of "Hanna" and also the writer for most of the episodes, says he was a huge fan of "The Killing" and a big admirer of the performances of Enos and Kinnaman. Their new turns in "Hanna," he maintains, will be a revelation for the watchers of that series.
"It's very exciting to see what they're doing with these characters," Farr says. "They both give beautiful performances."
"Hanna" was filmed in five places: the United Kingdom, Slovakia, Hungary, Spain and Morocco. The characters speak multiple languages; much of the dialogue is in subtitles.
Farr maintains that "Hanna" is "far more real, emotional and political than the original film. It's psychologically more nuanced. There's more European history tied in to the story."
The show is also much more detailed in exploring Hanna's coming-of-age journey after being raised in total isolation from civilization. Marissa Wiegler's domestic life — a stylish French apartment, a loving boyfriend, a stepson — is in sharp contrast to her laser-sharp killer instincts and her manipulations in using her beauty to carry out her missions. Kinnaman displays both brutality and vulnerability.
Enos has not seen the original film. Kinnaman says he is a fan of the film but that the series "has a far different tone. The film has kind of this fairy-tale feeling. What I love about the series is that it's steeped in the same idea but it's much more grounded. Three-quarters of the series is a complete departure from the film."
Viewers familiar with "The Killing" may find it jarring to witness Enos playing a cold-blooded killer, while Kinnaman also displays a more tender side than he was allowed to show in that series.
"I love the theme of playing people with secrets," Enos says with a smile. "And I'm not usually the bad guy. Of course I don't think of her as the bad guy. I think of her as this really well-adjusted, clever woman. But in terms of the story structure, she's the antagonist. She's created this life that seems pretty normal, but she has a lot to lose . Her dance between having this domestic life and being this animal killer is two very interesting trains."
It gets even more complicated.
"There's a real gray zone where Marissa is not just a villain," Kinnaman says. "Erik is not a good guy either. There's a moral spectrum, and everyone is trying to get what they want. There's no real good or bad people here except for Hanna, at least at first. But then she crosses a few bridges as well. It's a crazy journey."
Enos was the first to be approached by Farr for the series. "We met at a spa hotel where she was shooting in England," he says, "and I thought she would be perfect for the re-invention of the character."
Enos says she was asked who she felt might be a good choice to play Erik. "In my mind, the character was a little older than Joel, so I told them to send me some of their favorite names of people in their mid-40s, ex-military.
"They got back to me and said, 'Actually we were thinking of talking to Joel and wanted to see how you felt about that. I said, 'Favorite human! On the planet!' "
Looking fondly at Enos, Kinnaman says, "Mireille basically cast me."
Both say they are regularly approached by fans of "The Killing." They are also acutely aware of the furor sparked by the drama, which was initially applauded by critics who saluted its characters, dark atmospherics and intricate mystery.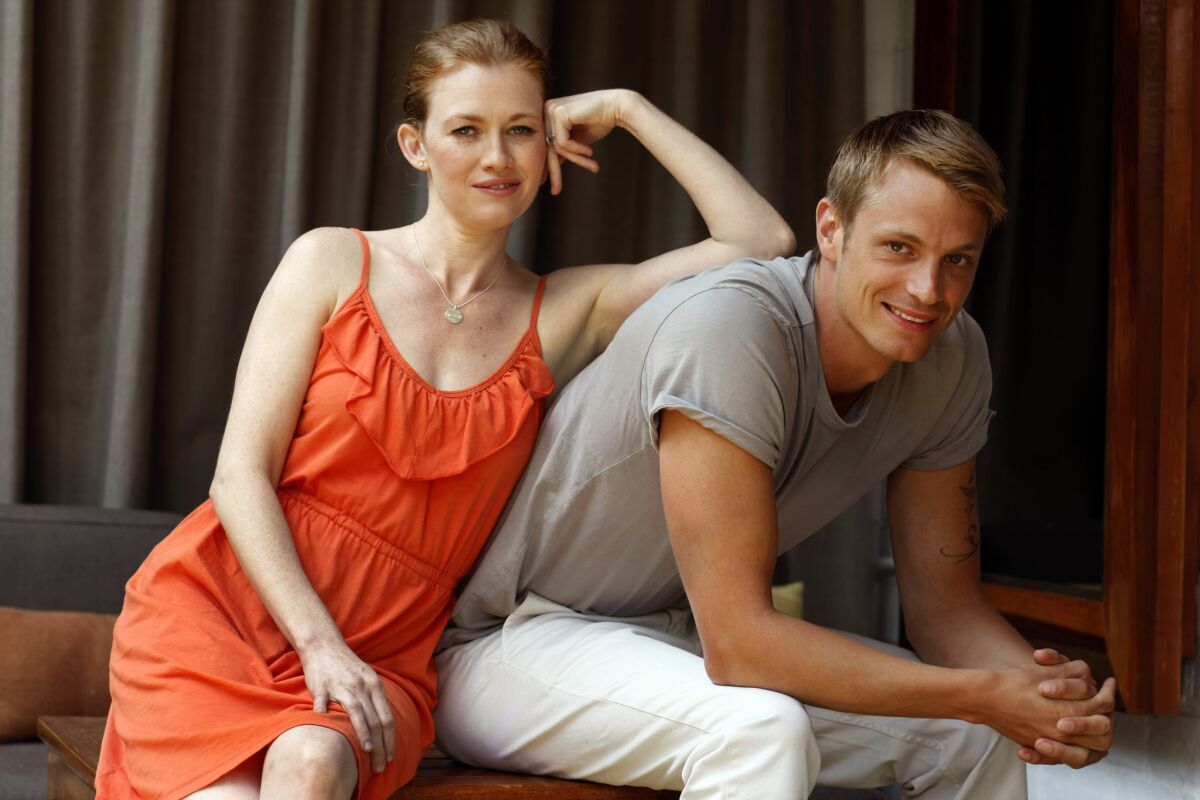 But the show's creator, Veena Sud, drew heavy backlash when the series didn't wrap up the mystery at the end of the first season. Supporters who'd gotten caught up felt cheated, and some fans targeted Sud with vicious personal rants..
"I thought that whole thing was ridiculous," Kinnaman says. "Maybe some mistakes were made in the way it was marketed. I think if the show had come out now, there would not have been that kind of reaction. Viewers are more sophisticated, more willing to go along with a creative vision."
Adds Enos: "The show was so beloved. The people who loved us were the same ones who were so angry. It was like, 'What's the matter? We're giving you more to love.' "
Though the audience has not yet weighed in on "Hanna," both Enos and Kinnaman are eager about the prospect of continuing the story beyond one season — which would mean working together even more.
"We both always have the same goal," Enos says. "To make the story good and make each other shine."
Twitter:@GeBraxton
Get our L.A. Goes Out newsletter, with the week's best events, to help you explore and experience our city.
You may occasionally receive promotional content from the Los Angeles Times.