The creators of HBO's 'High Maintenance' traffic in human connection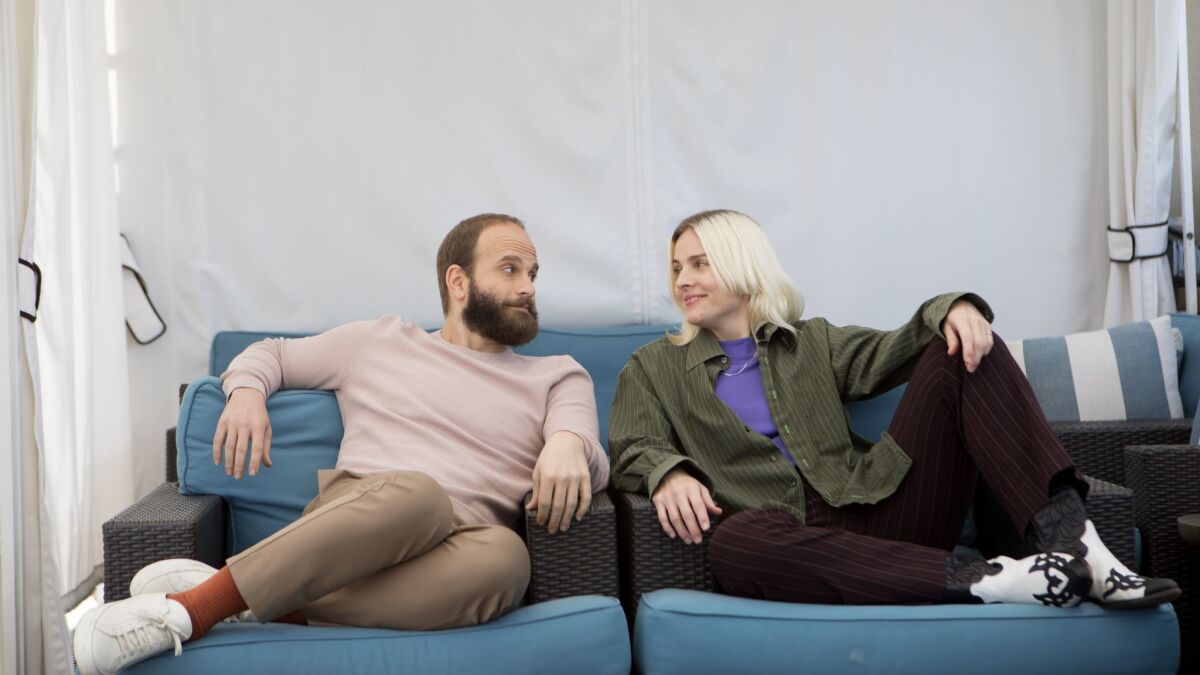 Ben Sinclair and Katja Blichfeld had just sat down for lunch when just moments after meeting a reporter Sinclair notices something.
"Your eyelashes are incredible," he says, shaking his head slightly. "Incredible. I've never seen their like." Blichfeld, smiling in the seat next to him, agrees.
On some level, the compliment's mix of kindness and attentiveness served with a touch of fearless honesty is the ideal way to start a conversation with the co-creators of "High Maintenance." First appearing on Vimeo in 2012 as a series of slyly funny, generously detailed shorts, the series also features Sinclair as the most consistently recurring (if not entirely central) character — a bicycle-riding weed dealer known only as "The Guy."
Four years later, the show was picked up by HBO and wraps up its third season on Sunday.
Though marijuana as a connective tissue between lives provided a hook for the series, especially as it premiered on Vimeo the same week pot was legalized for recreational use in Washington and Colorado, "High Maintenance" is far more concerned with the genuine, sometimes eccentric exchanges of empathy and acceptance between the New York City characters in and around the Guy's orbit.
For all the smoking and (currently) illicit — outside of medical reasons, according to New York law — transactions that run through most every episode, the humanistic perspective of "High Maintenance" offers more than what you might expect from what people refer to as "that pot show."
"We tried to figure out ways this season where it didn't necessarily have to be a weed deal to connect Ben's character," Blichfeld notes. "That was us trying to get away a little bit from the weed element of it all just to give ourselves more breathing room."
"Taking [the Guy] out of the picture a bit more," Sinclair explains, "but also putting him in the picture."
Given "High Maintenance" has existed for roughly seven years, shifts in perspective are to be expected. First conceived while Blichfeld was a casting director on "30 Rock" and Sinclair was taking odd acting jobs and working at Current TV, the series began as a DIY effort with web episodes usually shorter than 10 minutes and a budget they have described as "high three figures."
Though he appeared in each episode, there was little to know about the Guy beyond Sinclair's lavish beard, custom-designed bike helmet and his unflappably kind approach toward his customers. A few recurring characters included a nudist, an asexual magician and a cross-dressing man with writer's block (tenderly portrayed by Dan Stevens, then best known from "Downton Abbey") with Blichfeld as his spouse.
"I feel like we are so much like our characters in that we do have 'The Guy' quality in both of us," Sinclair says. "We always say it's me at my best, but it's actually both of us at our best."
"Who we want to be," adds Blichfeld, who cites Mr. Rogers as an unconscious influence on the character. "He's not hurried, he takes his time with people, is very present and makes everyone feel seen." The connection was underscored in an end-credits sequence this season involving the Guy sitting with some tourists.
But once the show was picked up by a cable network, "High Maintenance" had to adopt what Blichfeld calls the "creativity by demand model," which in the process provided their on-the-job-training for how to make a TV series.
Typically drawn from their own personal experiences or the show's writers in a method they liken to collage art, the series still specializes in compact storytelling, often with two distinct narratives per episode.
A standout story line from its first HBO season was told from the perspective of a shaggy dog whose happiest moments involved his dog walker (Yael Stone, from "Orange Is the New Black"). This season has cast a wider net with intimate stories of a Spanish-speaking construction worker developing a crush at his daily lunch counter and a stylish older woman who reluctantly becomes a model.
While neither of the latter story lines directly involved the Guy, he also has slowly become more of a character in his own show. Previous episodes saw him questioning his life choices after a bicycle injury, which led to an escapist RV road trip upstate and a new romance that became a through line of this season.
"It's like the three-pronged thing," Sinclair says. "We're talking about a city, we're talking about people living in a city, but then we're also talking about this person. And sometimes it's hard to measure out just how much of each of those ingredients you want to put in."
"I think we were responding directly to what we'd heard people say, that they wanted a little bit more [about him] so we played around with that," Blichfeld says, smiling. "We tried it — I actually don't know what we'd do if we got another season with the Guy."
"Oh, I know," Sinclair replies.
"I mean, we have ideas."
"Just give him a dog," he says with a shrug.
Over lunch, Sinclair and Blichfeld finish each other's thoughts with the warm back and forth of a married couple, which they were when "High Maintenance" began. While making the second season, however, the two split up after six years when Blichfeld came out as a lesbian. The two have been open about their split in interviews, and the nature of their creative process meant the show also reflected their personal lives.
One episode last season that Sinclair admits was difficult involved a reveal of the Guy's ex-wife (Kate Lyn Sheil), which for all its sweet, naturalistic charm carries a bittersweet note knowing it's full of pet names and inside jokes from Blichfeld and Sinclair's relationship.
Despite the breakup, their lives still remain intertwined (they still share a car). But their writing process has changed. "There's not the same shorthand anymore … because we're not doing the same stuff and seeing the same things and talking to the same people," Blichfeld says. "But I think that's a good thing. I'm hopeful that's a thing that's made our work maybe a little more interesting."
Whatever lies ahead, both say that working in pairs is what works for them. The series has yet to be renewed by HBO for a fourth season, and with the Guy questioning his career it's hard not to imagine the same being true for his creators.
"I definitely would like more real estate to delve into story lines and characters," Blichfeld says. "It's becoming an increasingly difficult challenge to try to do this short-form thing and to keep having to reinvent a world and a protagonist for every single story. "
"I think the last episode does give you a good sense that [the Guy] comes to appreciate what he does in the end," says Sinclair.
Amid all the changes since the show began, their relationship with marijuana has also shifted. "I feel a little bit guilty when I'm stoned because I feel that we're living in such an inherently political time where every act feels political," Blichfeld says. "I think we're taking good care of our health in a new way, both of us. When you actually physically feel good and you're not depressed, wow, you don't need to smoke as much it turns out."
Sinclair agrees and says, "It can amplify a lot of things. It's a good amplifier of creative energy and also depressive energy."
"Do you think we're stoned right now?" he asks the reporter with the long eyelashes.
'High Maintenance'
Where: HBO
When: 10:32 p.m. Sunday
Rating: TV-MA (may be unsuitable for children under the age of 17)
Follow me over here @chrisbarton.
Get our L.A. Goes Out newsletter, with the week's best events, to help you explore and experience our city.
You may occasionally receive promotional content from the Los Angeles Times.