How TV sounds and images of migrant children overrode the pundits and changed the immigration debate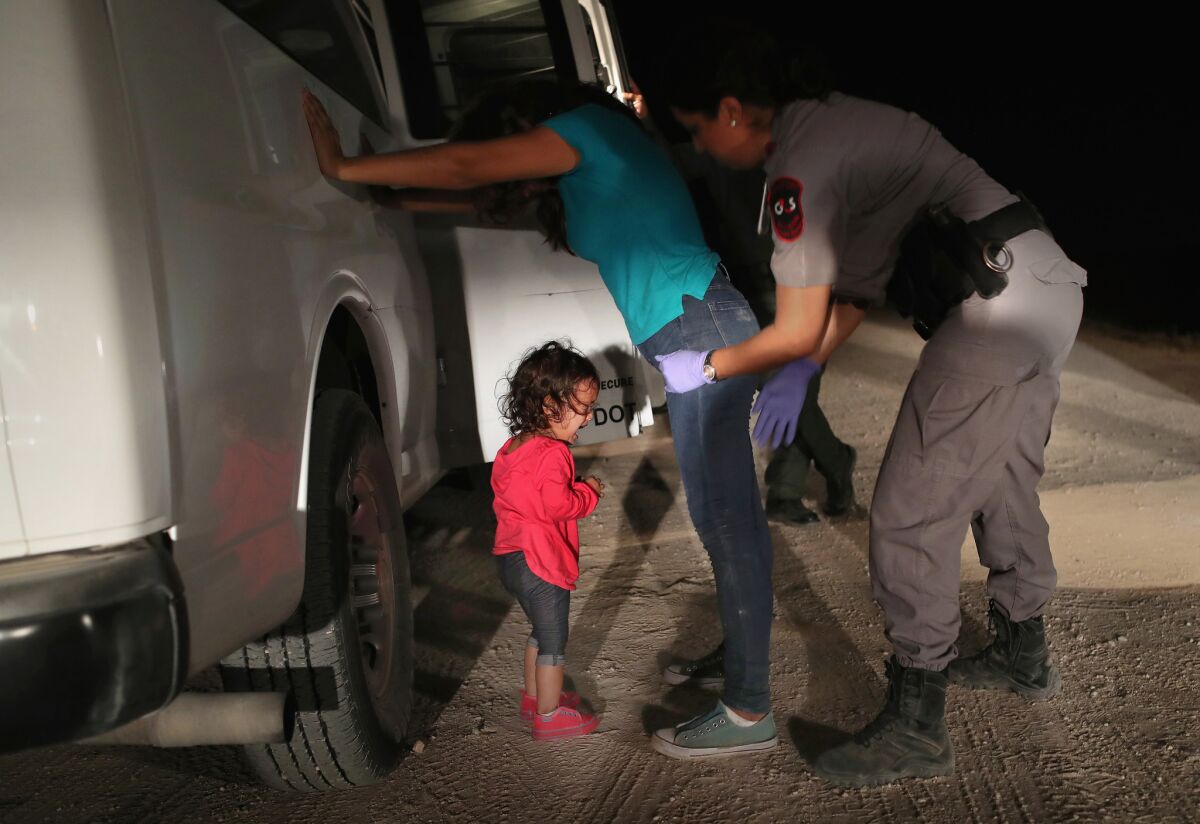 Television Critic
For all the partisan panels and scream-fests that now pass as television news, all the dueling narratives across conspiracy-minded websites, all the social media accounts dedicated to pushing biased agendas no matter the truth or consequences, it was the quiet cries of two distressed children, and the dialogue-free images of dozens more locked in cages, that broke through the noise.
There had been reports about the separation of undocumented immigrant families at the U.S.-Mexican border, children ripped from their parents and detained in undisclosed centers as a result of President Trump's "zero tolerance" immigration policy. Since the White House announced the policy in early May, more than 2,300 children have been taken from their parents at the border. But those reports were lost among the billion or so other stories about Russian meddling and government dysfunction, or is it the FBI and Hillary Clinton causing all the chaos?
Like everything that's been leveraged for votes or ratings (school shootings, gender-neutral bathrooms, talk-show insults), the issues surrounding immigration policy reform are often reduced to red state/blue state rallying cries. It's part of the political theater that drives so much of our news media, and it's held up as an affront to American values by everyone from the alt-right and the radical left, from Fox and MSNBC to your conservative and liberal relatives who haven't talked since the fall of 2016.
The numbing cacaphony seemed impenetrable until we heard a leaked audio recording from a Texas detention center of a 6-year-old girl pleading with an adult male authority to see her mom.
It was the children, not an army of pundits, who tapped a vein of shared empathy.
And suddenly the nightly news was real and heartbreaking — video of children kept in cages that resembled dog kennels, sleeping on concrete floors under Mylar blankets — changing the destructive cycle of divisive politics as usual.
Broadcast, streamed and posted on personal Facebook pages, the palpable images of terrified, isolated kids triggered an outcry against the "cruel" and "inhumane" policy, and it wasn't only from Democrats, or even moderate Republicans.
It was a pivotal moment that showed the power of television to change even some hardened minds — a moment when the tribal positions that have solidified since the election broke down.
The backlash came from parents, teens, Americans, human beings. Former first ladies, attorneys general, serving Senate and House leaders, conservative church groups, liberal human rights groups were among those who voiced outrage and sadness. It was the children, not an army of pundits, who tapped a vein of shared empathy across a divided nation, and changed the course of a president whose MO is to never change course.
On Wednesday, bowing to pressure from all sides, including his own wife and daughter, Trump signed an executive order that that would allow families to be detained together. It's still unclear how the new order will play out along the border, and what it means for the thousands of children already detained in undisclosed locations. But it was something.
Perhaps Trump finally understood the widespread blowback toward those who insisted on treating the story like yet another opportunity to self-promote via bullying tactics and an insensitivity that's practically become a personal brand.
Former Trump campaign manager Corey Lewandowski was lambasted Tuesday by critics and colleagues after a Fox News segment in which he gave a mocking "Womp womp" response to a story about a 10-year-old girl with Down syndrome who was allegedly separated from her mom. Earlier in the week Laura Ingraham on the same network described the processing centers as "summer camps" for these kids.
Even policy wonks like MSNBC's star host Rachel Maddow, who's known for her deep dives into the thrilling details of things such as infrastructure and Watergate-era legal procedure, was left without words by the end of her show Tuesday. While reading breaking news that the Associated Press had confirmed the government had "tender age" centers for babies and toddlers who were separated from their parents, she was unable to choke back tears and threw her show to the next hour's host, Lawrence O'Donnell.
Homeland Security Secretary Kirstjen Nielsen on Tuesday was booed and heckled as she dined in Washington, D.C., at a Mexican restaurant, of all places. By Wednesday American Airlines announced it would not transport children under the "zero tolerance" policy. Governors of both political persuasions announced they would not send their National Guard troops to the border while the separation policy was in place.
The usual White House smoke-and-mirrors routine — blaming the Democrats, claiming he didn't have the authority to stop separations (he did) — couldn't distract from the reality captured by a photographer on the border:
A 2-year old Honduran girl sobs as her mother is patted down by a U.S. border patrol agent. In her tiny red sneakers, the toddler is barely taller than the tire on the agent's truck. Bound for a processing center, the girl became the real face of the "zero tolerance" policy, thanks to a vigilant media and an American public who refused to look the other way.
No doubt we'll go back to the ugly partisan fights that dominate the news cycles, and the president and the various tribes will call it a great victory. But for one moment, at least, televised humanity prevailed.
ALSO
HBO's 'It Will Be Chaos': Personal stories of refugee crisis could not be more timely
Samantha Bee apologizes and lashes back at her critics on 'Full Frontal' over Ivanka Trump controversy
HBO's 'John McCain: For Whom the Bell Tolls' is as candid as the maverick himself
---
Get our L.A. Goes Out newsletter, with the week's best events, to help you explore and experience our city.
You may occasionally receive promotional content from the Los Angeles Times.