'Mad Men' scene-stealer Kiernan Shipka is all grown up and ready to take the lead on 'Chilling Adventures of Sabrina'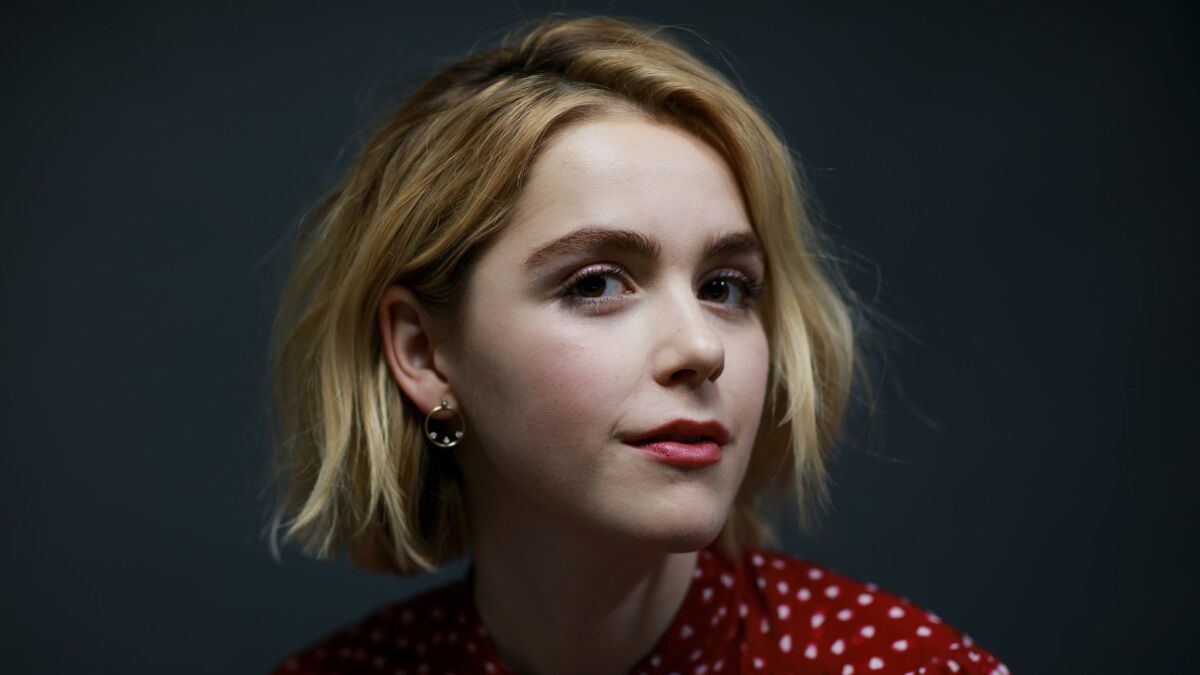 Reporting from Vancouver, Canada —
Kiernan Shipka has lived what some would consider an enviable life in her 18 years on this planet. She was the scene stealer who grew up in front of us as sassy and resilient Sally Draper in AMC's critically acclaimed "Mad Men." She shared screen time alongside heavyweights Jessica Lange and Susan Sarandon in FX's "Feud." And, not to brag, but just a few weeks ago, she took a selfie with "This Is Us" star Logan Shroyer (a.k.a. "Medium Kevin," as she calls him) at a Chanel party.
She'll happily talk to you about it all. But right now, cupping a latte in her hands, she really just wants to talk about naps.
No nap is too short or too long. On a bed, on a sofa — she'll nap anywhere. She recently purchased a sleep mask just to up her nap game. Between takes on set, you'll likely find her in a zero gravity chair, a trusty facilitator for the the Power Nap.
"I feel like a changed person after this show — just because the work load is really heavy," Shipka says. "I love sleeping now. I love not going out on a Saturday night now. I've napped more this year than I probably ever napped in my entire life. I have a commitment to the Nap."
That show is Netflix's "Chilling Adventures of Sabrina." Placed under the same noir filter as teen phenomenon "Riverdale," the series is a horror-tinged re-imagining of the popular Archie's comic book character — a young, blond mortal witch — who's made the rounds on TV before in a number of animated series and the bubbly late '90s ABC sitcom "Sabrina the Teenage Witch."
REVIEW: Why 'Chilling Adventures of Sabrina' will have you pulling for Kiernan Shipka's conflicted teen witch »
When the teen occult romp rolls out Friday, Shipka makes her debut as the lead of a TV show with her turn as the streaming generation's Sabrina.
On a recent clouded morning in Vancouver, where the show is shot, Shipka is getting caffeinated at a coffee shop down the street from the apartment she shares with her dog, a German shepherd named Frankie. She's been living here since March — the longest she's ever been away from her home in Los Angeles: "It kind of feels like I've gone off to college in a way. The cast all pretty much lives in the same area." (In fact, at one point during this conversation, two of her castmates stroll in for their caffeine fix.)
Known to be a bit of a foodie, as a quick glance of her Instagram will easily confirm, Shipka talks of the restaurant exploring she's done — she suggests Minami in the Yaletown District if you have a hankering for sushi — and the (one) karaoke outing the cast has done. Which will prompt her to tell you about the time she ripped her pants belting "The Climb" by Miley Cyrus — "I dropped down on my knees for the epic moment, my pants literally split in two. It was worth it."
I feel like a changed person after this show — just because the work load is really heavy. I love sleeping now.
— Kiernan Shipka, actress
But most of her time is spent putting her magic touch on Sabrina.
The new series is modeled after the dark comic of the same name from "Riverdale" showrunner and Archie Comics Chief Creative Officer Roberto Aguirre-Sacasa, who also helms "Sabrina." The coming-of-age story, which looks to "Rosemary's Baby" and "The Exorcist" as tonal influences, kicks into gear with Sabrina nearing her formative 16th birthday and having to choose between the witch world of her father's family or the human world of her mother's.
For Shipka, her 16th year was one of transition too. She finished filming "Mad Men" when she was 14 (the show's final season aired a year later in 2015) and most of the jobs she's had until now haven't lasted more than a couple months.
"I really took that time to be a teenager," she says. "High school parties, hanging out with friends. I'd take classes and vacillate between going out and having fun and being a total introvert, because that's kind of who I am. Just figuring life out and sort of living for myself. Sixteen was a really formative year. It was definitely a figuring-out period. Nothing new was quite on the horizon and I was sort of like, 'What's happening? What will I do?' I learned to at least try to live in whatever moment I was in."
She realizes she has a tall order in taking on a character many have come to associate with Melissa Joan Hart, herself a child star. "Sabrina the Teenage Witch" ran on ABC, and later the WB, from 1996 to 2003. Shipka, who wasn't born until 1999, didn't watch the show, but of course knows about it. "It's pretty iconic," she says. "Hello — Melissa Joan Hart. Hello — Salem. He's like a meme king."
She hopes her version will resonate with young viewers, particularly girls, just as much as its predecessor.
"She's 16, she's not a role model," Shipka says. "But I am very excited that young girls are going to be seeing a character like her. She is, for all intents and purposes, a good person. She is passionate about doing what is right, she's a good friend, she's a feminist, she stands up for herself and she isn't afraid to question things. I think it's important for young, impressionable people to watch."
Aguirre-Sacasa, who obviously knew of Shipka from "Mad Men" but who was also impressed with her work in the 2015 psychological horror film "The Blackcoat's Daughter," says it's been surreal to see Shipka make the role her own.
"There was a part of me that was like, 'Oh, my God, Sally Draper is playing Sabrina, this is amazing,'" Aguirre-Sacasa says by phone. "But then it quickly became Kiernan is playing Sabrina. She's the right age, she is the right combination of spunky and soft, and fierce but vulnerable. She embodies all, and the essence of Sabrina is the contradiction, right? She's half witch but half mortal. And Kiernan contained all of that."
There was a part of me that was like, 'Oh, my God, Sally Draper is playing Sabrina, this is amazing,'
— Roberto Aguirre-Sacasa, creator and showrunner of 'Chilling Adventures of Sabrina'
Even, he adds, when filming in cold, sometimes rainy, nights in the woods: "Her work ethic is incredible. She's a real leader on the set."
She'll say she learned it from Jon Hamm, who played her father, Don Draper, on "Mad Men." "He always showed up prepared, always knew what he was doing, and kept the energy up. I think I soaked that up a lot and took that with me."
But, yeah, it's not without its challenges when shooting outside. "There's nothing weird about being in a bathtub at 6 a.m. in the middle of the woods," she says sarcastically.
A few hours after her coffee respite, she's started a day of filming … in the middle of the woods not too far from the show's stages in Langley, British Columbia. But, hey, the sun is peering through. She's filming a scene from the show's already-commissioned second season — and let's just say that viewers are in for some blood and Latin phrases.
"How did I get here?" she asks between shots.
Born in Chicago, Shipka and her parents, both in real estate, moved to Los Angeles when she was 6 so she could pursue her acting ambitions. She landed the part of Sally Draper in "Mad Men" not long after — she was all of 7 when it premiered — and had spent half her life on the series by the time it came to an end. ("I remember going up to January [Jones, who played Betty Draper] when I first started," she recalls, "and being like, 'Don't you play my mom?' I remember when I would have 6 a.m. call times, I couldn't sleep the night before. I was so excited to wake up early.")
Since then, she's played the daughter of Bette Davis (Sarandon) on "Feud," had a cameo in "Unbreakable Kimmy Schmidt" and voice work on shows like "American Dad!" and "Family Guy." Plus that horror film, "The Blackcoat's Daughter."
"I had just come off that movie and was sort of feeling like, 'Oh, what am I going to do next?'" she says. "I was that frustrated actor not knowing what I was going to do and getting antsy."
Then a call, taken from the waiting room at her podiatrist's office (an issue with her hip flexor, she says), brought "Chilling Adventures of Sabrina."
"I'm not surprised at all that Kiernan is the lead on a new series," says Jones. "I believe she'll succeed at whatever she wants to do in life… I'm so proud of her and so excited to watch her show and everything else she decides to do."
For now, Shipka is just trying to stay focused on tapping into the emotions of a 16-year-old.
"It's so funny, because that Ariana Grande song 'No Tears Left to Cry' recently came on the other day and I feel like it's the anthem of me every single Friday. I have done so many crying scenes throughout the week, I'm just like, 'There's nothing left in me. There's nothing left.' Instagram even has that filter where you can dance and the song goes on and I'm just like, 'It's me, it's me. She's talking about me.'"
But, hey, after the crying comes the nap, right?
Twitter: @villarrealy
---
Get our L.A. Goes Out newsletter, with the week's best events, to help you explore and experience our city.
You may occasionally receive promotional content from the Los Angeles Times.