Kyra Sedgwick is excited to spend 'Ten Days in the Valley' and ready to direct a superhero movie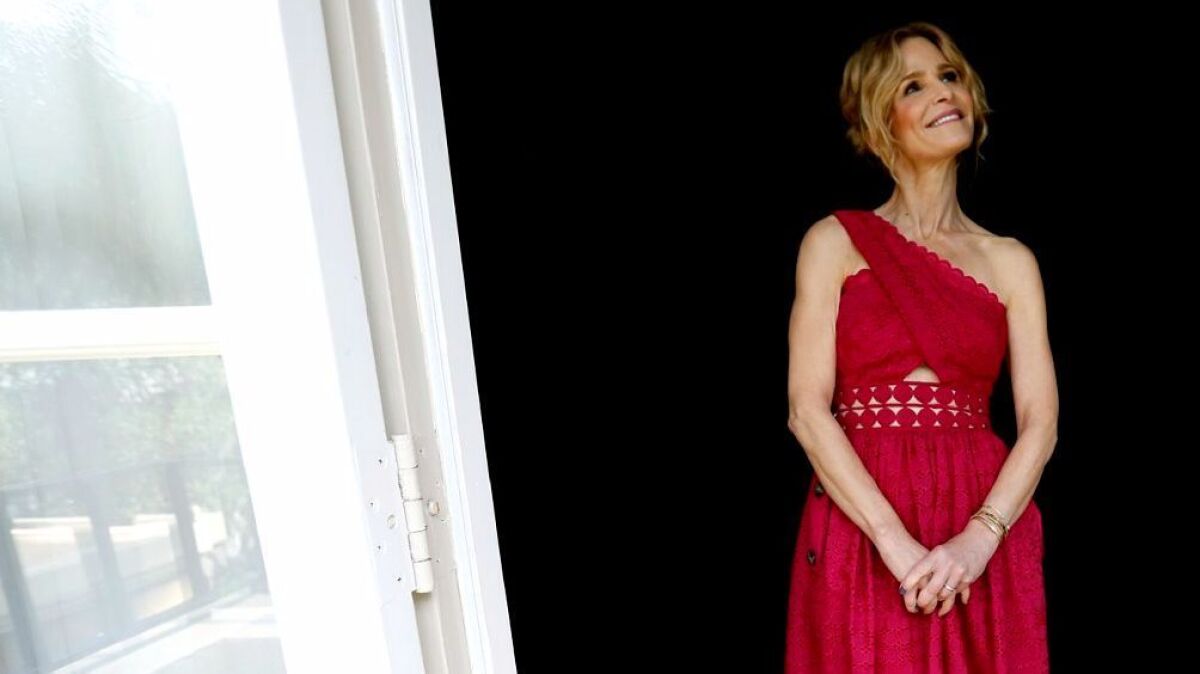 It's been five years since Kyra Sedgwick bid farewell to Brenda Leigh Johnson, the junk-food loving Southerner with a knack for wrangling confessions out of criminals on TNT's long-running crime drama, "The Closer." The role earned Sedgwick an Emmy, a total of five consecutive nominations and a wide following, but she said recently by telephone, "It was definitely time to be done."
In her first regular series role since "The Closer," Sedgwick returns to television this Sunday in "Ten Days in the Valley," an ABC drama in which she plays Jane Sadler, a successful documentarian and TV producer. Late one night while Jane, a divorced mother, is toiling away on last-minute script changes, her daughter is abducted from their home. Created by Tassie Cameron, the 10-episode series is a serialized portrait of a complicated woman that also vividly evokes a working mother's worst nightmare.
Sedgwick, also an executive producer on "Ten Days in the Valley," has remained busy during her time away from the small screen. This summer, she made her directorial debut with "Story of a Girl." Adapted from a novel by Sara Zarr, it follows a teenage girl whose reputation is tarnished by a sex tape. The film, which aired on Lifetime, was a family affair, starring both her daughter, Sosie Bacon, and her husband of 29 years, Kevin Bacon. It also kicked off what Sedgwick hopes will be the next chapter in her career.
---
Was it difficult to say goodbye to "The Closer"?
Brenda Leigh was the greatest thing ever and I just love her to pieces. And I'm glad that she lives on in reruns. And I love the love that I get from people about her, because I loved her. I gave her my heart and soul and my body. I mean, I gave her everything. So I'm glad people are appreciative of it.
What excited you about "Ten Days in the Valley"? Were you drawn to doing something more serialized after starring in a procedural for so long?
Yeah, definitely. I don't think I'd do a procedural again. I've been there, done that. I thought ["Ten Days in the Valley"] was a really excellent, taut, well-done script and I was really interested in the character, in the idea of having this container of a mystery — a very familiar thing that people can grasp — but it's really a deep dive into who this person is. We go back into her past even as a child.
And I was really interested in working with women. I think that's an incredibly important thing to do. We can't speak about how much we want women to succeed in Hollywood and not make decisions based on that. I wanted to make sure I was putting my money where my mouth was.
The series paints a pretty harrowing picture of being a mom in showbiz. Could you relate?
It's really all-consuming, the kind of work that we do, especially when you're doing a show like "The Closer," where out of a 46-page script, you have 42 pages of dialogue and are in 98% of the scenes. Not to quote the Army, but it's the hardest job you'll ever love and your personal life suffers. I know it was really hard on my kids when I was working so hard.
One of the things that the show explores, which I really love, was this inherent guilt. If you're going to be a mother, you're going to feel guilty a lot of the time, it just comes with the territory.
If you're going to be a mother, you're going to feel guilty a lot of the time, it just comes with the territory.

— Kyra Sedgwick
The thing I tell young actors now, women who have children, is that I wish I had felt less guilty and had understood that work for me was as important as anything. Freud says you need work and love, and it's really true. Part of me, even in my 20s and 30s, felt like work is an indulgence that I can't have because I'm a mother. We did need my salary at times for sure, but there were times where we didn't.
It's a really big part of the show, this guilt thing, this mother-work shaming. It's interesting because even in the press, people say to me, "Is [Jane] a good mother?" I'm like, first of all you'd never say, "Is he a good father?" You didn't look at Walter White and say "Was he a bad father?"
Was directing something you'd wanted to do for a while?
My acting career has been preparing me for what I really should be doing, which is directing. That's really the way I feel about it today. Kevin had been pushing me to do it for years. "Story of a Girl" is a book that I bought in 2007. I wanted to make the movie because I thought it was about real teenagers, and I felt like there's a dearth of that and there still is, frankly. I'd been trying to make it into an independent feature, I'd hired a writer-director, we got close many times.
I was always one of those people who thought I'll never direct. It was the perfectionism thing. If I can't be perfect at it, why try? I realized if there was ever going to be anything I was going to direct it should be this because I know this book intimately.
I had the most miraculous time doing it, the whole thing was beyond my wildest dreams. I was really delightfully surprised that not only did I feel confident working with the actors, but I learned that I had a real visual sense that I never really understood that I had. I think that's why I kept myself from directing for so long. "Well, I'll be good with the actors but I won't know how to tell the story visually," which couldn't be further from the truth. It's given me this confidence and this insatiable desire to start directing something tomorrow.
Are you looking for more projects to direct?
I've been working hard, whoring myself around town. I'm much better at advocating for myself as a director than I ever was as an actor. As an actor I'm just filled with self-doubt all the time. It's not a jolly, fun process for me. I never felt that way as a director, which made the whole process utter joy.
I've got books, I've got scripts, I've got a few writers I'm working with. Every day it's a big chunk of my day, working on getting that next thing going. I'm super excited about it. I did the water bottle tour in L.A. I went everywhere and said I love directing. I did my own film but I'm happy to be a gun for hire. I want all the experience I can get. It's wonderful that at 51 you do something new. My mom has been a really great role model for me in that way because she completely changed careers at 50.
A lot has happened in TV in the years since "The Closer" ended. Does the industry feel different to you?
It's so limited right now in terms of what's available in movies, especially actors like me who aren't necessarily going to be in superhero movies — although I would do that tomorrow. I would also direct one. I just want to go on the record. There's much more opportunity for actors in TV. It's really conducive to what we do, which is explore characters. And it is a writer's medium and writers are really smart now. But it is different. It's just harder to get eyes now.
See the most-read stories in Entertainment this hour »
'Ten Days in the Valley'
Where: ABC
When: 10 p.m. Sunday
Rating: TV-14-DLS (may be unsuitable for children under the age of 14 with advisories for suggestive dialogue, coarse language and sexual content)
Follow me @MeredithBlake
Get our L.A. Goes Out newsletter, with the week's best events, to help you explore and experience our city.
You may occasionally receive promotional content from the Los Angeles Times.