A coffee-free Lauren Graham on the 'Gilmore Girls' revival and becoming a writer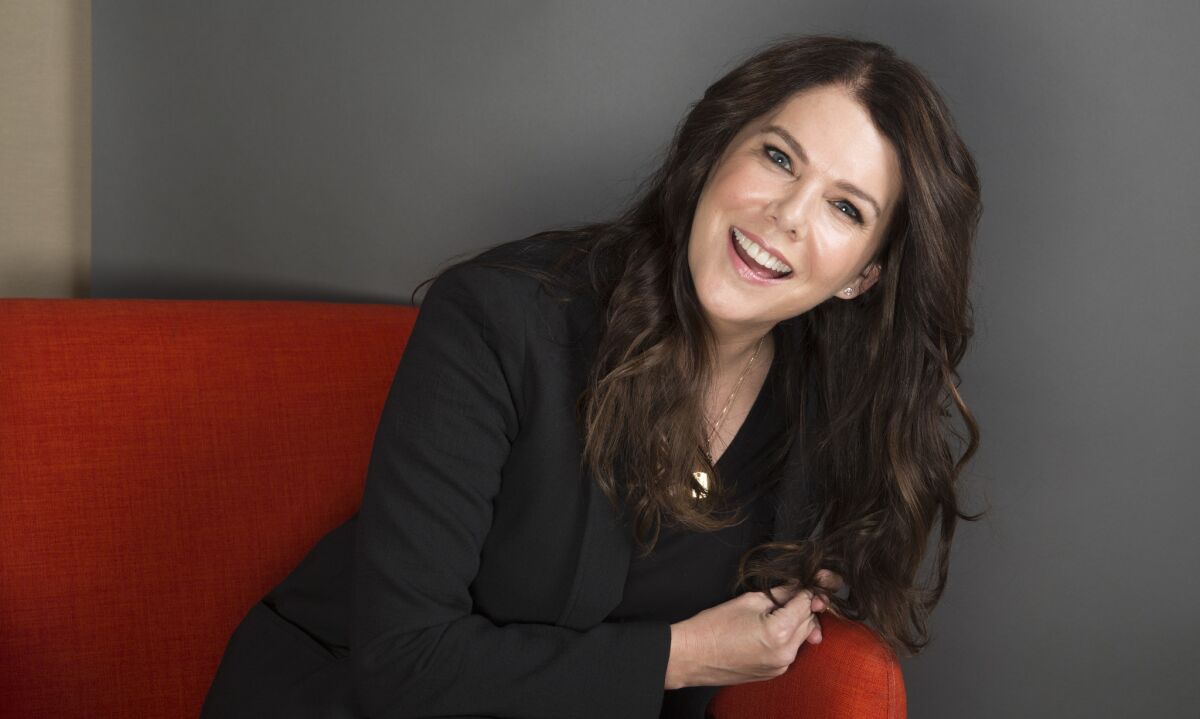 Lauren Graham pulls a laptop from her purse.
It's an overcast day in West Hollywood and the actress— just back from a jaunt to Berlin to promote the global launch of Netflix's revival of "Gilmore Girls"— is sitting in a conference room at her publicist's office when she abruptly reaches into her bag to grab the faux-marble coated gadget. It's a couple of weeks before those long-anticipated final four words of "Gilmore Girls" will be analyzed ad nauseam so, no, she's not combing through think pieces.
"This is what I did every chance I had," she says, opening up the computer and hunching over to illustrate how she managed to write a book while simultaneously reprising her career-defining role as fast-talking Lorelai Gilmore in "Gilmore Girls: A Year in the Life," which die hard fans gobbled up over Thanksgiving weekend.
It's what she did just outside Luke's Diner, in the bounds of Miss Patty's dance school, even while at the Dragonfly Inn. There is hardly a place in Stars Hollow, the fictional setting of "Gilmore Girls," that didn't serve as a makeshift writing sanctuary for Graham as she crafted a collection of essays. "Talking as Fast as I Can: From Gilmore Girls to Gilmore Girls (and Everything in Between)," out Tuesday, completes the Gilmore-ification of November.
"Every single scene you see, I was also working on the book in between takes," Graham says.
"I loved that I had to act that out for you, as if you don't know what a person on a computer looks like," she adds with a laugh.
The 49-year-old author and actress writes with wit about her childhood as a theater-loving kid (who at one point lived on a houseboat in the Virgin Islands), her early years as an actor and finding love in Hollywood (she is dating her former "Parenthood" co-star Peter Krause.)
And, as the title suggests, "Gilmore Girls" also gets plenty of ink. Graham, who starred in a few short-lived sitcoms prior to her breakout role, recounts landing the part (and almost having to give it up because she was on another series). The final chapter takes readers through the making of the revival.
"I wondered if rebooting 'Gilmore Girls' could be as gratifying as doing the series the first time, if the show would feel as fresh and quirky and smart and speedy as it had been, if returning to Stars Hollow after all those years would be as I dreamed it would be," she writes in the book. "Spoiler alert: it was."
Mention Graham to show creator Amy Sherman-Palladino and it's clear there was an ease in resurrecting the Lorelai persona nine years after the show went off the air.
"The thing about Lauren Graham is there's nothing you can throw at her that she can't do," says Sherman-Palladino. "That is a soul-satisfying feeling to be able to write any scene exactly the way you wanted it on paper and know she's going to kick it out of the ballpark. That's rare. It's just really rare."
Graham had originally set out to write a follow-up to her 2013 debut, "Someday, Someday, Maybe," about a twentysomething actress trying to catch a break, but she felt that idea growing stale.
(She still owes publisher Penguin Random House another book and has an idea for pulling some characters from "Someday" in a way that wouldn't strictly be a sequel.)
"I had been asked to do a book of essays or a memoir-type thing before and I just felt like it wasn't justified," says Graham of "Talking as Fast as I Can." "But to me, if ['Gilmore Girls'] came back, that kind of gave it a purpose. It was everything coming full circle."
But if readers are looking for juicy tidbits of on-set discord on "Gilmore Girls" or "Parenthood," which ended its six season run in 2015, they won't be found within the 224 pages.
"My sister said, 'All you say is nice stuff,'" Graham says, somewhat apologetically. "But that's really all I had to say. There was nothing to hide. I'm always of two minds about any behind-the-scenes stuff. It was a dark day when I saw the 'Downton Abbey' cast in street make-up. I really love to be transported and not to think about how they might shop at Whole Foods. I felt that way in what I want to share."
In person, it's easy to distinguish Graham from her most recognizable role. She turns down an offer for coffee from her publicist and speaks in a rhythm that allows for oxygen to be replenished. Asked what her food of choice is when she's binge-watching, Graham says she doesn't eat while watching TV. But it's also clear she doesn't mind being closely tied to the character — at one point, she's curious to know what Sherman-Palladino has said about the chances for more episodes, as if keeping score of its likelihood.
While Graham certainly wouldn't face many objections to continuing her acting work for "Gilmore Girls" or any other TV or film project, she is also building her reputation as a writer.
"Someday, Someday, Maybe" was developed as a CW pilot, for which she wrote the script. She also co-wrote a female late-night host comedy that received an NBC development deal. Her latest project, which she is tackling with her "Parenthood" daughter Mae Whitman, is a movie adaptation of "The Royal We," a book from GoFugYourself.com creators Jessica Morgan and Heather Cocks about an American girl-next-door who falls in love with a guy who happens to be the future king of England.
"I like making something of my own," Graham says. "It's much harder than being an actor, but I think it feels like a way to grow creatively. It wasn't a calculated career move to start writing. I woke up with some ideas in my head and I put them down. I'm certainly not perfect, but I've learned enough to know these things are not going to create themselves without some discipline, so I kind of just went down that road and here we are."
Whitman fondly remembers her first introduction to Graham's writing — it came in the form of a poem around Christmastime during "Parenthood's" run that she describes as "so genuine and hilarious and so, so smart, without being the least bit manipulative or saccharine."
"Right then I knew that we would see great things from her in the writing department," Whitman says. "I mean, I've had her write break-up texts for me for God's sake! Side note: I do not necessarily condone or recommend breaking up with anyone over a text; but if you've got to do it, get yourself a Lauren Graham. Trust me … I think the most amazing thing to me about her writing is that she's able to be so inclusive and present and so genuinely funny without ever being mean or cutting anyone down. She's like the Jim Henson of the writing world."
And while Graham is happy to have come full circle in Stars Hollow, she's looking forward to what takes shape next.
"It's been really fun to know what I was doing and know when it was coming out and know what's on my plate that I needed to finish," she says. "But it'll be really fun to not know what's next."
The most-read Entertainment stories this hour »
Twitter: @villarrealy
ALSO:
Forget Team Dean, Team Jess, or even Team Logan. We're on Team Gilmore
Lauren Graham weighs in on the other mother-daughter relationship of 'Gilmore Girls'
Review: 'Gilmore Girls: A Year in the Life' is a welcome slice of smart holiday escapism
Get our L.A. Goes Out newsletter, with the week's best events, to help you explore and experience our city.
You may occasionally receive promotional content from the Los Angeles Times.