From 'Homeland' to 'Mad Men,' Lesli Linka Glatter calls the shots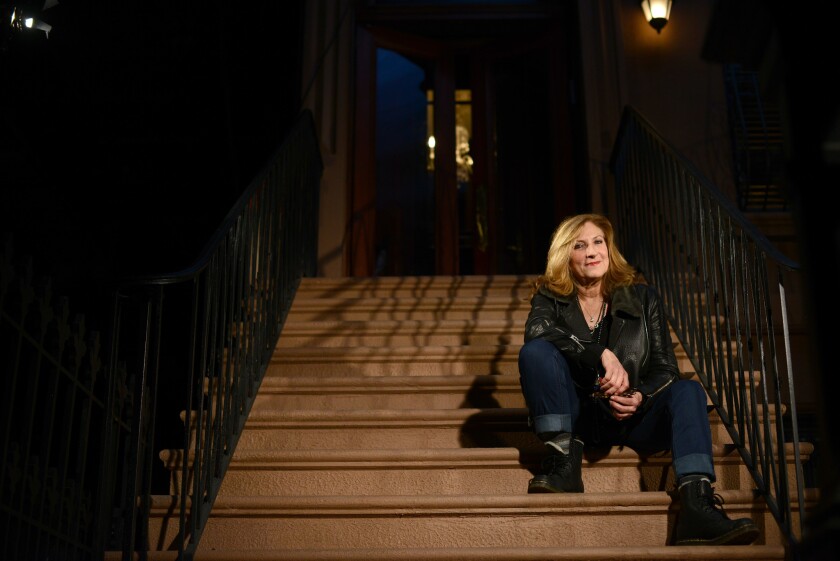 Reporting from Brooklyn —
Lesli Linka Glatter is very concerned about cookies.
On this fall day on the set of "Homeland," as drowsy crew members nurse cups of takeout coffee, the director is rehearsing with McKenna Keane, who plays Franny, the 4-year-old daughter of Carrie Mathison (Claire Danes) on the series, which returns to Showtime Sunday.
The young actress, still in her bunny slippers, is sitting next to Rupert Friend, who stars as former CIA operative Peter Quinn and is resting his sprained ankle on a wooden box. They are prepping for a sweet, intimate scene in which Franny invites Peter, who is recovering from a stroke, inside her apartment for a cup of hot chocolate and some cookies.
Glatter wants to hit just the right tone of familiar teasing between the two.
"Make him work for the cookie," says Glatter kneeling so that she is at eye level with Keane. "It's your cookie. OK?"
Glatter's ability to shift between these quiet, character-driven beats and pulse-pounding action sequences has made her an essential part of "Homeland," where she also serves as an executive producer.
This versatility has earned the 63-year-old Texas native six Emmy nominations and made her one of the most prolific television directors of the last three decades, with more than 100 hours of episodic television under her belt. Her impressive list of credits includes "Twin Peaks," "Freaks and Geeks," "ER," "The West Wing," "Mad Men" and "Gilmore Girls."
She's blazed a trail for women in a profession that continues to be dominated by men, and was invited to join the Academy of Motion Picture Arts and Sciences last year.
And yet for someone so accomplished, Glatter wasn't always set on becoming a filmmaker. As a young woman, she spent a decade teaching and performing modern dance across Europe and Asia. A chance encounter in a Tokyo cafe altered the course of her life. There, she struck up an hours-long conversation with an elderly Japanese man who'd once been a Buddhist monk and spoke 12 languages.
His stories inspired her to make a short film, "Tales of Meeting and Parting," which was nominated for an Academy Award in 1985. It was an early lesson in the power of inclusive storytelling.
"I was told not to tell that story if I ever wanted a job in Hollywood," Glatter recalls, sitting in her office on the set of "Homeland," which is returning to domestic soil this year after seasons produced in South Africa and Germany. "It was a period piece set in World War II, and it had one Caucasian character. People were like, 'That's insane.'"
Quite the contrary. The film earned Glatter the notice of Steven Spielberg, who'd seen it on a plane and hired her to direct episodes of his anthology series, "Amazing Stories." (She also shadowed Spielberg and the director of another episode — Clint Eastwood.)
She learned another valuable lesson on the set of "Twin Peaks." Creator David Lynch explained a wonderfully surreal scene from the pilot in which two characters converse around a table where an enormous stuffed deer head is resting, for no apparent reason. The set dresser was going to hang the deer head on the wall, but Lynch saw it sitting on the table and decided to leave it where it was.
"Something cracked open for me, in that moment," Glatter says. "Yes, plan everything, but be sure you don't miss the magic that's sitting right in front of you."
Glatter has directed two features, the 1995 coming-of-age tale "Now and Then" and 1998's "The Proposition" a drama set in the 1930s, but was happy to work in television long before it became cool. "I never thought of it as the lesser medium," she says. "TV is where I was able to tell the best stories,"
Those stories have included "Guy Walks Into an Advertising Agency," a.k.a. the notorious lawnmower episode of "Mad Men," which earned Glatter her first Emmy nomination.
Her first "Homeland" episode, "Q&A," was just as challenging — and as singular. It was built around a lengthy, agonizing interrogation in which Carrie gets POW-turned-terrorist sympathizer Nicholas Brody (Damian Lewis) to reveal the details of a plot against the United States. The scene took place in a single room and ran for 40 script pages — a challenge for any director, much less a "Homeland" newbie.
Glatter now directs four episodes a season, often pivotal premieres or finales involving intense action sequences such as last season's thwarted Berlin subway attack. "She was a choreographer, she really understands time and space, how to put people and objects in motion in a way that's really kinetic," says Danes later by phone.
As a director-producer, she weighs in on major creative decisions and takes part in the annual visit to Washington D.C., where show runner Alex Gansa and his writers meet with members of the intelligence community.
"She was a cheerleader in high school and that positivity and ebullience is still very much with her," says Danes, noting Glatter's tendency to get very animated while watching performances on the monitors. "That enthusiasm is very motivating. The performer feels it on the other end. They are being watched and kind of held by her."
For Danes, who was pregnant with her son, now 4, during "Q&A," it's also been a blessing to have a leader who's "not afraid to be female."
"I can't really envision a male director scooping up my 5-month-old and calling 'action.'"
Glatter leads by example on set, where she is warm, accessible and unabashedly stylish, defying the stereotype of the brooding, dictatorial director. As Christmas presents, she purchased several crew members shearling-lined Doc Martens to match her own. The only time she gets even remotely irritated is when discussing the notion that women can't direct action.
"It's absurd," she says. "We're storytellers."
Glatter also makes it a point to mentor young women filmmakers and take part in industry diversity initiatives. (Danes calls her "as much of an advocate and activist as she is a director.")
Only 17% of TV episodes in 2015-16 were directed by women, according to a DGA survey, a slight uptick from the year before and still nowhere close to gender parity.
Glatter is doing her part to level the playing field. She's an executive producer and director on "Six," a series about Navy SEALs premiering Wednesday on History, and is developing "War Torn," a drama about female journalists in Vietnam for TNT.
"When I started 25 years ago, I never would have thought this would still be an issue," she says as she makes her way back to the "Homeland" soundstage. "I am hoping and looking forward to the day that it's not."
'Homeland'
Where: Showtime
When: 9 p.m. Sunday
Rating: TV-MA (may be unsuitable for children under the age of 17)
See the most-read stories in Entertainment this hour »
Follow me @MeredithBlake
---
The complete guide to home viewing
Get Screen Gab for everything about the TV shows and streaming movies everyone's talking about.
You may occasionally receive promotional content from the Los Angeles Times.