AMC goes for a second helping of John le Carre with 'The Little Drummer Girl'
What do you get when you take a sprawling John le Carré novel, an internationally renowned director, gorgeous European locations and an equally eye-pleasing cast?
For AMC, the hope is another success on the order of "The Night Manager," the smart, sumptuous 2016 miniseries that was praised for its stylish, relevant storytelling and won two Emmys. Directed by Susanne Bier and filmed in glamorous locations around Europe and the Middle East, "The Night Manager" paired big-name stars Hugh Laurie and Tom Hiddleston, then added a relatively unknown scene-stealing young actress, Elizabeth Debicki.
The network is using the pretty much the same formula with "The Little Drummer Girl," an adaptation of Le Carré's nearly 600-page bestseller about a young actress who is recruited by Israeli spies on the hunt for a Palestinian bomber in late 1970s Europe. Co-produced with the BBC, the six-episode series is directed by Park Chan-wook, arguably South Korea's best-known filmmaker.
"Following 'The Night Manager,' we were looking for something that shared the same sense of ambition, of scale," said Simon Cornwell, who executive produced the series with his brother, Stephen Cornwell. "The Little Drummer Girl" was "a very natural choice."
Previously adapted into a now mostly forgotten film starring Diane Keaton and directed by George Roy Hill, the 1983 novel seemed better-suited for a limited series, Simon said, because "you can get into depth and subtlety of relationships that you don't really have time for … in a feature format."
The Cornwells, who produce through their Ink Factory company, always planned on having a single director helm the entire series because the project required "a very singular voice to make the story whole and bring a real point of view to it," explained Stephen. They also understand an artist with a distinct vision: Le Carré (real name: David Cornwell) also happens to be their father.
Park, an auteur renowned for aestheticized violence and darkly beautiful genre fare ("Oldboy," "Stoker"), was not an obvious pick for Le Carré's politically nuanced storytelling. But he approached the Cornwells several years ago at the Cannes Film Festival to say that he'd love to make "The Little Drummer Girl," which he'd just read in a Korean translation and considered Le Carré's finest work, into a film.
They told him they were already planning a television adaptation and parted ways. But as the scripts came in from writers Claire Wilson and Michael Lesslie, the brothers reconsidered and eventually wooed "Director Park," as he is known, to the small screen for the first time.
The Cornwells have a personal stake in ensuring that "The Little Drummer Girl" lives up to its source material. But their relationship to Le Carré actually gives the brothers"more capacity to be flexible" and take creative license, said Stephen. "It's almost the inverse of what you'd expect."
Le Carre's works often explore "the integration of identity, of revenge and motivation, of divided loyalty" as well as "the nature of love," said Stephen — themes that are central to "The Little Drummer Girl." In this telling, the story explores both sides of the Israeli-Palestinian conflict while offering a meditation on empathy and performance. The young actress Charlie (Florence Pugh) is asked to pose as the girlfriend of a Palestinian militant. While Israeli agent Kurtz (Michael Shannon) pulls the strings, his reluctant colleague Becker (Alexander Skarsgard) helps Charlie get into character by role-playing "Michel," and making her fall in love with him.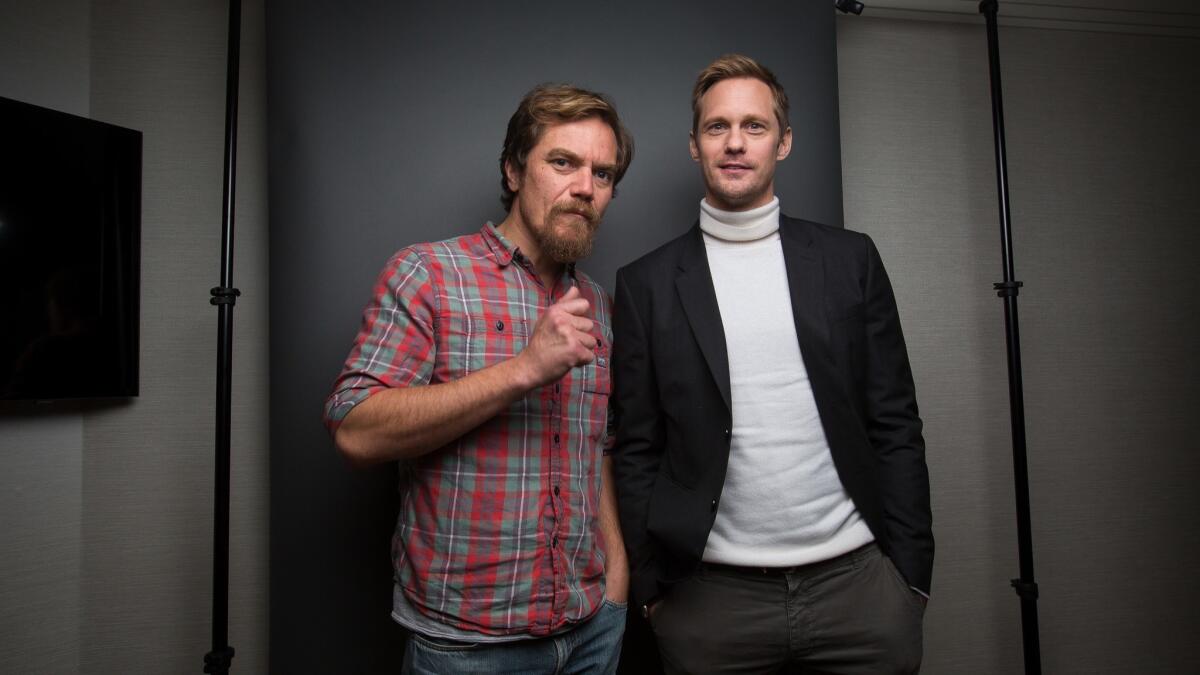 REVIEW: Review: Palestinians, Israelis and different takes on justice in PBS' 'The Judge' and AMC's 'The Little Drummer Girl' »
The goal, Skarsgard explained, is that "when she talks to the Palestinians about Michel, they see the love in her eyes and believe her." If that all sounds confusing, it is — especially for Charlie.
"Like most people in their twenties, she thinks she knows everything," said Pugh, a 22-year-old who caught the attention of Hollywood with her performance in the 2016 film "Lady Macbeth." "She's very loud and very opinionated but until she's seen it, she doesn't know how she's going to feel and that's the whole point of this complicated story — that she's supposed to be acting but she's actually feeling. And that's a very scary thing for her."
Pugh was a fan of "The Night Manager," and in particular Debicki ( I've never met her but I'm in love with her."). An admirer of Park, she'd first met him at the London Film Festival, where they were promoting their respective films, "Lady Macbeth" and "The Handmaiden."
Television has been trending auteur for the last few years — this fall "The Little Drummer Girl" joins Ben Stiller's "Escape at Dannemora" on Showtime, Sam Esmail's "Homecoming" on Amazon and Saverio Costanzo's "My Brilliant Friend" on HBO.
Skarsgard, who won an Emmy last year for "Big Little Lies," which was entirely directed by Jean-Marc Vallee, extolled the virtues of "having a single voice throughout the whole story," especially when that voice is Park's.
"When I got the call that Director Park wanted to have a conversation with me, I just told my agents, 'It doesn't matter what it is. I'll do it,' he said.
Though there's little of Park's signature violence in "The Little Drummer Girl," he does bring a vivid new take on the '70s, a famously drab era that he renders in a bold jewel-tone vintage guaranteed to inspire countless Pinterest mood boards. (Pugh joked that she's already getting tagged in pictures of women in long yellow dresses.)
Shot on location in Britain, the Czech Republic and Greece, the series is a tourist's dream, moving in one episode from the sun-soaked beaches of the Greek Isles to a rare close-up of the Acropolis at night.
"We saw the sun go down and watched the sun come up," Pugh recalled of the scene in which Charlie is first seduced by Becker. "Usually in filmmaking you never get to react to the real thing. You have to react to a tennis ball and pretend that it's there. But Alex and I and were able to experience looking at the Parthenon for the first time and it was unbelievable. It was the most beautiful, exciting, anxious, romantic evening for all of us."
The cast and crew were just as much an international affair — a British-American co-production helmed by a South Korean filmmaker with a Swede, an American and a Brit in lead roles — and the theme of cross-cultural understanding extended to Park, who spoke through his producer and translator, Wonjo Jeong. But "nothing's lost," said Pugh. "The best thing about someone who's speaking to you in a different language is there's no waffle. There's no small chat. He tells you exactly what he wants and that's amazing."
Park also draws "a deep parallel between the situation in his own country and the Israeli-Palestinian conflict," said Shannon.
To prepare for his role as an Israeli mastermind, Shannon listened to interviews with Israeli novelist Amos Oz, taking inspiration from his accent as well as his "profound sense of empathy."
"Kurtz is very opposed to any sort of whole-scale war between any two factions," said Shannon. "He sees that it's much more about ultimately understanding what the problem is, and who the people on the other side are, and why they're doing what they're doing. Which is something that really resonated with me."
For Skarsgard, the story's balance was a selling point. Though it is largely told from the perspective of Europeans and Israelis, it is also empathetic to the Palestinians.
"I had no interest in making a pro-Israel, the good-Mossad-agents-versus-the-evil-bombmakers-from-Palestine series," he said. That's not a narrative I subscribe to, and definitely not a story I, even in fiction, want to send out."
(Some differences proved too difficult to overcome. For the diminutive Pugh, keeping pace with the 6-foot-4 inch Skarsgard was a constant struggle. "The scenes of us walking next to each other," she asked, "have you seen how many steps I have to take?")
The multicultural nature of the project added "richness and diversity of points of view," said Simon, "and maybe, if we're lucky, it helps with the universality of the piece as well."
See the most-read stories in Entertainment this hour »
"The Little Drummer Girl"
Where: AMC
When: 9 p.m. Monday
Rating: TV-14 (may be unsuitable for children under the age of 14)
Twitter: @MeredithBlake
Get our L.A. Goes Out newsletter, with the week's best events, to help you explore and experience our city.
You may occasionally receive promotional content from the Los Angeles Times.