Female writers' showcase is answer to predominantly male writers' forum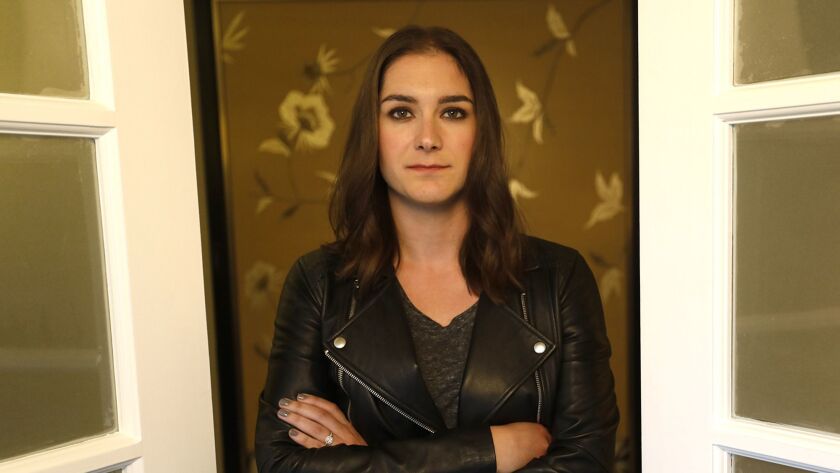 Female showrunners and writers of TV series such as "One Day at a Time," "black-ish" and "Grey's Anatomy" will gather Wednesday to discuss their craft at a confab instigated on social media following the backlash surrounding an industry showcase of TV writers with only one female participant.
The event is being organized by screenwriter Liz Hannah ("The Post"), who reached out for female writers on Twitter after learning that Gemma Baker, the co-creator of CBS' "Mom," was the only female in a lineup of 12 TV writers featured in "A Night in the Writers' Room," back-to-back panels put on by Hollywood trade magazine Variety. (Variety has since added 13 female writers to its lineup, including "Crazy Ex-Girlfriend" star Rachel Bloom, "Grey's Anatomy" showrunner Krista Vernoff and "Jane the Virgin" creator Jennie Snyder Urman.)
The furor over the predominantly male panels came on the eve of another Variety-sponsored event called "Path to Parity: Eliminating Gender Bias in Media & Entertainment."
In response to the wave of criticisms, Variety posted an apology on Twitter Tuesday.
"On behalf of Variety, we apologize for the egregious oversight regarding the lack of female writers participating in our upcoming A Night in the Writers' Room event," the tweet read. "We hear you loud and clear, and are currently working on rectifying our mistake."
But the pushback was already underway. In less than 24 hours, Hannah had received enough responses to make up two separate panels. Both will take place Wednesday at Twitter's Los Angeles office.
Because of limited space, the panels will be closed to the public, but they will be live streamed. (The Times will provide a link to view after one is provided.)
Among the participants in the panel are Veena Sud ("Seven Seconds"), Gloria Calderon Kellett ("One Day at a Time"), Aida Croal ("Jessica Jones"), Alex Cunningham ("Dirty John," "Chance"), Alison Schapker ("Scandal"), Amy Berg ("Counterpart"), Beth Schwartz ("Arrow"), Corey Nickerson ("black-ish"), Dee Harris-Lawrence ("Unsolved: The Murders of Tupac and the Notorious B.I.G."), Gabrielle Stanton ("Grey's Anatomy"), Keto Shimizu ("Arrow"), Laeta Kalogridis ("Altered Carbon"), Lauren Hissrich ("The Defenders"), Lauren Iungerich ("On My Block"), Moira Walley-Beckett ("Breaking Bad"), Monica Breen ("Agents of S.H.I.E.L.D."), Samantha Corbin-Miller ("Conviction"), Sarah Watson ("The Bold Type"), and Sera Gamble ("The Magicians").
The backlash reignited discussion on the sometimes- flawed system of coordinating an inclusive roster for such Hollywood gatherings. (The Los Angeles Times has not been immune to criticism. A cover last December of The Envelope, our awards magazine, came under fire for featuring a group of only white actresses.)
We spoke to Hannah about her call to action, the lessons to be learned and the importance of visibility.
---
What prompted you to take action?
I think like everybody else, I saw the invite [Tuesday] morning on Twitter. I'm not a showrunner so it wasn't really that I had a dog in the fight for myself. I just felt like if you're calling something "A Night in a Writer's Room," it should be balanced, it should be diverse, with as many voices as possible. I think for the past few months, we, as women, have been very fortunate to have our voices be very loud and be talking in unison, so I just felt very frustrated to feel like it was all for naught .
Frankly, I just posted it on Twitter to see what would happen. If people would feel the need to come together and talk or wanted to come together and talk. I definitely did not expect it to take off as quickly as it did.
Were you expecting anything to materialize from this?
No and yes. I know a lot of female writers, I know a lot of female showrunners so I was expecting, at the very least, to have the friends that I know come together and maybe sit in a cool bar and have people listen to us. I definitely didn't expect the outpouring of response to not only Variety's event but to the want for another event that was showcasing just women. It was really ... I can't use the word "inspired" enough, and I really can't take any credit for it because it has been the power of women and of the power of so many incredible female showrunners who have reached out to me personally or through friends or, honestly, through Twitter, which has been absolutely incredible — of being like, "Yeah, I'm down. Tell me where and when." Then giving me a list of all the other people they know and who they think would want in. And then reaching out to those people.
Twitter was obviously the starting point of it all, and so they immediately reached out to me along with many other organizations that reached out to say we'd love to host you. Since this all started on Twitter, it felt very apropos for us to do it there and to also live stream it as lively and as publicly as possible because we want as many people to learn from these women as they can.
Did Variety reach out to you? What did you think of their statement on the matter?
I have not spoken directly to Variety. I thought their statement they made yesterday ... They owned up to it, they did. We very much don't want to have this be us versus them because that's not what it is.
What do you think this problem illustrates? Is it that the net isn't cast wide enough? Too much emphasis on celebrity names?
I think there is a number of things. Look, I've also been on panels before where I didn't know who was on it with me. I think it is a lesson in making sure to ask. Making sure to ask what are the number of women. What are the number of people of color on this list to make sure that it is a diverse group of people. I don't know how it happens. I definitely put one together in the last 24 hours. So I can say it's a daunting task, but I will say it wasn't hard to get 15 women to say yes.
I definitely think no one ever wants to be in a situation like this. I just think it is unfortunate that it got to the point that it did, but I'm happy that it's now not only being addressed, but I'm really excited that we're able to have all these amazing women come together. I've been asked to do it in New York, and I was like, I'm gonna do one, guys. We'll see how the first one goes.
Talk about why visibility on these panels is important.
It's important for young people starting out. For people in the industry to see that there's not just one way to do something. To see that you can be represented in whatever your chosen field is.
Being able to put together 15 women who are going to talk about their various experiences, of how they started, where they came from, and how they got to where they are can show any number of little girls and little boys out there in the world who want to do this "Oh, OK, they did it. I can do it."
Anecdotally, it seems like we're in this golden age of women behind the scenes — showrunners, TV writers, directors. But the industry is still very male-dominated. And we hear about what the industry can be doing differently, but, given this situation, how can media be more intentional about inclusion?
Representation. If you don't see it, you don't know that it's happening.
How often are you asked to be on panels?
When "The Post" happened, I was asked to be on a number of panels. I was really fortunate to be on some. Last year we had a lot of women who had screenplays that were buzzed about and talked about and nominated, and so there was an amazing balance of men to women in that scenario, which was really wonderful. But I've also been in sort of a dark hole of writing for the last month and a half, so my panel time has not been as frequent as it once was.
June 9, 4:15 p.m.: Story updated with names of new female talent added to Variety's panels.
Twitter: @villarrealy
---
From the Emmys to the Oscars.
Get our revamped Envelope newsletter, sent twice a week, for exclusive awards season coverage, behind-the-scenes insights and columnist Glenn Whipp's commentary.
You may occasionally receive promotional content from the Los Angeles Times.