Louis C.K. scandal leads to scrutiny of the comedy world power of his ex-manager Dave Becky
Dave Becky allegedly told the manager of two of Louis C.K.'s accusers that he "wanted them to stop telling people about their encounter." (Nov. 14, 2017)
Louis C.K.'s fall from grace last week was swift. And now the fallout is extending to his ex-manager, Dave Becky.
On Thursday, the New York Times published a report in which five women accused the Emmy-winning comedian of sexual misconduct. Within a day, C.K. was dropped by his management company 3 Arts Entertainment, his publicist and his booking agent. FX, the network that carried his critically acclaimed series "Louie," as well as a number of other C.K.-produced comedies, cut ties with him, as did HBO and Netflix. Film distributor the Orchard bailed on plans to release C.K.'s "I Love You, Daddy," about a TV writer whose teenage daughter is seduced by an older, famous director.
It took Hollywood barely a day to make a clean break with arguably the most influential comedian of the last decade, whose admitted habit of masturbating in front of female colleagues had long been a subject of industry whispers.
But much as the allegations against producer Harvey Weinstein cast unwanted attention on showbiz allies such as Quentin Tarantino and Matt Damon, the news about C.K. raised questions as to how powerful industry players — most notably, C.K.'s former manager Becky — may have enabled the comedian's behavior or helped to keep it under wraps.
On Monday, Deadline broke the news that Pamela Adlon, who co-created her FX television show "Better Things" with C.K., was firing Becky as her manager.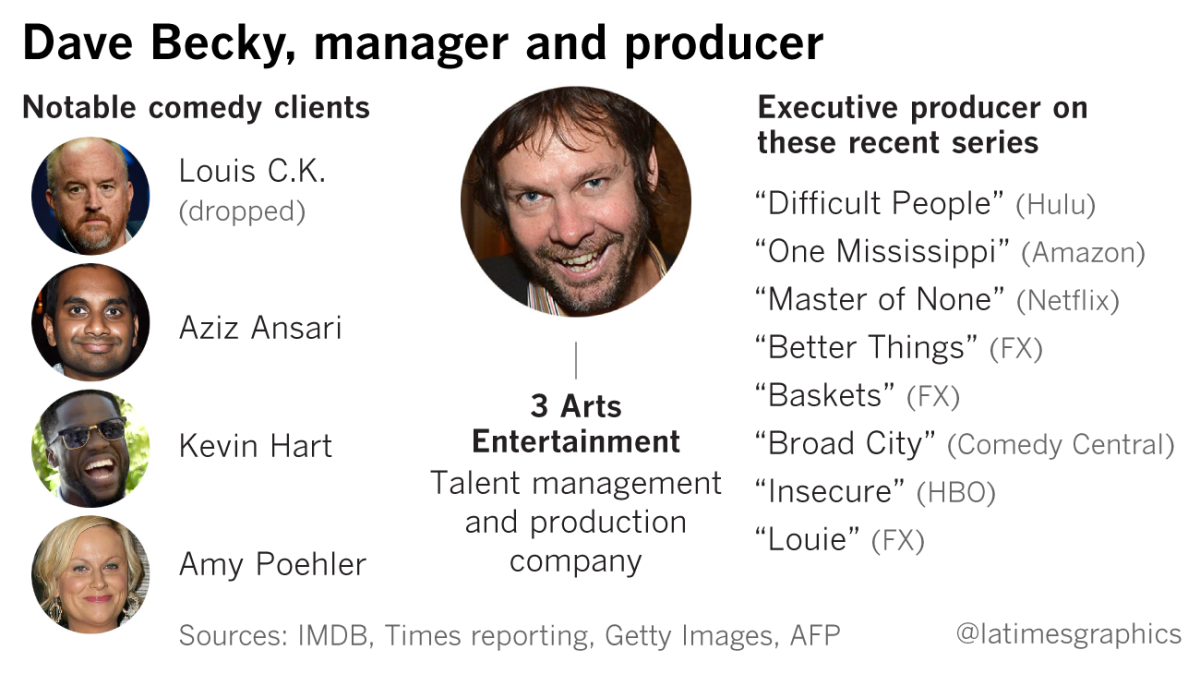 The move came after comedians Dana Min Goodman and Julia Wolov told the New York Times that after C.K. took off his clothes and masturbated in front of them in an Aspen hotel room in 2002, Becky allegedly told the two women's manager that he "wanted them to stop telling people about their encounter."
Becky, who denied to the New York Times that he'd made any threats, did not respond to a request for comment from the Los Angeles Times. But on Monday, after C.K. released a statement on Friday admitting that Goodman and Wolov were telling the truth about their encounter — and expressing regret "that this has brought negative attention to my manager Dave Becky who only tried to mediate a situation that I caused" — Becky issued an apology.
"I profoundly regret and am deeply sorry for not listening to and not understanding what happened to Dana and Julia," Becky said in his statement. "If I had, I would have taken this event as seriously as it deserved to be, and I would have confronted Louis, which would have been the right thing to do."
There were other ramifications for the two female comedians after the 2002 incident. Goodman and Wolov told the New York Times that following their encounter with C.K., they "took themselves out of the running" for projects Becky was involved in — which are numerous.
In hindsight, I was operating blindly from a one-sided place of privilege.

— Dave Becky, manager and producer
Though not that well-known outside showbiz circles, Becky is one of the most powerful figures in comedy, with A-list clients including Kevin Hart, Amy Poehler, Issa Rae and Aziz Ansari. Via 3 Arts Entertainment, the management and production company that employs Becky, he is an executive producer on some of television's most celebrated comedies — including "Baskets," "Master of None" and "Difficult People."
He's had a hand in a number of shows praised for their portrayals of women, including "One Mississippi," "Broad City," "Insecure" and Adlon's "Better Things."
Becky addressed his influence in his statement on Monday: "In hindsight, I was operating blindly from a one-sided place of privilege…. I have come to realize my status wielded an atmosphere where such news [about C.K.'s misconduct with women] did not reach me, or worse yet, that it seemed such news did not matter to me. It does. It matters tremendously."
A manager with an ability for identifying and nurturing talent, Becky told Variety in 2012 that "the types of clients that I have had the most success with all seem to have a few things in common: They are hard-working, dedicated good people, inside and out."
The C.K. scandal brought social media scrutiny to Becky and even some of his clients. "Every comedian who works with Dave Becky needs to fire his ass right now. Full stop," said Women and Hollywood founder Melissa Silverstein on Twitter.
A few prominent figures in the tight-knit comedy world have spoken out about C.K. in recent days, most notably Adlon, Tig Notaro and Marc Maron, who discussed his thoughts on the news during his most recent "WTF" podcast. "He's my friend … [but] there's no way to defend it. There's no way to apologize for him about it." Comedian John Mulaney and "The Good Place" show runner Michael Schur, both 3 Arts Entertainment clients, also spoke out on social media.
But many other noteworthy and typically outspoken stars have remained silent, even as calls for them to fire Becky have grown.
Ansari, whose "Master of None" character once confronted a subway masturbator in an episode dealing with the everyday sexual harassment faced by women, has dodged questions about C.K. in the past and has said nothing on Twitter since the news broke Thursday. His representative did not respond to a request for comment from The Times. Nor did representatives for Poehler or Rae.
In its Friday statement severing ties with C.K., 3 Arts Entertainment said it was "committed to ensuring a safe and secure environment for our staff, clients and the community at large."
"We are doing a full internal review regarding this situation and are taking additional steps to strengthen our processes and procedures while engaging with our staff to address any concerns about harassment or abuse of power. This behavior is totally unacceptable in all circumstances and must be confronted and addressed."
Becky, for his part, says he is assessing how to move forward: "I am going to take time to reflect on this, to educate myself daily, and to strive towards a more enlightened path. I want to ensure that all voices around me are heard, and that everyone is treated respectfully and empathetically. More than anything, I want to create an environment that is a better, safer and fairer place."
ALSO
Louis C.K.'s admission of sexual misconduct is the final straw for several networks
Indie film distributor the Orchard was on a roll. Then the Louis C.K. sex scandal blew up
Louis C.K.'s influence in entertainment
Louis C.K.'s movie 'I Love You, Daddy' strikes third-rail of intergenerational romance
Late-night TV treads lightly on Louis C.K.
Read Louis C.K.'s statement on allegations: 'These stories are true'
Get our L.A. Goes Out newsletter, with the week's best events, to help you explore and experience our city.
You may occasionally receive promotional content from the Los Angeles Times.