OWN's 'Love Is_': The love story of a powerful Hollywood couple hits prime time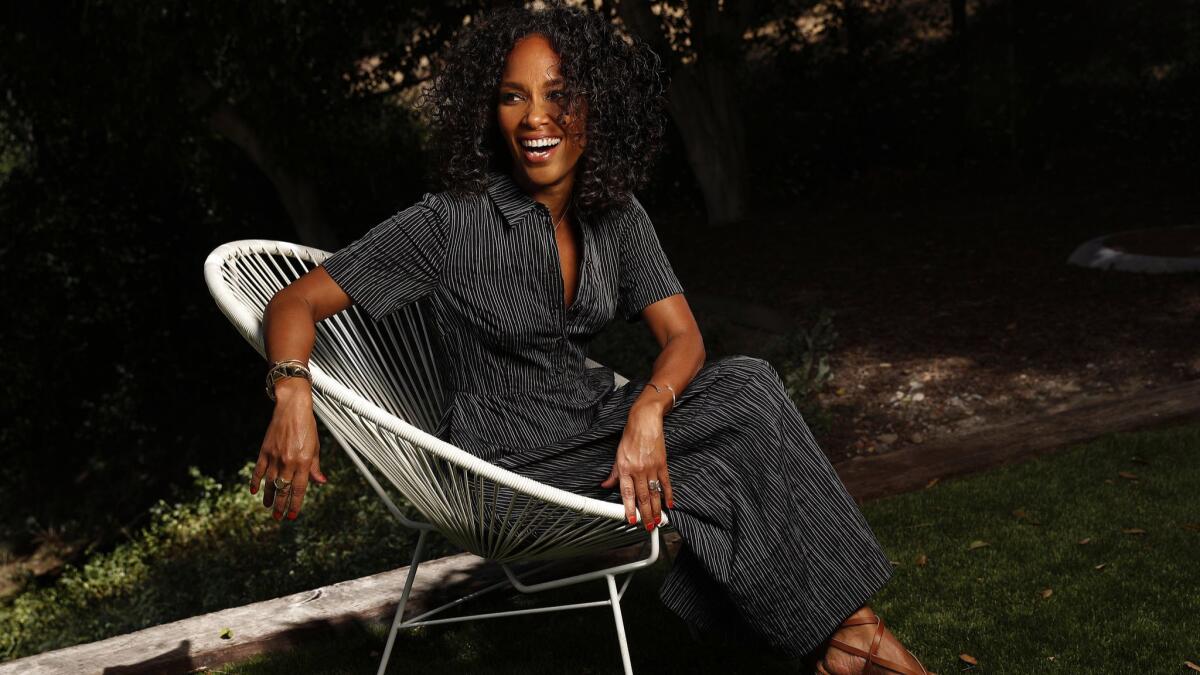 Mara Brock Akil has carved out a significant and insightful niche on the prime-time TV spectrum with her shows that explore the joys and complexities of being an African American woman in modern society.
The comedies "Girlfriends" and "The Game" and the drama "Being Mary Jane" all won loyal fan bases that celebrated Akil's mix of humor, drama and bawdy sexual exploits in telling her perspective on the myriad ways black women juggle their personal and professional lives.
Although Akil channeled some of her own experiences in writing and producing those shows, she needed a different approach when it came to her latest project, "Love Is_," a new drama premiering Tuesday on OWN, the Oprah Winfrey Network.
The reason? The series is based on the real-life romance and 20-year marriage between her and her husband, producer-director Salim Akil.
"I wanted to protect this work," she said in an interview at the Beverly Hills home she shares with Akil and their two sons. "I wanted to get my husband and my story right." Part of getting it right was sitting in the director's chair for the first time — she helmed the season opener and the season finale.
"Love Is_" stars newcomers Michele Weaver and William Catlett as Nuri and Yasir, respectively, characters based on the 1997 versions of the Akils, when they first started dating.
The story is told through a combination of flashbacks and "How I Met Your Mother"-style present-day jumps; Mara Brock Akil describes the series as an "origin story," with the first season chronicling the courtship phase of the relationship.
"What I love about the reflection of the wiser characters is that they offer insight into those moments that I don't have to get out and pipe," she said of the decision behind the parallel storytelling. "It kind of felt like I was writing a memoir, in the sense that I could be insightful in those moments and thread it together to have that impact, versus taking so long to tell the story."
Ideally, she added, she'll stretch the narrative of their romance over seven seasons: "I always think seven is the sweet spot. Seven seasons to get to the present."
The show is loosely autobiographical, though Akil is quick to distinguish the difference between the "truth" and the "facts."
"It's 90% truthful and 70% factual," she said. "The essence is true and the facts are manipulated. Because, at the end of the day, we have to tell a story. And as unique and wonderful as our story is, it could get boring if you go literal. [Though] I can't wait to get to the episode where I propose to him, because I did."
Added Salim Akil, showrunner of the CW's "Black Lightning": "It's 'inspired by.' That is the best way to say it. Clearly, they're not us. Clearly, there's actors involved and there's writing. It is a television show. Because it could've been like that, but it wasn't."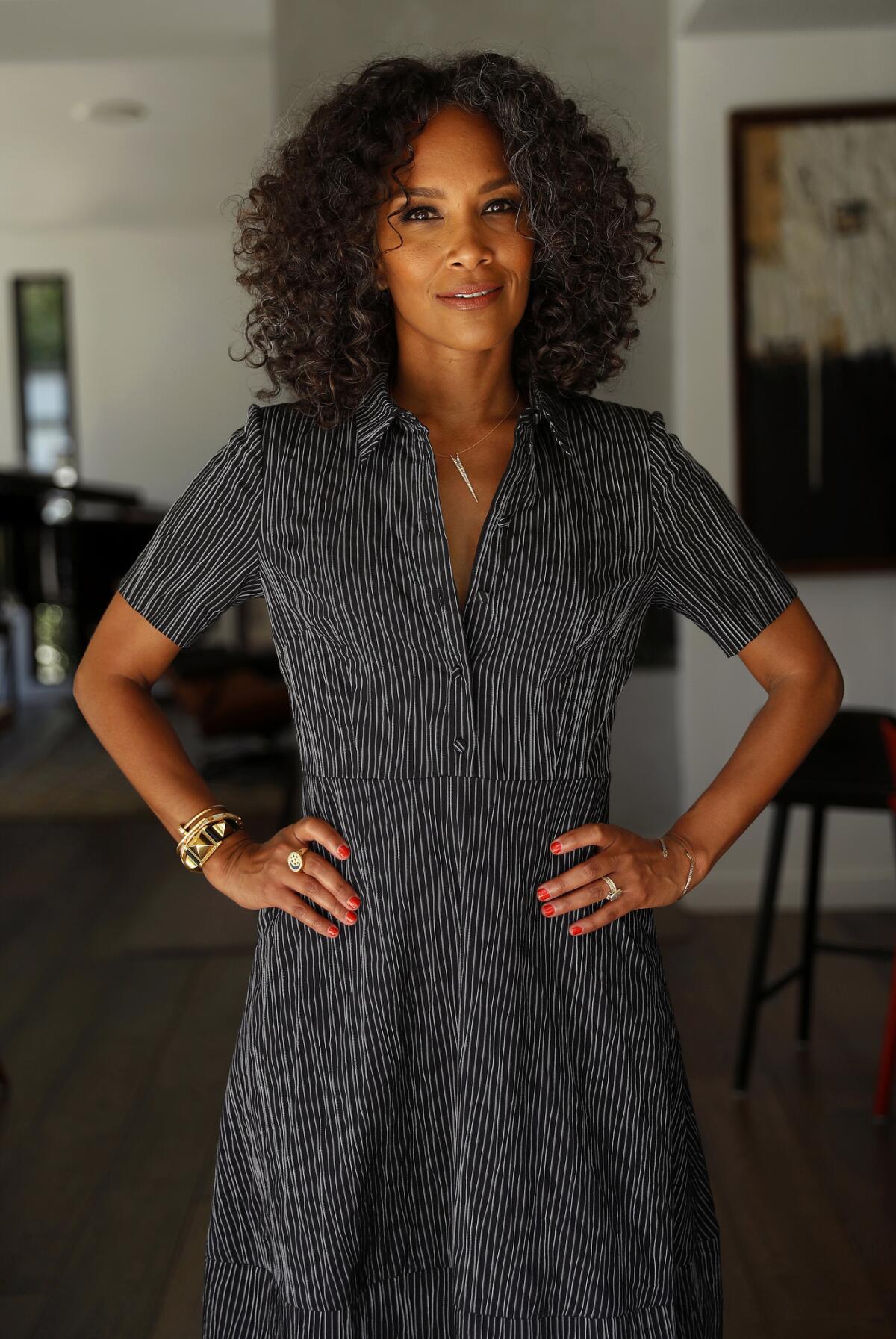 Though Salim Akil is an executive producer on the series, he wasn't always in favor of inviting the world into their relationship journey.
"He's a very private person, he's an introvert," Mara Brock Akil said. "But [as] Salim always says, he never took ownership of me. I still don't think he's OK with it, but he's supportive of me, and that's what matters."
That didn't keep her from worrying about his reaction, though.
"I had a lot of anxiety while he was watching," she said. "I was so nervous, I remember shaking. He's the person I wanted to impress the most. And when I got his sign-off, I knew everything was fine."
So why did she feel compelled to dramatize their love story?
"There's two answers," she said. "The more immediate [one] is that it's really an honest answer to a sincere question that I've been getting for the last 10 years."
That question is the same one characters like Melanie Barnett on "The Game," Mary Jane Paul on "Being Mary Jane" and Joan Clayton on "Girlfriends" grappled with: Can you have the perfect marriage, the perfect career, the perfect life?
Everything you want is achievable if you define it and design it for yourself based upon your values and what's important to you.
— Mara Brock Akil
"Love is achievable," Akil said. "Everything you want is achievable if you define it and design it for yourself based upon your values and what's important to you. And that's how Salim and I have done it, in both career and family."
The second answer, she says, is that "Love Is_" is "an extension of a conversation that I've been having with black women for 20 plus years."
After getting her start writing on '90s sitcoms, Akil sought to tell stories that explored the lives of black women in their 20s and 30s.
"'Sex and the City' at the time was being very honest about what it was like to be a modern woman, [but] they left black women out of the conversation," she said. "I saw it as an opportunity to seat us at the table. And so the conversation began then. 'Who are we? What do we want?'"
Her first stab at answering that came through the creation of "Girlfriends," the UPN series that launched Tracee Ellis Ross' acting career and lasted for eight seasons before wrapping in 2008.
"The conversation then moved to, 'OK, you have the chosen friends, but can you be a boss lady and hold on to your relationships?'"
Those questions were explored in her next two shows, "The Game" and "Being Mary Jane," series featuring lead characters who struggled to navigate their careers while seeking fulfilling romantic relationships.
"Love Is_" was an easy sell for OWN, according to network President Erik Logan.
"We knew we wanted to expand the aperture for OWN with our scripted dramas," he said. "We were looking for something lighthearted, and we were focused on the idea of love, and that was the force that led us to Mara and Salim."
The show was greenlighted during the pitch meeting, something Logan admitted had never happened before.
Akil said, "At the time I did 'Girlfriends,' I used to pray for [Winfrey's] gaze to come my way, because I knew I was doing something when nobody else was doing it. I've been having a conversation with black women, yet I'm making a show for the only black woman who owns a network."
As for what she hopes audiences will take away from the show, Akil is wistful.
"Whatever is of value to you is worth fighting for," she said. "And that's relationships, career and love. It's a daily leap, a daily commitment."
'Love Is...'
Where: OWN
When: 10 p.m. Tuesday
Rating: TV-14 (may be unsuitable for children under the age of 14)
Get our L.A. Goes Out newsletter, with the week's best events, to help you explore and experience our city.
You may occasionally receive promotional content from the Los Angeles Times.