NBC launches a program to expand the pool of female directors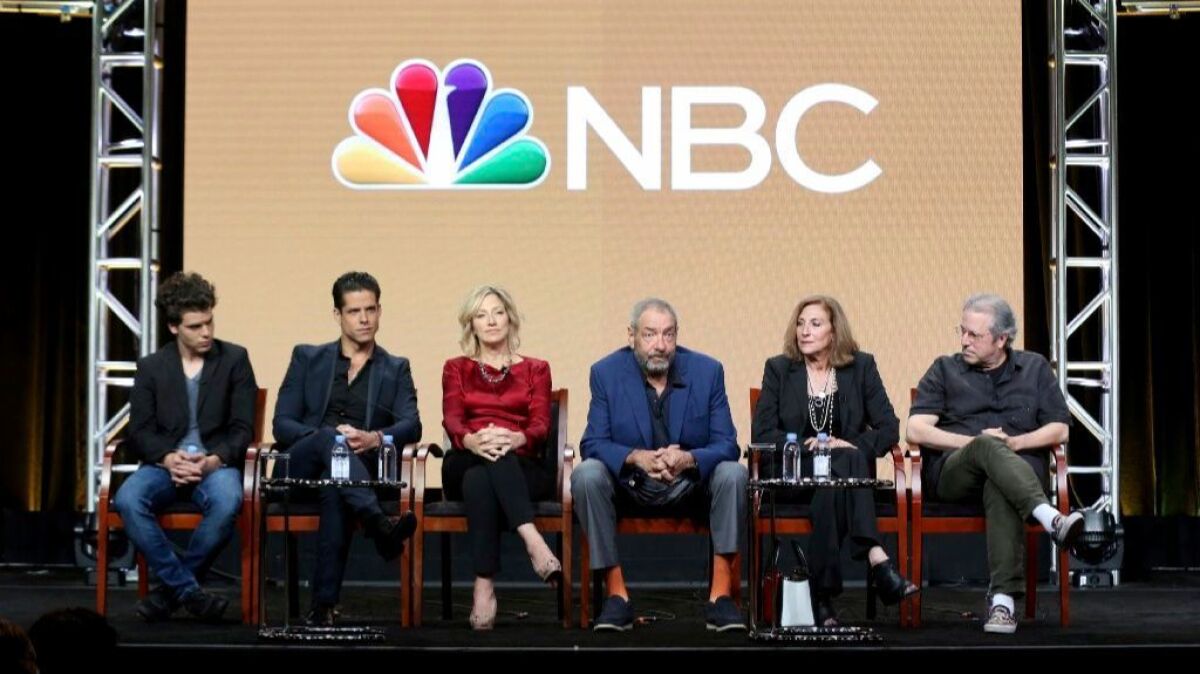 NBC is launching a new, stepped-up program to get more female directors hired in television.
The broadcast network unveiled its Female Forward initiative Thursday at the Television Critics Assn. press tour in Beverly Hills. Its goal is to take a meaningful step to tackle a problem that has been vexing Hollywood for years: how to increase the pool of female directors who desperately want, and need, valuable experience behind the camera.
"We are constantly trying to find more female directors, and we asked ourselves, 'What are we doing that is different and bold?'" NBC President Jennifer Salke told The Times. "I said, 'Let's just put our money where our mouth is.'"
The program is designed to give 10 female directors the opportunity to shadow another director on as many as three episodes of an NBC series. As the mentorship is winding down, each woman will have an opportunity to direct at least one episode of the series she has been shadowing.
The program comes on the heels of a similar effort at FX by producer Ryan Murphy, whom Salke worked with when she was an executive at 20th Century Fox Television. Salke said she found inspiration in Murphy's efforts. Salke also said NBC executives were frustrated during pilot season when they kept losing the precious few female directors with experience directing pilots. The pool, she said, was just too small.
"We need to get people in the pipeline fast," she said, adding that the commitment would be to work with 10 female directors a year. "Imagine over three years, that will be at least 30 new female directors."
Salke turned to Lesli Linka Glatter, one of the industry's most successful episodic television series directors — she has worked on "Homeland" and "Mad Men"— to spearhead the program. Linka Glatter, who is directing two episodes of the limited series "Law & Order: True Crime — The Menendez Murders," said Salke called her earlier in the week.
"I have been mentoring female directors for years," Linka Glatter said. "And I feel that if you are in a position to, then you need to grab the hand of the next generation. That's what you have to do."
Salke, in an official release announcing the program, said it had been an "urgent goal" of NBC's to identify more female directors.
The program will begin with the 2018-19 season on 10 NBC series, with a goal of increasing the number of female directors and participating shows in subsequent years.
"It shouldn't be harder for our daughters to direct than for our sons. It should be an equal playing field," Linka Glatter said. "A program like this is a game changer, and it's an honor to be a part of it."
Linka Glatter has long been an advocate in the efforts to close the gap on the pool of working female directors — and, on her own, had already been giving female directors opportunities to shadow her while working on various shows, including "Homeland."
"It has not hurt my career," Linka Glatter told a small group of reporters. "It has been joyful for me, and this is now a big topic of discussion, as it should be. I feel so strongly about it."
The NBC initiative joins the growing push, mostly spearheaded by showrunners, of staffing series with more female directors — among them OWN's "Queen Sugar," FX's "American Horror Story," Amazon's "Transparent" and Netflix's "Jessica Jones."
And, to be sure, there is more work to be done. Only 17% of all episodes on broadcast, cable and streaming networks were female-directed, with minority women accounting for a puny 3%, according to 2016 Directors Guild statistics.
A San Diego State study by Martha M. Lauzen found that the film industry is even more limiting. In 2016, only 7% of films were helmed by women. Television has been slightly better because there are simply more projects, but institutional challenges remain.
A separate San Diego State report by Lauzen found that while broadcast television had the best record in the industry — with 26% of women in prominent roles behind the camera in 2015-2016, that percentage has been stagnant.
"The employment of women working in key behind-the-scenes positions on broadcast network programs has stalled, with no meaningful progress over the last decade," Lauzen wrote in her 2016 report "Boxed In." The report was conducted by the Center for the Study of Women in Television & Film at San Diego State.
NBC Entertainment Chairman Robert Greenblatt said the push was designed to build off an existing program that NBC already had running. But the difference, he said, was that the newly designed program will guarantee episodes that the women can direct on their own.
"This will be a big adrenaline shot to the effort," Greenblatt added.
Greenblatt said the problem wasn't that TV network executives were opposed to giving women opportunities. Rather, it was a case of inertia.
"Everyone has just been lazy," he told The Times. "It's not like there have been conscious decisions to 'keep women out of it.' Fewer women are in the pipelines, and even fewer get the opportunities. We just say, 'Oh, yeah, hire those male directors whom we know and have worked with.'"
In this arena, changing attitudes have just come too slowly, said Linka Glatter.
"You always hear that there are just not enough directors, and that's just not true," she said. "There are amazing women directors — and diverse directors, and it only helps storytelling to get a broader view of the world."
See the most-read stories in Entertainment this hour »
meg.james@latimes.com | Follow me @MegJamesLAT
yvonne.villarreal@latimes.com | Follow me @Villarrealy
ALSO
Why it's smart to invest in female-led companies
Black while funny and female: 18 comedic actresses on working in Hollywood
Motion picture academy opens its doors to 774 new members as push for diversity continues
---
Get our L.A. Goes Out newsletter, with the week's best events, to help you explore and experience our city.
You may occasionally receive promotional content from the Los Angeles Times.