Niecy Nash gives us the origin story of how she classed-up Ginuwine's 'Pony' on 'Getting On'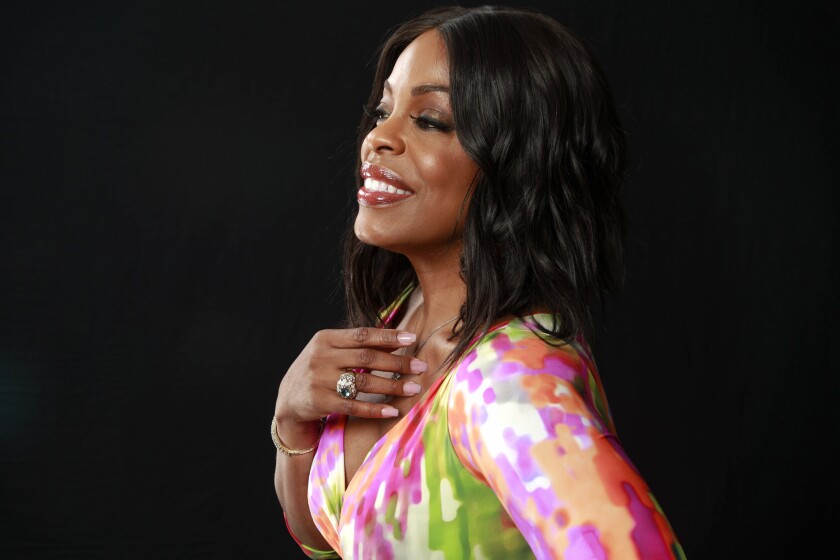 There's something to be said about sticking around for the end credits.
In the final season of HBO's "Getting On," nurse Dawn (played by Alex Borstein) is dealing with a health crisis. As she undergoes secret dialysis treatments due to kidney failure, nurse DiDi (Niecy Nash) is by her side.
In the moment, DiDi asks, "Is there anything I can do?"
Dawn pauses for a moment before saying, "Will you sing the pony song?"
DiDi does. What comes out of DiDi's mouth is no folk tune or children's song. Oh, no. Instead, she softly sings the lyrics to Ginuwine's sexually suggestive R&B hit "Pony."
It was one of the unexpected highlights of the season. And it was all improvised.
When Nash stopped by The Envelope's video studio to reflect on the final season of the offbeat comedy set in a hospice, she recalled how the moment came to be.
After securing the take when Dawn tells DiDi she's on dialysis, the director told the actors they could improvise one round. And Borstein pulled a fast one on Nash.
"It was birthed out of the fact that I started singing that song one day on set," said Nash, who last year also appeared on "Scream Queens." "So Alex would come up to me all the time and go, 'Sing the pony song,' and I'd go, 'Here, girl, lemme put it on your phone. Now you've got Ginuwine's "Pony," go for it!' She was, like, 'I don't like this version. I like the way you sing it because you make it sound like an old spiritual.'"
VIDEO: Exclusive interviews with TV stars from your favorite shows
So there they are later, shooting that go-for-broke take the director has granted them.
"[My character] said, 'Is there anything I can do?' And [Alex] said, 'Can you sing the pony song?' I looked at her and went ... this is what we're doing?"
The conversation didn't stop there. Watch the full video to hear what Nash had to say about being pigeonholed, how her role as a nurse somehow fulfilled her mom's hopes for her, and what she remembers of her first encounter with "Scream Queens" costar Jamie Lee Curtis.
Follow me on Twitter: @villarrealy
---
Inside the business of entertainment
The Wide Shot brings you news, analysis and insights on everything from streaming wars to production — and what it all means for the future.
You may occasionally receive promotional content from the Los Angeles Times.