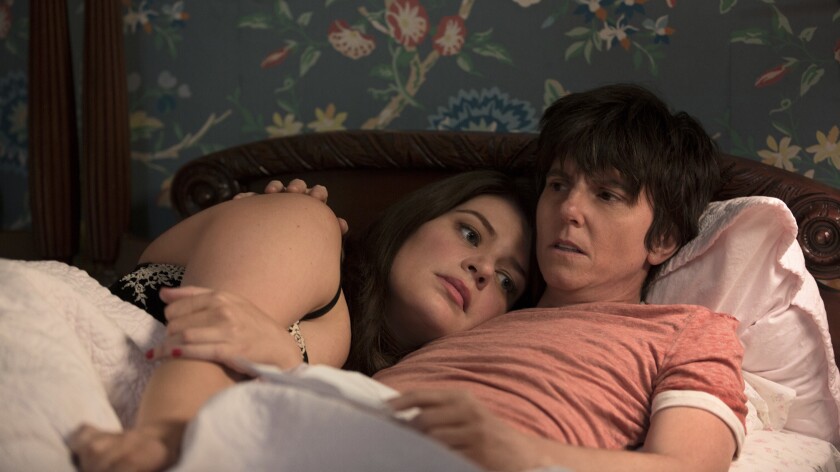 For Tig Notaro fans, the six-episode first season of her semi-autobiographical series "One Mississippi" may seem, at least initially, to be an experiment in artistic repurposing.
Here is Tig, played by Notaro (albeit co-written by Diablo Cody) experiencing the same cycle of cataclysm (albeit in non-autobiographical order) that made her famous: the deadly intestinal illness, the breast cancer, the double mastectomy, the unexpected death of her beloved mother, the romantic breakup. All of which Notaro has turned into an ever-evolving incantation of deadpan comedy for live stand-up performances, radio shows, a Showtime documentary, a Netflix movie, a new memoir and now a scripted drama via Amazon.
Your weekly guide to fall TV »
"One Mississippi" is also one of several new deeply personal and often sardonic comedies that revolve around women in various stages of self-exploration (see also "Unbreakable Kimmy Schmidt," "Lady Dynamite," "Better Things" and the upcoming "Fleabag"), and like the new series "Better Things," it has a very high Louis C.K. factor. (It was C.K. who famously drew attention, via tweet, to the raw and impromptu 2012 set that Notaro did at the Largo immediately following her cancer diagnosis; he serves here as executive producer.)
But Notaro is not C.K., neither is she a brand nor a trend, and "One Mississippi" is certainly not a "media platform." It's a series. A highly addictive and deeply affecting series.
Spiky, sweet and imperfect in the way emotionally resonant art usually is, "One Mississippi" moves along the now-familiar track of rueful self-observation/narration — but do not be deceived. Notaro, Cody and director Nicole Holofcener may delve into the theatrical trunks of fugue state and dream sequence but they have a very definite, and painfully universal, story to tell.
We meet Tig, who is in fact a radio storyteller, as she returns to her small Mississippi hometown where she must take her mother off life support. Some foreknowledge of Notaro's health issues may be helpful — the opening scene involves her making quite a few bathroom stops — but after being dropped abruptly into a highly fraught situation, the viewer is brought up to speed fairly quickly through a series of hilarious expositional scenes that also introduce the principal players.
They are: Tig's brother Remy (Noah Harpster), her stepfather Bill (John Rothman) and in flashback and memory, her mother, Caroline (Rya Kihlstedt).
With Tig as the prickly, prodding prodigal, the family quickly reveals its initial layer of dysfunction. Living in the unfinished attic of his mother's very nice home, Remy is the high-school MVP run to seed, sweetly slothful, without a shred of self-awareness.
Overly precise in word and deed, Bill speaks with tone-deaf directness and appears far more attached to preserving order, and caring for his cat, than to his wife or the children he helped raise.
And far from being the self-realized if physically beset artist who escaped the conventions of small-town life, Tig is just as damaged, lashing out like an adolescent even at her very loving if slightly dippy girlfriend (an underused Casey Wilson).
Indeed, the only thing these three disparate characters appear to have in common is the "free-spirited" Caroline, the mythic center around which the family revolved.
Except none of that is true, or at least not exactly.
The death of a parent, even a wildly flawed parent, inevitably blows a hole in the supporting wall of family, memory, even self. Suddenly all the layers of wallpaper and makeshift accommodations that have accumulated over the years are exposed. But you can't fix a hole until you understand the extent of the damage, which means many things need to be shifted, examined and stripped away.
"One Mississippi" is about one woman, one family's attempt to assess their own damage and figure out a way to fix it. And as everyone knows, a sense of humor helps.
Notaro is consistently funny in that splendid dry and low-key way that looks like sarcasm but is often wisdom. But playing a version of oneself is much harder than it looks and she is not an actress so much as she is a performer.
The difference between these two things is more than occasionally clear in "One Mississippi," especially during small but key transitions within scenes — Notaro is strong when on point but has trouble navigating the space between them.
Fortunately, Harpster and Rothman are excellent guides. Harpster's Remy swings between slacker-savant and lost boy with pitch-perfect pathos; a scene in which he asks his sister a question about their childhood is actually making me weep even as I write the word "weep."
But Rothman is the marvel of "One Mississippi," taking a role too often used strictly for humor and exposition and turning it into a beautiful portrait of a man who has just lost his emotional translator. Far from cold or oblivious, he is simply searching for another door through which he can communicate with the world.
It is not a perfect series; episodes stall here and there, or swerve into unnecessary flights of fantasy or absurd narrative developments, but then a moment of quietly huge revelation blows the story onto a whole other plane. And there is something powerful in the imperfection, a reminder that this story is about the courage it sometimes takes to simply see things, and people, and memories, for what they are.
With her big eyes and deceptive fragility, Notaro is a physically compelling lead. Tig moves slowly, often awkwardly, but move she does, her physical pain mirroring her psychic anguish just as her inability to face the results of her mastectomy mirror her unwillingness to figure out just what it is she lost when her mother died.
And that particular journey of discovery, like this show, is hilarious, tragic and exquisitely human.
------------
'One Mississippi'
Where: Amazon Video
When: Anytime starting Friday
Rating: TV-MA (may be unsuitable for children under the age of 17)
---